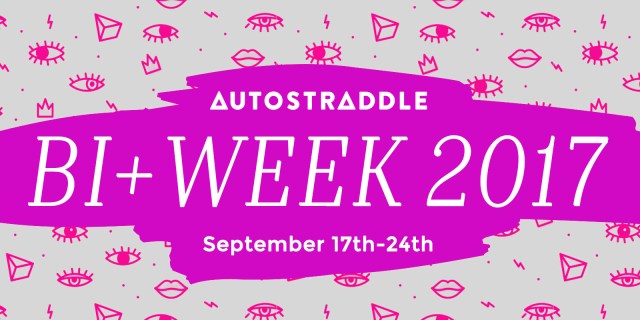 It's getting close to September 23, which means Bisexual Visibility Day (or Bisexual Christmas, as I like to call it). It's about raising awareness and celebrating bi folks of all kinds — across gender, race, class, disability and so much more. It's a celebration of people who are attracted to same and different genders. It's a day where we talk about what bi erasure means in this day and age. It's a day where we talk about what it means to be a part of the greater narrative within the LGBTQIA community.
One way to get amped for this important day in September is listening to some music and thinking about all the different ways identity seeps its way into what we dance to. I've made a playlist of some of my favorite bi, queer and trans artists that I'll be listening to as I think about what it means to identify as bi in 2017. Music can be a really cool way to learn about yourself and bring people you love close to you. In this playlist, I'm bringing my favorite queer pop stars together with some amazing DIY bands that I've seen live or am just totally obsessed with. This playlist starts with a great song by Michelle Zauner (aka Japanese Breakfast) about dating a girl and moves through anthems like "You're No Rock and Roll Funwp_postsby Sleater Kinney. I'm also sharing songs from bands like T-Rextasy, Emma Lee Toyoda, Adult Mom, and so many other amazing, wonderful queer folks.
Make it a goal to listen to music for fun but also with intention this year. Bi visibility is bi strength. Music can be a way to socialize as well as a jumping off point into a larger discussion in how visibility operates in pop culture. For me, listening to music has always been a source of power, especially when the music I listen to is by other bi and queer folks. I love getting to know myself through the music I listen to, I have countless memories of moments, whether it be on public transportation or on a walk to class, where the music I'm listening to has served as a device to strengthen my own relationship to my identity. On bi visibility day I'll be jamming out all day, thinking about the way who I am intersects with what music I love.
https://open.spotify.com/user/sophiefk14/playlist/6rNH9jBvSEJvKtmpNmR4Oc