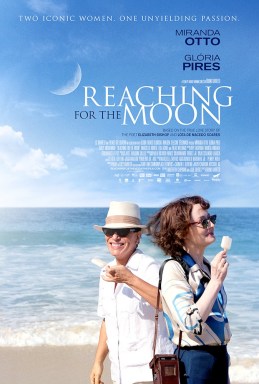 Reaching for the Moon, directed by Bruno Barreto, is a biopic about one of my favorite poets, Elizabeth Bishop (played by Miranda Otto, an actor you may recognize from her role as Eowyn in Lord of the Rings). The film follows Elizabeth as she travels to Brazil for the first time and falls in love with the famous architect Lota de Macedo Soares (played by Glória Pires), creator of Rio's gorgeous Flamengo Park.
Reaching for the Moon follows Elizabeth and Lota during the fifteen years they lived together in Brazil, mainly focusing on their turbulent and passionate relationship rather than Bishop's career. It begins with Elizabeth having trouble finishing a poem ("One Art" to be exact, which would go on to become Bishop's most well known poem) and needing inspiration, she accepts an invitation for a trip to visit an old Vassar classmate, Mary (Tracy Middendorf), who lives in Rio with her lover, Lota. The very timid Elizabeth gets to Rio and initially dislikes everything about everything, having trouble getting along with Lota and her loud, abrupt and magnetic personality. But before Elizabeth can flee the house and bide her time before her ship sails off, she has an allergic reaction to nuts and ends up missing her boat. Oh, what a shame. She must stay for three extra weeks now. During these three weeks, Elizabeth and Lota realize the chemistry between them, and a very turbulent kind of polyamorous relationship is born for the three of them. Instead of a few weeks, Elizabeth stays fifteen years.
The film focuses on the turbulence of this relationship a great deal. The screenplay, written by Matthew Chapman and Julie Sayres, is based off of the book Rare and Commonplace Flowers by Carmen L. Oliveria. Elizabeth and Lota's relationship provides a lens through which we view not only the good times of Bishop's Pulitzer, Mary's adoption of a baby and Lota's big visions for Flamengo Park, but also the trials of Elizabeth's crippling alcoholism, Lota's overwhelming pride and a kind of vaguely explained 1964 Brazilian military coup.
To claim that this movie is a lesbian film isn't quite right. It's a film with lesbian characters, but it's much more than that. Reaching for the Moon illustrates how creativity and power and passion shape the world through two character's imagination and strength. It's also an amazing display of how someone's support of your work can affect all aspects of what you're producing in the world. Reaching for the Moon shows Elizabeth's poetry and Lota's designs and how those are affected by their relationship. That's what makes this movie so distinctly powerful and emotional.
Reaching for the Moon feels distinctly 1960s in its landscape, the stunning design and architecture (a mid-century clothing and furniture lover's dream), and also how the character's lesbian relationship affects them (Mary is disowned by her family, Elizabeth feels uncomfortable being held by Lota on a public beach). I also appreciated the gorgeous Brazilian backdrop, which served as a beautiful distraction from the snow falling outside my window. The fact that Portuguese is spoken in a lot of the film was an added bonus to the authenticity.
To be honest, I was 100% sold on this movie from the second Lota stepped on screen. Glória Pires steals every scene with her confidence and swagger. Her emotional portrayal of Lota de Macedo Soares' ups and downs are particularly effective, whereas Otto's portrayal of Bishop felt spot on. Elizabeth's intense anxiety and lack of confidence in her own work is brought out by Lota's support, which seemed to be the real heart of the movie.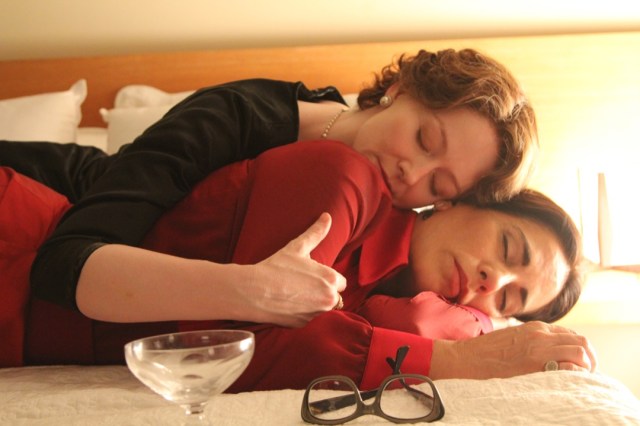 Mary felt like a weird distraction, as though no one quite knew what to make of her character. She has a few sympathetic moments, but when she does, you understand exactly what's going on in her mind, whereas Elizabeth stays extremely closed-off even to the audience when she's alone. When Lota first meets Elizabeth, she has this conversation with Mary:
Lota: She's stuck up, defensive.
Mary: She's shy, brilliant, deceptively funny, dangerous.
Lota: Dangerous?! Haha.
Mary: There was this boy who was crazy for her. I don't know what she did to him but he sent her a postcard saying, "Go to hell, Elizabeth."
Lota: My god, I'm so impressed.
Mary: And then he killed himself.
But you never see this side of Elizabeth. I never truly felt like I found what made Lota fall for Elizabeth, what kept them together other than passion and lust. Perhaps if we could have seen more of Elizabeth's internal workings (other than talking herself through lines of poetry, creepily smelling the new baby's things and drinking alcohol) she would have held more attention. Still, Lota holds enough for the both of them.
That said, I can say with complete certainty that Reaching for the Moon made me appreciate Bishop's poetry even more, so perhaps the sympathy is there, underneath many, many, many layers.
I accidentally spoiled the ending of the movie for myself by looking up Lota de Macedo Soares on Wikipedia while the film was buffering. Take my advice, if you don't know their love story, just watch the movie, then Google search the two women.
Check out the trailer, be wooed by the dreamy score and soundtrack and spend a cold early spring day in bed watching this one. Reaching for the Moon is available for rental or purchase through Wolfe video: