This pasta situation is perfect if you want something that feels like a bunch of butter, cream and cheese without any butter, cream or cheese. Using cauliflower, almond milk and nutritional yeast instead is a pretty passable imitation, and garlic, shallots and lemon makes everything more interesting.
The sauce had a thick texture to start even after enthusiast blending, so make sure you save a cup of pasta water or have some extra almond milk around for adjustments.
It's also delicious on sautéed vegetables or by the spoon.
Vegan Cauliflower Alfredo
Adapted from Oh She Glows.
Ingredients
1 medium cauliflower, cut into florets
1/2 tbsp. olive oil
4 cloves garlic, finely chopped
2 smallish shallots, finely chopped
1/2 cup unsweetened plain almond milk
1/4 cup nutritional yeast flakes
2 tbsp. freshly squeezed lemon juice
3/4 tsp. sea salt
1/2 tsp. freshly ground black pepper
Fettuccine or a bunch of sautéed vegetables or whatever you want to eat under a pile of alfredo-like sauce
A handful of fresh flat-leaf parsley, chopped, to taste
A handful of fresh mint, chopped, to taste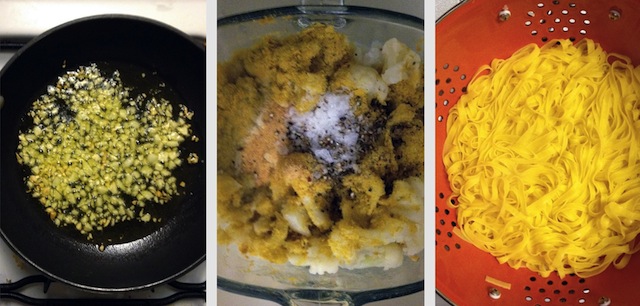 Directions
1. Boil a large pot of water. Add the cauliflower and cook for 7 to 10 minutes, until tender but not in any way mushy. Drain and set aside.
2. Start boiling the water for your pasta, and then cook your pasta according to package directions and personal taste. Right before you drain it, reserve a cup of pasta water.
3. While you wait for the cauliflower, heat the olive oil in a small saucepan, add the shallots and sauté. When they start to get soft and darken, add the garlic. Cook until the garlic turns golden, and remove from the heat but do not drain.
4. Add the drained cauliflower to your blender or food processor or deep hand-blender-friendly bowl. Add the almond milk and blend a little, unless your blender is a monstrous beast that will never break. Add the sautéed shallots, garlic and olive oil; nutritional yeast; lemon; and salt and pepper. Blend on high until really really smooth.
5. This is where you get to adjust things "to taste." Do you need more lemon? Lemon zest? More salt or pepper? More olive oil? More nutritional yeast? If the sauce is particularly thick, add some of the reserved pasta water, or more almond milk, and blend again.
6. Serve over the most delicate fettuccine you can find, or over vegetables, garnish with fresh parsley and mint and serve.