It was a crowded room on a cool night and I was with a friend but completely naked inside all of the poetry. It was The Revival. It was queer women of color, their poems, and their stories, and that's it. It was amazing, salon-style poetry and performance. One big room, truly full — and full of bad bitches, at that. All because of Jade Foster.
I haven't met Jade Foster, yet. We wanted to meet up after I sat in on the DC stop of The Revival, but I was emotionally overwhelmed and she was probably running around like a crazy person. That shit felt like Church, and I packed up my reactions and all the energy in my body and left before we could run into one another. Foster put on the tour — her third — and now that the limited-city journey is over, she's embarked on putting together footage from the adventure and preserving it all in a film. As a poet slash businesswoman, Jade's going strong and putting amazing and unique work out into the world — and I can't help but think it must be as exhausting as it is rewarding.
I wanted to probe Foster's brain about poetry, the creative process, and making art work for you.
Hi, Jade! Thanks so much for being a part of this! Let's get down to business: The Revival was one of the most powerful nights of poetry, ever. Congratulations, seriously, on putting it together. Can you tell me a little about how it got born? What was the genesis for it, and what was it like watching that project come to life?
Thank you! DC's Revival 2012 show was our biggest show to date, over 400 women in attendance, man. The tour was born out of a open mic series I used to have at my house. But then neighbors were complaining, folks ain't never wanna leave, $5 door charges wasn't covering expenses, and it kind of just hit its cap. We pivoted to do the tour — 1) so poets can have larger audiences, and 2) so our communities can have more to do together than party.
Now, as you work diligently to put The Revival on screen, what are some of the challenges and some of your favorite elements of that process? How are you going about putting the film together, and what are your hopes for it?
Aesthetically, it's fun to see new cuts as the director pieces together the narrative. Researching collectives like ours that have existed in the past. Sekiya (the director of the film), said I was Georgia Douglass Johnson — who was a DC sister to the Harlem Renaissance — hosting regular salons. That felt good.

We want the movie to be a testament and a gift to folks who have been with The Revival the past 4 years. We want it to join a powerful canon of great documentary film — Tongues Untied, Call Me Kuchu, Paris Is Burning —challenging the whole 'trifecta of discrimination' bull. Because I'm not but — if I was triple disadvantaged for being black, being woman, being gay, shouldn't I be then, "thrice militant"? Folks need not play with me this year.
You've taken poetry on the road, which sounds amazing. Can you tell me a little bit about the journey that was The Revival and some of your favorite tour experiences thus far? 
What does favorite mean? That I preferred this or that experience to another? Or that this is a moment I never never never want to forget…

First tour, it was tension between the artists. We had like a showdown outside of my truck and I said to everybody, "You don't have to do the last show, I can get you a bus ticket home." Because I don't know, it was like a moment of truth: anybody not willing to put the poetry first, can kick rocks. It was a quiet ride to Baltimore, and a transformative show as well. Shoot, I read my poems at that show.

I never wanna forget POWWOW Open Mic in Chicago, because everybody is a poet. It's not about who got a degree, or who got a cool haircut, it's about who got a story. And who got the drinks! Sekiya trying to bring one of the audience members in the car. We had a long drive and was just crunk and ready for the Southern leg of the tour.

Mmmmnn… The DC 2012 afterparty. Brunch the next morning with my godmother, and we just prayed and was just grateful and exhausted and feeling… unfuckwitable. Every person who comes up and asks to share, has never left me. Every friend or colleague who said I'll watch your door, I'll send that email, I'll pick y'all up, y'all can stay at my house, has never left me.
I'm super interested in your creative process. What is a day in the life of Jade Foster like? How do you work? 
High, until 3 weeks ago. But now, I'm trying to get on my Dre3000 tip. But my creative process, I don't know. I wake up. I pray. I put on Meek Mill or Trinidad James or whatever rapper I'm listening to at the moment, get ready. And get to my laptop. Producing is a whole bunch of asking for real. A whole bunch of email check ins. It's tiresome trying to build a connection with folks through a subject line and signature. I just try to not let that get to me, and operate from my heart.
Pursuing a creative life can be challenging financially, personally, emotionally, etc. How do you stay focused and centered? What's your advice for any folks trying to break free and really do their own thing?
Believe.
What brought you to poetry, and what's kept you there? 
I don't know, is poetry a place? I write, I work because that's what I'm told to do. And when I'm told to do something else, I'll do it. But the work isn't done yet. Not 'til poets are as relevant as rappers. Not til our arts institutions are sustainable, abundant and working at a full capacity. Not til… lemme stop.
---
Idol Worship is a biweekly devotional to whoever the fuck I'm into. This is a no-holds-barred lovefest for my favorite celebrities, rebels and biker chicks; women qualify for this column simply by changing my life and/or moving me deeply.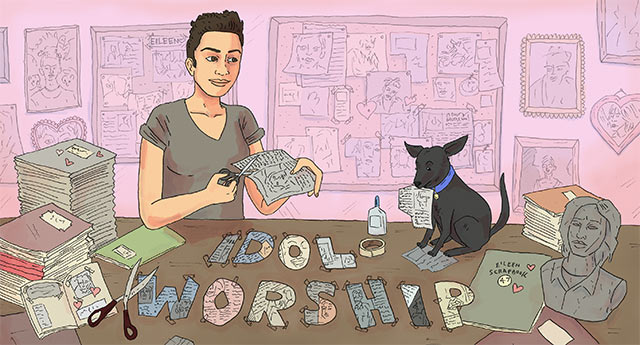 Column graphic by Rory Midhani