Hanging out with Lucas and the two new members of The Cliks (3.0) is like hanging out with your best friend and the girl she's just totally fallen in love with who genuinely loves her back — these kids are just so happy together! They just, you know … CLICK.
I photographed The Cliks earlier this year in their former incarnation, before the July release of Dirty King and before September, when The Cliks announced on their myspace page that Morgan Doctor and Jen Benton had left the band. Lucas explained at the time, "…to be blunt, the road beat us up and knocked us out. When we all woke up, we each saw a different road ahead. These things happen, it's that simple."
In November Lucas announced that Brian Viglione and Tobi Parks had joined up and they were back to making music, so I was eager to talk with the New Improved Cliks and be the first photographer to get a chance to capture the trio together (in menswear!) for a photo session.  Luckily I have plenty of experience with engagement photos. ;-)
We talked about how they all got together, future musical plans, the impact of a genderqueer band, their backgrounds, the importance of queer visibility (our favorite topic!) and… well, you'll just have to read it and find out.
It's clear that Lucas, Tobi and Brian are three musicians made for each other… and if they can rock a stage anything like they can rock a tux (and I think they can), there are definitely amazing things in store for this group.
Robin: I just want you to tell me about the new band, how'd you guys get together, how'd you guys start playing together, and maybe introduce these guys for anybody that doesn't already know.
Lucas: Ok! So, I was looking for a new band, obviously. Brian was the first drummer that came to mind when I was thinking about that. I'd met him on the very first True Colors tour when he was playing with The Dresden Dolls. After the tour we kept in touch and every time I came to Boston, Cambridge; he was there like, "hey come out to the show."
When I first asked him he was already in another band, so it was like "I'll do some shows with you, but you know I'm in another band so I can't do that full time." So we did one show in DC, and then through a mutual friend of ours through Cyndi Lauper I was introduced to Tobi. And when I met her I was like, "Hey, I know you!" 'cause we'd played the show at The Knitting Factory where her band Bambi had opened for The Cliks. So it was like this small, weird world.
And that's how it happened. We did one show on the basis that these were like our "guest" musicians for The Cliks and we played one show, we had one rehearsal and the chemistry was just perfect, as Brian puts it. I was like, "PLEASE BE MY BAND." And here are Brian and Tobi!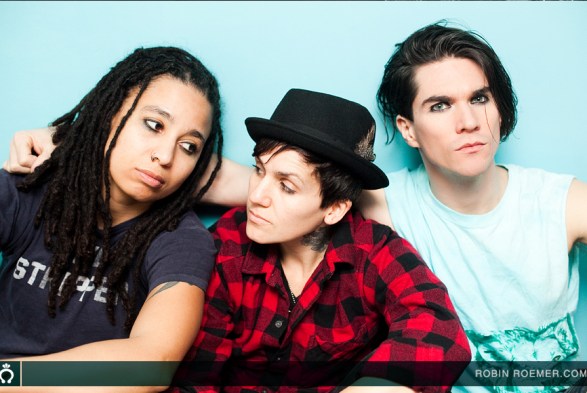 Robin: How is this version of the Cliks different from the previous? How has the sound changed? From your perspective, how you're feeling it's evolving?
Lucas: I think one of the most obvious changes is people can't really put us in a box anymore, because I always get this whole like "oh it's an all female band!" even though I identify as a transman. Or they're like, "it's an all female band with a transgendered singer!" and I think the great thing about what's happening now is that people can see that this is all about music. It's not about gender.
Gender is a facet to what I do, but it's only one thing. The other thing is that these guys are really positive people, which is forcing me to be a positive person as well. They're teaching me to focus on the right things, and that's great after being in a sort of "situation" or a relationship with band members that was a little bit toxic and not very healthy.
Artistically, the biggest change is that I feel really artistically open. I'm writing music from a good place now, not from, "OHHH GOD I gotta write an album." I was on a path before feeling like I'd been put into a little box and feeling very protected. Now I feel really liberated, 'cause these guys are that way.
"It's important to remind people that underneath everything, underneath any label, THIS is the heart of what counts and what's translated to people."
Robin: How about you guys, how do you see the sound, how is it different?
Brian: Well I think right off the bat I think there's a little bit of a harder attack. Tobi and I both kind of gave each other the secret knowing nod the very first time. 'Cause we had never played together until our first rehearsal and kind of went "oh. You're one of those too."
So there's a really strong driving element for drums and bass, and a lot of showmanship and a huge energy boost. There was overall a cool demeanor to the band before, and now it's a bit more visceral. Lucas touched on it before — the beautiful, vast ambiguity in terms of sexuality, gender and personality. You can't pin anything down as any one thing these days, and that's good! It's important to remind people that underneath everything, underneath any label — THIS is the heart of what counts and what's translated to people.
Lucas: And I found out today actually many of the lesbian viewers or people who go to Autostraddle find out that Brian is a huge Ani DiFranco fan. So actually he's the lesbian of the group.
[laughter]
Brian: You gotta let it shine, absolutely! Well yeah, I mean again, one of the main things is you want to feel comfortable to express yourself wholly, every facet of your personality and your individuality. You want to let that spread, and compliment the band's other personalities and traits. When you have any group over two people, you want everyone to be able to come into themselves and fully devote themseleves to that experience. It only magnifies what people perceive, and it's very new for us but it gets expressed to the audience as well. That's a really important thing.
If I felt sort of alone in my band in a certain aspect, now we're joining up with other people who are equally allowing you to flourish in that way.  That's really important, a really significant ..

Tobi: Even to this point we haven't really had the opportunity to do a lot of playing together. We've had these sort of these very sort of tight situations like, "alright we have this thing to do." I'm just really excited about when we'll have some downtime to really be able to play off of each other. In DC, the show was amazing because it was a very organic sense. But I think when we're able to sit down and really learn how these guys function — drummers and bass players have this thing where you give a look and you know he's gonna raise his elbow or something, and you learn to follow each other that way. I'm excited to see where it's gonna go and where Brian's going.
Lucas: Everybody has musical personalities. The longer you learn how to play with someone, the more you understand them, not only as people but as players. The one show we did do together, it felt like we did know each other, like, "Oh, you guys are old souls to me." That's why I was like, "what? This just feels so right."
I always compare bands to like being in a relationship. Sometimes you just walk into a person and you know that you're in love with them. You don't have to know them or anything. Then there's people you meet where you really have to work hard to make it work. Sometimes the part about "not working hard" is so so good. 'Cause then you can get to the sex!
[laughs]
Lucas: That's like the music.
Brian: Definitely.
Robin: So you feel like you're opening yourself up a little bit more, I know in the past I don't know if you felt like you were pigeonholed as a queer band, do you feel like you're opening it up a little bit more to the mainstream? Do you feel it's important for queer artists to find a home in the mainstream? How do you think this new feel, and this new band is going to make that possible?
Lucas: Well, I do believe that it's important for bands like us to be in the mainstream. I don't want to be excluded from the queer scene because those are my roots & those are my most supportive fans and the people who've supported everything I've done. Those are the fans I'm most grateful for 'cause that's where they got us.
But it's important for bands like us to be in the mainstream because then we become the mainstream. Then it's not an issue. That visibility is so important — for people to understand that they don't need to be queer to relate to your music. Art is art. When you look at a painting in a gallery, you don't think about whether it was done by someone gay, straight, a woman — you just kinda look at it and it touches you however it touches you.
That's what people need to be doing with music. People get put in little boxes based on genre or where you come from, and what this band is doing right now is going, "Look. It's The Music." Things are changing behind it, but it's always about the music. It doesn't matter if it's two queer women doing backup and a transguy in the front. It's the tunes, man.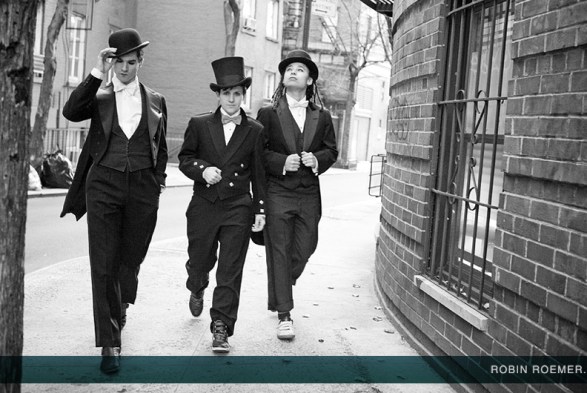 Robin: Are you working on new songs?
Lucas: Right now I've been writing a lot, like I said, I feel like this new kind of like freedom. We're having some issues just geographically because I live in Toronto and these guys live in New York, which is great 'cause I get to come here a lot, it's my favorite city in the world besides Toronto. It's true. But I think it's going to be a matter of .. like Tobi said, I cannot wait for us to not have this pressure – you gotta get these songs down kind of performances where I can just come in with a bunch of new songs and send them stuff over email like mp3 and go "listen, this is what I came up with, why don't you guys work on something over there and then when I come we can sort of have a base to go from". So I can't – that's what I'm most excited for, is to be able to do that. Hopefully we'll be able to do that in the near future. And we're planning on going on tour in March so we best be doing that.

Next:
"I think creative collaboration has a very organic lifespan. The ideas & the creative energy between people have a beginning, a middle, and an end."
Pages: 1 2See entire article on one page