DC: With a vote of 11-2, the DC City Council passed a bill this afternoon that would allow same-sex marriage in the city.
David Catania, who introduced the bill and is one of two openly gay council members, called the bill a "matter of social justice" before the vote.
Two members voted "I do" when their names came up [how cute!], and when the vote finished a packed chamber erupted into cheers and clapping. The "no" votes included former mayor Marion Barry, now a council member.
It's not law yet, it goes to the mayor's desk now. He has promised to sign the bill and is expected to do so on Thursday. After that, Congress must approve it. They have 30 days to reject the bill, and many opponents have threatened to lobby Congress to overturn the City Council's vote. But the Democratic leadership doesn't seem likely to do that. If passed, the marriage equality bill would probably be fully in effect by March.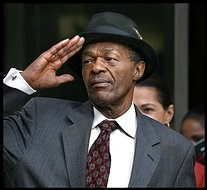 The "no" votes included former mayor Marion Barry. (Listen to that here, where he says everyone should look at his distinguished record for bucking the tide instead of at this one vote.) Just so we're all on the same page here, a quick FYI: Barry was convicted on federal drug charges in 1990 for which he served six months in federal prison. In '02, the U.S. Park Police found traces of marijuana and cocaine in his car. He's also been in trouble for tax fraud, failing to pay his taxes, traffic violations, and misdemeanor stalking.
On the gay marriage bill, Barry has said: "All hell is going to break loose. We may have a civil war. The black community is just adamant against this." In response to Barry's prediction of a civil war and his conviction that his entire district is against gay marriage, Blogger Mo'Kelly says: "Take it for what it is…a crackhead's opinion. Yes, in pure numbers it's fair to say that the majority of African-Americans may not be in agreement with gay marriage, but it is unfair to broad stroke allege that the whole of the community is adamant against it.  It's simply untrue." Apparently Barry hasn't taken the time to get the memo on this. (@ap)
From Queerty: "The National Organization for Marriage is already spitfiring after D.C.'s marriage vote. Maggie Gallagher & Co. are promising, via Twitter, to take down Councilman David Catania's radical homosexual activist agenda."
From NPR: If you haven't already, you really must check out the Interactive Map they've got over at NPR of marriage laws by state.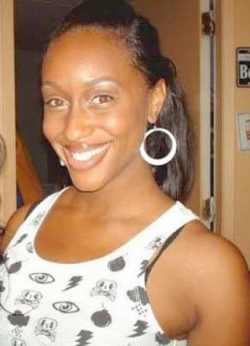 MISSING WOMAN: Mitrice Richardson has been missing for about three months now, but police have some new evidence about her state of mind when she disappeared. After analyzing her journals, they believe she may have been suffering from bipolar disorder and possibly had a breakdown in the days leading up to her disappearance. The LA County Sheriff's Department arrested Richardson on Sept. 16 after a restaurant reported her for not paying a bill. At that point, Richardson hadn't slept in five days. They then released her without her cell phone or purse.
Los Angeles County Supervisor Mark Ridley-Thomas called for an investigation into the department's practices. Richardson's father said he is "outraged" that the department released her without a mental evaluation, even though staff and patrons at the restaurant told deputies she was acting strangely (@latimes)
UGANDA:"Apropos of everyone asking why there's been no real public condemnation of Uganda's Kill The Gays bill, Sec. of State Hillary Clinton finally went off on the country's planned state-sponsored identity cleansing."
TOO MUCH?: The Philadelphia Enquirer explores whether same-sex marriage supporters were TOO vocal in New Jersey. They focus on Steven Goldstein, who was responsible for bringing together a lot of the supporters at last week's NJ Senate hearing-that-would-never-end. I suppose threatening political retribution on lawmakers who vote no might be a little much. But at this point, what are we supposed to do? I guess he should've been a nice, quiet gay who sits in the back of the room waiting for his rights. (@philly.com)
GAY BUSINESS: Yesterday, The National Gay & Lesbian Chamber of Commerce (NGLCC) announced a partnership with the Gay Ad Network. The companies hope to make it easier for LGBT-owned businesses to advertise on websites in the Gay Ad Network, like we already do!