Robin: That's what I was going to ask you. That's great. What are your tour plans?
Lucas: Cyndi Lauper's manager and Cyndi Lauper are planning a True Colors "offshoot" tour they want to do with younger bands who are ready to go out and promote the True Colours name and what True Colours is about — human rights for the LGBTQ community. So we're one of the bands, another band that's supposed to be on it is Hunter Valentine and the third band right now I think they're still trying to find. That's what we have in the works right now.
Robin: I know that people at Autostraddle are really curious about you, Brian, and whether you and Amanda have had any plans to play together again — I know you've both been doing your own thing… Will there be collaboration with her at some point?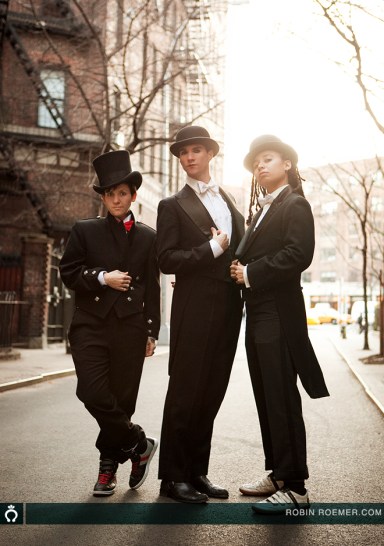 Brian: Not in any foreseeable future. The way that I feel about all of that is that it was a very important stage in my life that I'm really grateful that I had the experience for and learned a tremendous amount. But in many ways it was an opportunity for me to confront a lot of the lessons that I needed to learn.
So to go back into that situation would feel strange and regressive.
I feel like a different person than I did five, six, seven years ago when I was really in the thick of The Dresden Dolls. I appreciate all the work we did and the people we met along the way, but it's not really something I'm feeling drawn to at this point. I'm so enthused and invigorated to be where I am right now that going there would just be for nostalgia.
There was a very honest devolvement of the creative energy between Amanda and I and it didn't end before its time. I think creative collaboration has a very organic lifespan. The ideas & the creative energy between people have a beginning, a middle, and an end. I'm happy and proud of the way we saw things through. Around 2006 we started to split and rather than force it, we both acknowledged that it was time to move on and do other things. That's the best way, I think. A band, or people, can handle something like that. So maybe down the road if it's the right time, sure, but I can't really say yes or no either way.
Robin: I'd love to hear from you, Tobi, a little bit about your background, your musical background, what you've been doing…
Tobi: I'm from St. Louis, Missouri, which has a fantastic music scene and I was really involved in a lot of experimental music stuff. I was in a trio called The Start Up, which was like this queer punk — well, I can't really say "queer" 'cause I was the only queer one in the band — it was sort of feminist art punk.
We did a lot of touring with bands like The Butchies and Le Tigre and Gossip and things like that. Like Brian was talking about with The Dresden Dolls; we had started this great thing, we had an arc, and you continue to create with people and you develop different visions of where things should go. That's what happened with us. But also there's this strange thing where you feel like you're constantly banging your head against the wall like we were — see I've always been in bands that are a little left of center, the Cliks is the most mainstream band I've been in. It's one of those things where we all really love what we're doing, and it's really creative & exciting stuff, but it's not an easy pill for mainstream audiences to swallow. So I've accepted that, and I like to create art for art's sake.
So I played in Star Death for five years, and there's another band in St.Louis I'm actually still involved in that's more experimental metal. So we shoot mp3s back and forth to each other and I go there every once in a while to record some things. The band I'm in now, Bambi, in New York — it's one of those things too where it's very organic and these guys, no matter what happens in my world, I think we'll always create together. We have different aspirations in terms of what we want to do musically, like it's a duo-fronted and the two singers are a girl and a guy who are actors and very tied to the New York theater scene. So touring is difficult for us. The guitar player's also in another band so it's like we're all kind of pulled in these different directions but we love creating music together and we create these really interesting (at least I think they're interesting) projects and so that's kind of what I've done.
Lucas: She's pulling in all over!
Tobi: I am. I always say that I'm musically slutty and I'll play with anybody at least once.
Lucas: I'll buy you breakfast, don't worry.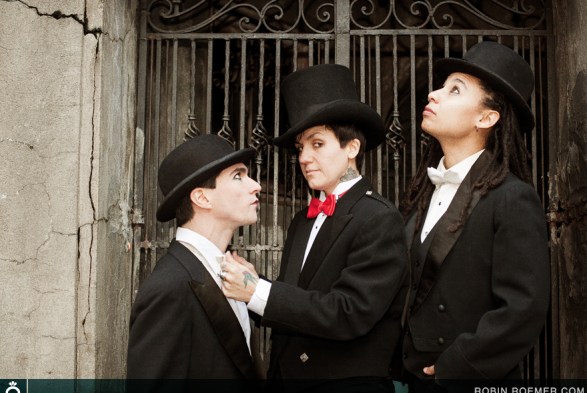 Robin: What are you guys listening to right now that's inspiring to you?
Lucas: Oh, God. I can't get off the Lady Gaga [sidenote: HELL YEAH]. Lady Gaga and Beyonce have been like the number one things on my mind/ipod. I'm a pop music slut. I love the pop.
Brian: I've been sort of between three different things. A lot of 90's hip-hop stuff that I'm coming back and listening to, and 1940's pop, Johnny Mercer, that era. I've really been getting into 40's World War II swing. I've been finding these Leonard Bernstein concerts for young people really inspiring. These DVDs that are just absolutely amazing, with Berns conducting the New York Philharmonic talking about all these aspects of music it's just incredibly beautiful. He goes through all these different composers so that's been really a huge RUSH.
Lucas: This morning I was staying with Brian and he went from listening to, what's it? M.C…?
Brian: Young MC?
Lucas: …to like this flowing jazz and then I come downstairs and he's listening to like death metal I was like "weellll, somebody's got very eccentric taste!"
Brian: Yeah, that's true. That spells it right there, Young MC to Lester Young to Pantera.
Tobi: I've been listening to a lot of M'Shell Ndegeocello which is fucking amazing. I'm not really one to idolize musicians too much but Oh My God.  Really, it's strange, after a while I get kind of burned out on music a little bit so I've been listening to a lot of NPR podcasts. That's basically what my time is, like old classic rock and stuff like that. Oh there's a guy, Bobby Kahn (?) of Chicago who is fantastic so I listen to a lot of his stuff all the time.
Lucas: [this part we can't hear and therefore transcribe we are very sorry -the interns] He's actually from Brooklyn, he's got a little Novice Theory, he's a transguy. Geo Wyeth. He's amazing, sort of cabaret. Up your alley there, buddy [to Brian].
Brian: I think I've even seen some clips.
Lucas: Yeah. He's really good.
Brian: I have to remember. There's some really famous New York cabaret artist who looks a little bit like Mark Allman.
Lucas: Hah! Really?
Brian: Yeah. This is probably not Geo Wyeth.
Lucas: No. Definitely not.
Brian: I gotta try to find this guy's name again. Yeah, so, again, there's a really great diverse but complementary kind of thing. It's gonna yield some powerful stuff I think.
Robin: Is there anything else that you want to add or say?
Lucas: FOLLOW US ON TWITTER! So you can hear me talk about ridiculous stuff. Twitter's a weird world, you find a lot of people there, or facebook. Just to keep up with stuff that we do and myspace and stuff like that. I always find it surprising when people email me and they're like "when are you playing?" and I'm like "guys, myspace, man". Go to myspace!
"This is a rock band and if you like rock and roll then you'll like this. That's the way I see it."
Brian: I want to say bring somebody out there if you're going to see The Cliks and you've been before. Bring somebody who's never been who might not expect to go or feel included there. I just had this experience where a neighbor of my Dad's out in Jersey who'd been coming to shows and that kind of thing for a while, felt threatened and a little bit homophobic about what was going to happen at a Cliks show and didn't want to go. He didn't really know, he couldn't really understand, and that surprised me. I didn't expect that. Of course my heart sank.
I was like, "ugh but, how, why would you, after all this time" [spluttering] But again, people just get afraid. And then my father called back and said, "He changed his mind, he really wants to come and is excited about the show." To me, that was great. I was like, "wonderful!" because I think a lot of the times people feel like, and I saw this with Dresden Dolls too, people said "oh that's like the goth kids. I'll be too old, or I won't fit in" and I want to make sure that everybody feels that they fit in at a Cliks show.
Lucas: Oh yeah, for sure.
Brian: It's not just for one person or the other. This is music for everybody and that's a really wonderful thing.
Lucas: If people could close their eyes and see the way I see myself you'd see a little rock and roll 1970s dude closer to Led Zeppelin than anything else. So get these images out of your mind. This is a rock band and if you like rock and roll then you'll like this. That's the way I see it. We did the Cult tour, we went on stage and at the time it was me and Morgan and Jen and Nina was in the band too, and all these rock fans, these like biker dudes, sitting around and I saw their faces when we got on stage they'd be like [makes yucky face] and then we'd start playing and they're like [surprised face] "oh!" and I look into the audience and I see this guy like singing Cry Me a River and I'm like, "Oh yeah, biker dude, what's going on, you're digging JT yo". So it's just like people need to get that shit out of their head and open themselves to the music that's all they need to do.
Tobi: On the other side of that, people who have already been Cliks fans might be afraid that it was one thing and now it's sort of changed and people don't like change that much. But this is something that's really good, and really great, and not to pat ourselves on the back —
Lucas: But you should.
Tobi: — I think the trajectory is going to another level than what it was before. So I would hope that both Cliks fans will continue to come and continue to enjoy what we're doing and be exposed to a new generation of Cliks.




Check out The Cliks on myspace, go to their shows, and FOLLOW THEM ON TWITTER!
Pages: 1 2See entire article on one page