Ladies and gentlemen(?), as of late I've had a lot of feelings.  It's been a rough couple of weeks, and there's nothing I needed more than a goddamn rock'n'roll show.  With this in mind, I dragged my friend Hilary out on Friday night to Amanda Palmer's sold-out Highline Ballroom performance.  Hilary had never heard Amanda's music before, didn't know who the Dresden Dolls were, and isn't nearly as freakishly obsessed with music as I am. Although the cult of Amanda Palmer is far-reaching and powerful, that doesn't necessarily mean it's self-explanatory – so although Hilary was interested, she didn't exactly grasp my excitement about the show. Understandably, Hilary had a lot of questions.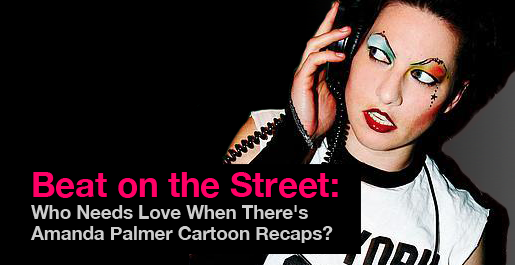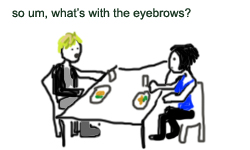 I explained that this show was less about the actual record (last year's "Who Killed Amanda Palmer?"), and more about the experience of being in a room with Amanda, hearing her talk, seeing her play weird covers, and probs Twittering the whole thing.  There's an enormous sense of community in knowing that we are all weirdos, and we came to see this weirdo, and that weirdo TOTALLY GETS US. Whether it's through her lyrics, her blogs or even her Twitter, Amanda Fucking Palmer makes it okay – even cool – to be an outsider.  Something about Amanda's music brings out the wide-eyed teenage fangirl in me; I haven't felt this way about a singer since I was 12 and Shirley Manson told me she was only happy when it rained.
It's fair to say nobody goes to an Amanda Palmer show expecting to be bored.  It's best to go in with no expectations whatsoever – you never know what you're in for.
There's an enormous sense of community in knowing that we are all weirdos, and we came to see this weirdo, and that weirdo TOTALLY GETS US.
Upon our arrival, we were greeted by a friend of mine – the wonderful and totally batshit insane local musician Emilyn Brodsky.  Ms. Brodsky looked resplendent in a flowered jumpsuit.  She gave me advice about purchasing a ukelele (my next musical goal of 2009) and informed us she'd be performing a few songs with Amanda later that evening.
Before the show officially started, Amanda announced via Twitter that she'd be holding a fan confessional in the men's restroom.  The goal was to meet with individual fans one at a time, for a period of about three minutes each.  We didn't attend' cause we thought it'd be a madhouse, but apparently Amanda was able to meet with about 25 fans and though she'd intended to videotape the whole thing, the fans took the confessional VERY SERIOUSLY and told her top secret information. I've never been to a confessional ('cause I'm a Jew), but I imagine it was pretty intense. Not every artist has fans who feel so comfortable sharing their deepest, darkest secrets I suppose, but it's also not every artist who'd take the time out of their evening for such an odd (and not remotely self-serving) endeavor.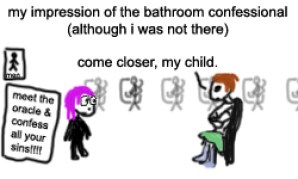 Openers the Lisps were um, not my favourite.  We got through it.  There was alcohol involved.
Amanda Palmer is full of surprises, and she kicked off the show with a ukelele cover of Bright Eyes' "Lua" – from the furthest corner of the balcony.  Our vantage point from stage right was all but useless, but once the song had finished a wild-eyed stranger came barreling through the crowd with a ukelele hoisted above her head, and the show began good and proper at the piano on stage.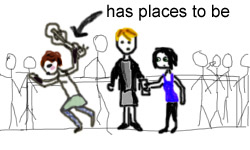 Within 30 seconds of Amanda's triumphant arrival at the ominous Kurzweil, Hilary understood what I'd been yammering about for weeks.  The set was both intimate and cathartic.  For playing "Ampersand" into "Missed Me," Ms. Palmer, I cannot thank you enough.  You UNDERSTAND me the way no-one else does – but of course, I was one of many people in the room having that exact same feeling. The two-hour set ranged from "Who Killed Amanda Palmer?" favourites like "Runs in the Family," "Guitar Hero" and "I Google You" to Dresden Dolls classics ("Gravity," "30 Whacks"), to some downright strange/amazing choices ("I can't believe I just listened to a seven-minute-long ballad about a trout… and loved it." – Hilary).
Amanda was animated and charming, telling endearing stories about her songs' origins and answering fan-submitted questions. The questions ranged from the obvious ("Is there a big difference between Amanda the artist and Amanda the person?" "Um.. no.") to the sexual ("Are you a top or a bottom?" "I'm a SWITCH!" [crowd cheers!]) to… something about Twitter.  It always comes back to Twitter; it's the perfect tool for artists with no boundaries.
HOWEVER – I would like to take a moment to talk about the person who gave Amanda a slip of paper with her Twitter username written on it.  Amanda announced it aloud, and the girl shouted for her to keep it.  "I will," Amanda answered, a bit confused.  I'm sorry – is that weird?  What kind of a world are we living in where people do things like this?  Would this be acceptable with anyone other than Amanda Palmer?  Is it even?  If I was 15, would I have done the same thing? I have a lot of questions.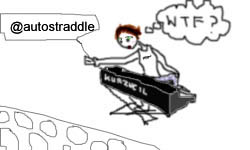 Later, she brought out a cake for her assistant's birthday, which her crowd of friends rapidly destroyed, smeared all over each other and then sent crowdsurfing through the pit.  Throughout "30 Whacks," Amanda was adorably oblivious to the white icing smeared in the corner of her mouth.  Precious.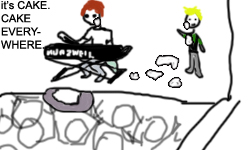 The absolute highlight of the show was a gorgeous, emotionally-charged rendition of "Delilah," featuring Emilyn Brodsky on backing vocals.  There's something about that song, which describes the agony of watching an "unrescuable schizo" of a friend make one awful romantic mistake after another – It doesn't matter what I say or do; the stupid bastard's gonna have his way with you… Well, I'd be lying if I didn't admit I teared up a little. Brodsky remained onstage for a spirited rendition of "Oasis" that had the whole room clapping along, and a Lisps-assisted cover of the Coasters' "Yakety Yak."
For her encore, Amanda played "Astronaut" and then brought out her father, who she declared was dressed like Johnny Cash. He sang and played guitar with Amanda on a particularly sweet cover of Leonard Cohen's "One Of Us Cannot Be Wrong," which was soft and mournful and thrilling to watch. I took this blurry, subpar picture.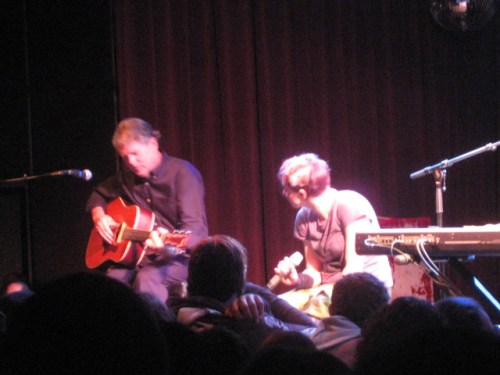 After the show, we were lingering by the bar (always) when a girl tapped me on the shoulder and gestured to the dark-haired gentleman immediately behind me. "Is that Neil Gaiman?" she asked, wide-eyed. I confirmed that it was (Writer Neil Gaiman and Amanda Palmer recently collaborated on a book – also called Who Killed Amanda Palmer? – and the two are madly in love). The girl stared incredulously, trying to work up the nerve to go say hello. I encouraged her to do so, asking when she'd have another chance, and pointed out that if she didn't she'd always regret it.
Ultimately, the girl did introduce herself to Neil Gaiman, and somehow during the encounter he was flustered and spilled his beer all over me. Despite the occupational hazards, I still believe that everyone should feel free to geek out whenever possible – and I feel like AFP would agree with me.
By the time we left the Highline, my sour mood had dissipated, and I felt unabashed in my fangirldom – 700 other misfits were clearly on the exact same page.  The cult of Amanda Palmer is a fascinating thing to witness, and I felt privileged to have been there for it – and to have been a part of it.  I Twittered as much.. obvs.
[ad#postads]