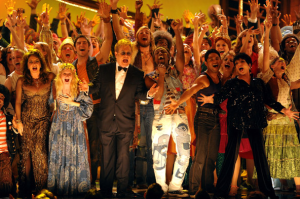 Last night, the 62nd annual Tony Awards, hosted by out actor Neil Patrick Harris, bestowed heavy golden awards upon many theater people including but mostly not limited to Billy Elliot. In the spirit of the Tonys and the theater in general, we thought Autostraddle oughtta throw together a Top Ten of Lesbian/Bisexual Play Characters.

We thought this would be easier — the hardest part, we imagined, would be coming up with just ten. Surely if we thought really hard, wikipedia'ed (we expected a "lesbian characters in plays" list of some sort to appear … it did not), checked out the glbtq encyclopedia and googled some shit, we'd be rushing to narrow down the contenders by Sunday afternoon. I mean, there's Maureen & Joanne from RENT, to start with. And then … um. The initial topic — "Broadway Plays" — was dead on arrival. So all plays. Let's look at every play EVER.
Alas, although gay men populate theatrical spaces in remarkable numbers, it seems lesbian characters are few & far between, and lesbian shows are often relegated to the fringes of fringes. According to The Women's Project, between 1985 and 1995, women wrote 17 percent of the new plays produced Off Broadway and 7 percent of those on Broadway. Those are old statistics, but if anything I think newer ones would be worse. (Read more about TWP's mission here).
And so we found more than 10 plays, obvs, it's unfortunate that there aren't more that wold come immediately to mind for a mainstream audience. [And no, Wicked doesn't count, all ye KC/IM fan-fic writers.] Change is gonna come though kiddos, for real.
Sidenote: After several years of hanging out with Broadway kids and taking Rosie cruises every summer, I can safely say there are a TON of lesbian & bisexual women working on and off Broadway today, and hopefully we'll have enough of them to do a kickass Top Ten on that topic very soon.
Sidenote 2: We wanted to talk about Carolyn Gage but didn't feel we had the time to do her justice. If anyone else does, please do tell, and we'll add your graf to the Top Ten.
Sidenote 3: This top ten would not be possible were it not for the hard work of Intern Nicole. She broke a leg for real.

Top Ten Lesbian Characters of the Theater
10. Madeline True in Andrew Lippa's "The Wild Party" (Off-Broadway 2000)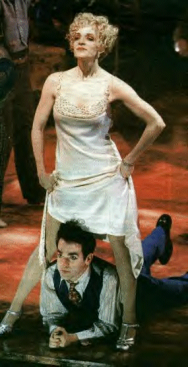 See that girl on the bed, how she wants me.
She's a bee I could free from the hive.
I would never dare deceive her, she's a very clever beaver
With a quality I like –
She's alive.
Based on a book-length poem and adapted for the stage by Andrew Lippa, The Wild Party is the story of one crazy evening in a Manhattan apartment shared by two vaudeville performers. Madeline True, one of the party attendants, is a lesbian and a madame. The most notable aspect of her character is the song  "Old Fashioned Lesbian Love Story," which features brill lyrics. The show closed quickly after 54 performances, and at least one reviewer noted that, "Miss Madeline True shows the utmost restraint for someone who is supposed to be a lesbian stripper."
What It Did For Queer Girls: Gave us one really good funny song to sing in musical theater revues.

9. Kate Aspero from Zanna, Don't! (Off-Broadway 2003)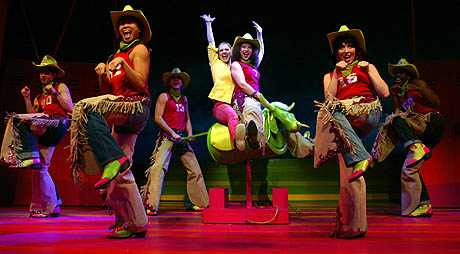 In a fairytale America Heartsville, USA, everything is reversed – the world is homosexual and it's the heterosexuals that are subject to heterophobia and must hide their love. The play takes place over the span of one school year when Overacheiver Kate Aspero falls in love with part-time waitress Roberta after a particularly triumphant evening of Mechanical Bull-riding (see, we're on topic!). THEN! Their love is jeopardized when Kate dares to fall in love with Steve, the quarterback!
What it Did For Queer Girls: Challenged the status quo, provided opportunities for more than one woman to be in a play. Also starred Jai Rodriguez, the "culture" expert from Queer Eye for the Straight Guy, who probs was full of valuable input for the ladies regarding girl-on-girl culture.

8. Ronnie, "Confessions of a Female Disorder," by Susan Miller (1973)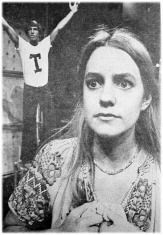 Susan Miller , who has written for shows including The L Word and Anyone But Me, is an award-winning playwright who broke ground in 1973 with "Confessions of a Female Disorder." The show traced the non-linear journey of Ronnie's life beginning with her first period through her realization that she's a lesbian "miscast in the married, country-club world in which she is trapped."
What it Did for Queer Girls: Told our motherf*ckin' story! For real!

7. Callie & Sara in Stop Kiss, by Diana Son (1998, Off-Broadway)
"At a time, and in a community, where we often find a false sense of security, we may think that we no longer need fear prejudice or hatred," says the playwright. That's where her play comes in. The story centers on the love affair between Callie and Sara, who are assaulted when they are seen kissing, which sends Sara (played in the original production by Sandra Oh) into a coma.
A google search has revealed that me myself (Riese) reviewed a production of this play in 2001, when it came to Ann Arbor for a sold out run. I now remember distinctly attending this production with 500 members of my mother's middle-aged lesbian gang.
But I digress. According to myself: "The narratives come together to explore the difference between the pure and uplifting nature of their love for one another and the traumatic event which results from their assaulters' [sic] ignorance … a story of courage and the steps we take to make change comfortable in all aspects of our lives … tight and engaging pace … beautifully acted and carefully directed … genuine characters … the actresses radiate a certain intimacy that brings the audience closer to the emotional core of the piece."
Way to go, Marie/Riese '01. YOU SELL IT/suck..
What it did for Queer Girls: It's now been done by approximately 5,000 other theaters, providing ample opportunities for lesbian actresses to get to make out with other girls onstage. Also raised visibility about hate crimes.

Pages: 1 2See entire article on one page