And we're baaaaaaack! We've been gone for a while, but here's a link to catch up on everything we covered and you maybe missed. Sending you lots of love for air conditioning, a fan, and some good TV to keep
Notes from the TV Team: 
+ The ATX Television Festival went virtual this year so you get to enjoy chats with some of your favorite storytellers and actors from the comfort of your couch. A few recommendations that might be relevant to your interests: a behind-the-scenes look at One Day at a Time's animated politics episode, a gab session with the cast of The Bold Type and a celebration of authentic Latinx stories with the showrunners of ODAAT, Vida and Pose. — Natalie
+ Snowpiercer keeps getting gayer! And darker! And Jennifer Connelly keeps getting hotter! As does Lena Hall! I'll write a proper update about this show someday I promise! — Valerie Anne
---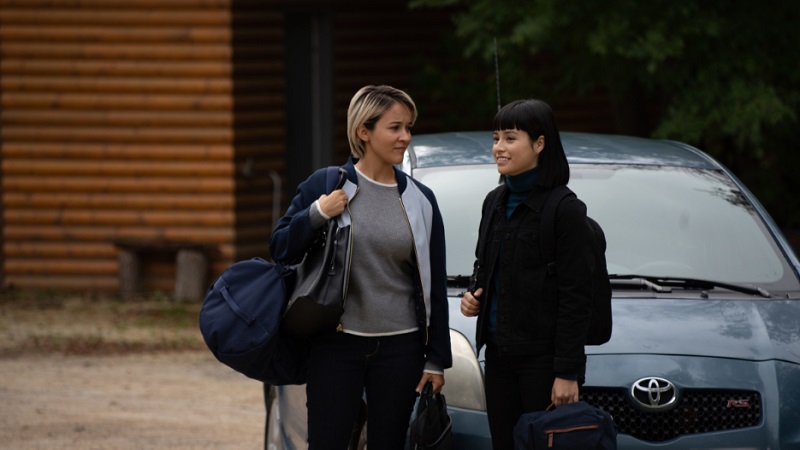 Over the last few episodes of Burden of Truth, Luna's been struggling — struggling to let go of the anger that comes with having been arrested and wrongfully accused of a crime, struggling to let go of the fear and trauma that linger from her time in prison — but this week, she's forced to face it all.
For weeks, Joanna and Billy have been working to get Kodie Chartrand's kids back, after they were taken from her by Millwood Family Services, for no apparent reason. Sensing that Kodie might be caught up in a bigger scandal, they expand their search to include all apprehensions by MFS but are stonewalled and then given heavily redacted copies of their files. Luna recommends cross-referencing the dates on the apprehensions with police reports to identify the families and Joanna tasks her and Crawford/Chang's lone associate, Kat, with tracking down those police reports. Luna is understandably reluctant — her PTSD is undeniable — but Kat urges her to face her fears.
"Seriously, Luna, let people think whatever they want. The only thing that matters is how you see yourself," Kat tells her. "It's time for a reclamation tour…You walk straight into the places that hurt you the most and reclaim them as new memories, starting with the cop shop."
Luna agrees and walks back into the Millwood Police Department on her own. She's still nervous but, thankfully, she's greeted by a friendly face: her almost step-father, Owen, who has taken over as the town's sheriff. Despite their personal relationship, Owen won't just hand over the papers, though and, later, Luna returns with an access to information order. Later, she and Kat are able to piece connect the police reports with MFS clients and one leads them to Cassie, a former classmate of Luna's. Only problem? Cassie's being targeted by MFS despite the fact that she hasn't even had her baby yet. The Crawford/Chang team trace Cassie's issue — a false negative on a drug test for a new job — to the same lab that tested Kodie and precipitated the removal of her children. Finally, Joanna sees how she'll get Kodie's children back.
Afterwards, Luna confronts her boss/sister about callously sending her to the police station when she knows the trauma that place caused. Joanna assures her that she wasn't putting the case ahead of her sister, she knew Luna was strong enough to face her fears. Luna accepts this explanation better than I do and the sisters embrace. After that, Luna retreats to Billy's hot tub for soak with Kat and the pair share a kiss… but Kat puts the breaks on any budding romance, fearing how Joanna might react if things go awry.
---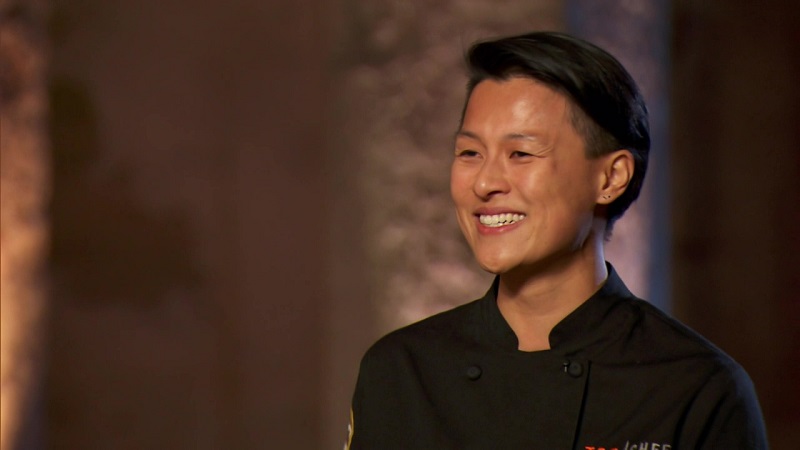 When this season of Top Chef began, folks were quick to crown their favorites. Very few people — except, you know, the gays — had their eyes on Melissa King, but the former fourth place finisher came into Top Chef: All-Stars and absolutely killed it.
King announced herself as a formidable opponent from the outset, winning two of the first four elimination challenges. She'd finish Top Chef: All-Stars as the chef that had won the most challenges (3 quickfire, 6 elimination) in the history of the franchise. The shift in focus from her own cuisine to someone else's in Restaurant Wars caused King to stumble for a few challenges but she regrouped and won the final three elimination challenges heading into last night's finale.
The challenge? To create a four course progressive meal for some of the best chefs in the world. She had some help: Lee Anne Wong (whose steamed clafoutis probably saved Melissa from elimination a few episodes ago) served as King's sous chef. Through the show's final episodes in Italy, King was focused on marrying Italian and Asian cuisines. While her competitors focused on presenting the best versions of things they'd done or see before, King was creating a whole new genre of food and, each time, the judges found it miraculous. Her menu for the final challenge included:
First Course: Char Sui-Glazed Octopus, Fried Shallots, Fennel, Pickled Peppers & Herbs
Second Course: Squash Agnolotti, Chicken Skin, Agrodolce Cipollinis, Szechuan Chili Oil, Shiso & Squash Blossoms
Third Course: Grilled Squab with Persimmon, Porcini & Fermented Black Bean Sauce
Fourth Course: Hong Kong Milk Tea Tiramisu
The win doesn't come easily for King. She tastes the glaze for the Octopus and finds it too sweet, while Wong assures her the flavor's perfect (it's not). The cookies for the tiramisu don't absorb enough tea flavor and King and Wong are forced to remake the dish. After dinner with Padma Lakshmi, Tom Colicchio and Gail Simmons the night before the finale, King changes her plans and opts to grill her squab instead of pan-frying. She barely gets her plates finished before the alarm sounds. It seems like King's courting danger throughout the final round but she navigates it all skillfully and puts out a meal that astounds the chefs. It literally brings Dario "The Butcher" Cecchini to tears.
Once the tears flowed, it all felt like a formality before Padma announced, "MELISSA KING IS TOP CHEF!" (and the season's fan favorite). The gays have won again.
---
The Bold Type 411 — 412: "Level Up" and "Snow Day"
The Bold Type returned last week (411 "Level Up") and unfortunately the main plot wasn't about our favorite queer Kat — but we still learned a few new things.
First, in absence of her job at Scarlet Kat's taken up work staging large scale activist interventions and posting them on social media (imagine videos of people pouring red paint on white hazmat suits to protest climate change, etc). Is it fulfilling work? Sure. But it's not paying any bills.
Second, Kat's got a new girl sleeping in her bed and I didn't bother to learn her name because her name is "Not Adena." There you have it. Not Adena and Kat kiss a few times, take off their clothes to surprise a friend with their naked boobs (OOPS! They surprise Kat's parents instead), and at one point Not Adena lounges around in Kat's bed naked with the sheets up to her neck, as one does on television.
Third, remember when I said Kat and Not Adena mistakingly flashed Kat's parents? Yeah, the parents were not into it. In fact, they need Kat to get a job that will pay the mortgage on her apartment, no more of these activist pennies, or they are kicking her out. So that's a rude awakening! Eek!
Which brings us to our Fourth revelation, Kat tries to get a job in  the corporate world for a "hip" millennial start up that sell…. couches? On like, Instagram? Anyway, that doesn't work out because they want Kat to sign a clause she won't post about politics on social media because "republicans buy couches too." LOL OK BUDDY. And since Kat no longer has work, she needs a place to live… which is actually great because..
NOW KAT WILL LIVE WITH JANE!! Let's fast forward to this week as a part of our double header!
This week on The Bold Type (412 "Snow Day"), Kat start's her new job at a fake version of exclusive women's social club The Wing called The Bell as a bartender — side note, the very real The Wing has had demonstrated racial inequities in the workplace, specifically around black bar staff, so I'm already nervous for Kat. Anyway, as you can probably tell from the title… there was a blizzard. And the blizzard traps Kat at her new workplace with none other than Ava Safford! You'll remember Ava as the bitchy daughter of the homophobic head of Safford Publishing who Kat outed as supporting conversation therapy and lost her job! ANYWAY, Ava, a member of The Bell, continues to be an ass to Kat at her new job. Then she gives a speech about the necessity of having real conversations between opposing political sides. I'm sure that was supposed to warm some hearts, but it definitely didn't warm mine. And that's all I have to say about that!
WHEW! All caught up! See you next week, Same Bold Time. Same Bold Channel.
---
Betty 106: "Ladies on Fire"
Written by Drew

I almost bought a skateboard.
Luckily I have like four wise brain cells left to tell me not to do that, but the finale of Betty made it really tempting! On Betty skateboarding isn't just a hobby or a passion or even a way of life — it's a way to connect. The final episode focuses on the girls organizing another Girls Only Skate Sesh and with that comes a clarity to their community.
Camille and Janay finally shake off their last connections to Bambi and Donald. Their desire to be validated by these men has diminished as they've strengthened their circle of non-men. Donald tells Janay he wants to be better and pleads with her to help him. Her reply: "I'm proud of you for wanting to get help. Good luck with that."
Over just six episodes the girls have all grown so much and I found myself feeling so proud for their renewed focus on the people that matter. Even Honeybear manages to let go of her shame and timidity and try to win back Ash. How? WITH THE CUTEST LITTLE MOVIE. The iMovie font was just too much. I died.
Kirt gets hurt and while she's in the back of an ambulance flirting with the EMT, the other girls skate with her on FaceTime. They're letting her skate virtually, and Crystal Moselle is letting us skate virtually too. She invites us to join the girls and join their aspirational world. Even if we don't take up skateboarding we can still carry their principles of community into our lives. Or I dunno maybe we should all buy skateboards.
(ALSO BETTY WAS RENEWED FOR SEASON TWO!!)
---
In the Dark 209 – 210: "How to Succeed in Business Without Really Dying" and "The Last Dance"
Y'all I don't know what's going on with this show. Did the writers' room change? Why is this show that used to be about Murphy and her best friend Jess suddenly about Murphy and a bunch of men and oh I guess sometimes Jess can be there too? And yay for giving Jess another girlfriend this season, but also Sterling has been lying to her, cheating on her girlfriend, and then when Jess asked her to run away with her she says yes??
And then Jess PROPOSED TO STERLING???
Like I know lesbians move fast and I know Jess is losing her grip on reality a bit because of all the chaos going on and what with the almost dying, but sheesh. The good news is, after spending this week's episode mostly absent, she did swoop in to save Murphy's life in the eleventh hour, so hopefully she'll stick around and explain herself.
---
Unfortunately there was far too much going on in the Roswell final episodes of the season to further explore Isobel's queerness, but Jamie Clayton did return to us. And her character, Charlie, was finally, finally reunited with her sister Cameron.
She got put through it first, but she ended up okay in the end. Charlie said she's tired of running and making new identities, that she fought to be the person she is and she's not just going to throw her away. So hopefully this means we'll get more Charlie next season. Specifically more Charlie/Cameron sister bonding. Because seeing love of my life Jamie Clayton hugging Riley Voelkel aka Freya from The Originals really warmed my big gay heart.