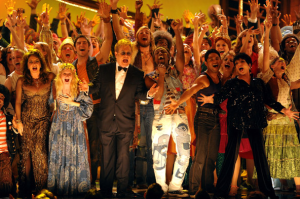 Last night, the 62nd annual Tony Awards, hosted by out actor Neil Patrick Harris, bestowed heavy golden awards upon many theater people including but mostly not limited to Billy Elliot. In the spirit of the Tonys and the theater in general, we thought Autostraddle oughtta throw together a Top Ten of Lesbian/Bisexual Play Characters.

We thought this would be easier — the hardest part, we imagined, would be coming up with just ten. Surely if we thought really hard, wikipedia'ed (we expected a "lesbian characters in plays" list of some sort to appear … it did not), checked out the glbtq encyclopedia and googled some shit, we'd be rushing to narrow down the contenders by Sunday afternoon. I mean, there's Maureen & Joanne from RENT, to start with. And then … um. The initial topic — "Broadway Plays" — was dead on arrival. So all plays. Let's look at every play EVER.
Alas, although gay men populate theatrical spaces in remarkable numbers, it seems lesbian characters are few & far between, and lesbian shows are often relegated to the fringes of fringes. According to The Women's Project, between 1985 and 1995, women wrote 17 percent of the new plays produced Off Broadway and 7 percent of those on Broadway. Those are old statistics, but if anything I think newer ones would be worse. (Read more about TWP's mission here).
And so we found more than 10 plays, obvs, it's unfortunate that there aren't more that wold come immediately to mind for a mainstream audience. [And no, Wicked doesn't count, all ye KC/IM fan-fic writers.] Change is gonna come though kiddos, for real.
Sidenote: After several years of hanging out with Broadway kids and taking Rosie cruises every summer, I can safely say there are a TON of lesbian & bisexual women working on and off Broadway today, and hopefully we'll have enough of them to do a kickass Top Ten on that topic very soon.
Sidenote 2: We wanted to talk about Carolyn Gage but didn't feel we had the time to do her justice. If anyone else does, please do tell, and we'll add your graf to the Top Ten.
Sidenote 3: This top ten would not be possible were it not for the hard work of Intern Nicole. She broke a leg for real.

Top Ten Lesbian Characters of the Theater
10. Madeline True in Andrew Lippa's "The Wild Party" (Off-Broadway 2000)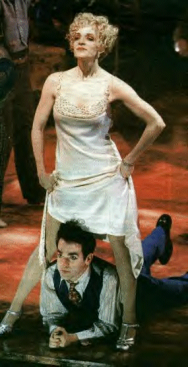 See that girl on the bed, how she wants me.
She's a bee I could free from the hive.
I would never dare deceive her, she's a very clever beaver
With a quality I like –
She's alive.
Based on a book-length poem and adapted for the stage by Andrew Lippa, The Wild Party is the story of one crazy evening in a Manhattan apartment shared by two vaudeville performers. Madeline True, one of the party attendants, is a lesbian and a madame. The most notable aspect of her character is the song  "Old Fashioned Lesbian Love Story," which features brill lyrics. The show closed quickly after 54 performances, and at least one reviewer noted that, "Miss Madeline True shows the utmost restraint for someone who is supposed to be a lesbian stripper."
What It Did For Queer Girls: Gave us one really good funny song to sing in musical theater revues.

9. Kate Aspero from Zanna, Don't! (Off-Broadway 2003)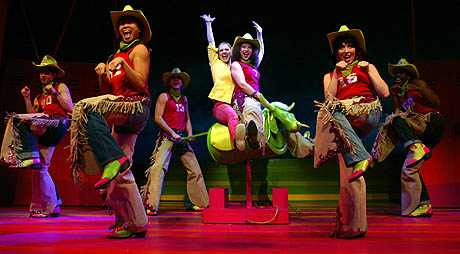 In a fairytale America Heartsville, USA, everything is reversed – the world is homosexual and it's the heterosexuals that are subject to heterophobia and must hide their love. The play takes place over the span of one school year when Overacheiver Kate Aspero falls in love with part-time waitress Roberta after a particularly triumphant evening of Mechanical Bull-riding (see, we're on topic!). THEN! Their love is jeopardized when Kate dares to fall in love with Steve, the quarterback!
What it Did For Queer Girls: Challenged the status quo, provided opportunities for more than one woman to be in a play. Also starred Jai Rodriguez, the "culture" expert from Queer Eye for the Straight Guy, who probs was full of valuable input for the ladies regarding girl-on-girl culture.

8. Ronnie, "Confessions of a Female Disorder," by Susan Miller (1973)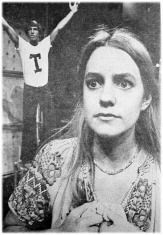 Susan Miller , who has written for shows including The L Word and Anyone But Me, is an award-winning playwright who broke ground in 1973 with "Confessions of a Female Disorder." The show traced the non-linear journey of Ronnie's life beginning with her first period through her realization that she's a lesbian "miscast in the married, country-club world in which she is trapped."
What it Did for Queer Girls: Told our motherf*ckin' story! For real!

7. Callie & Sara in Stop Kiss, by Diana Son (1998, Off-Broadway)
"At a time, and in a community, where we often find a false sense of security, we may think that we no longer need fear prejudice or hatred," says the playwright. That's where her play comes in. The story centers on the love affair between Callie and Sara, who are assaulted when they are seen kissing, which sends Sara (played in the original production by Sandra Oh) into a coma.
A google search has revealed that me myself (Riese) reviewed a production of this play in 2001, when it came to Ann Arbor for a sold out run. I now remember distinctly attending this production with 500 members of my mother's middle-aged lesbian gang.
But I digress. According to myself: "The narratives come together to explore the difference between the pure and uplifting nature of their love for one another and the traumatic event which results from their assaulters' [sic] ignorance … a story of courage and the steps we take to make change comfortable in all aspects of our lives … tight and engaging pace … beautifully acted and carefully directed … genuine characters … the actresses radiate a certain intimacy that brings the audience closer to the emotional core of the piece."
Way to go, Marie/Riese '01. YOU SELL IT/suck..
What it did for Queer Girls: It's now been done by approximately 5,000 other theaters, providing ample opportunities for lesbian actresses to get to make out with other girls onstage. Also raised visibility about hate crimes.

6. Lisa Kron as Lisa Kron in Well (2006, Broadway)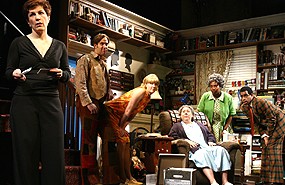 Kron is a certified lesbian playwriting champion. She's got Obies and Guggenheims and Glaad awards a'plenty, is a member of the "Five Lesbian Brothers," a 1989-founded theater group that aims to "create provocative lesbian theater for the masses" and is featured in my favorite anthology ever The New Fuck You, telling the story of her trip to Auschwitz, which was also the subject of her play "2.5 Minute Ride." Well used physical illnesses as a metaphor for social illnesses and explored Lisa's mother Ann's experiences with social activism and illness. Though the play was critically championed and won many awards, it enjoyed only a brief run on Broadway.

Interlude
Intern Lola: Bad Girls – The Musical (9/12/07 – 11/17/07 @ London's West End) loosely follows the first series of ITV's Bad Girls. Helen Stewart is the new Wing Governor at Larkhall women's prison, where her idealism and genuine concern for the prisoners clashes with Jim Fenner, a sleazy prison officer whose actions lead to the death of an inmate. Helen takes a particular interest in Nikki Wade, an inmate serving a life sentence for killing the policeman who raped her then-girlfriend.
Fighting together against the institution's corruption, Helen and Nikki fall in love. They share the music numbers "Every Night" (in which they struggle with their mutual attraction) and "This Is My Life" (before which they kiss, and promise to continue their relationship).


5. Diane, The Little Dog Laughed (Broadway 2006)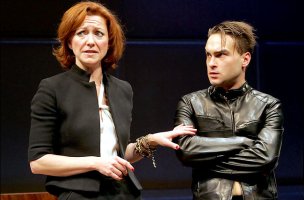 "Lean, mean, brash, crass and about as deep as a shot glass, Diane the Hollywood agent is just the tonic New York theatergoers need in the gray depths of an urban winter. Played by Julie White in an irresistible adrenaline rush of a performance, Diane can be thought of as the wicked witch or the fairy godmother of "The Little Dog Laughed" .. either way, she's certainly more of a pick-me-up than your average jukebox musical." (The New York Times)
Power Hollywood Agent Diane's lesbianism was mentioned only briefly in this unfortunately short-lived Broadway play by Douglass Carter Beane, which also starred Darlene's boyfriend from Roseanne and the cutie from That Thing You Do!. In fact; my BFF Haviland (who took me to the premiere way back when) didn't even remember her being gay.
And … as much as we want to see more lesbian action, it's nice to have a gay lady on stage who isn't even remotely defined by her sexuality (although she's obsessed with her client's "slight recurring case of homosexuality" and convinced it will ruin his career, that's the plot) — because generally stories about lesbians are relationship stories as it's hard to find another way to introduce sexuality than by having sex.  Julie White rocks my world.
Julie White snagged a  Tony Award for Best Performance by a Leading Actress in a Play for her performance.

4. Martha in The Children's Hour, by Lillian Hellman (Broadway 1934)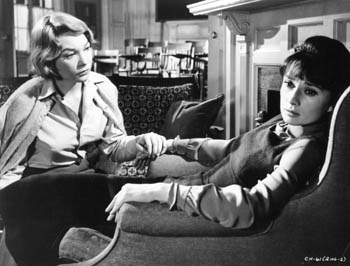 Hellman is a name you ought to know, and The Children's Hour is a play (and later, a movie) that now stands as a shining example of a really fucking depressing lesbian story. Nevertheless it ran for nearly 700 performances and was based on a true story from an 1810 Scotland scandal in which an entire boarding school was abandoned when a petulant child accused two women of having an affair in front of their pupils. Though the women won their case, the damage done to their lives was irreparable. In the play, Martha is the actual Lezzie and her bestie seems to lack the neccessary Sapphic inclinations, which makes their sticky situation even stickier.
Intern Heidi: Hellman was a smoker, a drinker, a lover, and a fighter, associated with the start of the feminist movement for her work standing against unjust government while pursuing a successful artistic career as a woman. In 1950 she was blacklisted for her political beliefs and wrote a lot of books. She died at age 79 after publishing many books and pursuing a successful teaching career at Harvard and Yale. She sounds like a lady that wanted to make an impact and speak her mind and wasn't afraid of the consequences.
What it Did for Queer Girls: Made us want to kill ourselves.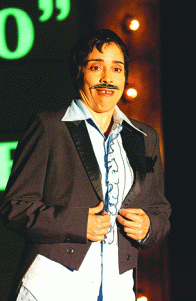 Marga Gomez is one of the first openly gay comedians ever and she's written seven solo shows. Gomez's one woman show Los Big Names interweaves a tribute to her Latino showbiz parents with her own Hollywood dreams.
What it Did For Queer Girls: I'm gonna give this one to Gomez – "For all the goofy, wacky stuff in it, the show is a celebration of the creative spirit. That's what gave my parents the greatest happiness, and what gives the people we know in the downtown queer culture scene—in the biz called show—a reason to keep pushing on when you see half-wits getting all the money on TV. That's what the show is about—the performers."

2. Shug & Celie, The Color Purple, Broadway 2005-2008
The Color Purple was the first hit Broadway musical to feature a lesbian character as its romantic lead. Steven Spielberg's 1988 movie version of the Alice Walker book muted the affair between Celie and Shug, but twenty years later, the play's book writer Marsha Norman reflects: "Every time I see the show, I'm still shocked that the audience goes with us. I still have the same reaction I did at that first preview in Atlanta, Georgia: 'They're going for this. They're not going to get up and leave.'"
What it did for Queer Girls: Showed that we can take the risks now that Spielberg wasn't willing to, and Oprah will finance it.

1. Joanne & Maureen, Rent, Broadway 1996-2009
Intern Katrina: A bisexual performance artist whose gorgeous looks and reputation for infidelity warrant an entire tango. A sassy lesbian lawyer whose drive for success need for organization simultaneously support her lover and drive her crazy.
A laundry list of my ex-girlfriends?
No. Maureen and Joanne, Rent's infamously dichotomous and always-bickering girl-on-girl couple, originally played by Idina Menzel and Fredi Walker.  If ever there was not only the perfect lesbian break-up song, but the perfect lesbian break-up-at-our-commitment-ceremony-in-front-of-your-ex-boyfriend-and-his-parents song, "Take Me or Leave Me" would be it. The duet between the two ladies is their last-straw argument about Maureen just being too damn hot and Joanne being a little too neurotic. The conclusion they reach? "Women, what is it about them? Can't live with them or without them! But oh yeah, they end up together, so don't worry too much about it.
What it did for Queer Girls: Idina Menzel. Also, a song to sing to each other. Also, due to its incredible popularity, brought the idea of a modern lesbian relationship amongst attractive young people to the lonely lezzies in the Midwest and elsewhere.
Perhaps you have only seen the movie. Here's a press reel from the original Maureen & Joanne:
[ad#postads]
Pages: 1 2See entire article on one page