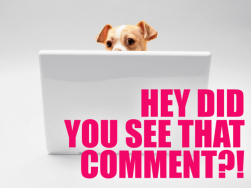 Hello Friends! Happy #BiWeek! Here, I baked this special pink, purple and blue cupcake just for you.
This week, Laneia put out a call for photos for THE MOST IMPORTANT QUEER IRL GALLERY THAT HAS EVER BEEN OR WILL BE. You heard me.
Wow, the newest Drawn to Comics is Mey's 500th post on Autostraddle. Here's to many more! <3
This week for AM/PM, we woke up with Kristin (is this the morning after Getting in Bed?), and it's healthy and adorable.
Oh hey, the world's on fire, let's all flirt with each other.
Gaby Dunn co-wrote a YA novel! It just might be relevant to your interests.
Are you following 3 A.M.? It's mysterious and cool and I love it.
And then there were your comments!
---
On 2017 Emmys Liveblog and Open Thread:
The Clear Eyes Full Hearts Can't Lose Award to Orla: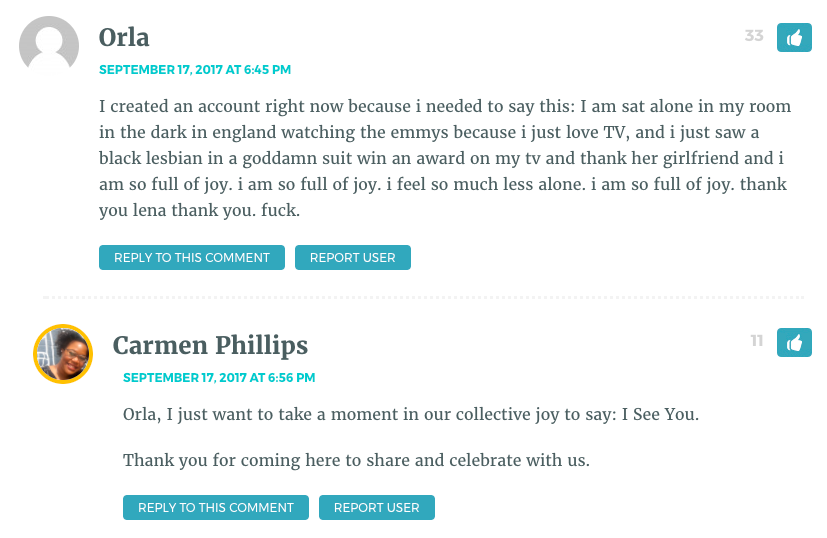 On Your Official Carol Blackout 2K17 Liveblog:
The Netflix And Denial Award to Lucky#19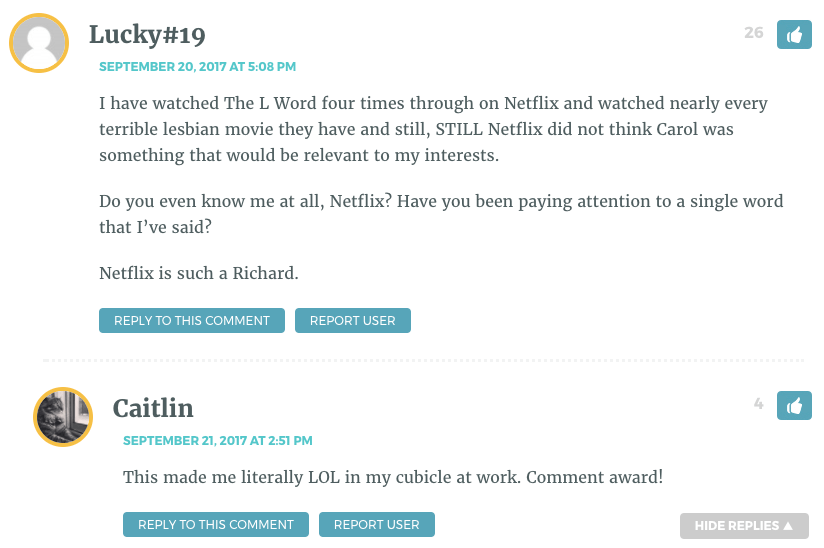 And the Wibbly Wobbly Carol Warol Award to Chandra:

On Ellen Scaring The Pants Off Sarah Paulson Is The Three Minutes of Surprise Joy You Need Today:
The Daytime Horror Story Award to Diana:

On Everybody Publicly and Shamelessly Flirt With Each Other Right Now:
The Unexpected Baggage Award to Sally, Vita, and Chloe: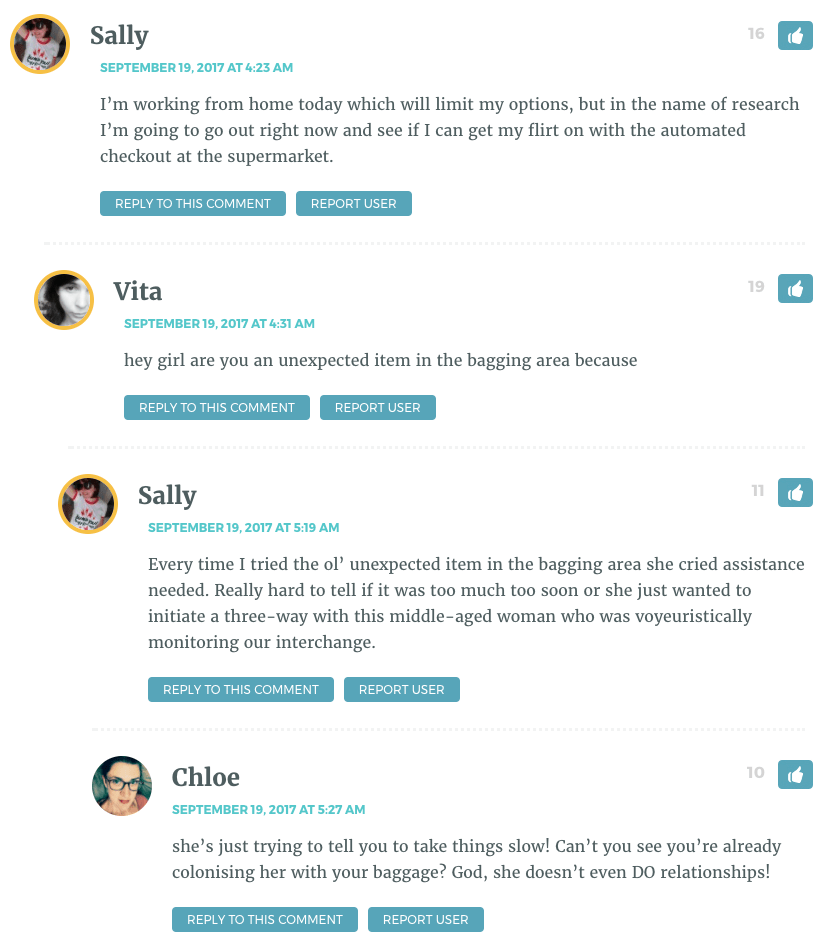 The Lil Flirty Award to Stef:
On Oh, Hey! It's Alyssa #30: Grown Up Routines:
The Smart Cookie Award to Katie:

On Be Part of Autostraddle's Queer with Our Pets Gallery!
The All Gluten Goes to Heaven Award to Chloe: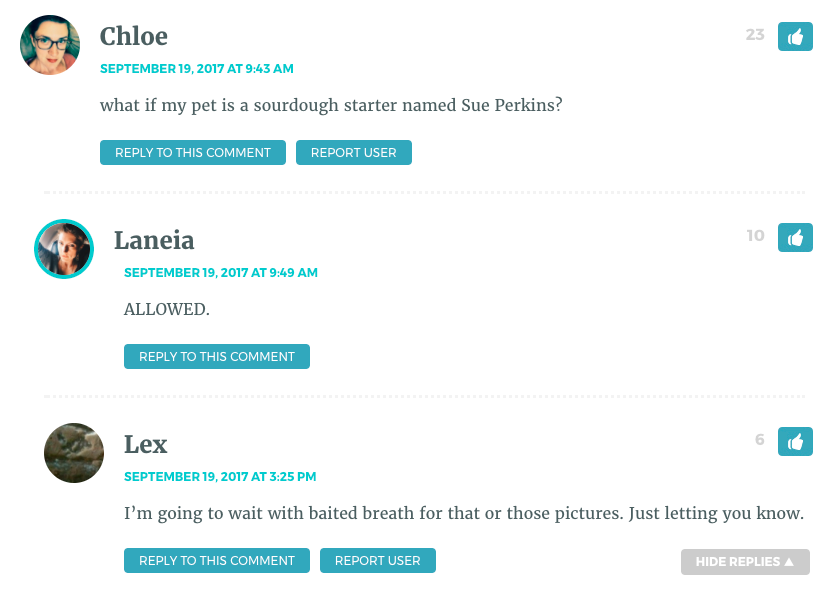 On Shanah Tovah, Here's 36 Influential Jewish LGBTQ Women & Non-Binary Humans!
The #1 Mom Award to -mom- and Carmen SanDiego: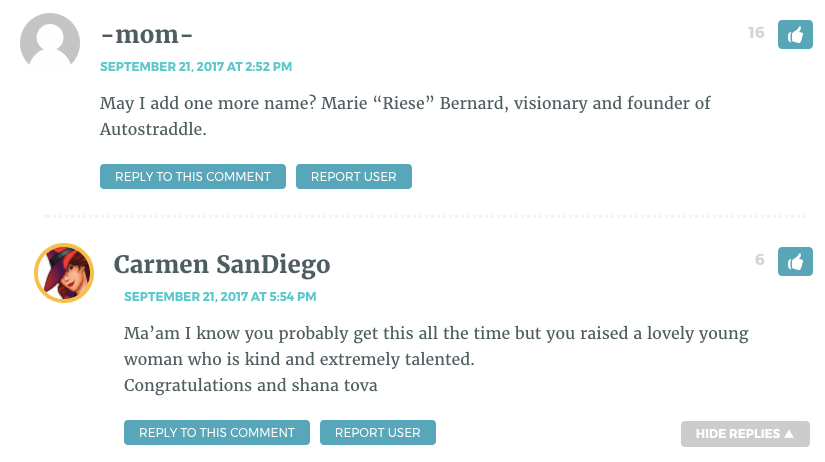 ---
See a funny or amazing comment that needs to be here? E-mail me at queergirlblogs [at] gmail [dot] com!