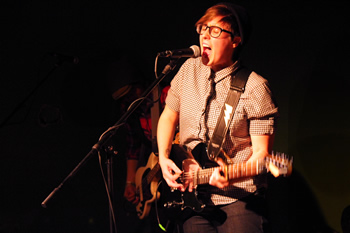 Hello, internet! Allison Weiss is a musician that you probably know, whether you know it or not. It's possible you listened to the default song on Tumblr, or perhaps you've seen her swoon-worthy cover of "Call Your Girlfriend," or maybe you really have a thing for girls with guitars and short haircuts (but who doesn't, really). Regardless, Allison Weiss is a successful musician who, with a previously released EP and a full-length album, has created a signature sound that is entirely her own: a sort of folk-pop-rock-emo glorious headfuck thing. She is the kind of musician you will probably fall in love with, is what I'm saying. She's very charming.
Currently working on several large-scale projects, it will likely be a few months before she releases her new album. But! Her new EP "I Was An Island" is available right now, right this second in digital form on Bandcamp and iTunes and in a hard-copy form at her online store. You guys, it's a really good EP. Like, really good. It has more plays in my iTunes library than any Tegan and Sara song, and with good reason. It's emotional and fun and dance-y and the sort of thing you can listen to on repeat. If Allison Weiss albums were candy bars, then the "I Was An Island" EP would be a Take 5, because it's full of a lot of little things that are good on their own but that work together to make one really great, mouth-watering thing.
While on the last leg of her "Together At Last" tour with synth-y pop duo Mitten, Allison agreed to sit down and talk about life and music and things. And so, after playing a show in Covington, Kentucky and while sitting on the floor of her freezing tour van, Allison Weiss talked to Autostraddle and ate a loaf of white bread one slice at a time. It doesn't get more down-to-earth than that.
You're known for being really good to your fans. You're very accessible on Twitter and Tumblr, and you do things like give people pizza because they deserve it. What's your motivation for putting in the extra effort and interacting with the people who like your music?
I've been a huge music fan my whole life. When I was 15 or 16, I was the kid who would get to a show seven hours early and stand in line and just wait so they could run up to the front and be right there. So I try and think of everything I do in terms of like, what would I want from a band that I like. I'm all about having fun and creating cool, fun experiences. I love writing songs, and I love playing songs, but the experience of the whole thing is the most important part. I want to make sure everybody is always having a good time.
Why do you think it's important to go to live shows?
It's a different experience than just listening to a song because being around other people who are also experiencing the same thing is, for me, the most exciting part. When you're just in a room full of sweaty people, and everybody's dancing and singing to the same song, and all the strangers around you have this one common thing that's this band that's on stage, that's cool. It's also important to go to live shows so that I can continue to play live shows.
Ha. I mean, that's a valid point. Oh, I read that you just got a new tattoo recently!
It's the state of Georgia. I could try to show you, but my sleeve is pretty tight. [rolls up sleeve anyway. It's a pretty sweet tattoo.] This is where I grew up, so when I was down in Athens, I got it put on my body forever. There it is. Hangin' out.
I have this clock, and I have this 100%, and tonight I got this kitten with a flower. [The kitten is a glittery temporary tattoo. It's pretty badass.] It's a tour tat. We all got tour tats.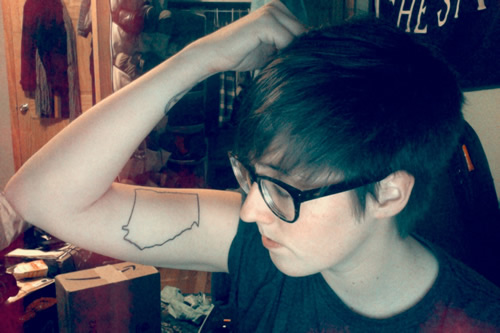 Can you talk a little bit about Georgia and what it was like growing up there?
I grew up in the suburbs, and there wasn't a big music scene at all. There were maybe four or five — not even that many — maybe one or two bands in my high school that everybody loved. It was like "Bleh, so-and-so is in this band, whatever." I used to play open mics and things like that and would try to make the most out of a music scene that just didn't exist.
When I went to college, I moved to Athens, Georgia, which is actually a huge music scene, and I dove right in as soon as I got there. I spent the next five years of school surrounded by a ton of musicians that were just doing excellent things and being very inspired by all of my friends. I guess I was lucky to be able to go to school there and be surrounded by that sort of environment.
What kind of music did you used to listen to back in the day?
In high school my favorite bands were MxPx, Good Charlotte, Dashboard Confessional, Brand New, just a lot of emo pop-punk. [Laughing] I still love them, let's be real. They're excellent.
Right?! Do you think that your music today reflects at all on your high school tastes?
Until this new release, I think not. Maybe there's been like, a hint here and there, but I've primarily been playing acoustic guitar and stuck to folk songs and stuff like that. But on this new record, I've sort of let that whole teenage angst side of me come back out because I've sort of been revisiting those years and getting back into that shitty emo pop-punk that I loved when I was a kid. I've always wanted to be in a pop-punk band and play loud, fast, fun songs, and so that's what I'm doing with this new record, basically. I'm just going for it.
You're a very grassroot-y sort of musician; you book all your own gigs and things like that, and you did a Kickstarter project to fund this new album. How did that turn out?
[Laughs] Well, I think you know how it turned out! I did really well. I shot for 12 grand, and I made a little over $30,000, which is epic and incredible. Most of it's going toward the new record, and then a big chunk of it is going toward the acoustic version of the new record, which will be more than just me and a guitar singing the songs. My producer Chris Kuffner and I decided to have one record that's a pop-punk, pop-rock, power-pop thing, and then give it a twin that's more of a sleepy folk, retro-feeling — more like live-acoustic-y record. It's still got drums, bass, and there are a couple songs on there that really rock, but it's more of a folk thing. I'm pretty excited about it.
In addition to that, we're doing a thing called The Teenage Years, which originally started as an idea for an EP of old songs, like fan favorites. It's sort of turned into this thing where I'm going to record and release one song a month for the next year, with the first one coming out on February 1 and the last one being released on January 1 of 2013. So at the end of the year, you'll have 12 songs that are all songs that I wrote when I was a teenager.
It's gonna be fun. I like that I'm going to have something to do every single day, that every month I'm going to have a scheduled thing. I need to be working on music constantly in order to be surviving, you know?
Mhmm, but you went to school for design though, right? What happened with that?
I really loved graphic design, but I really love music better, so that's pretty much what happened. It turns out that all the graphic design I did was just for my music career. It's awesome because now I can use that to my advantage, like I don't have to pay someone to make me a website or make my album artwork if I don't want to. I have the skills to do that sort of thing. And also when music isn't paying the bills, I can get freelance work and do that, but I chose to just focus on music rather than trying to get a real job.
Would you consider yourself a risk-taker, then?
I guess so, but I'm a calculated risk-taker. I don't take risks blindly. I saw this opportunity to play music for a living, and so I went for it because I don't want to be 80 years old and thinking about how I could've done this thing but never did. I want to do it, and then whatever happens, happens.
How would you describe your sound? Because I tried to describe it to someone, and I ended up saying "that one girl with the guitar and the pizza."
Nice! When people ask, I usually say it's a catchy… oh, what do I say? It's like catchy, guitar-driven indie pop, or emotion-driven indie pop about my feelings. I say indie pop, but some people think it's more rock. Some people think it's more folk. It kinda just depends on the song, but I always say that it's pretty catchy and fun because I think it is.
It is! You keep your concerts pretty light, I think. How did you develop such good stage banter?
I think it came from doing open mics. I've always enjoyed entertaining groups of people. I don't know what that says about my personality, but I like it. I hate the silence between songs — as fun and upbeat and catchy as my songs are, they're also pretty sad, pretty depressing lyrically. I guess the in-between thing is my attempt at keeping it light-hearted and making sure everyone's still having fun because the songs are so depressing.
You seem to write about breakups a lot.
Yep, pretty much. That's pretty much it.
Yeah.
Yep.
Just because?
Yeah, that's what inspires me, I guess. Trying to figure out how human beings relate to each other, relationship-wise. Why things work, why they don't.
We should maybe talk about relationships now.
Ok, let's do this!
You broke up with somebody kind of a while ago, I heard.
Yeah, when I moved to New York about a year and a half ago, I had a long-distance girlfriend at the time, and we both moved to New York sort of around the same period of time, and we broke up the day that I got there, which was really, really difficult. But I wouldn't change it for fucking anything. It was a great thing. It was a blessing in disguise, if you will! [Laughing]
It really sucked! It was horrible, but is was also cool because it motivated me to get out and take advantage of the fact that I was in this new city, in this new place. We didn't move to New York to be with each other. We just happened to be moving there, and I sort of remember thinking, "This is my city. This is where I belong. I'm going to fucking make shit happen." And I also, at that time, was not out to any of my fans or anything, and I also hadn't really spent any time being out and living in the world. It was more like, "Cool, I have a girlfriend. This is fun." So that was an opportunity to start going to gay bars and dating– I didn't even know how to flirt with a girl! I learned how to do all that stuff at age 23, which was cool.
You got an alternative lifestyle haircut around that time too, right? Does it help you pull chicks?
Maybe. Maybe just because I feel more confident. I feel like I look more like the way that I feel as a human being, and I feel like confidence is always attractive.
You're single right now, though?
I'm actually not single.
Oh, nicely done!
Thank you!
Are you happy?
Yes, super happy! It's a new thing, so hopefully it goes well.
I'm sure it will! What are you going to do next, after you get back from the tour?
I'm doing lots of planning and scheming to get this new record all mixed and mastered and ready to go. Hopefully we'll be releasing it between early March and late April. I'm trying to get down to SXSW, and after that, I've got some new tour plans that aren't finalized yet, but hopefully will be soon. It's the beginning of the year. It's time to make things happen and plan things out. Make a lot of lists, check a lot of things off, get stuff done!
[to Girlfriend/Interview Partner Meg] Do you have any questions?
'NSync or Backstreet Boys?
'NSync.
Damn right.