One month in and 2012 is shaping up to be a stellar year for music. In fact I have so much confidence in this year's upcoming releases that I've decided to revive the Audiostraddle Weekly, aka the Music Fix – a regular music news segment which disappeared from this website in 2010.
New Spring Tours Announced
A whole bunch of exciting tours have been announced by your favorite artists, including An Horse, Kimya Dawson, Uh Huh Her and a double-header of Gotye & Kimbra. File the latter under 'not to be missed'.
An Horse tour dates (USA)
Gotye & Kimbra tour dates (USA)
Uh Huh Her tour dates (UK/Europe)
Kimya Dawson tour dates (USA)
Garbage Announces New Album
Remember that time we told you that Garbage would release an album in 2011? That wasn't entirely accurate. We can now re-tell you with complete confidence that after 7 years of silence, the band's fifth studio album, Not Your Kind Of People, will drop on May 15. Are you excited? I'm excited.
Listen #1: M.I.A
"Bad Girls", the first single from M.I.A.'s forthcoming summer album has premiered on Pitchfork. It's about living fast and dying young and other things that bad girls like. If the Pitchfork music player doesn't work for you, try here.
Two M.I.A.-related music videos will premiere this Friday – the official video for "Bad Girls" and the video for Madonna's "Give Me All Your Luvin", which feat. M.I.A. and Nicki Minaj. Keep an eye out.
Listen #2: Sharon Van Etten
The new album from Brooklyn-based singer-songwriter and Bonnaroo 2011 favorite Sharon Van Etten is streaming now on NPR. Tramp is the anticipated follow-up to 2010's widely adored album, Epic.
Last week First Aid Kit's new album, The Lion's Roar, was also streaming on NPR and it was amazing, I regret not telling you about it earlier like Laneia wanted me to. The good news is that the album is available to purchase right now.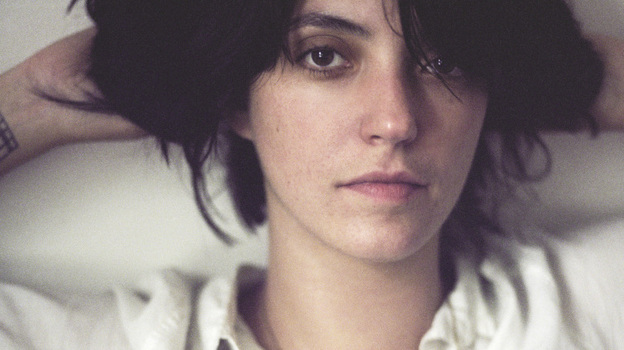 Listen #3: Ladyhawke
New Zealand musician Ladyhawke has released the single "Black White & Blue" from her upcoming album Anxiety (Mar 27). You can listen to it now on YouTube. The track features the hookiest hooks of all the hooks and impressively, in addition to providing the vocals, Ladyhawke can also be heard playing the guitar, bass and drums.
Listen #4: Of Montreal
I think I'm possibly the only person on the planet who doesn't like Of Montreal. But this isn't about me, this is about you, and you might be interested to know that the band's forthcoming album Paralytic Stalks (Feb 7) is now streaming now at Spin.
Listen #5: Anna Vogelzang
Girls Rock Camp instructor and former Dresden Dolls backing band member Anna Vogelzang is releasing a new album, Canary In A Coal Mine on Feb 28. I've already heard it and I think it's going to be your jam. For now you can hear the lead single, "Die Trying".
Look #1: The Kills
Has everyone seen The Kills' stunning Allen Ginsberg-inspired photobooth music video for "The Last Goodbye"? Now you can find out how they pulled the magic off in this short 'Making Of' documentary. It includes interviews with Allison Mosshart, Jamie Hince and director Samantha Morton.
Look #2: Sleigh Bells
Noise pop duo Sleigh Bells have released the music video for "Comeback Kid," a track from their anticipated Reign Of Terror album (Feb 21). It features some spectacular fashion choices and sounds exactly as you expect it to.
Look #3: kool thing
kool thing are Julie Chance and Jon Dark, two Berlin-based female musicians who've been winning hearts across Europe while touring with acts like MEN, Light Asylum and Austra. The new music video for "Light Games," directed by filmmaker Claire Kurylowski, features naked girls kissing and touching. You'll probably like it.
kool thing's new EP is available now on Bandcamp.