Were you slightly fearful that 2011 would be filled with vapid pop music created by soulless machines? Me too! I don't think we have to worry though, if the past few months have been any indication then music this year might be quite delightful.
Recently Released:
The first wave of super impressive releases have come from Sweden and the United Kingdom. Seriously the UK is killing it right now. Adele's 21, Lykke Li's Wounded Rhymes, Anna Calvi's Anna Calvi, and PJ Harvey's Let England Shake are all worthy of your immediate attention and affection, they'll fill the void if you've been craving some fresh sounds. In the same respect, James Blake's self-titled album is experimental to the point where your ears and brain may become confused and resist. Don't let them. This is one that lives up to its hype.
Jessie J.'s debut album, Who You Are, has already dropped in the UK, to mixed reviews. It's a little clumsy as a whole, however there are enough sweet spots to justify any obsessive fangirl behaviors you've displayed since watching these SB TV acoustic sessions. Meanwhile, stateside, Taylor Momsen's Courtney Love tribute band, The Pretty Reckless, released 10 glorious tracks of tragic teen angst pop punk grunge. The album's called Light Me Up, and it's your new guilty pleasure.
One thing I've noticed about music this year is that nothing terribly exciting or interesting has come out of the United States. Has anyone else felt this way? Do we need to wait for the next Twilight soundrack? It's possible that I just haven't heard the right albums, in which case fill me in. Tell me about the US releases that've caught your attention.
Highly Anticipated:
Some very popular artists are releasing albums in 2011. Britney Spears' Femme Fatale and Lady Gaga's Born This Way are dropping in March and May respectively. Maybe you've heard.
Also expected are new releases from Coldplay, Amy Winehouse, Adam Lambert, Kelly Clarkson, JT, Willow Smith, Death Cab For Cutie, Mars Volta, OutKast, Bon Iver, RHCP, Foo Fighters, Bright Eyes, the Decemberists, Passion Pit & Blink 182. Both La Roux and Paris Hilton are rumored to be releasing albums this year, however that's what they said about The White Stripes. R.I.P.
These are some of the upcoming
albums that I'm excited about:
The Kills, Blood Pressure
Drop date: April 5
Before I loved Alison Mosshart in The Dead Weather, I loved her in The Kills. This album's lead single, "DNA", is already online and it's bad-ass. If you've never checked the Kills out then get on it, you might find yourself with a new favorite rock star.
Beastie Boys, The Hot Sauce Committee, Part 2
Drop date: May 3
This will be the Beastie's first non-instrumental studio album since 2005's To The 5 Buroughs. The future of Part 1 is unknown, it was put on hold in 2009 when Adam 'MCA' Yauch was diagnosed with cancer. Just the fact that he's well enough to make and release Part 2 is a BFD.
Kayne West & Jay-Z, Watch The Throne
Drop date: TBA
Remember how back in January the music press kept saying that this collaboration album would drop any! day! now! and so then we waited and waited and eventually heard one track, the hot mess  "H.A.M."? Remember that? Now we're into the 2nd month of radio silence and I'm beginning to wonder whether this record actually exists.
No Doubt, Untitled
Drop date: First half 2011
When No Doubt went on hiatus in the early 00's the world became a darker place. Fact. I have absolutely no clue what a modern day No Doubt record will sound like. Any guesses? I just hope that it won't make those of us who remember Tragic Kingdom & the 1990s feel sad.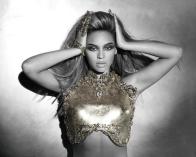 Beyoncé, [redacted]
Drop date: [redacted]
Beyoncé's forthcoming album is such a big deal that it's actually a state secret. The only information on record came from the mouth of Sia, who was able to confirm that this album not only exists – it is basically finished.
The Jezabels, Untitled
Drop date: Mid-2011
If their past EPs are any indication, The Jezabel's debut studio album is going to rock our world. This indie quartet from Sydney always get a warm reception on Autostraddle, definitely check them out if you haven't already.
Fiona Apple, Untitled
Drop date: Spring 2011
During her 1997 VMA acceptance speech for Best New Artist, a young Fiona Apple ranted "the world is bullshit! you shouldn't model your life on what we think is cool." Sometimes I wonder whether its that unapologetic honesty and occasional crazy that makes her music so goddamn brilliant. Fiona Apple albums are few and far between, and none of them have disappointed yet.
Portishead, Untitled
Drop date: Late 2011
Geoff Barrow has advised that the new Portishead album will have [paraphrasing from this lengthy twitter rant] "NO additional fan content, NO bonus tracks, NO free downloads, NO remixes, NO hidden footage, NO acoustic sessions, NO radio edits and NO myspace, twitter, street teams or meet & greets. Just music & us." He's a giant twat, but I still believe.
Dr Dre, Detox
Drop date: TBA
It'll be interesting to see whether Dr. Dre's 'final' album can possibly meet the expectations of fans who've been waiting over 7 years. Dre's already released two music videos from the album, "Kush" (ft. Snoop & Akon) and "I Need A Doctor" (ft. Eminem & Skylar Grey). As for the rest, rumors include a guest spot by La Roux and a duet from Beyoncé & Jay-Z.
Michelle Branch, Untitled
Drop date: Summer 2011
Michelle Branch broke hearts when she quit her solo pop/rock career to get married and form a country band, The Wreckers. I mean what was that all about, I still don't know. At the end of last year Michelle announced that she's returning to her roots, which we can only hope means releasing an album of sticky sweet love songs about boys who we'll pretend are girls. She's released a video of the album being recorded, however all it reveals is a fondness for flannel.
+
Florence + The Machine, Untitled
Drop date: Late 2011
Florence is the future of pop.
Special Comment from Stef
Garbage, Untitled
Drop date: Mid-year
Garbage were my first favourite band. Butch Vig made me want to learn how to mix records, and directly inspired me to go into the music industry as an adult. Shirley Manson introduced me to Siouxsie and the Banshees, the Pretenders, and all of her other influences, and her mouthy mid-90s interviews taught me how to be a woman.  I still have close friends I met either at Garbage shows, through Garbage's email list, or through the Garbage fansite I doggedly maintained for my entire adolescence.
That said, it was heartbreaking as I got older and noticed the obvious decline in Garbage's music over the last two albums.  While I appreciated the risks they took, beautifulgarbage was oftentimes ridiculous, and Bleed Like Me didn't pack the lyrical punch of anything off the self-titled album or version 2.0.  It's not like I didn't love these records – still bought all the singles and drove overnight to catch as many shows as possible – but something was different.  Later singles like "Sex is not the enemy" and even "tell me where it hurts" were catchy enough, but didn't kill me the way Version 2.0 still does 13 years later.  When I caught the last show of their us tour in Vegas in 2005, I was both heartbroken and relieved.  They were ahead of their time, but it was still time.
Because of this, I approach Garbage's new album with a certain amount of trepidation. I can't say I'm not curious about what new sounds they'll introduce, as they've previously mixed electronic sounds with hip hop, classic rock, even Phil Spector melodies… But I'm also quite frankly worried.  2005's Bleed Like Me was a perfectly nice rock album with a few decent standout tracks, but nothing on it quite measured up to classics like "Only Happy When It Rains," "When I grow up" or "As Heaven Is Wide.". Where early Garbage was about sex, pain and self loathing, later tracks were more anthemic, as though Manson fancied herself to be writing a slightly patronizing advice column to sad young girls. If Garbage are going to do another record, they have a lot to prove to their most loyal fans, and I hope this new album can pull it together.  I've loved them fiercely through it all, and I just can't have my heart broken again.
_____
What albums are you looking forward to in 2011?