My general feeling about the mid-season finale of Pretty Little Liars was OMG. Sometimes it was OMG what is going on. Sometimes OMG I knew it. A lot of the time it was OMG I totally saw that coming. Not in a coherent/told anyone way but in a "knew it in my heart" kinda way. Why? Because as promised, ABC Family revealed the latest member of the A-Team.
Who could possibly be on the A-Team? Well these were my picks as of last episode:
So I had a lot of feelings. So many feelings, in fact, that we had to have an open thread for them and it took me over a week to process. Sorry for the delay! No, seriously, sorry. I'm feeling really bad for leaving you hanging like that. Let's get to it!
We open on Rosewood during a sun-drenched day where the Liars are all getting along, applying to college, trying out new and interesting extracurriculars and dating age-appropriate significant others. Just kidding, we start in the middle of the night, ambulances everywhere, one injured person and one in a body bag. Hanna is freaking out and doing her best Rachel Berry impression.
Meanwhile Emily stands in shock about "the victim." Who is this victim? Is it who Hanna is crying over? I hope it's Wren. Is it Paige? Where are all these feelings coming from. I wish I had one of those giant body pillows. I am concerned.
But this is the end, sort of, and we backtrack in time to figure out how the hell we got there.

Two days earlier the Liars are still not doing any of that fun, sun-drenched shit I mentioned. Nope, the city is abuzz with reporters for Garret's impending trial.
The Liars plan an ambush/intervention about how Paige is definitely totally absolutely A. Like Spencer totally has it right this time. She couldn't be wrong again. Hanna and Aria have some doubts. For example, why the fuck would Paige drug herself? Well, Spencer suggests she could be just going all Basic Instinct and creating the best alibi ever.
I think the best alibi ever would be, I dunno, if maybe she was hanging out with her parents most of that night. Oh wait, I think they were out of town that night like they always are. Gosh, Emily and Paige should be doing a lot more finger banging over at the McCuller's residence.
Speaking of Emily, she shows up at Spencer's under the pretense that the Liars are ready to apologize for suspecting Paige or something. Unfortunately when she shows up they just pounce on her, How I Met Your Mother style.
The Confederate Liars are like "Yo. Your girlfriend is A!" And Emily is like:
Because Paige being A makes as much sense as a box full of monkeys and I don't know if you've seen a box full of monkeys recently but they definitely don't make any sense at all. Aria presents her grand evidence — the earring from Ali's coffin — and Emily goes ahead and states the obvious. A plants things where she wants them to find it all the time. Mona used to plant stuff and now this new A does. Easy peesey lemon squeezy. Everyone agrees this makes a lot of sense but decides to stay in a fight anyways because, welp, why the fuck not. Emily again points out the obvious that A (and Ali for that matter) loved to pry the girls apart. So A wins again. Womp womp.
Starsweep to the majestic outer gallery of Rosewood High where Aria and Hanna still aren't really going to class or anything. Instead they're just dicking off outside talking about all their feelings. Aria discloses to Hanna what she discovered about Ezra's seven-year-old bundle of joy but that she's hasn't told him yet.
Hanna, who has become increasingly wise as this series progresses (as opposed to Aria, who is basically the same) tells Aria she really needs to tell her main squeeze about his little lemon or she'll live to regret it.
Hanna: Remember what Ali said about secrets keeping us together? She was wrong, they tear us apart.
And then they did some hand holding.
Meanwhile, in the set that must be listed in all teen dramas as "Hallway Lockers," Paige and Spencer have a confrontational situation moment. Emily ran to Paige crying because the other Liars were mean to her that morning. That sounds exactly consistent with high school girl-girl relationships, but Spencer is unimpressed. She wants Emily all to herself so they can compare long brunett hair length and argue paid shirt versus plaid skirt.
Paige is having none of that because she and Emily need to be together forever and ever and ever U-Haul style. Spencer tells Paige "I know who you are," making Paige the one thousandth recipient of this comment from Spencer. It is painfully obvious in this moment that Paige thinks Spencer is speaking about Paige's past/anger/self-perceived unworthiness and not implying that Paige is a psychokiller.
Rosewood High lacks any on-campus authority figures or attendance policy, so Paige goes to Emily's place to commiserate. This entails that they cuddle intertwined and I find it to be highly effective in convincing me that they are the cutest couple ever (except for Portia de Rossi and Ellen because duh).
Emily explains that there's a new A and Paige seems sort of faux-surprised. Paige tells Emily she'll never leave her alone… and then promptly leaves her alone after receiving a text from A.
Back over at recess, the remaining Liars discuss their current situation. Spencer finally fucking remarks that maybe, just maybe, it's time to tell their parents.
Honestly, at this point, the Liars don't have too many secrets on the table. As they continue to lie they only create more problems for themselves. Unfortunately, this idea is promptly followed by a text from A. A wants them to play by her rules or Emily gets hurt. For someone so clearly self-sufficient, everyone sure is worked up over keeping Emily safe.
This is possibly because just when you thought we were safe from Mona, she's actually leaving the mental institution dressed up as a nurse from the 40s.
While this isn't a new idea or trope, it's still absolutely completely terrifying. I have got to stop watching this show alone. Have to. Like it is 1:05am and I am too scared to watch this scene alone again. I just think scary nurses are a particularly terrifying trope.
Back in someone's bedroom, the Liars-sans-Emily get a conveniently timed email from A. A wants the Liars to come to graveyard at 10pm with Maya's bag. Plus A has a picture that makes Aria, Spencer and Hanna look like they dug up Ali's body while leaving Emily in the clear. Oh yeah, this is totally not a setup.
Just then there's a bump at the door? Who could it be? Crazy faux-nurse Mona?!?!
Nope, honorary Liar/lesbian Caleb shows up. Caleb is still 100% fishy in my mind, but the Liars let him in on the shindig nevertheless.
Over at Emily's house, Pam is showing her only moment of overly relaxed parenting by letting Emily go away with "Nate and his family" for the weekend. I know what you're thinking: What the fuck. First of all, it's ridiculous that Emily's "traditional" mom would let her go away for the weekend with a college boy without talking to his parents first to ensure that they'll be along. Not just because of sexxxxx but mostly because of thing like booze and drugs and generally bad decisions.
Secondly, its weird that Paige and the Liars, in light of how much THEY CARE FOR EMILY THE MOST, would so willingly let her go off with a guy who is clearly creepy and the whole lot of them barely know. This is particularly true for Paige who probably would not be thrilled at the idea of her girlfriend gallivanting off with a guy who she busted her kissing like a week earlier. But finally, and most importantly, why the fuck does Emily want to go away for the weekend with a guy who freaked out about her not wanting to be with him only like a week ago?!
And yeah, not to ruin the surprise, but in this moment (if you haven't been calling it all season long anyways) you just absolutely know Nate is a psychopath who is going to try to kill Emily.
Elsewhere, Spencer is looking at a Halloween Train Ride advertisement when she sees Toby's cro-magnon reflection in the glass.
Spencer turns and they slow-mo run in to a kiss that is shot (again in slow-mo) with a spinning 365 degree camera. It is the fucking worst and feels so overblown and out of place. I forgot Toby even left.
The only thing to do now is to segue into Spencer's room for a dramatic sweaty bodies virginity-losing extravaganza. Should I feel bad for Spencer that she is currently nailing a cave man? Maybe. But I feel more bad for me for having to watch this scene more than once. Or even once. I feel even worse for the ABC Family exec who decided it would be okay to instruct me to tweet #Tobyisback at the bottom left of the TV.
Also, for the record, the two don't talks about boundaries, protection, birth control or STDs which is like a really important pre-sex thing to do.
Speaking of high school sex, guess who decides to stop by Ezra's house? Ta-da! It's Maggie (aka Alex Mack aka Dawn from Babysitter Club) who was just stopping by in the neighborhood and thought she would drop in on the long lost father of her child.
Maggie looks adorable and professional and like she's a thirty-one year-old cast to play a twenty-six year-old. Ezra looks like an overgrown man child in a grey hoodie who's fucking a high school senior. Oops. I know I should be over this by now but I'm not. Obviously Maggie immediately recognizes Aria but begs her to keep the secret child secret. Nothing says Pretty Little Liars like a conflict of interest.
Speaking of men in gray hoodies, Caleb has one on at Hanna's house where he packs up a night bag. What's he bringing? Oh, toothpaste, flip-flops, contact lens solution, a gun. Wait — a gun?
What a fucking idiot. Doesn't he know about Chekhov's gun? So you know at this point someone is getting shot. I spent most of the next 40 minutes crossing my fingers that it wouldn't be Paige.
Elsewhere, in a crack bathroom, Mona is up to her old tricks again. That's right, she's got her black hoodie and black gloves all nice and prepped for some A'in. Don't you think it would be easier to blend in if you didn't have the black gloves and sweatshirt on all the time? As Mona grooves on herself in the mirror, she receives a call. What's this? Spencer and Toby are fucking? Nate is creepy? Caleb has a gun? Who knows — they only give us Mona saying "I understand."
In light of her phone call, Mona goes over to the new A's Lair, which is just as creepy as the old one except this one also has psychedelic rock music playing in the background. Mona informs another A that there's been a change of plans.
I'd like to point out at this point that, as previously mentioned, this shit is actually really scary. As I write this I have to use the bathroom but I am literally too scared to walk across the room, open the door and walk in to the hallway. Who knows who's in that hallway.
Nate takes Emily up to the Lighthouse Inn, which isn't really an inn so much as a cabin in the woods where you take someone to kill them. Emily falls asleep on the couch, heaps of her shiny hair splayed out, and Nate covers her with a blanket. This would be cute if we didn't already know he's clearly a psychopath.
Super double extra prepared for this latest potential encounter with A, the Liars assemble at the graveyard with Caleb in tow.
He sneaks out of sight, but not before taking Maya's bag as leverage and activating an imaginary voice activated iPhone app that streams every sound it detects.
And so the Liars wait for A to keep their favorite lesbosexy best friend safe. Except where is that lesbosexy best friend?
Oh yeah, she's asleep on the couch at the Lighthouse Inn where she is awoken by a telephone call from a distorted voice informing her she had one minute to get out.
Instead of booking it for the door and running for her life, Emily decides to shuffle through some things and maybe check the blinds. God while she's at it why doesn't she just run up a few flights of stairs and into the back corner of a room? While riffling, Emily finds her un-mailed thank you card to Maya's parents and gets suspicious. In retrospect, she should have just called Maya's parents and thanked them. Then when they didn't know who the fuck she was talking about, this would all have gotten nipped in the bud.
Nate comes back with firewood approximately 40-90 seconds later depending on your time frame and acts all cool and natural. Emily takes this time to notice his shoes are cover in yellow paint, reminiscent of some yellowed painted shoes in an old picture of Maya at TruNorth. Wait a minute… at TruNorth?!?! But that would make Nate Maya's stalker! Duh.
Over at the graveyard, the Liars realize that no one is coming. Womp womp. They suddenly decide Paige is probably off killing Emily somewhere. Despite caring so much about Emily, no one knows if she's off at the Lighthouse Inn in Made-Up Town #1 or Made-Up Town #2. The Liars head off to Bumfucksville and Caleb drives off to Nowhereland. Caleb tells Hanna he loves her in his super duper serious voice. Then the camera panned to his gun. I was totally convinced this meant he was going to be A.
Claiming she needs some fresh air, Emily heads off in to the woods. She tries to call her friends, but, of course, there is no cell service. Instead she is caught face to face by Nate who is officially in Cards On The Table Scary Guy Mode.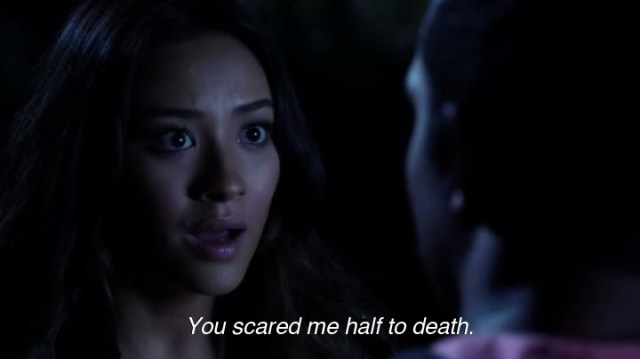 Nate shows Emily a video Maya made. Now, we already know from Maya's website that Maya prefers making videos to other, more pedestrian forms of communication, such as letter writing, phone calls or email. Too bad she didn't just call, maybe her crazy ex-boyfriend wouldn't have killed her.
Weirdly, Nate is creepy as all hell until he flaccidly says, "What you don't know is how much I loved her." Now, my deep deep unimpressed feelings are possibly just because I just cannot handle another character on this show being uncontrollably in love. It's also possibly because it just wasn't Nate's best acting moment. Still, it could also be that the mystery surrounding Nate is officially gone.
Nate puts his knife to Emily's throat and tells her that she took something from him and I feel… bored? Maybe I feel vicerally sick that as a culture we have deemed "Why didn't she love me" as an acceptable, though psychotic, reason for why someone might commit murder. Maybe that's it. But really, I just can't believe they actually dragged this tired excuse out and paraded it around like it was a shiny new tricycle.
And then Nate goes to the closet door. Who's at the door?
No seriously, Paige is at the closet door. They actually, technically put her in the closet.
Nate declares that since Emily used her slutty lezzie body to take away his perfect fantasy dream girl, he's going to take something away from her. That's right, Nate is going to cute off Emily's beautiful silky locks. Or murder Paige. Definitely one or the other.
Emily pleads with Nate — who by the way is actually named Lyndon James — to let them go. She reminds him that her friends and family know where she is and that her hair is probably her best feature. Lyndonate points out that no one knows who he really is and that he's been planning this for months. Not to be nitpicky, but how could Lyndonate have been planning this for months? He met Emily in September before she started dating Paige again. Actually, if Halloween hasn't happened yet, doesn't that mean that this entire half-season has taken place over like about a month? Pretty Little Liars sure does love to fuck with the time of year.
Where was I? Oh right, while all this is going on, Caleb and the Liars are still trying to get to the two different Lighthouse Inn and Majestic Fun Time Resorts spread across the greater Philly area. The Liars approach a cabin and you think momentarily Emily is going to be saved. I mean, Paige's life is still in the balance, but if the liars show up, Emily is definitely getting out of there. Inside the cabin, Lyndonate hears something at the door and bounds up to confront the Liars. PSYCHHHHHHH!! The Liars picked the wrong town which means that Caleb and his GUN are Emily's only hope.
Or Emily is her own only hope. Paige gives her "Please don't leave me here to die" eyes which Emily interprets as "Leave and save yourself" eyes. Emily bolts out the back door we didn't know about and Lyndonate chases after her. In a bizarre attempt to save herself, Emily somehow ends up climbing up a lighthouse. That's right. She actually goes ahead and follows my earlier suggestions for Making This Situation Worse.
Emily finally gets some cell service to call 911, but Lyndonate shows up. He is stronger and faster that Emily because girls can't do anything and boys can see in the dark. The two grapple, but since we know from the beginning of the episode that Emily doesn't die, all I can think about is how this is eerily similar to the church tower scene. Actually that didn't occur to me until later. What I was honestly thinking about was how much money I would have paid to watch Shay Mitchell rehearse this fight scene.
Certainly enough to overhaul this website.
After some grunting and panting Emily stabs Lyndonate right in his meany stalker stomach.
This of course is Caleb's coincidentally perfect moment to run up the lighthouse stairs. I've already decided to explain away Caleb's magical timing as TV artifact and created an elaborate off-screen narrative. In my mind, Caleb was the noise Lyndonate heard at the door, but by the time he got inside was just as Paige was tied up. Caleb untied Paige and stopped to waive his hands through his hair a bit. After exiting out the back as Paige directed him to, Caleb ran down the only path in the area which led him to the lighthouse. There, he observed the scuffle and ran up just in time to miss the action.
Caleb sits down his gun to hold Emily as she is understandably freaking the fuck out over stabbing someone to death. This proves to be really effective and it seems like we're gonna have a happy ending. Right? Hell no. Caleb gets shot and we don't really know how or why. This is Pretty Little Fucking Liars. You know if they solve a mystery they're going to create ten more. Please.
So finally we're back at the beginning. Or the end. Or whatever. Caleb is being loaded up in an ambulance while Hanna loses her shit and Emily stares dumbstruck at some cops.
Only now Paige is dumbstruck with some cops too. Paige explains that she received an anonymous text telling her "10pm Saturday Rosewood Cemetery or Emily gets hurt." She follows up that "He grabbed me before I got there."
Paige sees that Emily is anxious to be with her friends and runs a little distraction/interference with the cops so Emily can run to them. Spencer shoots Paige a heartfelt look that says "Aww damn I fucking got it wrong again." The lack of a passionat lesbo make-out session is noticeable and a real bummer.
And it seems like this is the end of Nate. Lyndonate was just some crazy ex of Maya's who started stalking her and ending up killing her (confirmed by Marlene King). Though the Liars might attribute some A stuff to Lyndonate, in general he had no reason to know about A in enough detail to mimic her. Really his only desire seems to have been to get Maya back or kill her and cause Emily pain. Or to date Emily. Really the lines are blurry on this one. Regardless, there's a problem with Lydonate's storyline — a reason that was so predictable and easy to fix: Lyndonate should have been a girl.
Now, I know that Lyndonate being male allowed everyone to freak out and struggle over Maya's horrifically slutty no-good bisexuality (calm down these are the jokes). But the problem is when Lyndonate shows up later, his advances on Emily seem out of place and overtly creepy from the get-go. When Emily and Lyndonate kiss, their shipping doesn't make any sense. Emily's actions and feelings are immediately invalidated by the She Was Mourning principal and Nate is left out to dry as an instigator. So when the creepy guy turns out to be creepy, just no one is shocked. No one. But imagine if they'd cast a slightly off girl as "Maya's cousin." Maybe Emily wouldn't seem so attacked all the time. Or maybe we'd be shipping them. Regardless I might have been able to let my creep radar down for long enough to be surprised.
So the saga of Lyndonate is seemingly over, but there's still more story to tell here. The Liars gather at the hospital with Emily's mom. Though at this point Pam should really be taking her daughter home to sit in the same room with her and never let her out of her sight again, they all just kind of sit around.
Or maybe that's realistic for this situation. I suppose I don't know. Pam gets called to the front desk and while she's gone, boop beep ding ding ding ding, everyone's phones go off. But it's a call, not a text, form A saying "Emily, I owe you one." Just then, Garret and Spencer's mom come out of the elevator. Clearly this is Pennsylvania's only combined hospital and prison. With Nate admitting to killing Maya, Garret can go free. Which is good? Bad? I don't even know anymore.
For once the end scene of this show is actually productive and satisfying. Mona walks back to Radley with another A-Team member. Their plan had been to plant Maya's phone on Paige so that when she turned up at the cemetery they could frame her and get Garret out of prison. So it looks like Lyndonate didn't send that text to Paige after all. Mona tells the other A that she'll see them soon. They turn around.
And it's Toby.
And I am not surprised. And you shouldn't be either. Toby revealed himself to us the moment he met Spencer in that ridiculously overblown 360 spin make-out extravaganza. Yes, the spin cam and the completely out of place sex scene were vapid attempts by the writers/directors to conceal Toby's true nature and thus made it more obvious. But you just fucking know that Toby is going to be on the goddamn A-Team the second he tells Spencer, "I know who you are."
Besides the fact that the line is totally out of place and weird, Spencer has been telling every A suspect for two and a half seasons that she knows who they are. She literally just said it to Paige. Plus, Spencer is relentlessly harping on the idea that Toby is the most honest guy in town. This all makes Toby a predictable, though still deliciously satisfying, A-Team member. Best of all, Marlene King said in an interview that Toby is definitely evil and not trying to double-cross A. Like I said: satisfying.
So, I Told You So (a little). Toby ranked in at number three last week, below the painfully predictable Nate at number two, in my betrAyer predictions. Though my first pick, Wren, was noticeably absent from this episode, I am highly curious who has allowed Mona access to getting in and out of Radley. Clearly someone on the inside would have set that up.
Maybe this will all get revealed during the super exciting, super spooky, super dramatic unrelated to everything Halloween Episode Spectacular! But probably not. See you then anyways.

This article was brought to you by the hardworking people of Autostraddle, the world's leading independently owned queer-lady website! If you loved it, you should donate to our bitchin' fundraiser and be part of the revolution! We've got until September 7th to reach our new fundraising goal and you can read more about what's in it for you here. Every little bit counts. Thank you!