After zooming past our goal of $40,000 in 21 hours, one couldn't help but wonder if perhaps this campaign could enable us to be even more awesome than we'd initially imagined. Well, first we had to finish shedding our happy tears and set aside 24 hours to stare slack-jawed at the computer screen, dumbstruck by your incredible generosity and your belief in what we do — and what we can do together.
As discussed in the post about the campaign, most sites like ours launch with anywhere between $500,000 and $6 million to get their business going. Conversely, we launched with $539, so our scroll of "things we still need" is really long! Basically, everybody on formspring thinks we should declare a new goal of $100,000.
make it an even $100,000 in 45 days. Don't be afraid to make an ask like that—especially after you've seen what 24 hours can do. If you're feeling modest, Riese, let your readership propose: $100,000 IN 45 DAYS."
On our last fundraising post, many readers suggested that sharing our Money Plans and Additional Perks with y'all would inspire more donations. So HERE WE GO!
You asked us about self-sustainability, and what that means with respect to a new website. Well, for starters, it will help our audience grow — we'll have better search engine optimization, an easier site to navigate for newbies, a more impressive and professional feel and a social networking system that will enable us to evolve and develop a more solid online community. The more readers/viewers we have, the more we can make from advertising, merch sales, donations and events, and thus the more people we can hire and pay. Also, the more lives we can impact, the more social justice issues we can promote, the more quality artists we can support and the more awesome people we can talk to! We also hope that a larger audience will lead to a more diverse readership and a more diverse applicant pool.   We also have this crazy fantasy that one day we'll be taken seriously by the rest of the media and be included on lists like this one. Part of that fantasy is a world in which we can pay not only our own writers, but also big-name writers we'd love to see on Autostraddle that we simply can't afford right now.
Alex has been learning the ropes of online advertising for a few years now and has a keener understanding of how to optimize advertising spaces, develop relationships with brand partners, and effectively utilize Google AdSense than we did when we initially built this thing.
Ultimately, it takes money to make money and although it may seem like we grow and change on heart alone, honestly every major evolutionary stage of this website has corresponded with an increase in financial resources. This campaign never would've gotten off the ground if I wasn't able to pay people to on-board ten new writers and interns, take over merchandise shipping, edit most of the nine posts we publish every day, and handle some of the other administrative work that keeps me away from writing and masterminding. Nor would we have a redesign at all if our Design Director wasn't earning commission from ad sales that enabled her to not need another full-time job for the time being.
We do have a specific profit-building initiative we intend to launch once we get the site re-built and gather enough money to keep Alex on full-time — but we have to keep it a secret for now so nobody steals our idea! You'll see. You'll like it!
And don't worry — just because something you've asked of us isn't on this list doesn't mean we're not doing it! We could be in the middle of making it happen right now! We have a LOT of things to do on our to do list.
So, without any further ado…
What We Plan To Do With Your Money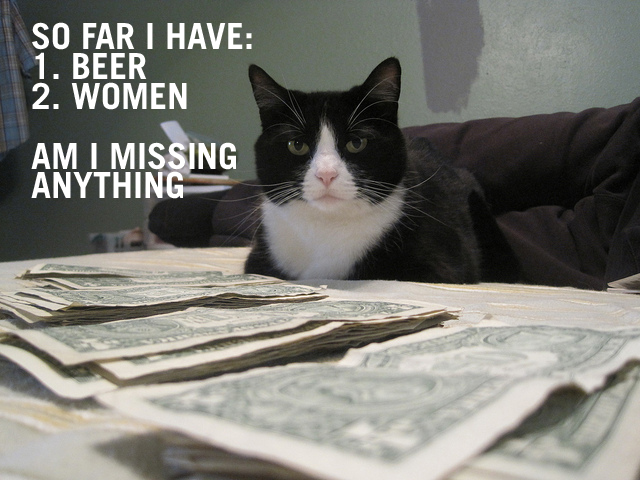 W+
$40,000
[less indiegogo & paypal fees – $3,200]
The 40k plan doesn't cover the entire cost of the project — we lowballed it to avoid excessive fees (indiegogo charges 9% for campaigns that don't reach their goal but 4% that do) and intended to pay Cee in installments over time if we weren't able to raise enough from the campaign. We also have to pay 4.4% to indiegogo for credit card processing and 3% to paypal for paypal payment processing, regardless of whether or not we meet our goal.
What's In It For You:
Dance Video: Alex will be doing a music dance video to the classic Robyn number, "Call Your Girlfriend."
What's In It For All Of Us:
This money will get us a faster, cleaner, better organized website, designed by Alex and hand-coded and developed by Cee, with a customized social networking component and a year of tech support. It won't break down, it'll feature responsive design that will work on all mobile platforms, and we'll be in constant communication with you guys about how to make it better. We're especially committed to making it easier for you to  meet each other, organize meet-ups and talk about your feelings on forums.
+
$50,000
[less indiegogo & paypal fees: $4,000]
$50,000 enables us cover the entire contract for our web developer, web designer and outside experts as well as covering the indiegogo fees and some of the perks fulfillment costs.
What's In It For You:
More Things: We're printing "You Do You" boyshorts, as requested, and added more cookie perks and t-shirt perks to the indiegogo campaign. The cookie-baking team is going to make a menu for you and you can pick the kind of cookies you want! Also, our Australian will happily send cookies to other Australians.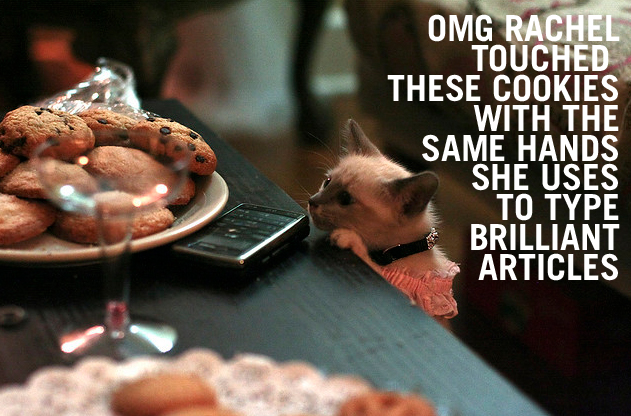 +
$60,000
[less indiegogo & paypal fees: $4,800]
$60,000 enables us cover the entire contract for our web developer, web designer and outside experts as well as covering the indiegogo fees and most of the perks fulfillment costs.
What's In It For You:
Merch: We'll print "Autostraddle This" boxer-briefs.
Meet-ups: We will organize another International Autostraddle Meet-Up Week!
What's In It For All Of Us:
+ Office equipment that will run as well as our website does!
+ Small fund earmarked for editor/writer payments
$70,000
[less indiegogo & paypal fees: $5,600]
What's In It For You:
NSFW Lesbosexy Coloring Book: We'll design, assemble & print a NSFW Sunday Coloring Book.
Livestream: We'll organize two livestream video situations featuring different team members answering your pressing questions!
What's In It For All Of Us:
+ Alex Full-Time: This is crucial to our growth, especially our financial growth. Alex is the site's co-founder, our Design Director and ad salesperson, and is far more competent than the other co-founder (me, Riese!) at anything involving human speech, like coordinating partnerships with other organizations and planning events. As of a few months ago, Alex doesn't have a full-time job and that's how this redesign even happened. But we need to keep her after unemployment runs out! Alex is the driver for most of the money-making aspects of the business, such as designing merchandise and working with advertisers, and is also our most competent "face" of the business, considering most of us get heart palpitations every time the phone rings and only attend networking events for the  free cheese cubes. After our 2009 launch, Alex worked 40 hours a week for the site for 1.5 years without compensation, and when we all moved out west in 2010 and she got a full-time job, we lost her and it sucked! We would like to keep her now. Even the fact that she has another temporary part-time job right now is preventing us from moving forward as quickly as we'd like to.
$80,000
[less indiegogo + paypal fees of $6,400]
What's In It For You:
Extra Perk for 'Zine-Buyers: Everybody who orders or has ordered the Limited Edition 'Zine perk will also get their choice of a "You Do You" t-shirt, home-made cookies or a hand-made card by a writer/editor of your choice.
TWO A-Camp Camperships: We'll raffle off TWO September A-Camp Camperships and everybody who has donated who wants to attend September Camp will be invited to enter — or, if you've already signed up, you can win the chance to bring a friend for free! (When we reach this point, you can forward your donation confirmation email to info [at] autostraddle [dot] com to be entered.)
What's In It For All Of Us:
+ An accountant! Seriously I spend so much time doing accounting these days. Also I have a feeling an accountant would be able to help us out w/r/t making more money.
+ Medium-sized fund earmarked to launch program to pay writers for their hard work and pay Rachel at least half of what she deserves for working full-time. (She has been working full-time for us for about two years for basically $2/hour)
$90,000
[less indiegogo + paypal fees of $7,200]
What's In It For You:
Your Best Autostraddle Day Ever: You pick our content for the day. You'll be invited to submit story ideas and vote on other people's story ideas, and the most popular ideas will be written!
What's In It For All Of Us:
+ In order to facilitate Your Best Autostraddle Day Ever and our future, we'll be launching an ideascale (or comparable) area on the site where you'll be able to submit your ideas, questions and concerns to us all in one happy happy place! No really, go check it out, you will want us to have that.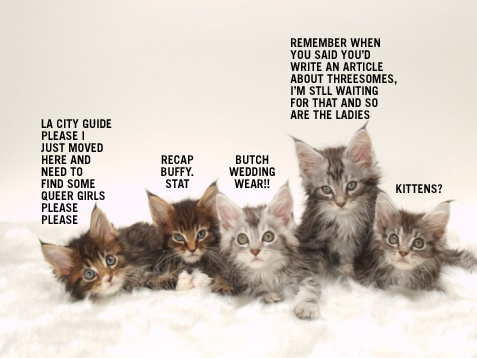 $100,000
[less indiegogo + paypal fees of $8,000]
What's In It For You:
Best Music Video Ever: An epic professionally-produced-and-edited music video conceptualized by Riese, Brittani Nichols, Haviland Stillwell, Sarah Croce, Alex Vega and Ashley Reed, with appearances by every single Autostraddle team member and starring Alex Vega as a young lesbian in Los Angeles getting Tinkerbell tattooed on her ass (as she has promised to do if we raise $100,000! You can see the design on the blue button here). It will feature an original song composed by aforementioned team with the working title of "You Saved Our Ass." We'll even pay the people who make it! There will also be lots of celesbian special guests, TBA – we will update you as we recruit more special guests and also if you're reading this and could be a special guest, let us know!
What's In It For All Of Us:
+ A larger fund earmaked to pay writers/editors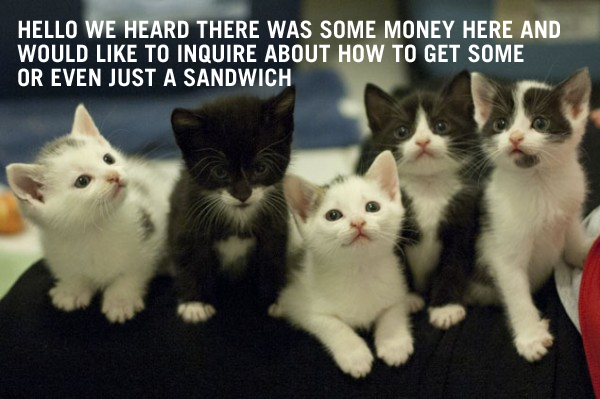 From here forward I can't tell you specifically where each dollar would go, because that's part of what we'll figure out as we go along and there are many factors to consider depending on the final tally.
But here's some stuff we'll for sure do for you if we hit these milestones:
$110,000
[less indiegogo & paypal fees of $8,800]
Queer Girl City Guidebook: We'll create and produce Autostraddle's Ultimate Queer Girl City Guide, a book that will show you around every city worth living/visiting, from a local perspective, chock-full of original photography and insider tips.+
+
$120,000
[less indiegogo & paypal fees of $9,600]
Let's Get Literary Month! Autostraddle will host a short story and a poetry contest for our readers and will feature a month of material focused on queer-lady literature, with interviews, original work from established authors and personal essays from the team. Also, Riese will launch the serial fiction series she's been conceptualizing for years (which will eventually become a memoirish novel).+
+
$130,000
[less indiegogo & paypal fees of $10,400]
Complete A-Camp Campership: We will announce the dates of A-Camp May and we will cover the complete cost of tuition and transportation (up to $1,200) for an A-Camp Aspirant who lives outside of the United States to come experience the magic.
+
$150,000
[less indiegogo + paypal fees of $12,000]
Mobile App: We'll make a really good one!
+
$200,000
[less indiegogo + paypal fees of $16,000]
TOUR! Autostraddle will go on tour, doing readings, workshops and presentations all over the country at colleges and performance venues, featuring a rotating roster of participating Team members.
OK, now it's your turn to donate or to solicit donations from other people!  Donate now!