We need a website for our website.
We skipped that step. Most web-based start-ups would consider "hiring professionals to build a website" to be "Step One." But our start-up budget was $539, and besides, we had Tess, who — like the rest of us — was learning the ropes as she went along, and working on coding whenever she could catch a minute, which was tough because she's also a small business owner who works full-time and then some. We had Alex, too, the site co-founder, an enormously talented designer willing to work for free, like Tess was, because she believed in you and in the project and its potential.
Alex finished designing our present theme in June 2010, when we had about 23,000 views a day, and it took six months to code it and get it up and running. This incarnation went live in January 2011, when we were getting about 35,000 views/day. Now we have over 75,000 average views a day, and we've expanded to include much more than just blog posts — the social networking element you all requested, for example, has been a monumental endeavor.
In June of 2011, Tess officially declared that what the website needed at this point was above and beyond her skill set or what she had time to learn. We've spent a year investing in cheap or free labor and quick fixes. The site frequently crashes, over the last month we've had to strip off about 20 plug-ins to get it to load at all, we can't grow, we can't even accept new advertising with our current down time. Before removing some of the 30 plug-ins we were running (for a site this size, 0-4 is the recommended amount), our page load time was over a minute long (most websites load within 3-4 seconds).
Imagine a tiny house with six people inside. Imagine that 64 more people move in, but instead of making a bigger house, we just tack on a bunch of free-standing cardboard boxes and ask everyone to please squeeze. All the lamps are broken, only one power outlet still functions, using the microwave blows a fuse on the entire house and you have to exit through the back door 'cause the front door gets stuck. That's our website.
We lack basic search engine optimization and always have. We've had to reimburse advertisers for lost impressions and repeatedly apologize to people wondering why the article we wrote about them or the article they wrote isn't loading for their Mom to read.
The landscape is changing, everything is going mobile, and we are not keeping up. We've wasted endless hours and days with tech shit and mitigating disasters. A few weeks ago we tried to launch a page that begins the next step in our campaign with o.b. tampons and our entire website crashed!
But even more than wanting to fix those things, we want a platform secure enough for us to grow, have a viable presence in the marketplace, and attract more readers. Riese already works 80+ hours a week with the other editors and writers not far behind and we need a website that works as hard as we do.
We can't avoid it any longer: it's time to turn this shed into an actual building, or risk losing everything we've worked on thus far.
But building a website like ours —  original design, hand-coding from scratch, millions of monthly page views, customized social networking, a content management system, special features galore, the ability to update and change frequently — at the cheapest, we're looking at $75K, possibly up to $250K or more. That might sound crazy to you, but most sites with traffic and features like ours start up with a solid chunk of venture capital or angel investments, usually garnered from networks enabled by things like "being a man," investments which enable companies to hire people, pay them, and build the infrastructure of the site.
For example (all this information comes from Crunchbase), the I Can Haz Cheezburger Network pulled in $2 million for its seed investment ($32 million total from all subsequent funding rounds), Huffington Post launched with $2 million ($37 million total from all subsequent funding rounds) and eventually sold to AOL. OKCupid launched with $6 million and eventually sold to Match.com, BlogHer launched with $3.5 million ($13.5 million total from all subsequent funding rounds). Wowowow.com launched with $3.1 million, Refinery 29 with $500,000. Babble Media acquired $6.25 million in investments from 2009 – 2011 before selling to Disney. GayTravel.com raised $1.1 million in Venture Funding in 2008 to support their redesign.
You guys, Twitter has garnered $1.16 billion in investments and they haven't even figured out how to make money yet! (We have!) (I know we're not even in the same industry as Twitter, but you get the idea.)
Thanks to your donations, merch purchases and camp tuition, as well as to our advertisers and affiliate sales, we've pulled this company out of the red via heart and scrappiness, without any corporate support or big investors. We now operate on approximately a $10,000/month budget (usually less), which enables us to pay two people full-time wages slightly above the poverty line and four additional people stipends or commission, cover all author expenses, cover all our monthly bills (including $900 for web hosting) and every month offer a limb and a newborn baby to the IRS. Any potential profit is invested back into the company, and right now our priority is to be able to pay ALL of our writers for the work they do at Autostraddle, as well as to re-invest in new ventures, like The Autostraddle Print Annual and AS Classifieds, and hire support when needed in areas like accounting and PR.
We were feeling pretty hopeless until we found Cee. Cee is one of the best WordPress developers in the country with lots of helpful friends in high places. Cee has been helping us out (for free!) for a few months now, helped us get onto a better server and has kept us running during these trying times. Cee typically makes between $150 and $300 an hour doing what she does, which we clearly can't afford.
But here's the thing: you guys are really awesome and really gay, and Cee is also really awesome and really gay. This community is incredibly inspiring and motivating, and y'all have a way of making people who work here really feel valued and important.
There's more to say about this, but for the sake of expediating the process of you giving us your money, let's cut to the chase:
+
We're trying to raise at least $40,000 on Indiegogo!
What that'll pay for:
* Web Developer: That would be Cee, who has also built websites for AMC and Bergdorf Goodman and has 13 years of experience in web development & design.
* Website Design: We've snagged this really great designer named Alex Vega, cut-rate — and we wanna keep her! You guys, if she goes and gets a full-time job again, what will we do?!
* Expertise: Cee is gonna dig into her network of esteemed specialists and get geniuses who can construct things like "a social network."
* Tech Support and Ongoing Maintenance
* Custom Server Configuration
If we exceed our goal, all the extra money will go back into the business — site upgrades, equipment upgrades (legal copy of Final Cut, point-and-shoot camera, etc.) and paying people. If we get a million dollars then we'll build an office and you can all come over for tea!
Now, listen up!
Our recent Reader Survey has revealed a troubling — but also promising — statistic. Only 13% of you have ever donated to Autostraddle! Only 18% have ever bought merch! When you consider that and think about how much money we've managed to raise from that 13%, just imagine if the rest of you pitched in!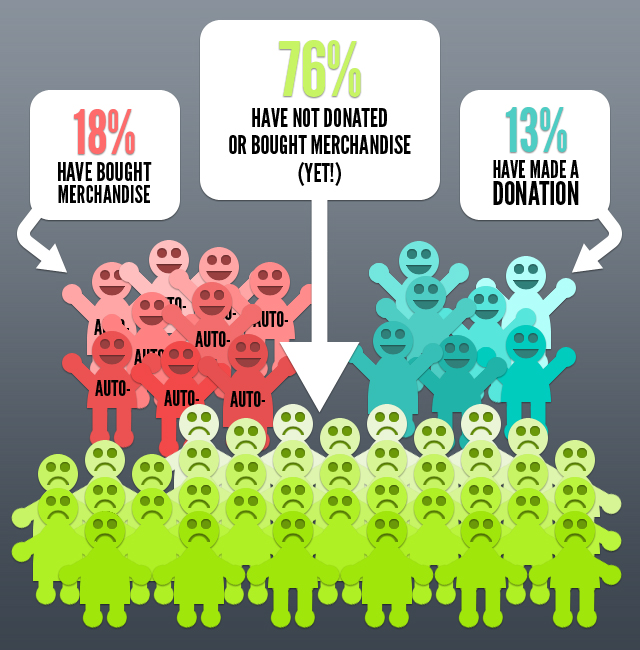 So, what's in it for you, besides the fact that we will still exist in September? Well, we've assembled some pretty rad perks for our donators, if you're into that, such as:
+ Advertising: We're building a prominent Redesign-Supporter-Only Ad Spot (125 x 125 pixels) into our new website layout. You get to place an advertisement in there for one week. Want to promote your business, blog, service, or maybe ask your girlfriend to marry you on our website? This is a pretty damn good way to do it.
+ Redesign 'Zine: Get our first and only 32-page Redesign Supporter-Only Newsletter we made just for this campaign, featuring completely original and never-released writing and content from Riese and the other editors, as well as behind-the-scenes photos and all sorts of special stuff that will only exist in this newsletter. PLUS: Lifesaver Package
+ Lifesaver Package: We're custom-making a special package just for this campaign: a 2″x6″ Read a Fucking Book bookmark, Autostraddle tattoo, 2″x2.5″ Whiskey Kitten sticker and a mini "You Do You" sticker!
+ Design Tutorial: 1 hour Photoshop, Illustrator or InDesign tutorial from our Design Director Alex via Skype or in person if living in or willing to travel to Los Angeles.
+ Hangout: 30 minute Therapy/Advice/Brunch or hang-out Skype session with Riese, Rachel & Laneia or any two (2) Autostraddle team members of your choice.
+ Writing Tutorial: A short story or essay critique/workshop/tutorial from Rachel & Riese.
+ Priority A-Camp Registration: Snag a guaranteed spot at the next A-Camp of your choice!
+ Limited Edition "You Do You" T-Shirt: Super Special/Awesome Limited Edition Autostraddle "You Do You" t-shirt. We're only printing 300 exclusively for this campaign. This is the only way you can get one!
+ Be an A-Camp VIP: Come to A-Camp… as a team member! Work as little or as much as you want, but you'll stay with us, come to pre-camp training, participate in planning activities, whatever your little heart desires! Plus, you'll be guaranteed a regular spot at all future A-Camps… FOR LIFE. (Lifesaver package included, obvs)
+ Dinner or Meet-Up: Two or more of your local Autostraddlers will either throw you a meet-up in the format and at the time, place and format of your choice OR take you out to dinner! (You must live in or be able to get to NY, LA, SF, DC, Phoenix, Cincinnati, Portland, Chicago, Sydney or Ann Arbor/Detroit).++
This is the part where we take a deep breath and pray! Oh and — for those of you who appreciate our endearing kitten photographs begging for your money, we have plenty and will post them as soon as we clear the $10,000 mark! I hope that motivates you.
Also thank you to Intern Geneva for the infographic and Intern Sarah K for help on the video!