Once upon a time we had a dream. It involved a couple hundred of you, 35 of us, a group retreat site in the San Bernadino Mountains and a weekend packed with workshops, panels, activities and performances designed to inspire, educate, entertain and/or make you laugh — basically, it was the spirit of this website manifested in three entire dimensions. We wanted to create a special (and affordable!) space where you could be yourself, enhance your relationships within the international queer community, support Autostraddle and make new friends forever.
It was a dream called A-Camp, and it was a dream that came true the last weekend of April, 2012.
So we're doing it again.
Details
+
When:
Wednesday September 12th – Sunday September 16th
+
Where:
Alpine Meadows Retreat Center in Angelus Oaks, California. It's 1.5 hours from Palm Springs, 2 hours from Los Angeles, 2.5 hours from San Diego, 4 hours from Las Vegas, 5 hours from Phoenix and 8 hours from San Francisco. We'll be running shuttles from LAX to the campsite from 10 AM to 3PM on September 12th and shuttles back to LAX from 9AM until 3PM on September 16th.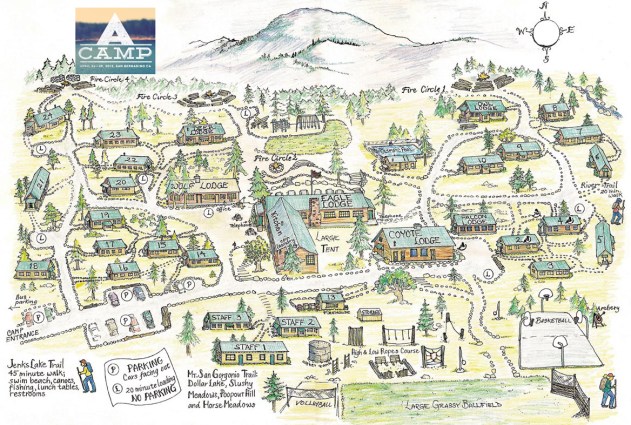 +
Lodging:
You'll be having the bestest biggest surprise slumber party of your life in fully insulated, carpeted & heated cabins with private bathroom/showers/baths and generously-sized bunk beds. You'll be sharing these cabins with somewhere between 5 and 17 other female-identified humans. Cabin groups are designed with your needs in mind (we meet all roommate requests!) and are headed by Counsellors from Team Autostraddle.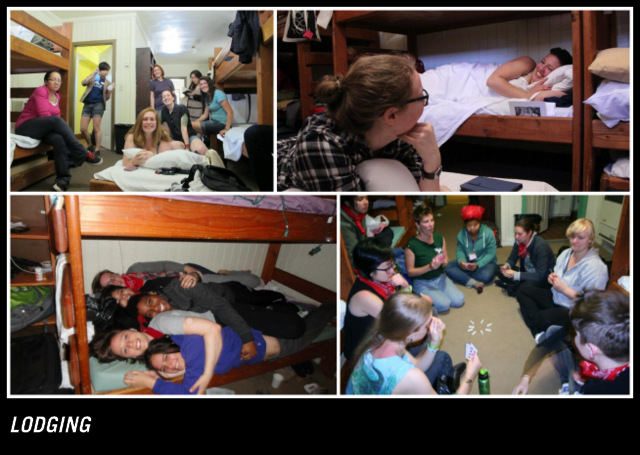 +
Who:
You weirdos! Anyone over the age of 18 is welcome — in April, our campers ranged in age from 18 to 49 and came from all over the world. This time, we've got exclusive use of the site all week and will be doubling enrollment.
+
How:
Tuition is $365.
+
Your tuition includes:
+ Four nights lodging
+ Three meals a day and snacks (with vegan, vegetarian, gluten-free and kosher options)
+ Full access to a variety of daytime programming situations, ranging from arts+crafts to morning hikes to panels/workshops.
+ Special Guests: The entire event will be MC'ed by world's funniest duo, Julie Goldman and Brandy Howard and you'll be seeing a lot of the beautiful ladies of Unicorn Plan-It.
+ Kickass gift tote packed with amazing things such as an A-Camp T-shirt you can sell on ebay in ~4 years
+
What the hell goes on at A-Camp?
+
For more information about what goes on at A-Camp, you can check out our recaps from April's camp and testimonies from campers about the joy of the experience. Keep in mind that this time around, things will be even more awesome.
Days at A-Camp are spent participating in a variety of programming options offered by the Autostraddle Team and special guests — Speed-Dating with Hannah Hart! Gender Panel! Poetryfest! Lesbian Jeopardy! Style Workshop! Sewing Circle! How to Pick Up Chicks! Writing Workshop! Picking Up Chicks! High Tea! 'Zine-making! We'll have a whole slate of brand-new and/or improved activities in September, including panels/workshops on topics like "Trans* 101," body image and queer religion/spirituality.
+
Every night offers plenty of opportunities for fun-fun-fun, including the All-Camp Talent Show (hosted by Julie & Brandy), DJ Carlytron's T-Dance, Julie & Brandy's Trivia Extravaganza and campfires to gather 'round and sing Indigo Girls and/or eat S'Mores.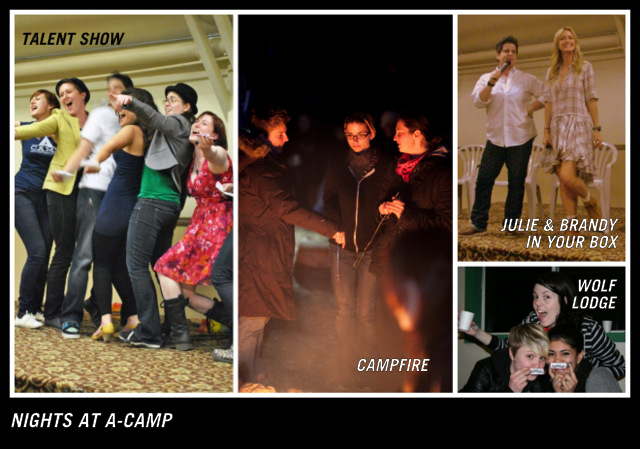 Okay, I'm in. What Now?
If you wanna get on the saddle and trot on over to A-Camp with us this fall, here's what you've gotta do:
1. For the low low price of a $50 non-refundable deposit (and $3.21 "service charge" from the registration interface — you'll only have to pay this once), you can snag your spot for the fall festivities. Answer a couple questions about yourself and you're good to go.
2. When registration fills up, you can put yourself on the waitlist. Be sure to put an e-mail address you check regularly & often, so you don't miss our note if you're up!
3. On or before June 5th, we'll update the registration interface to include options for paying your tuition, questions about your travel plans, rooming/bunking needs, dietary desires and other special feelings.
4. If you're driving in on Wednesday, please plan to arrive between 12:00 noon and 5:30 PM. On Sunday, please plan to leave around 1 PM.
5. If you're looking for flights and will need transportation from the airport, then please book your incoming flights for Wednesday, September 12th to get in by 3 PM at the latest. Camp officially begins at 6 PM. There will be activities going on throughout the afternoon, but mostly we want to allow you time to get settled in before your counsellors take you into the woods and brand you for life while howling at the moon.
If you'll need transportation to the airport on Sunday, September 16th, then please try to get a flight that leaves after 1pm. There will probably be stuff happening on Sunday morning, and if you wanna be there for that stuff, try to get a flight after 6PM.
If those travel specifications are totally absolutely impossible for you, email a.camp.september at gmail dot com to make special arrangements.
6. If you need to cancel, you can just log back in to the registration interface and cancel!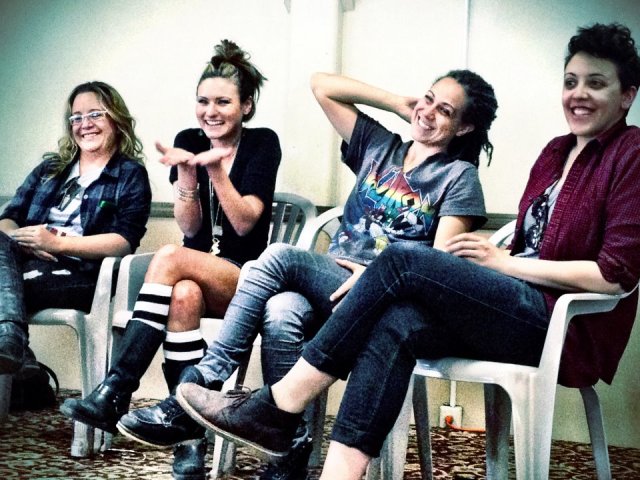 Quick Note on Workshops
If you've secured your spot at camp and are a specialist in your field or have a super-special skill you think would make a great addition to the schedule, then we are accepting workshop proposals from campers. Please get yours in to Marni & Robin by July 1st. These workshops/panels/activities should be unique ideas specific to your background and skill-set (aka, things we couldn't do ourselves without you) — in April, we had a camper teach Crossfit and another lead a workshop in Circus Acrobatics For Everyone.
If you're interested in participating in an Autostraddle-populated panel, we'll have more information on that later this summer when we finalize the list of panels that we're doing. In April, we had two campers join Katrina and Carmen in leading the Activism Workshop and another camper with a relevant background appeared on our fantastic Sex Panel.
We do not accept applications for Camp Staff or counselor positions, those are all handled in- house.
FAQ:
Q: I'm really super poor but I want to go so bad!
A: Firstly, this is a once-in-a-lifetime Utopia-esque situation, I recommend getting your emergency funds out. But we get that hard times are here for some of you, and that's why we'll offer two ways to pay — upfront in June or in installments throughout the summer. No fees, no gimmicks, no credit checks. We'll work with you to get you there. That's just how much we want you to come.
You can also apply for a "Campership."
Q: Is there Wi-Fi?
A: NOPE! I know it's scary!
Q: Will there be any free time?
A: Yup! I mean you don't have to do anything you don't want to do. Go read by the river or go videotape your friend hiding in a tree like a monkey or just lie on the grass or in your bed. You can do whatever you wanna do, you're a grown-up!
Q: What's the deal with alcohol?
A: Drinking isn't part of any A-Camp activities and we do not serve alcohol. But if you're over 21 and wish to drink at camp, you have to bring your own alcohol, put your name on it, and store it in one of our designated lodges (food/drink are prohibited in cabins because of bears) where you can access it whenever you want. We'll be providing a "sober cabin" option for anyone over 21 who would prefer to room with other abstainers.
Q: Are there extra charges for any activities?
A: Yes. We're not positive about the shuttle cost yet, but I think it's gonna be a $25 fee each way for those requiring transportation to/from LAX. There's also a $20 fee for the Ropes Course or Climbing Tower, and a $10 fee for linens. You'll get the chance to put money down for those things later.
Q: Me and my girlfriend/all my friends want to go together, can we stay in the same cabin?
A: Yes.
Q:  I can't come to camp but would like to help somebody else get there, can I do that?
A: Absolutely! Just go right here.
Q: When are you doing an East Coast camp?
A: I know this seems like SUCH a good idea! But for a zillion reasons including a shorter off-season and the fact that most of our team lives on the West Coast, this simply isn't affordable or logistically possible for us right now — and in turn, for you. This is something we hope to do in the future but we're not sure when that will be yet, so don't hold your breath. However, it's worth noting that we picked a site near LA because it's one of the cheapest airports to fly into in the country. Have you been to California in the fall? It's really nice, it's basically summertime.
Q: What about A-Camp in CANADA?!
A: The expenses required to put on A-Camp in any other country would drive your cost to about $2,000 for a weekend, and that's before plane tickets, passport fees, etc. If we ever do an international A-Camp, it would be years from now.
Q: When is the next camp after this camp?
A: We're not 100% positive yet, but it will probably be in May at the same site.
Q: What's that link again?
A: Here it is!
Q: Anything else?
A: Please we beggeth of you from the deepest depths of your beating heart, to make sure we have an email address for you that you check often. We will be sending you updates via e-mail and it's imperative that you receive and respond!
Also! Marni & Robin are the contacts for A-Camp questions as they are A-Camp directors. You can reach them at a.camp.september at gmail dot com and robin at autostraddle dot com.