Part Two: Feelings
[photos in this section come from: robin roemer, gabby, taylor, carly, vanessa, ashley p, rachel w, mary b, jamie, jess r, elise b, kate h, kelsey d, hilary m and ashley reed]
Riese: I can't believe it actually happened. Really, I can't. I couldn't believe it was going to happen, I couldn't believe it was happening, and now I can't believe that it happened.
Marni: In the end, the brief hugs and loving words I had the chance to exchange with the parting staff were a poor counterfeit for the immense gratitude and awe I felt for each one of them, for the beauty and talent and grace that each one of them brought to camp. It was an incredible privilege to be able to work alongside these amazing women, and so humbling to be able to play even a small role in the labour of love of this army of brilliant, hilarious, and talented warriors. I will be forever grateful for the opportunity to be a part of this vision.
+
"It was a safe space that made me feel welcome and completely at home. The workshops, the cabin assignments, the shuttles- all the hard work that the staff put into our stays and our getting there made me feel loved."
+
"I really enjoyed the panel discussions. They were very informative and I feel I left camp with more knowledge than I came."
+
"[I liked] finding community, meeting my people and being in the presence of so many amazing queer unicorns just like me."
+
Brittani: I don't think I've ever felt less aware of my identity than when I was at camp which is a weirdly freeing experience. I felt at camp like straight white dudes probably feel everywhere. Camp made me feel better about being a person that exists in the world because I know all of you are out there. Now when I think to myself everyone is stupid, I have a sidebar with myself and say, "Except for those A-Campers. They're quality through and through." And then I eat a waffle. For everyone to claim to be so awkward, we had a really non-awkward time.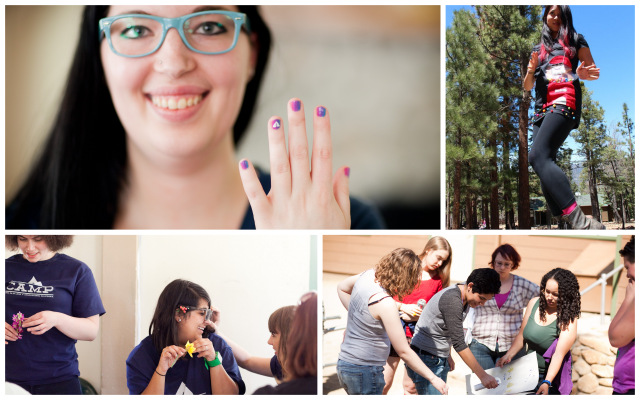 +
"Everyone was really open, accepting and lovely. I felt like I could just relax and be myself without running every sentence spoken through a filter."
+
Marni: I loved being able to meet and talk with all the campers – every single person that I met was so lovely and friendly and interesting – and I really wish, in retrospect, that I'd had more time to just hang out and get to know people more. Next time I'm going to make sure to devote more time to that.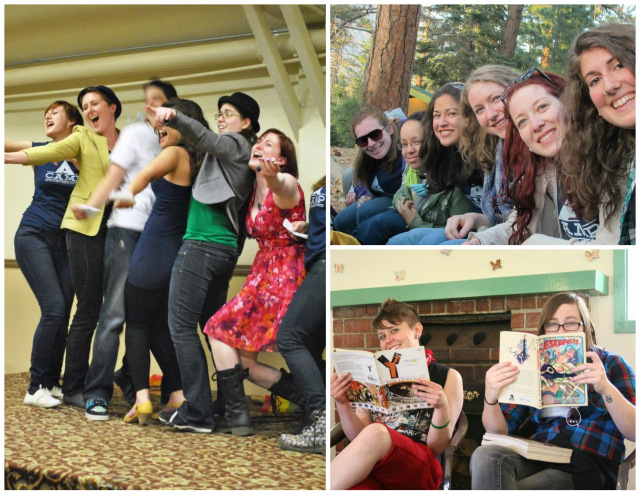 +
"I loved how sweet and welcoming Robin and Marni were, loved my cabin-mates, all the panels I was able to attend, Julie Goldman, the campfires, the talent show, Hanna Hart, all the people who came, etc. Just the atmosphere was my favorite part. Even when I wasn't doing anything, I just felt like I was in the "right" place."
+
"It was amazing to be surrounded by so many talented, smart people and never feel put down. All the love, basically, was the best part."
+
Jamie: The Little Rascals and I didn't get to spend as much time together as I'd have liked, but their Tegan & Sara singing circle and talent show performance will remain in my heart forever.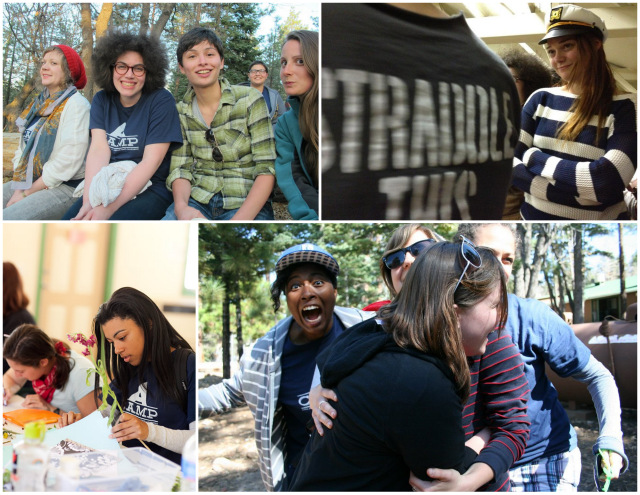 +
"I've never been in such a positive and safe space before, and it was incredible to look around and think, "Wow…all of these girls are totally queer and it's GREAT." Also, I loved getting to chat with other early risers in Wolf every morning. There are a thousand wonderful little things and great panels and awesome campfires, but those were probably my absolute favorite parts!"
+
Annika: My campers made a halfhearted attempt at modesty that lasted for approximately twelve hours. I thought I was being risqué on Friday morning by doing my makeup in my underwear, but then some of the other girls just started walking around topless. By the end of the weekend, it wasn't surprising to enter the cabin and find someone hanging out on the bed completely naked. This was exactly what my friends pictured when I told them I was going to lesbian camp.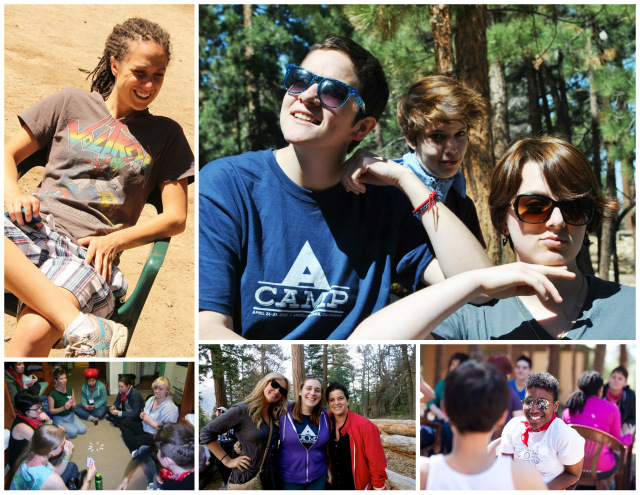 +
"[It was great] having so many (all?) aspects of myself embraced and celebrated in one space. Everyone was so affirmative and positive. It was truly magical."
+
"[I liked] meeting women who were not only queer but actually had a lot of similar interests! Geekery, internet, reading, CAMPING, etc! The panels were very interesting and informative and the activities were fun. The people definitely took the cake though. Good staff + campers."
+
Laneia: The one-on-one conversations I had with campers were by far the best part of everything. I keep thinking about the conversation I had with Fitzi, about being married to a guy and the aftermath of coming out, divorce etc, and wondering if she knew how much it meant to me to hear her story. Talking with her about those things — things that used to humiliate me and leave me feeling completely alone — was basically the culmination of all the tiny parts I've tried to share, terrified, hoping it would matter to someone, for all these years. And it did. And I got to see it in her face! It was all really real. It was a lot.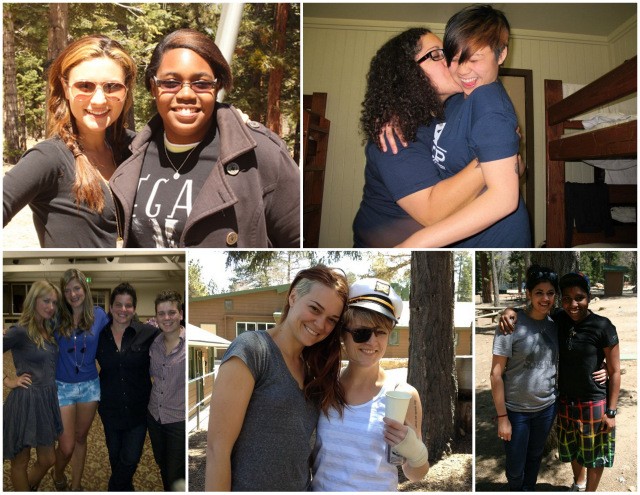 +
"It was strange because I felt like I knew so many of the staff already and yet it was so exciting to put real voices with the amazing people who I had 'known' for sometime now. It was like meeting celebrities and dear friends all at once. In a word, magical."
+
Carmen: To be honest, before I came to A-Camp I wasn't really sure I needed A-Camp. After all, I live, as of today and as of then, in my own little world with about 600 queer separatist friends (which is half a joke and half an accidental reality of our lives). I didn't really realize until I found campers at the airport that this was going to be quite as out-of-the-ordinary an experience for me as it was. A-Camp wasn't just hanging out with lesbians (and otherwise inclined women). Being at A-Camp was like being on Autostraddle, only without the sad articles about homophobes and their stupid cakes and stupid laws and stupid lives, in real life and uninterrupted by 503 Errors.
+
"[It was great] seeing and hearing speak in person the people who I have been reading everyday online for so long. It was pretty surreal to see the website brought to life the way it was. The panels were also really, really good… Activism, Gender, Queer Women of Color, Formspring Friday, and Sex panels were all really smart/funny/awesome/entertaining and were exactly the type of thing I came to camp for. It was very much "the website come to life" which was SO amazing."
+
Riese: At the Formspring Friday panel, we did a quick survey and discovered that maybe only a third of the campers had ever commented on the website. This is typical — only 33% of blog readers will ever comment, it's a statistical fact! Afterwards, Abbey approached me to say she's one of the 66% that never comment, and she said something like, We're here, I wanna say on behalf of the people who don't comment that you don't hear from, that we're here, there are so many of us, and we support you and we love what you do. It's true — most readers and most campers have never and will never comment. We wonder about you guys all the time — what you like, what you're like. And there you were.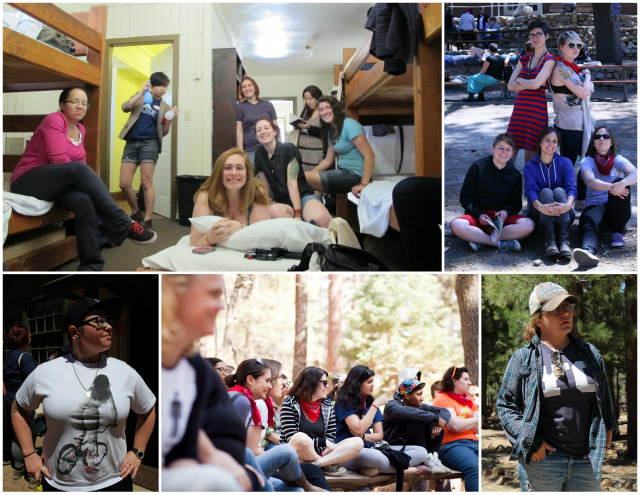 +
"Everyone was approachable and super into just getting to know other people, which made the experience that much better. I am still shocked by the fact that every staff member genuinely cared about us/A-Camp/each other -like, how do you get so many amazing people in one group? Automagic, that's how."
+
Carmen: Everyone sort of understood one another without even needing to speak, and I never felt like people were being harsh, mean, or anything but pleasant. In fact, most people were there to be as nice as possible. My anxiety melted away alongside my first drinking cup, and because of that I felt kind of like I was living this entirely different life for a few days. I liked who I was in that life very much, and I liked everyone else too. If I had let my emotions grab control of me on the last day I would have been such a mess, you guys. I remember Brittani asking me if I wanted to ride shotgun in her shuttle (I did, but didn't end up inside of it), and listening to Lil Carmen with Katrina and Jamie, and then suddenly I was saying goodbye to all of them and texting Gabby and running toward Washington, DC and I just wanted to run back. I'm sincerely sitting on the edge of my seat until next time.
+
"All of the workshops and panels were great! Every time Gabby was on a panel, I knew I had to go. The style workshop and vegan living taught me stuff I can't learn in a gender studies classroom, so that's cool! Then processing all my feelings with cabinmates. Meeting the staff of Autostraddle was really incredible! Omg, Beth. Camp had an indescribable energy to it. Thank you so much for existing and making this happen!!! Every single one of you is super hot/funny/smart and make me happy in my heart."
++
+
Cabin Photos // April 2012
+
+
The Troubletones
"It was nice that [my cabin mates and I] seemed to share a common vision of what we wanted the weekend to be – balance of programming, soul searching, queer lady bonding, high stargazing, whiskey shots, etc. But I really feel like I would of loved any randomly selected group of campers. Everyone was soooo cuuuute!"
+
Forever 21
"I think we formed such a tight bond because we were all in the same stage of life. Being 21, we were transitioning from school to the real world and shared similar experiences and perspectives on the world."
+
Little Rascals
"The cabin was like home base; you could venture off and meet new people, but then you could come back to the cabin and gush about all the cute girls you talked to and your new gender knowledge."
+
Wolfpack
"Whoever put us together realized that we were (almost) all weirdo introverts that would get along well in our nerdiness."
+
Cherry Bomb
"Our counselors were amazing, they were the only ones who opted out of moving into staff cabins, and I will love them forever for that reason. My cabin mates were amazing people who I will be friends with always… THANK YOU for assigning me to Cherry bomb. I know there was a lot of thought process put behind all those flashcards."
+
The Beats
"We all really clicked well, our age range was similar and we were all living in San Francisco, which, I guess takes a similar type of person, lol."
 +
The Golden Girls
"Every single person, including/especially our counselors, were so open, welcoming, honest and had something special that they brought to the group (and I'm not just talking about the booze!). They are just incredible women and I feel so lucky to have met them and spent time with them."
+
+
Hotel California
"I feel like I've known my cabin mates for fifteen years, and still can't understand why we had not met before camp."
+
The Sharks
"I felt like our cabin was very well put together, people had lots in common and seemed to be very similar in temperament, attitude, etc – very easy going, up for a laugh, immediately sociable, friendly… I don't know how the A-Camp team made that happen without knowing us, but it worked. Maybe 'cause a lot of us are Canadian?! All the cabins seemed so nice and friendly and sweet, but I definitely had the general feeling of "I'm super glad that I'm a Shark!""
+
Littlefoot
"Pretty much all of us clicked, and we were all fairly laid back, which was nice. I would have died in a bigger, more excitable cabin!"
+
Rubyfruit
"My cain mates were just awesome. RUBYFRUIT, YEEEEEEAAAH! I did want to know how the cabins were selected because it was kind of an amazing combination… ALSO! LOL I lied about my age to you guys but I totally fit right in. I GUESS IT WAS LIKE, FATE."

Pages: 1 2 3See entire article on one page