Lying to get to Autostraddle's First-Ever A-Camp Event wasn't something I'd imagined people doing, mostly 'cause I'm old and don't have anyone to answer to. Also, I'm out and have been since I was 17-ish. It's a privilege that must be checked and recognized. I, along with many of you, also live in a relatively safe, i.e. gay-friendly, environment. This is both a luxury and a blessing. All of my people within earshot or text distance knew that my lesbo ass was headed to the Shangri-la of camps.
This wasn't the case for all of our A-Campers. Some of you definitely had some 'splainin to do to parents, bosses and friends. From the minute, I picked up my girls in our (secretly raggedy) 15 passenger van, the stories of innocent deceit started to spill forth. I knew it couldn't be just them, so I went on the hunt to collect all of the lies from everyone at A-Camp. But then A-Camp was super awesome and jam-packed with panels to speak on, girls to meet and lesbian things to learn. So 'all of the lies' turned into this little Top Ten List just for you, to make you laugh and acknowledge that you did whatever it took to get there. We see you.
+
Top Ten Lies told to Get to A-Camp
+
10. Visiting "friends"
As in friends who don't live in Cali, as in friends who do and are covering for you, as in this is still a lie.
9. Attending a Progressive Blogger's Conference
Yeahhhhh but noooooo. Liar.
8. Been asked to speak at a Feminism Rally
So close! But still not the truth.
7. Accepted into a Lesbian Christian Feminist Camp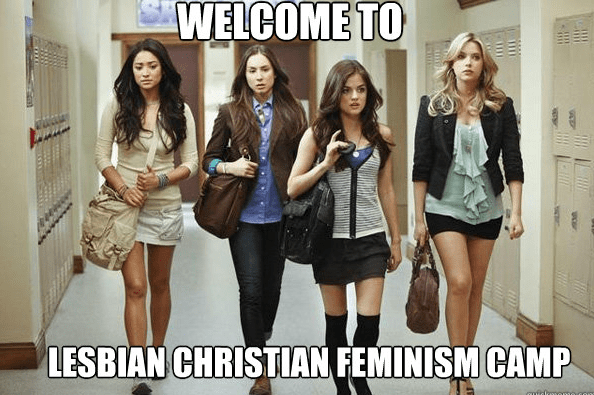 Whoa — all of that together — does that even exist? Well, whatever works.
6. I'm just kinda going up to the mountains to do some mountaining–
*This lie receives the 'That's What She Said, Mz. Bernard' Award.
5. They think I'm in Texas, right now
Well honey boo boo, only steers and queers come from Texas, so at least you picked the right state.
4. Going rock climbing
And are there places to do this without your parent's permission or a website to verify and why don't we just come up with a lie for you next time?
3. On vacation (non-specific)
Even as an automated email reply, this fails.
2. Pro-Environment Camp
Um, are there any anti-environment camps? If so does that mean they have access to NASCAR and/or Twinkies?
And the number one best of the best LIES told to get to A-Camp is:
1. Attending a Professional Women's Networking Extravaganza
Cuz that is like, so how it was that I officially make this a truth. #YOLO
Are there any super awesome lies not on this list? If you didn't go to camp, what lies would you have told? Or maybe you've crafted some creative non-truths in the past? You know where to leave them — spill it beautiful homos.

Special Note: Autostraddle's "First Person" column exists for individual queer people to tell their own personal stories and share compelling experiences. These personal essays do not necessarily reflect the ideals of Autostraddle or its editors, nor do any First Person writers intend to speak on behalf of anyone other than themselves. First Person writers are simply speaking honestly from their own hearts.