Feature image via shutterstock.
Sometimes you're born instantly knowing everything there is to know except that wait, that never happens. Whether you're new to sex, want to try something different, or curious about learning more, these ten queer and relevant-to-queer-interests sex guides are the perfect place to start.
---
Top 10 Lesbianish Sex Books To Make You Better In (And Out Of) Bed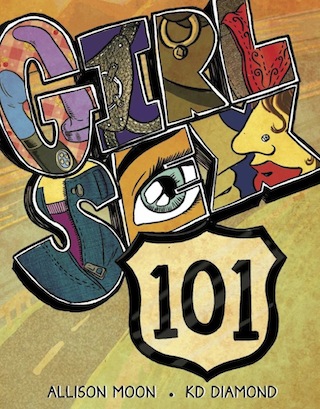 Girl Sex 101,by Allison Moon and K.D. Diamond
Girl Sex 101 is the best queer girl sex guide I have ever read. Seriously it is so good. Moon covers the basics like communication; anatomy; sex with fingers, mouths, and toys; safer sex; identity; love and more, structured around a road trip story. She also discusses language, doesn't make any assumptions about readers' identities or sex/gender situations (which bizarrely a lot of "lesbian sex guides" don't seem to know is important), has illustrations featuring people with different types of bodies, and includes notes on language. If you've never had girl sex before, want to get better at it, or just want to read something pretty, I can't recommend this book enough.
In the section on slut shaming, which illustrates why books like this are so important, Moon writes:
"We live in a sex negative culture. The messages we get are shaming, cruel, victim-blaming and disproportionately focused on women and our bodies. We're supposed to be consumable, sexy objects, while at the same time preserving the image of women as incorruptible, pure, and virginal. Meanwhile, our society is still entrenched in the belief that the only kind of legitimate sex is between married, heterosexual, cisgender couples.
It is — literally — impossible to win.

The thing to remember is that you're allowed to seek and have the sex you want. You are allowed to choose your partners, choose to be celibate, choose to be slutty, choose to be monogamous, and choose to have sex solo or in groups. You get to have consensual sex when you want, as often as you want, with whomever you want. That is your right as a human in this world.
Other great comprehensive guides include Susie Sexpert's Lesbian Sex World by Susie Bright, The Whole Lesbian Sex Book: A Passionate Guide for All of Us by Felice Newman and, surprisingly, The Straight Girl's Guide to Sleeping with Chicks by Jen Sincero.
---
Fucking Trans Women is "a zine by trans women, about the sex lives of trans women. it is an educational and instructional tool as much as it is a creative exploration of how we have sex." Bellwether covers topics like basic facts about penises, soft bodies, muffing, communication, touch, straps-ons and toys, orgasms and more. In the introduction, she writes:
"There are a few principles at the heart of this zine. One of them is that we benefit from sharing knowledge. Another is that the form of someone's body doesn't necessarily determine what that body means, how it works, or what it can do. That is to say that just because what's in my crotch looks like a penis doesn't necessarily mean that it works like a penis. In point of fact it doesn't, at least not most of the time. I also believe that one of the best tools we have at our disposal for figuring out our bodes, for learning about them and coming to delight in them, is experience. […]

I'm talking about beginning with sensation, not with names, vocabulary, or the things we think we know about our bodies. I'm talking about the kind of earnest self-investigation behind using a mirror to look at parts of yourself you couldn't otherwise see. I'm talking about keeping an open mind (and possibly a journal) about your body and considering the distinct possibility that you are looking at unchartered territory."
(A pdf is also available for purchase through the zine's tumblr.)
---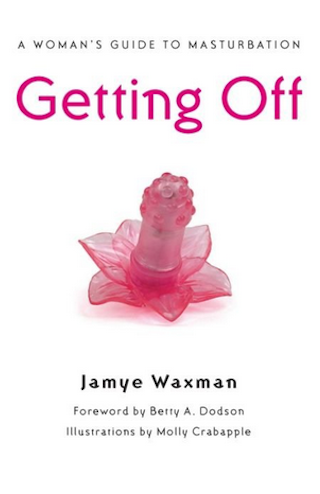 Almost everyone masturbates, but almost no one talks about it. Getting Off talks about it. It's a little about how to masturbate, and a little about envisioning masturbation as a normal part of sexuality. In the introduction, Waxman writes:
"Most of us aren't taught how to masturbate; we figure that out on our own. What we are taught is how we're supposed to feel about doing it, and what other people feel about us, or anyone else, doing it. It's one of those things that we just don't talk about with others. I've noticed that lots of women would still rather talk about their last sexual encounter, or their upcoming date, than discuss the ways in which they can satisfy, or have satisfied, themselves. For every proud proclaimer of solitary sex there's another one who offers a disclaimer like, 'I was desperate, bored, or too tired for intercourse.' We need to stop thinking of masturbation as an excuse for not having partnersex, or a backup plan in case our partners fail. We need to remember that masturbation is the safest, most uncomplicated, and most easily satisfying form of sex."
---
Fisting has become a bigger part of conversations about sex in the past few years thanks to International Fisting Day, but there still isn't a ton of information on it. Featuring illustrations by Megan Rothrock and Jill McCutcheon, A Hand In The Bush walks you through everything you need to know about sticking your whole hand into a vagina, including anatomy, safety, and what to actually do when you want to stick your whole hand into a vagina. In the xx, Addington writes:
"It is a miraculous and breathtaking thing to watch your lover's body swallow your hand, fingers at a time, until is disappears completely into her. It is a breathtaking and reverent moment when one looks down and sees one's wrist and forearm ending — is it beginning? — in an incredible connection of flesh. When I have my lover's hand firmly encased in my count, I am as consumed by the passion and sexual intensity of this act as my lover's hand is consumed by my body. Time stands still for both of us; in that moment, there is only skin, only lust, only passion, only us. As a lover of mine once put it, fisting is 'like being inside the heartbeat of everything.'"
---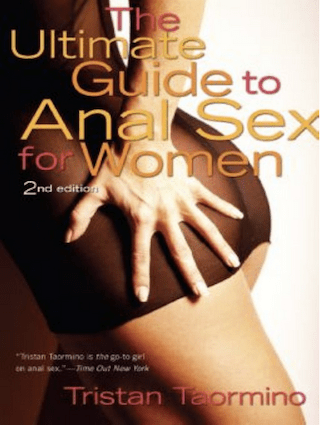 Anal sex is another area that doesn't really get enough attention, especially in a lot of conversations about queer girl sex. in the updated edition to her classic sex guide, Taormino addresses myths about anal sex (spoiler alert: it's not dirty or dangerous and it can feel awesome), anatomy, getting over mental barriers and talking about it with a partner, safety, penetration, masturbation, analingus, anal and BDSM and more. In the introduction, she writes:
"The notion that anal sex is kinky, abnormal, or perverse is based on the assumption that one form of sexual expression — specifically, heterosexual penis-vagina intercourse — is natural, normal, and conventional. All other activities, including manual stimulation, oral sex, and sex toys, are considered abnormal. From the perky girl next door to the daring dominatrix in the dungeon, people of every age, gender, sexual orientation, socio-economic class, race, religion, occupation, and ability practice and enjoy anal sex."
(You can also pair it withThe Anal Sex Position Guide.)
---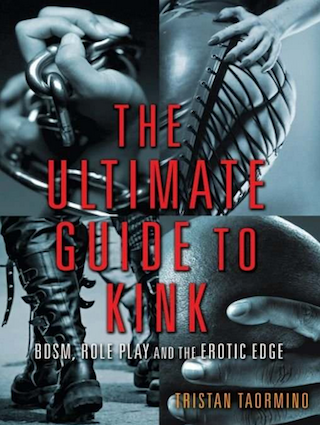 Part how-to and part theory, The Ultimate Guide to Kink is a perfect introduction for new players from kinky experts in all different areas. Its how-to section includes impact play, bondage, play piercing, and rough sex. It also features discussions on masochism, age play, feminine dominance, sadism and more. In the introduction, Taormino writes:
"Exploring kink provides us with an opportunity for self-reflection, challenge, and personal growth. Where many people are content to just sit back and let life happen, we're not: we constantly engage out identities, sexualities, and relationships. Sometimes, it's about testing ourselves. […] Kink can be a private (or a semi-public) laboratory — a sacred space where we feel safe enough to try new things, push our boundaries, flirt with edges, and conquer fears. Because it combines the physical, emotional, psychological, and spiritual, it has the potential to heal old wounds and generate spiritual renewal. It can deepen out connections and relationships, bringing a new level of intimacy to them. Kink is a crucible for creativity, vulnerability, perseverance, control, catharsis, and connection."
The New Bottoming Book and The New Topping Book, by Dossie Easton and Janet W. Hardy, are also excellent introductions that focus less on techniques and more on theory, headspace and interactions.
---
Oh Joy Sex Toy volume 1 collects Moen's beloved comic of toy reviews, along with guides on anal, sex toys in relationships, eating pussy and long-distance relationships and more. It's great for simple answers to sex questions and for reviews of sex toys you're thinking about or haven't heard of, but it also has a really great outlook on thinking about sex and the way things feel and communication. In the introduction, Emily Nagoski writes:
"[Erika] leads us, like a pied piper of pleasure, toward a better world, by daring us to celebrate pleasure with her, to tell the truth about our bodies, to talk about our sexuality — if not in public then at least with our own partners.

The courageous kindness of the woman who narrates these pages is what transforms her art into activism."
There's also a second volume coming soon.
---
They bust myths and discuss desire and self-esteem, sexual anatomy and response, communication, sex alone and with others, positions, yoga, S/M, sexual health and more. In the introduction, they write:
"Sexual independence is an extremely potent form of empowerment. It is our belief (and our personal experience) that by exploring our sexuality, by deciding that we are worthy of feeling pleasure and of realizing our possibilities as sexual beings, we can change other parts of our lives as well. We hope that this book will lead to positive changes in the lives of you, our readers, and in turn will crate a ripple effect, building a movement of sexual liberation for those of us living with disabilities and chronic conditions; for our allies, lovers, and partners; and, most importantly, ourselves."
---
Healing Sex takes an embodiment approach to sexual recovery after abuse. Haines discusses exercises, pleasure, disassociation and embodiment, sexual aversion and compulsion, sexual response, boundaries, masturbation and healing, triggers and more for survivors of childhood sexual abuse (though a lot of the material can apply to survivors of different types of abuse, or to anyone). In the introduction, she writes:
"Our fundamental impulses show up in our sensations. When we can feel ourselves deeply, we can notice what we authentically love and care about, or what we are called to. Many people experience this as both a deeply embodied (physical) and spiritual experience. For sexual trauma survivors the sheep process of being able to feel, allow, and in the best sense of the word tolerate one's own sensations is very healing. It opens the door for a self-definied, or self-referential, life. It opens the door as well to being embodied."
---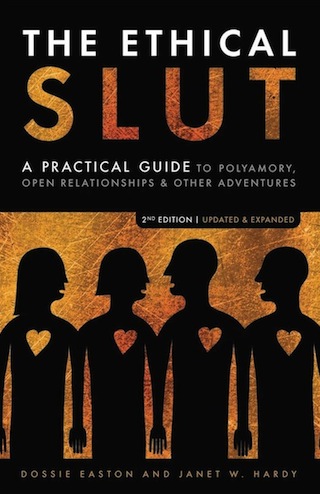 Widely considered a definitive text of polyamory, The Ethical Slut covers types of open relationships, fighting sex negativity, necessary skills, boundaries, challenges, relationships, being in love, orgies and more. In the introduction, Easton and Hardy (a self-described slutty kinky aging hippie) write:
"As proud sluts, we believe that sex and sexual love are fundamental forces for good, activities with the potential to strengthen intimate bonds, enhance lives, open spiritual awareness, even change the world. Furthermore, we believe that every consensual sexual relationship has these potentials and that any erotic pathway, consciously chased and mindfully followers, can be a positive, creative force in the lives of individual and their communities.

Sluts share their sexuality the way philanthropists share their money: because they have a lot of it to share, because it makes them happy to share it, because sharing makes the world a better place. Sluts often find that the more love and sex they gig e away, the more they have: a leaves-and-fishes miracle in which greed and generosity go hand in hand to provide more for everybody."
For something that is equally excellent, more focused on the day-to-day living aspects of poly, and more concrete — or just for a different perspective — check out More Than Two: A Practical Guide to Polyamory by Franklin Veaux and Eve Rickert.
---
Got a favorite sex guide we missed? Let's talk in the comments!