Let's start with a detour into the Lip Service theme song, or rather "theme (instrumental)," as it would probably say on the sheet music. It's not a bad one; for one thing, it's blissfully brief. But there's really no "theme" in this song, which is generally true of TV nowadays. Remember when theme songs would orient you to the world of the show? "Just sit right back and you'll hear a tale, a tale of a fateful trip" or "You take the good, you take the bad, you take 'em both and there you have" or "Just the good ol' boys, never meanin' no harm" or "Baby, if you've ever wondered, wondered whatever became of me" or "Well I bet we've been together for a million years" or "They're creepy and they're kooky" or "Love, exciting and new" or "Boy, the way Glenn Miller played" or "1, 2, 3, 4, 5, 6, 7, 8, schlemiel! Schlimazel!" — OK, maybe not that last one.
My point is that you knew what you were in for because the theme song spelled it out for you. It wasn't just about lyrics (the themes for Taxi and Mork & Mindy and Cagney & Lacey and Little House on the Prairie all perfectly captured the atmosphere without words), but lyrics definitely helped.
So I decided to write some lyrics for the Lip Service theme. These should match up to the harmonica line, but they're also possibly not remotely singable at all.
Our friend is dead
and we all miss her.
Though … Cat is de-ead, life goes on.
Oh, yes our friend is … dead:
Fuck.
See? Now we know what we're about.
The dearly departed Cat played several roles on this show: chief furrowed-brow worrier and tidier; orbited center and loyal friend; frequent putter-oner of makeup; fickle hash-smoking oversexed buttoned-up near-autistic (according to her mother) architect. Sheesh, maybe she died of inconsistencies sustained in convoluted plot lines, rather than of injuries sustained in a crash.
Tess is here to take on one of those roles: she's tidying up the kitchen. Or she's at least fighting with the mess.
Lexy: Playing crockery Jenga?
Tess: Yeah, bloody Sadie. How much washing-up can you generate in three days?
Me? None. I actually left dishes in the sink the night I started this recap, and I pretty much hated myself in the morning.
Lexy confesses that some of the washing-up is hers, but she promises to clean it up later. Tess figures Lexy has an excuse, being gainfully employed and all. Also, Tess is never going to blame Lexy for anything because she kind of has the hots for Lexy.
Tess clears her throat and shudders a bit.
Lexy: Still not sleeping?
How much later is it, exactly? A few days, did you say? Does anyone sleep during the first week after someone close to them dies? I'm not quite sure, because each time it's happened to me, I've been fully out of my mind. And Tess is definitely not quite tracking.
Lexy: I could, uh, nab you some morphine from the hospital, if you like.
Tess: Really?
No, not really. Tess confesses to being even "slower than normal" at the moment, which earns her another hug from Lexy. Tess is enjoying these hugs quite a lot. She's even receptive to Lexy's advice to get out of the house a little; Lexy thinks it'd be nice to go to rehearsal and "be someone else for a few hours."
I think the "someone else" Tess wants to be is your girlfriend, Lexy.
Sadie emerges from Frankie's bedroom and offers a "Morning," a cigarette in her mouth and a smirk on her face. Tess reminds Sadie that there's no smoking in "communal areas," so Sadie promptly extinguishes said cigarette in a teacup. Which is revolting.
And then Sadie goes to the fridge for some (of Tess's) yogurt, which sends Tess right into shrieking-and-freaking mode. Sadie and Lexy both give Tess a look, so Tess tries to calm herself down and be cool. Sadie turns back to the bedroom she's apparently been spending a lot of time in.
Lexy: Hey, how's Frankie?
Sadie: Same.
Tess: Maybe she needs more than cigarettes and yoghurt.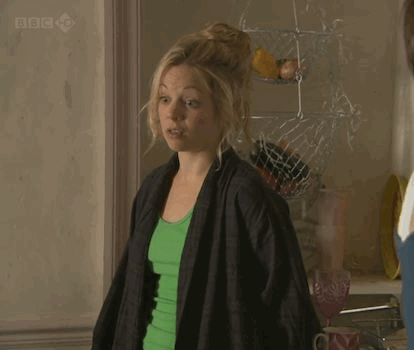 Then there are a few random lines during which Sadie sees Tess checking out Lexy's bum. I can't help but think that Tess would probably like to get some advice from her friend Cat right about now.
In Frankie's bedroom, Sadie is scrounging for knickers. She has an appointment at the magazine they did the photo shoot for; she decided to write an article herself since the journalist failed to show. (Remember when Sadie was fondling that buisness card last week? Yeah, nobody cared much about any kind of fondling last week; we were all too busy shuffling off this mortal coil.)
Sadie tosses a packet of cigarettes at Frankie. I have been refraining from commenting on Frankie's skeletal appearance, because it is impossible to comment on Frankie's appearance without commenting on Ruta's, and that's just "not on," as the Brits say. But … wow.
Speaking of what Brits say, Sadie's next line is beautifully British to this particular American ear:
Sadie: I think it's my turn to get a curry in. Housemates are gettin' tetchy I'm not pullin' my weight.
We don't really have a word that means "tetchy." Nor do we have as much authentic curry.
Frankie wants to know just how long Sadie plans to stay. Sadie gets all defensive and offers to leave right this minute, but Frankie doesn't really care. Her phone rings; Sadie answers.
Sadie: Hello, Moody Cow Photography. Can I help you?
Sadie! I didn't like you all that much last season, but this season you're a goddamn life preserver.
Frankie has a brief conversation with her mother and arranges to see her. Tess waits in the wings and, after Frankie hangs up, suggests a walk later to visit Cat's grave.
Hold on a minute. CAT'S GRAVE. For fuck's sake.
Frankie doesn't want to do that or anything else. She wants to get away from Tess and Sadie and the whole wide world. The best she can do is go for a shower.
Sam is running again. Running seems to be the current shorthand for ambitious, upstanding, loyal, etc. — a statement that "this is a good person." Which really, Sam always has been. But Cat was making her more complex; Sam was exhibiting need, desperation, and some of the other irrational behaviors that deepen a character. I hope we don't go back to garden-variety "good."
At least we get to meet Sam's dad! He's running with her. And he's a former cop! He coughs a little, so Sam pretends to need a break. Aww.
Lexy just happens to be running their way. She and Sam talk, and there's obviously a connection there. Sam's dad (whose name is Alfie — what's it all about?) senses something between them. He asks how they know each other. "From running," they say hurriedly.
Lexy: I'm a bit of a newbie to all this, as you can probably tell by my physique.
Alfie: Oh, I don't know… (appreciates Lexy's physique)
Sam: (scolding) Dad.
The whole thing is awkward in a sweet way. Lexy excuses herself, probably because she's in love with both of them. Maybe that's just me.
Alfie: Nice girl.
Sam: She's all right.
Alfie: She one of your lot?
Oh, I like that. "One of Sam's lot" can be the new "friend of Dorothy."
This whole scene takes place in front of the tiger mural on the Clyde Walkway in Glasgow, painted partly in celebration of the 2010 Chinese New Year and partly to advertise a beer. Which is disappointing, because I thought maybe it had something to do with William Blake.
I want to go to there. And I almost can, thanks to this panoramic photo — if you make it full screen, you can pretend you're running and wheezing with Lexy and Sam and Alfie.
Alfie and Sam go back to Sam's flat, where Sam's mum is cleaning. She's dusting and moving things around, and the FA/CM wood piece is on full display. Sam gets upset and her Yorkshire accent gets a little more pronounced. Oh, I made a pun! I didn't even mean to. I guess dorky puns are one of the many side effects of being around Sam's adorableness.
Alfie calms everyone down and goes off to his "breakfast date" with Christine Bleakley.
Sam's mum: There wasn't much to clean. Cat's pretty tidy, wasn't she?
Sam: Yeah.
Sam's mum: I wish we could have met her. At least gone to the funeral.
Sam: It wasn't going to change anything.
Sigh. It's nice that Sam has such supportive parents, but right now I guess there's no comforting her. Understandably.
In the hospital cafeteria, Declan is teasing Lexy about Sam. Am I supposed to like this Declan character? Because I definitely don't so far.
Lexy: Come on. Her girlfriend just died, for fuck's sake.
Declan: I'm not gonna blame you for trying. I mean, it's not like you're gettin' much, is it?
Lexy: (looking meaningfully at a nearby blonde) I get … I get enough.
Declan: It's not today, is it? Please tell me it's not today.
Lexy: What?
Declan: Gash Wednesday.
Lexy: Stop calling it that. Anyway, we've diversified; it's not just Wednesdays.
Declan: Whatever. It's weird.
Lexy: It works.
Declan: Yeah, but with someone from the hospital? Have you never heard the expression "don't piss in your own lift"?
Lexy: What's the difference between that and sex-ray, apart from the fact that I'm actually fucking mine?
I typed all that out because (1) Declan, like too many gay male characters, seems to be disgusted by women and thinks nothing of using the word "gash" — so, yeah, he's an ass; (2) no, I've actually never heard the expression "don't piss in your own lift," but I think I like it better than "don't shit where you eat"; (3) the term "sex-ray" (which is apparently what they're calling the radiologist that Declan has a crush on) is funny and clever; (4) the whole thing is an admirable example of reasonably realistic dialogue that clues us into a plot development without getting all clunky — unlike the ham-handed exposition-via-dialogue that's all over American TV and film. (My girlfriend loses her mind every time someone says "Remind me why we're doing this again?")
Here is how Shonda Rhimes would have written that scene:
Lexy: You know what today is, don't you?
Declan: Wednesday?
Lexy: That's right, Wednesday! Wednesday is the day I have my fun happy sexy time with that blonde woman over there. Remember?
Declan: Oh, right. But she's your co-worker.
Lexy: She sure is. We've been working together for 6 months now.
Ugh, I just bored myself.
Lexy gets another mysterious call. WHO IS IT?!? Is it a mobster? Is it a new friend who can take over for Douchelan? Is it Marcel the Shell saying, "Hullo, this is me"?
Frankie is buying flowers. She wants to know what people "usually get" for Mother's Day. I don't know, but don't get lilies. Or begonias.
Meanwhile, Sadie is meeting with an editor at Minus 21, which is the magazine Frankie did the photo shoot for last week. The editor seems to be reading Sadie's article right there in front of her, which I guess is one way to do it. Maybe they should have "speed reading" for editors and writers, like speed dating, only you sit down with a random book/magazine/whatever editor who reads your one-page piece really quickly and decides whether to publish it. Doesn't that sound fun? Yeah, not really.
This is a good time to mention editorrealtalk.tumblr.com, which is stupendous. (Hat tip and enormous gratitude to Heather Hogan for telling me about that.)
Sadie gets some real talk from this editor: her piece is "too corporate" but her take is "interesting."
Editor: Who else have you written for?
Sadie: All over, really. Mostly down south.
If you know what I mean! And then the editor wants to know what sorta stuff she typically writes.
Sadie: I can turn my hand to most things.
Editor: Except spelling. (points to the page) En suite is spelt E-N, not O-N.
Sadie's quite lovely when she's half embarrassed, half delighted at being seen through.
She confesses she's not really a writer but knows a lot about hotels and such 'cause of being an estate agent. The editor doesn't think the piece is worth working on, but she invited Sadie to come in anyway because she likes to "check out new talent." Do you now?
The editor bids Sadie a fond farewell and enjoys watching her go. Sadie stops to compliment the editor's shoes. I need to know the editor's name because it's starting to feel like I'm writing a not-very-good Devil Wears Prada fanfic that keeps referring to Miranda and Andy as "the editor" and "the journalist."
Pages: 1 2 3See entire article on one page