The next morning, Tess is not amused.
Bea: (surveying the mess that is the kitchen) Wow.
Tess: Wow?
Bea: Big night, eh?
Tess: Um…
Bea: (looking at some circular jelly-and-Nutella splotches on the counter) Are those boob prints? C-cups, I reckon.
Tess: This is funny to you?
Bea: Noo…
Tess: Because… there's no smoking in the communal areas. And definitely no fucking.
Bea explains that she wasn't the condiment bandit, and Lexy comes in with a shirt for Bea to wear. Tess gets more and more appalled by the whole thing, especially when Sadie makes an appearance and says she'll clean it up later.
Tess: (screaming) No, you'll clean it up now! This was my breakfast! I was supposed to go back to work today like you told me to, but I couldn't get any sleep because clearly I didn't get the memo about the house shagathon.
Tess's highly offended face — see above — is becoming her signature look, and it is one of my favorite funny faces of all time. Don't ever ever ever leave the show, Fiona Button!
In counseling, Sam is trying to say all the right things that will get her back to work.
She acknowledges that she did have some suspicions about Cat, but she tries to explain it away as part of her training.
Sam: I was wrong. Cat told me she loved me, and I believe her. That's how I'm going to remember her.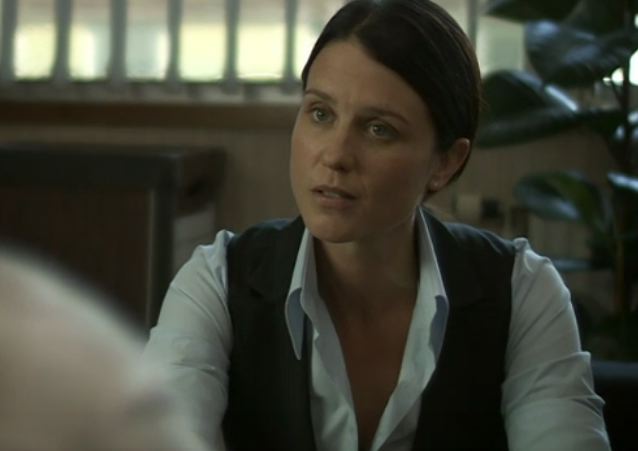 You can try, but resolving away the doubt might be about as effective as praying away the gay. Also, grief is totally uncontrollable, in terms of how you'll remember someone. Little moments and images pop up unbidden — things you didn't even know you remembered — and all you can do is let them wash over you. Now I'm all sad again.
Meanwhile, at the hospital, Declan is using a barium enema diluted in water to write his phone number on a guy's broken leg, because that way "sex-ray" will see it when he does the X-ray. Yep. I couldn't make that up. The inanity of this, especially in juxtaposition with the Sam scene, is offensive. I wish Tess were here to make a face at it.
Ed and Tess are at a pub, waiting for Sam so they can all have a drink. Tess tells Ed about Frankie's sudden departure.
Ed: She wasn't even going to say goodbye?
Tess: That's Frankie for you.
Maybe we can get a couple of catch phrases out of the recent events. Every time someone tidies up, someone can say "Oh, your inner Cat is showing," and every time someone is selfish or mopey, someone can say, "That's Frankie for you." Add a laugh track and a couple of sound effects, and it'll be hilarious!
Ed says he won't miss Frankie. Tess understands this, but she also feels like she doesn't have many friends left. Actually, yeah… other than Ed, who's left for Tess to hang out with? Jay's gone too; nobody's even mentioning him in this episode. Maybe it's the curse of your name, Tess: have you read that Thomas Hardy book? Because that shit is bleak.
Ed is in a pretty bad place. His agent "mentioned a film deal" for his book, but Ed isn't excited about it. If this storyline weren't surrounded by the death and loss stuff, maybe it would be more like Roman's "hard sci-fi" storyline on Party Down. I miss that show.
Sam arrives. For a moment it's just three friends having a drink, and it's nice. They talk about Tess's "adventures in the sex house" and joke about whether Nutella is a condiment.
Tess: Who even does that, anyway? Marlon Brando for bum sex?
Ed and Sam aren't sure what to say about that. I guess they haven't seen Last Tango in Paris, which is probably for the best. Oh, Tess: you and your quirky bum sex references!
And then Ed spills the beans about Frankie's departure. Tess tries to pretend Frankie got a job in NYC or something, but Sam knows it's all about heartbreak and is a sign that things between Frankie and Cat weren't resolved in the least.
I kinda love it when Sam goes into pensive, defensive cop mode. Even though it probably isn't good for her at the moment.
Tess can't really take any more of the tension and excuses herself. I'm right behind you, Tess.
Well, whaddya know! Sadie has totally cleaned up the kitchen. And she's even apologetic:
Sadie: She was Italian. I didn't realize she'd be that loud. I'll, er, try and pull mutes from now on.
That made me snort. And yay! Let's all be friends!
Lexy and Sadie try to comfort Tess about Frankie and Cat, but Tess agrees that it's time she "gets on with stuff." ALREADY? OK, yeah, I'm with you.
Tess tries to find out more about the Lexy-Bea thing. Lexy explains that she's not seeing Bea; they're just, erm…
Sadie: Fuck buddies?
Tess: I didn't think that actually existed.
Lexy explains that Bea has a long-term girlfriend and an open relationship, and says she'd just call it off if she were to meet Ms. Right. Tess tries to pretend that she doesn't want to be Lexy's Ms. Right.
Look at Sadie's face! So perfect. I wonder if she was even going to be on the show this season, before the whole Cat thing happened? That's one positive result, at least.
As they all prepare to eat dinner together, Sam is alone and is tidying up. She lifts a pillow, and there's one of Cat's shirts.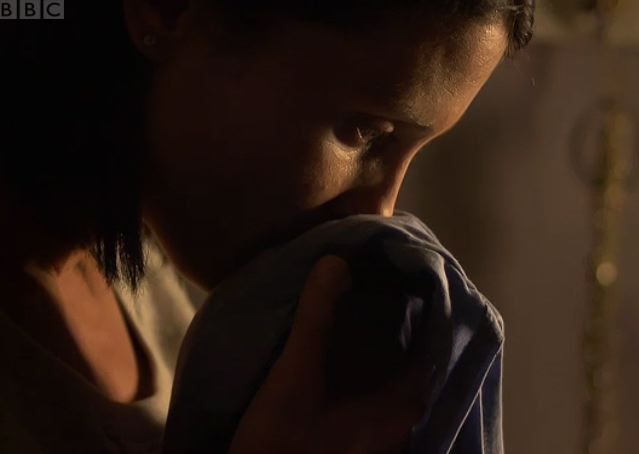 She steadies herself, but everything gets blurry and she can't quite breathe. It's sort of like an anxiety attack, and completely just like grief. As Autostraddler Anni said in a comment last week, this is a very tricky balance: these characters can't grieve all season long, but they can't just move on and be happy either. I guess all of the grief is going to be concentrated in Sam and Ed? Sigh.
Tess is finally back at rehearsal. They're doing trust falls. Really? That's still a thing people do?
Nora is not very trustworthy, of course, and is worried she's going to catch whatever illness has kept Tess out of rehearsals for a week. Don't worry, Nora; you're a two-dimensional character who doesn't actually have to feel things.
Then they switch to the "hot seat," which involves someone sitting in a chair, in character, answering questions. And it's Tess's/Sonya's turn. She answers questions (as Sonya) about her deepest fears and the best moments of her life, but it gets too close for comfort when they start pressing Tess for a "guilty secret."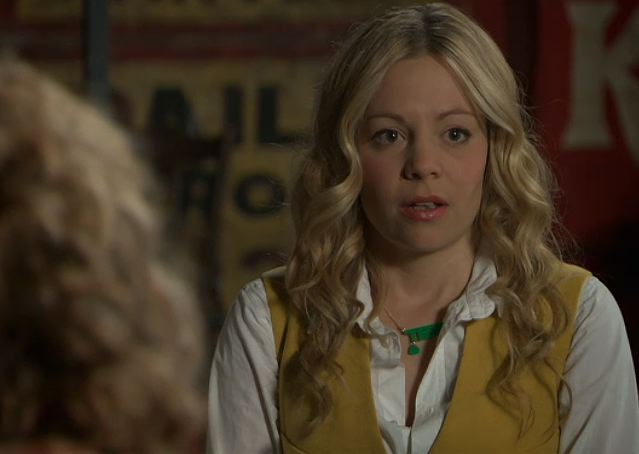 Tess leaves in tears. Nora makes a snide remark, but Tess's actor friend Hugh tells them all that Tess has just lost her best friend in an accident. Nora is not sufficiently shamed by this. They should make her do some trust falls too, just so everyone can drop her.
Tess and Hugh have a heart-to-heart about Tess's guilty secret, which of course is the Frankie and Cat thing. Tess worries that if she hadn't distracted Cat so much by catching them together, then maybe Cat would still be alive.
Hugh: If I'd forced you to come to the pub that day, then you wouldn't have walked in in the first place, so … maybe it's my fault. Everything has a knock-on. Doesn't mean it's anyone's fault.
But Tess feels terrible for making Frankie feel guilty.
Tess: She loved Cat.
Hugh: So did you. And that's what you'll all remember when this all settles down.
He cheers Tess up by talking about his wife's assy new boyfriend. He invites her to get "hideously drunk" and join him in committing "petty acts of vengeance." Hugh is the best. Can we have more men like him on the show, and fewer or none like Declan?
(Somewhere in there, there was a brief Declan/Lexy scene, but those are really starting to get on my tits. The upshot is that Lexy is not going to pursue Sam right now. OK, fine, foreshadowing, blah blah, moving on.)
Lexy is running. She sees Sam and tries to just keep going — she really does, with a kind of determined morality — but Sam spots her and calls out to her.
Lexy: How's things?
Sam: I'm all right. I started back at work today.
Lexy: Already?
Sam: I needed to.
At this rate, Lexy, Sam will probably soon be ready to jump back on other kinds of horses too. Not that you're horsey or like to dress up as a horse or anything. That sounds more like one of Sadie's games. Remember at the end of last season, when they all had that cowgirl party and Sam was dressed as a Western sheriff and Tess had the Botox incident? Simpler times.
Sam suggests that they run together. Lexy is far too delighted, against her own better judgment.
Speaking of poor judgment, Sadie is stalking the magazine editor, whose name is Lauren. Sadie invites Lauren for a drink.
Lauren: And what if I'm busy?
Sadie: Then you'd be missing out.
Lauren reminds me of the main character in this short film called 4 p.m. that I highly recommend.
Over brightly colored drinks at a mod club, Lauren and Sadie talk. It seems Lauren has a wife that she loves "very much." This doesn't deter Sadie one bit. I really like Lauren's accent: can she please be on the show? I mean, why not? There's no real requirement, in terms of connections or backstory or believable outcomes or whatever.
Lauren's wife calls. Excuses are made.
But before we get to see the rest of that, we go back to Sam and Lexy, who are talking in a friendly, nice way.
Sam: How's living with Tess? Cat used to say it was like living with a poltergeist, but messier.
WAIT. This is the perfect solution! Let's bring Cat back as a poltergeist! I mean, initially as a poltergeist, but then she can reveal herself and we can have a gay remake of Truly Madly Deeply and the whole experience will free Sam up to move on.
Lexy and Sam talk about Frankie a little, but Lexy doesn't really know much about that stuff. She knows enough to tread carefully, though.
Lexy: Look, I know you guys have a history…
Sam: No. No, nothing that's not resolved. I'm just worried about her, that's all. I think losing Cat will have hit her as hard as it hit anyone.
Yes. Sam is worried about Frankie. Yep. Also, don't say "hit" and "Cat" in the same sentence, please.
There must be a full moon (a supermoon?) or something, because everyone's being flirtatious: at the cast drinks, Nora has discovered that Ed has a film deal, and of course that makes him endlessly fascinating to her. Isn't there a huge age difference here, or is Nora's petty meanness aging her prematurely? Ed decides to go for it.
Nora leaves with a nod to Tess and Hugh (did she just call them "thesbians," with a B, or did I mishear that?). Ed stops to explain himself a little to Tess.
Ed: I know you think she's annoying, but I think she's all right, and I think she's up for it. So. Bye.
Eww. But OK, Ed. Misery does love company, and all that.
Hugh and Tess start to drown their sorrows, but Hugh has a better idea. As he and Tess entertain themselves by defacing pictures of Hugh's wife's new boyfriend, Lauren and Sadie have a little romp at the magazine offices.
There's been a whole lotta sex in this episode! A sort of palate cleanser, perhaps. Sorry; that was a poor choice of words.
On her way home, Sam has another of those grief-anxiety attacks. For a minute I start to think she's going to die too, so we can dispense with that pesky love triangle once and for all. More like the Bermuda Triangle, amirite?
But Sam's OK. As OK as she can be. Which is not at all.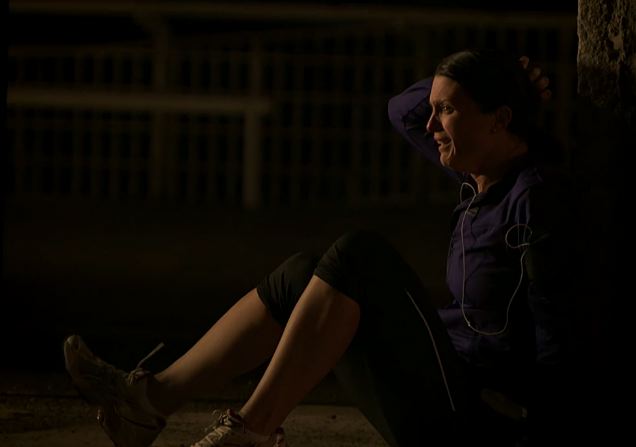 Heather Peace is breaking my heart, and I definitely mean that as a compliment.
I'm happy to see that I was both wrong and right last week. I think I was right to see this as an entirely different show, but I was wrong to think it was somehow damaged. This is no longer the Frankie and Cat show, but the world they've left behind just might prove to be worthy of them after all.
To paraphrase a British saying, Lip Service is dead. Long live Lip Service.
Pages: 1 2 3See entire article on one page