+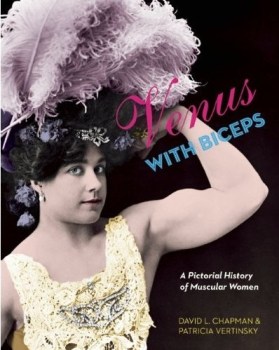 David L. Chapman has been writing books about bodybuilding and the photography of muscular males for a long time. For example he wrote Sandow the Magnificent: Eugen Sandow and the Beginnings of Body Building, American Hunks: The Muscular Male Body in Popular Culture, 1860-1970, and Comin' at Ya!: The Homoerotic 3-D Photographs of Denny Denfield. After all that it shouldn't be much of a surprise that in his search for historical depictions of bodybuilders and strongmen, he discovered images of strongwomen, too.
And yet, here I am — surprised!
I wasn't sure which part of his newest book, Venus With Biceps, surprised me the most. Was it the fact that he found so many photographs? The fact that, compared to pictures of strongmen, relatively few images of strongwomen exist? Or was it the fact that nobody had thought to collect these images in one place before?
Because this is the first time anyone has compiled a collection of these images — 356 pages worth — and the result is something truly spectacular. Women with elaborate up-dos and absurdly corseted waistlines fill the pages; it's enough to make you marvel at the sheer athleticism it must take to lift weights without being able to physically draw breath.
Many of his subjects were employed in the entertainment industry. Women who displayed strength that was considered "unusual" for women to possess were seen as oddities or freaks, and could usually find ample opportunity to make a few bucks as performers in circus and stage shows.
One performer, stage name was Charmion, was mistaken for a man so often that she created something called the "Trapeze Disrobing Act," which is basically exactly what it sounds like. While swinging on the trapeze, she would take off as much clothing as local indecent exposure laws would allow (hint: not much). By today's standards, the act itself is fairly tame stuff, but it raises an interesting point: strongwomen at the time were so determined to prove they were female that they would take off their clothes for an audience. It wasn't about appearing sexy, it was about providing evidence of their biological sex. People just couldn't believe that a woman could be that strong.
Women have always been discouraged from doing sports for two main reasons: moral propriety, and the risk of injury. It's assumed that women will be more concerned about possible injuries than men will — that concern for our reproductive organs will deter us from participating in sports. If fear of damaging reproductive organs deterred anyone from playing sports, men's sports would not exist. The assumption here is that family values trump our own personal desires to achieve. Also that we even want to have children, or that we were born with female reproductive organs.
Modern day strongwomen who participate in bodybuilding competitions see their sport as an opportunity to provide an antidote to old-fashioned ideas about the female form. Natural bodybuilder Marla Battles began training and competing eight years ago, as a 40th birthday present to herself. "It's about seeing what your body has the potential to do," she says. "We learn something about ourselves every time we go onstage." For most competitors, bodybuilding is about exploring the body's capabilities. Katy Wayman-White acknowledged that her career as a bodybuilder has helped her sons appreciate strength as beauty. "They think it's normal. I was a single mother raising three boys for a long time. They think strength IS beauty."
There had been muscular women before Lisa Lyon — many of them, but they never really had the right combination of sexiness and muscularity to make them stars. Lisa was different. She had a thin, strong physique and knew how to show it off. suddenly, female bodybuilding had a spokeswoman who looked different from the beauty queens who had previously populated the posing platforms of women's bodybuilding. She balanced her muscularity with her femininity, and intoxicating mixture for the general public. This exercise photo is from a 1980 feature article on Lyons in Iron Man magazine.
I love that this book exists because so many people still believe that women need to look a certain way, use their bodies a certain way, be in the world in a certain way in order to be women. Strength is for everyone. Pictures like these serve as a great starting point for conversations about the history of women in sports, about gender performance, about what constitutes beauty and why we create standards for strength based on gender. But more than that, these pictures, and these women, are proof that there have always been women who weren't afraid to push the boundaries of social convention.
++
Images and excerpts provided by Arsenal Pulp Press.
Thumbnail image: Mildred Burke, female pro-wrestler from the mid-1930s to early 1950s. Burke established the World Women's Wrestling Association.