Let's start with a detour into the Lip Service theme song, or rather "theme (instrumental)," as it would probably say on the sheet music. It's not a bad one; for one thing, it's blissfully brief. But there's really no "theme" in this song, which is generally true of TV nowadays. Remember when theme songs would orient you to the world of the show? "Just sit right back and you'll hear a tale, a tale of a fateful trip" or "You take the good, you take the bad, you take 'em both and there you have" or "Just the good ol' boys, never meanin' no harm" or "Baby, if you've ever wondered, wondered whatever became of me" or "Well I bet we've been together for a million years" or "They're creepy and they're kooky" or "Love, exciting and new" or "Boy, the way Glenn Miller played" or "1, 2, 3, 4, 5, 6, 7, 8, schlemiel! Schlimazel!" — OK, maybe not that last one.
My point is that you knew what you were in for because the theme song spelled it out for you. It wasn't just about lyrics (the themes for Taxi and Mork & Mindy and Cagney & Lacey and Little House on the Prairie all perfectly captured the atmosphere without words), but lyrics definitely helped.
So I decided to write some lyrics for the Lip Service theme. These should match up to the harmonica line, but they're also possibly not remotely singable at all.
Our friend is dead
and we all miss her.
Though … Cat is de-ead, life goes on.
Oh, yes our friend is … dead:
Fuck.
See? Now we know what we're about.
The dearly departed Cat played several roles on this show: chief furrowed-brow worrier and tidier; orbited center and loyal friend; frequent putter-oner of makeup; fickle hash-smoking oversexed buttoned-up near-autistic (according to her mother) architect. Sheesh, maybe she died of inconsistencies sustained in convoluted plot lines, rather than of injuries sustained in a crash.
Tess is here to take on one of those roles: she's tidying up the kitchen. Or she's at least fighting with the mess.
Lexy: Playing crockery Jenga?
Tess: Yeah, bloody Sadie. How much washing-up can you generate in three days?
Me? None. I actually left dishes in the sink the night I started this recap, and I pretty much hated myself in the morning.
Lexy confesses that some of the washing-up is hers, but she promises to clean it up later. Tess figures Lexy has an excuse, being gainfully employed and all. Also, Tess is never going to blame Lexy for anything because she kind of has the hots for Lexy.
Tess clears her throat and shudders a bit.
Lexy: Still not sleeping?
How much later is it, exactly? A few days, did you say? Does anyone sleep during the first week after someone close to them dies? I'm not quite sure, because each time it's happened to me, I've been fully out of my mind. And Tess is definitely not quite tracking.
Lexy: I could, uh, nab you some morphine from the hospital, if you like.
Tess: Really?
No, not really. Tess confesses to being even "slower than normal" at the moment, which earns her another hug from Lexy. Tess is enjoying these hugs quite a lot. She's even receptive to Lexy's advice to get out of the house a little; Lexy thinks it'd be nice to go to rehearsal and "be someone else for a few hours."
I think the "someone else" Tess wants to be is your girlfriend, Lexy.
Sadie emerges from Frankie's bedroom and offers a "Morning," a cigarette in her mouth and a smirk on her face. Tess reminds Sadie that there's no smoking in "communal areas," so Sadie promptly extinguishes said cigarette in a teacup. Which is revolting.
And then Sadie goes to the fridge for some (of Tess's) yogurt, which sends Tess right into shrieking-and-freaking mode. Sadie and Lexy both give Tess a look, so Tess tries to calm herself down and be cool. Sadie turns back to the bedroom she's apparently been spending a lot of time in.
Lexy: Hey, how's Frankie?
Sadie: Same.
Tess: Maybe she needs more than cigarettes and yoghurt.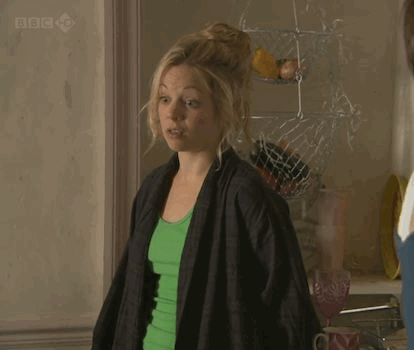 Then there are a few random lines during which Sadie sees Tess checking out Lexy's bum. I can't help but think that Tess would probably like to get some advice from her friend Cat right about now.
In Frankie's bedroom, Sadie is scrounging for knickers. She has an appointment at the magazine they did the photo shoot for; she decided to write an article herself since the journalist failed to show. (Remember when Sadie was fondling that buisness card last week? Yeah, nobody cared much about any kind of fondling last week; we were all too busy shuffling off this mortal coil.)
Sadie tosses a packet of cigarettes at Frankie. I have been refraining from commenting on Frankie's skeletal appearance, because it is impossible to comment on Frankie's appearance without commenting on Ruta's, and that's just "not on," as the Brits say. But … wow.
Speaking of what Brits say, Sadie's next line is beautifully British to this particular American ear:
Sadie: I think it's my turn to get a curry in. Housemates are gettin' tetchy I'm not pullin' my weight.
We don't really have a word that means "tetchy." Nor do we have as much authentic curry.
Frankie wants to know just how long Sadie plans to stay. Sadie gets all defensive and offers to leave right this minute, but Frankie doesn't really care. Her phone rings; Sadie answers.
Sadie: Hello, Moody Cow Photography. Can I help you?
Sadie! I didn't like you all that much last season, but this season you're a goddamn life preserver.
Frankie has a brief conversation with her mother and arranges to see her. Tess waits in the wings and, after Frankie hangs up, suggests a walk later to visit Cat's grave.
Hold on a minute. CAT'S GRAVE. For fuck's sake.
Frankie doesn't want to do that or anything else. She wants to get away from Tess and Sadie and the whole wide world. The best she can do is go for a shower.
Sam is running again. Running seems to be the current shorthand for ambitious, upstanding, loyal, etc. — a statement that "this is a good person." Which really, Sam always has been. But Cat was making her more complex; Sam was exhibiting need, desperation, and some of the other irrational behaviors that deepen a character. I hope we don't go back to garden-variety "good."
At least we get to meet Sam's dad! He's running with her. And he's a former cop! He coughs a little, so Sam pretends to need a break. Aww.
Lexy just happens to be running their way. She and Sam talk, and there's obviously a connection there. Sam's dad (whose name is Alfie — what's it all about?) senses something between them. He asks how they know each other. "From running," they say hurriedly.
Lexy: I'm a bit of a newbie to all this, as you can probably tell by my physique.
Alfie: Oh, I don't know… (appreciates Lexy's physique)
Sam: (scolding) Dad.
The whole thing is awkward in a sweet way. Lexy excuses herself, probably because she's in love with both of them. Maybe that's just me.
Alfie: Nice girl.
Sam: She's all right.
Alfie: She one of your lot?
Oh, I like that. "One of Sam's lot" can be the new "friend of Dorothy."
This whole scene takes place in front of the tiger mural on the Clyde Walkway in Glasgow, painted partly in celebration of the 2010 Chinese New Year and partly to advertise a beer. Which is disappointing, because I thought maybe it had something to do with William Blake.
I want to go to there. And I almost can, thanks to this panoramic photo — if you make it full screen, you can pretend you're running and wheezing with Lexy and Sam and Alfie.
Alfie and Sam go back to Sam's flat, where Sam's mum is cleaning. She's dusting and moving things around, and the FA/CM wood piece is on full display. Sam gets upset and her Yorkshire accent gets a little more pronounced. Oh, I made a pun! I didn't even mean to. I guess dorky puns are one of the many side effects of being around Sam's adorableness.
Alfie calms everyone down and goes off to his "breakfast date" with Christine Bleakley.
Sam's mum: There wasn't much to clean. Cat's pretty tidy, wasn't she?
Sam: Yeah.
Sam's mum: I wish we could have met her. At least gone to the funeral.
Sam: It wasn't going to change anything.
Sigh. It's nice that Sam has such supportive parents, but right now I guess there's no comforting her. Understandably.
In the hospital cafeteria, Declan is teasing Lexy about Sam. Am I supposed to like this Declan character? Because I definitely don't so far.
Lexy: Come on. Her girlfriend just died, for fuck's sake.
Declan: I'm not gonna blame you for trying. I mean, it's not like you're gettin' much, is it?
Lexy: (looking meaningfully at a nearby blonde) I get … I get enough.
Declan: It's not today, is it? Please tell me it's not today.
Lexy: What?
Declan: Gash Wednesday.
Lexy: Stop calling it that. Anyway, we've diversified; it's not just Wednesdays.
Declan: Whatever. It's weird.
Lexy: It works.
Declan: Yeah, but with someone from the hospital? Have you never heard the expression "don't piss in your own lift"?
Lexy: What's the difference between that and sex-ray, apart from the fact that I'm actually fucking mine?
I typed all that out because (1) Declan, like too many gay male characters, seems to be disgusted by women and thinks nothing of using the word "gash" — so, yeah, he's an ass; (2) no, I've actually never heard the expression "don't piss in your own lift," but I think I like it better than "don't shit where you eat"; (3) the term "sex-ray" (which is apparently what they're calling the radiologist that Declan has a crush on) is funny and clever; (4) the whole thing is an admirable example of reasonably realistic dialogue that clues us into a plot development without getting all clunky — unlike the ham-handed exposition-via-dialogue that's all over American TV and film. (My girlfriend loses her mind every time someone says "Remind me why we're doing this again?")
Here is how Shonda Rhimes would have written that scene:
Lexy: You know what today is, don't you?
Declan: Wednesday?
Lexy: That's right, Wednesday! Wednesday is the day I have my fun happy sexy time with that blonde woman over there. Remember?
Declan: Oh, right. But she's your co-worker.
Lexy: She sure is. We've been working together for 6 months now.
Ugh, I just bored myself.
Lexy gets another mysterious call. WHO IS IT?!? Is it a mobster? Is it a new friend who can take over for Douchelan? Is it Marcel the Shell saying, "Hullo, this is me"?
Frankie is buying flowers. She wants to know what people "usually get" for Mother's Day. I don't know, but don't get lilies. Or begonias.
Meanwhile, Sadie is meeting with an editor at Minus 21, which is the magazine Frankie did the photo shoot for last week. The editor seems to be reading Sadie's article right there in front of her, which I guess is one way to do it. Maybe they should have "speed reading" for editors and writers, like speed dating, only you sit down with a random book/magazine/whatever editor who reads your one-page piece really quickly and decides whether to publish it. Doesn't that sound fun? Yeah, not really.
This is a good time to mention editorrealtalk.tumblr.com, which is stupendous. (Hat tip and enormous gratitude to Heather Hogan for telling me about that.)
Sadie gets some real talk from this editor: her piece is "too corporate" but her take is "interesting."
Editor: Who else have you written for?
Sadie: All over, really. Mostly down south.
If you know what I mean! And then the editor wants to know what sorta stuff she typically writes.
Sadie: I can turn my hand to most things.
Editor: Except spelling. (points to the page) En suite is spelt E-N, not O-N.
Sadie's quite lovely when she's half embarrassed, half delighted at being seen through.
She confesses she's not really a writer but knows a lot about hotels and such 'cause of being an estate agent. The editor doesn't think the piece is worth working on, but she invited Sadie to come in anyway because she likes to "check out new talent." Do you now?
The editor bids Sadie a fond farewell and enjoys watching her go. Sadie stops to compliment the editor's shoes. I need to know the editor's name because it's starting to feel like I'm writing a not-very-good Devil Wears Prada fanfic that keeps referring to Miranda and Andy as "the editor" and "the journalist."
Ed and Tess are having lunch. They're sharing stories and remembering Cat. Ed is already tired of all the phone calls from relatives, talking about how nice and clever and tidy Cat was. (Oops, I just said "tidy Cat.")
Ed: It's like she's been canonized.
He wants to know something bad about his sister, to make her seem more human. Do not ever, ever, ever tell him the bad thing you know, Tess! It's not worth it. Tess agrees, so she offers this instead: "She didn't have a TV license at uni."
That is perfect. When I did my junior year in Manchester, I lived in mortal fear of being arrested and deported for not having a TV license. (Funny that I didn't worry so much about all the drugs floating around.)
Tess changes the subject and asks Ed how the writing thing is going. He says his agent wants to talk about a sequel to the first book.
Ed: The last thing I want right now is to be alone with my thoughts. It's so lonely without her.
Aw. Ed! He asks Tess how rehearsals are, but she hasn't been going. She knows she needs to go back, and she even has a "cast drinks thing" to go to. Ed offers to go along for moral support. I'll come along too, Tess, even if you don't need moral support. If there were such a thing as a theater groupie, I'd totally be one.
Frankie is at a restaurant, waiting for her mum to show up. She's not her cool self; she's nervous and anxious and kind of a wreck.
And she's right to be in that state of mind. Her mum shows up, but we all wish she hadn't. Frankie is being sweet and nice — she even has those Mother's Day flowers — but her mother isn't really interested in playing her part.
Alma: I've come a long way since you and Cameron… and … I don't think I can…
What? What is it you can't do, Mama Alma? Take a phone call once in a while, have a meal now and then, send a birthday card? It's not like Frankie's 4 and you have to raise her up and wipe her nose and put her through school. You're just ashamed of yourself, and you think Frankie was a mistake, and for that, you suck, and you've also pretty much served your purpose on this show, so adios.
This is one of the Frankiest lines ever, and just generally the best possible thing to say at this appalling moment:
Frankie: You know, when I fuck someone and I don't want anything to do with them, I don't bother calling them. I don't … I don't do this.
Alma makes it all worse by offering Frankie an envelope full of cash. Frankie takes the flowers instead.
Ouchie.
Sam is in counseling. Apparently they gave her a choice: go to counseling or take sick leave. You're such a stoic, Sam.
She says she could understand being sent to counseling if something happened on the job, say if a "suspect dies in custody" or you're on an armed unit and you have to kill someone. They have armed units? I guess the no-guns thing isn't always practical. I feel so disillusioned!
Sam wants the counselor to clear her to go back to work, but he's not ready yet. I'm surprised anyone can stare down this scowl.
The counselor finds it interesting that Sam compared losing Cat to a "suspect" dying. He wonders whether Sam suspected something about Cat. Well then. You figured that out that quickly? Are you available on Thursday evenings?
Sam stomps off in a way that makes me glad she's not on an armed unit. On the way out, she talks to Ryder, her partner, who isn't sure why she's in such a hurry to get back to work.
Ryder: You just lost the woman you loved.
Sam: Do you think she loved me back?
Oh no. She did, Sam! She totally did! She just also loved Frankie. I guess. Maybe Cat was a Mormon? Are there Scottish Mormons? I'm sure there must be. Some of them even went to Iceland for a while, on their way to Utah. Also, the Mormons have an online style guide that I am apparently violating by not using the complete name of the church in the first reference.
Frankie is at Cat's grave, placing the flowers she bought for her mom. She starts to write something in the dirt wih her finger — I think "F" and "C," but I don't want to watch this again to be sure, because as Riese said in the comments last week, this stuff is painful to watch.
And then suddenly Sam is there. Frankie tries to beat a hasty retreat, but Sam wants to get this over with.
Sam: You've got as much right to be here as anyone else. Maybe more. (long pause) Were you fucking her?
Frankie: No. She chose you.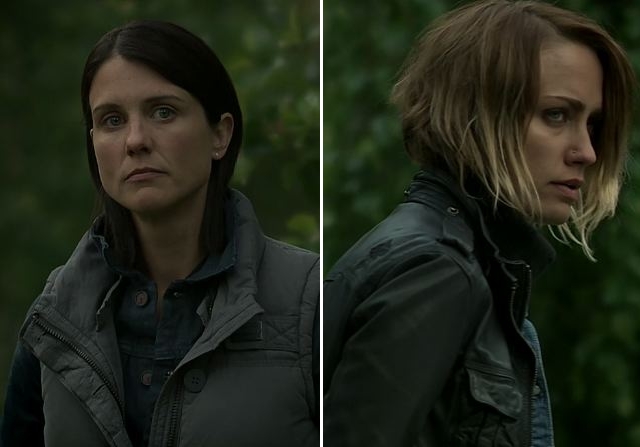 Thank you, Frankie. I am passing that along from Cat. That is exactly what she would have wanted you to say, even though it pained you to say it.
Later, at the flat that used to be hers and Cat's — imagine moving in with someone, only to find yourself living there alone a few months later! — Sam tells her parents they can go home now. She's sure she'll be back at work soon. I'm not, but I still think Sam's dad is pretty great. Can I come over for dinner, Alfie?
At some bar, Lexy and her coworker/fuck buddy are having a drink and discussing Sam. Is Sam going to be the heart of the show now? Or is Tess the central character? Or, I don't know, maybe an ottoman that has been sat upon by everyone at one point or another?
Lexy doesn't know why she's thinking about Sam anyway.
Lexy: Don't think the flatmates would be too impressed that I'm harboring impure thoughts.
Lexy seems to have quite a big vocabulary. If I were her friend, I'd call her Lexicon.
Lexy's phone rings again. FOR THE LOVE OF GOD, WHO IS IT?!?! IS HE CALLING FROM INSIDE THE BAR?!?!
Oh, haha, it's Lexy's Gran, trying to learn to use her new mobile. That was totally anticlimactic.
I don't think I like Bea (Lexy's coworker/distraction). She looks like a cross between a Sim and Nikki's ex-girlfriend Trish on Bad Girls.
They try to figure out where to go to have sex; they can't go to Bea's because someone (her girlfriend?) is there, and Lexy worries about having too much fun around her grieving flatmates. But they decide to do that anyway. To me it also looks like Lexy is deciding to do a guest spot on True Blood.
By the river, where it's dark and cold and sad, broody Frankie is broody. She thinks and thinks and smokes and thinks and then makes a call.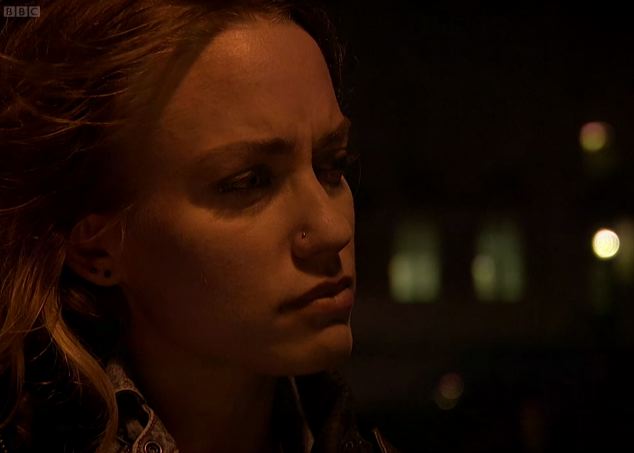 And then she goes back to her flat, where she hurriedly packs a bag and tells Sadie she's going back to New York.
Frankie: There's nothing here for me anymore.
Sadie: Frankie…
Frankie: What? Oh, you love me? Well then you're stupid, and you're the only one.
Sadie tries to keep her cool, but she looks pretty sad. 'Cause that was pretty mean.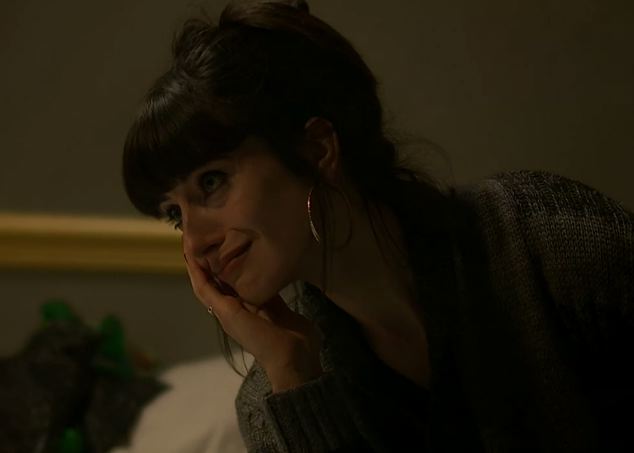 Wait a minute. You're what, Frankie? Leaving? The show? Like, one episode after Cat died? For serious?
In a just-missed-her moment that reminds me of The Edge of Heaven, which is a great movie you should see, Tess goes into the flat seconds after Frankie has gone out of it. Tess learns from an off-the-rails, coke-snorting, amaretto-drinking Sadie ("It tastes like cake juice") that Frankie has decided to go back to New York.
(Don't think Sadie's truly smiling there. She's cry-smiling and listening to angry music and trying to cope with having been simultaneously dumped and unfriended and not getting to say a proper goodbye to someone she was really trying to help.)
Tess runs out after Frankie and sees her nearby, hailing a cab. For a minute I think Frankie's going to get in the cab and it will be this horribly empty unresolved thing, and I'm so glad that doesn't happen.
Tess says what we're all thinking.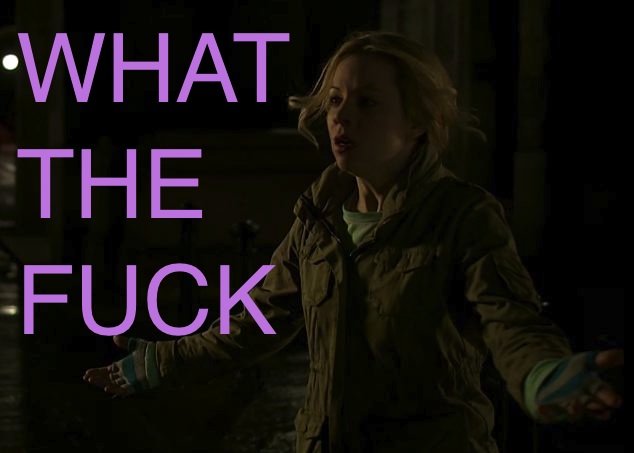 Frankie: I was gonna call.
Tess: Well, I wouldn't want you to put yourself out. (catching her breath) You were going to leave, just like that?
Frankie: What do you expect from me?
Tess: Even by your standards, this is pretty shit.
Frankie: I'm sorry, but this isn't about you.
Tess: Really? Do you even know how I feel? Have you even asked? You're so bloody selfish.
Frankie: I know.
Tess: And that makes it all right, does it? You should never have come back.
Frankie: What, 'cause, if I hadn't, she'd still be alive?
Tess: That's not what I meant.
Frankie: Yeah, it is. And you're right.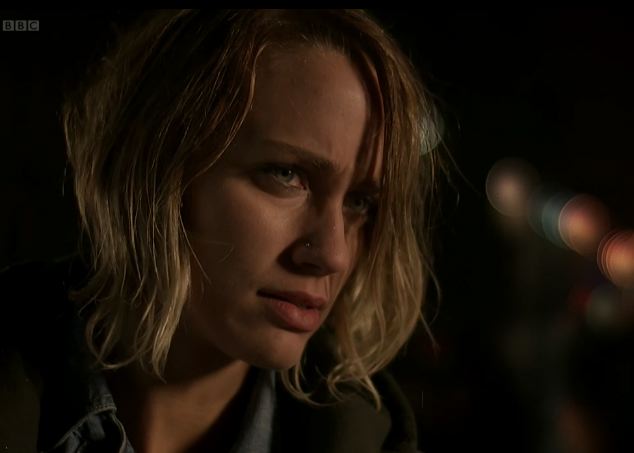 No, no, that's not right! I thought we talked about this last week and decided to blame the cigarette guy. Tess apologizes, and Frankie just pulls her close for a hug. At this point in the scene, my neck was starting to hurt because I kept looking at my girlfriend in an are-you-seeing-this-what-the-fuck-is-happening-I-don't-even sort of way.
Frankie: I loved her, Tess. I really thought it would work this time. And I fucked it up. Like I fuck up everything.
She asks Tess to promise never to tell anyone about Frankie and Cat. And of course Tess promises, though I think she's going to have to start reminding herself about that every morning in the mirror, like Stuart Smalley. Frankie wishes Tess luck on her play and tells her she'll miss her.
And then Frankie is in a cab and gone, and Tess and the rest of us are standing on the curb with no real idea what to do next.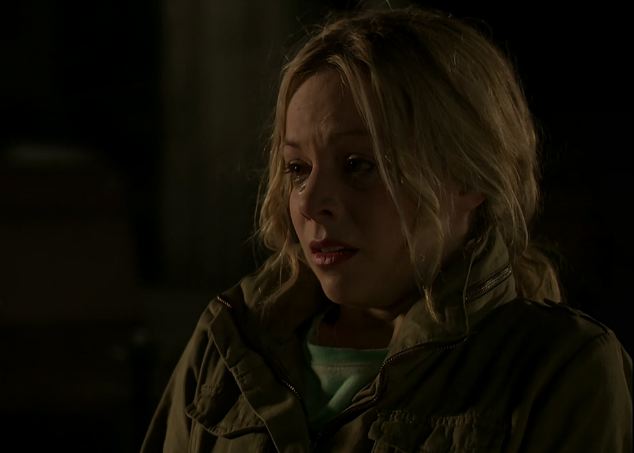 Actually, I give the writers tons of credit for this move. Frankie's departure feels like a sort of surrender to a new reality, as well as a refusal to get stuck in a morose murk of grieving and despair. In order for the show to move on, Frankie has to move on. It's like the show itself is saying "It's the end of the world as we know it, but I feel fine."
Also, she didn't DIE. Which is much easier to deal with. Maybe she'll come back! Probably not. But it's nice to be left with an image of her in a cab instead of in a coffin.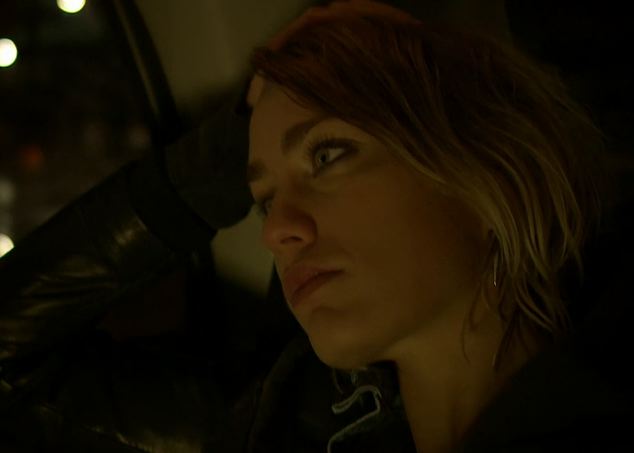 We can picture her in the fab New York apartment that nobody can afford, getting high-pay, low-work photo gigs in the Meatpacking District and trying not to see Cat around every corner (just don't go to The Scratcher, Frankie, 'cause Laura Fraser's husband owns it). Frankie's life goes on, somewhere out there.
Sadie has taken the cake juice with her to a club. She overhears a tourist trying to order a "Super Tennent's," which I would also like to try but can't find anywhere.
Sadie rescues the hapless tourist and gets her a double vodka and tonic (and one for herself too, of course).
Sadie: What's your name?
Gabriella: Gabriella. From Perugia, Italy.
Sadie: Gabriella, you're a long way from the tourist trail.
Gabriella: (nods, obviously not comprehending at all)
Sadie: (pantomiming) Not normal for sightseeing.
Gabriella: Ah! But the book, um… says it's a good place for finding action.
And we're off! Sadie and Gabriella head right back to Frankie's… er, Sadie's flat. It turns out Gabriella is quite a squealer. They have loud sex that involves lots of condiments. Sadie seems to be having a great time — she did learn from the best, in terms of using sex as an escape. But I also think Sadie just really enjoys making a mess, judging by her destruction of that nice flat last season and now all this ketchup and mayo or whatever the British equivalent is all over the walls.
Oh, and in the next room, Lexy and Bea are having quieter sex that is just as happy. Isn't it nice to see some naked bodies and some smiles?
Lexy: (giggling, as Gabriella shrieks in the background) What the fuck are they doing?
But then Lexy can't really think or form sentences. But she's still smiling.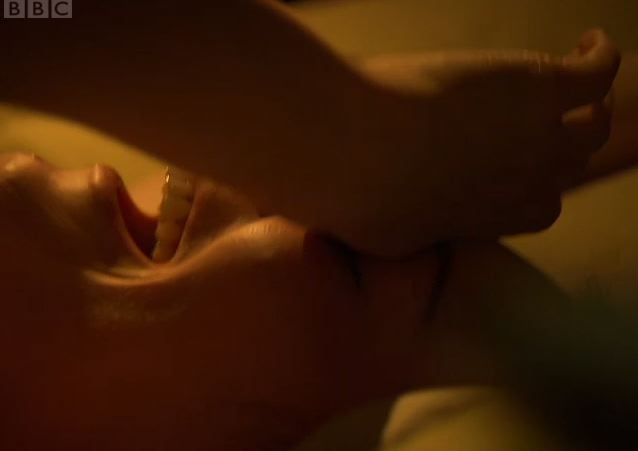 And I'm smiling because there was some fairly realistic lady sex on my TV! And some screamy condiment sex, if you're into that sort of thing.
Lexy turns on some music to cover the screams. Guess who's not having much fun during all this?
Tess puts a pillow over her head, but that wouldn't work even if she could somehow tear the pillow in half and jam one entire half into each ear.
The next morning, Tess is not amused.
Bea: (surveying the mess that is the kitchen) Wow.
Tess: Wow?
Bea: Big night, eh?
Tess: Um…
Bea: (looking at some circular jelly-and-Nutella splotches on the counter) Are those boob prints? C-cups, I reckon.
Tess: This is funny to you?
Bea: Noo…
Tess: Because… there's no smoking in the communal areas. And definitely no fucking.
Bea explains that she wasn't the condiment bandit, and Lexy comes in with a shirt for Bea to wear. Tess gets more and more appalled by the whole thing, especially when Sadie makes an appearance and says she'll clean it up later.
Tess: (screaming) No, you'll clean it up now! This was my breakfast! I was supposed to go back to work today like you told me to, but I couldn't get any sleep because clearly I didn't get the memo about the house shagathon.
Tess's highly offended face — see above — is becoming her signature look, and it is one of my favorite funny faces of all time. Don't ever ever ever leave the show, Fiona Button!
In counseling, Sam is trying to say all the right things that will get her back to work.
She acknowledges that she did have some suspicions about Cat, but she tries to explain it away as part of her training.
Sam: I was wrong. Cat told me she loved me, and I believe her. That's how I'm going to remember her.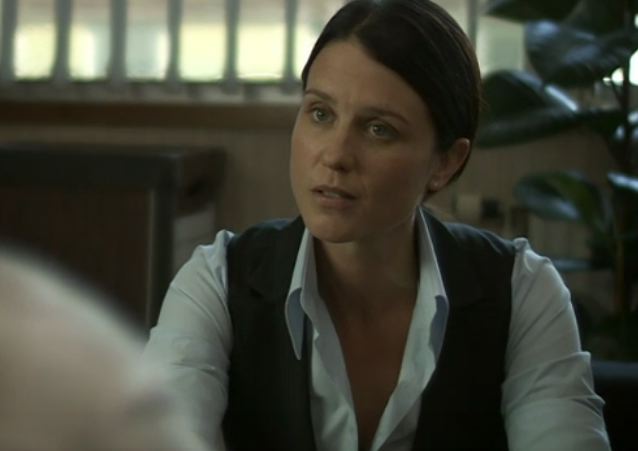 You can try, but resolving away the doubt might be about as effective as praying away the gay. Also, grief is totally uncontrollable, in terms of how you'll remember someone. Little moments and images pop up unbidden — things you didn't even know you remembered — and all you can do is let them wash over you. Now I'm all sad again.
Meanwhile, at the hospital, Declan is using a barium enema diluted in water to write his phone number on a guy's broken leg, because that way "sex-ray" will see it when he does the X-ray. Yep. I couldn't make that up. The inanity of this, especially in juxtaposition with the Sam scene, is offensive. I wish Tess were here to make a face at it.
Ed and Tess are at a pub, waiting for Sam so they can all have a drink. Tess tells Ed about Frankie's sudden departure.
Ed: She wasn't even going to say goodbye?
Tess: That's Frankie for you.
Maybe we can get a couple of catch phrases out of the recent events. Every time someone tidies up, someone can say "Oh, your inner Cat is showing," and every time someone is selfish or mopey, someone can say, "That's Frankie for you." Add a laugh track and a couple of sound effects, and it'll be hilarious!
Ed says he won't miss Frankie. Tess understands this, but she also feels like she doesn't have many friends left. Actually, yeah… other than Ed, who's left for Tess to hang out with? Jay's gone too; nobody's even mentioning him in this episode. Maybe it's the curse of your name, Tess: have you read that Thomas Hardy book? Because that shit is bleak.
Ed is in a pretty bad place. His agent "mentioned a film deal" for his book, but Ed isn't excited about it. If this storyline weren't surrounded by the death and loss stuff, maybe it would be more like Roman's "hard sci-fi" storyline on Party Down. I miss that show.
Sam arrives. For a moment it's just three friends having a drink, and it's nice. They talk about Tess's "adventures in the sex house" and joke about whether Nutella is a condiment.
Tess: Who even does that, anyway? Marlon Brando for bum sex?
Ed and Sam aren't sure what to say about that. I guess they haven't seen Last Tango in Paris, which is probably for the best. Oh, Tess: you and your quirky bum sex references!
And then Ed spills the beans about Frankie's departure. Tess tries to pretend Frankie got a job in NYC or something, but Sam knows it's all about heartbreak and is a sign that things between Frankie and Cat weren't resolved in the least.
I kinda love it when Sam goes into pensive, defensive cop mode. Even though it probably isn't good for her at the moment.
Tess can't really take any more of the tension and excuses herself. I'm right behind you, Tess.
Well, whaddya know! Sadie has totally cleaned up the kitchen. And she's even apologetic:
Sadie: She was Italian. I didn't realize she'd be that loud. I'll, er, try and pull mutes from now on.
That made me snort. And yay! Let's all be friends!
Lexy and Sadie try to comfort Tess about Frankie and Cat, but Tess agrees that it's time she "gets on with stuff." ALREADY? OK, yeah, I'm with you.
Tess tries to find out more about the Lexy-Bea thing. Lexy explains that she's not seeing Bea; they're just, erm…
Sadie: Fuck buddies?
Tess: I didn't think that actually existed.
Lexy explains that Bea has a long-term girlfriend and an open relationship, and says she'd just call it off if she were to meet Ms. Right. Tess tries to pretend that she doesn't want to be Lexy's Ms. Right.
Look at Sadie's face! So perfect. I wonder if she was even going to be on the show this season, before the whole Cat thing happened? That's one positive result, at least.
As they all prepare to eat dinner together, Sam is alone and is tidying up. She lifts a pillow, and there's one of Cat's shirts.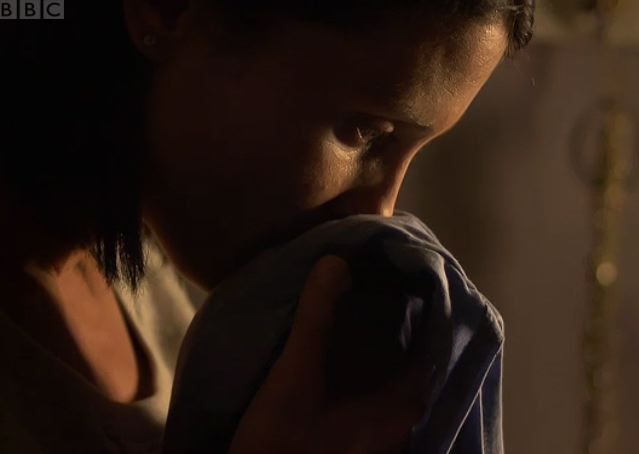 She steadies herself, but everything gets blurry and she can't quite breathe. It's sort of like an anxiety attack, and completely just like grief. As Autostraddler Anni said in a comment last week, this is a very tricky balance: these characters can't grieve all season long, but they can't just move on and be happy either. I guess all of the grief is going to be concentrated in Sam and Ed? Sigh.
Tess is finally back at rehearsal. They're doing trust falls. Really? That's still a thing people do?
Nora is not very trustworthy, of course, and is worried she's going to catch whatever illness has kept Tess out of rehearsals for a week. Don't worry, Nora; you're a two-dimensional character who doesn't actually have to feel things.
Then they switch to the "hot seat," which involves someone sitting in a chair, in character, answering questions. And it's Tess's/Sonya's turn. She answers questions (as Sonya) about her deepest fears and the best moments of her life, but it gets too close for comfort when they start pressing Tess for a "guilty secret."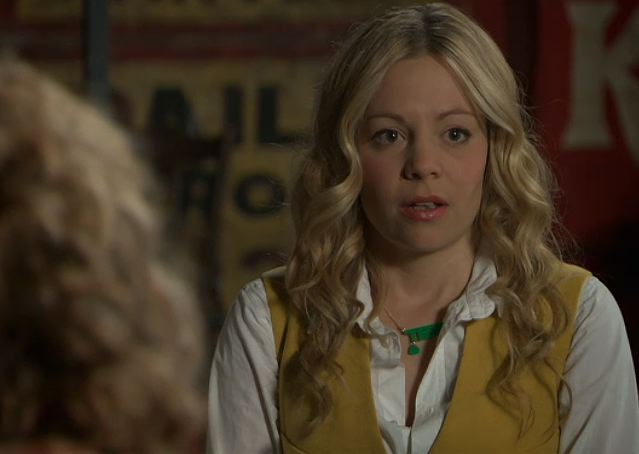 Tess leaves in tears. Nora makes a snide remark, but Tess's actor friend Hugh tells them all that Tess has just lost her best friend in an accident. Nora is not sufficiently shamed by this. They should make her do some trust falls too, just so everyone can drop her.
Tess and Hugh have a heart-to-heart about Tess's guilty secret, which of course is the Frankie and Cat thing. Tess worries that if she hadn't distracted Cat so much by catching them together, then maybe Cat would still be alive.
Hugh: If I'd forced you to come to the pub that day, then you wouldn't have walked in in the first place, so … maybe it's my fault. Everything has a knock-on. Doesn't mean it's anyone's fault.
But Tess feels terrible for making Frankie feel guilty.
Tess: She loved Cat.
Hugh: So did you. And that's what you'll all remember when this all settles down.
He cheers Tess up by talking about his wife's assy new boyfriend. He invites her to get "hideously drunk" and join him in committing "petty acts of vengeance." Hugh is the best. Can we have more men like him on the show, and fewer or none like Declan?
(Somewhere in there, there was a brief Declan/Lexy scene, but those are really starting to get on my tits. The upshot is that Lexy is not going to pursue Sam right now. OK, fine, foreshadowing, blah blah, moving on.)
Lexy is running. She sees Sam and tries to just keep going — she really does, with a kind of determined morality — but Sam spots her and calls out to her.
Lexy: How's things?
Sam: I'm all right. I started back at work today.
Lexy: Already?
Sam: I needed to.
At this rate, Lexy, Sam will probably soon be ready to jump back on other kinds of horses too. Not that you're horsey or like to dress up as a horse or anything. That sounds more like one of Sadie's games. Remember at the end of last season, when they all had that cowgirl party and Sam was dressed as a Western sheriff and Tess had the Botox incident? Simpler times.
Sam suggests that they run together. Lexy is far too delighted, against her own better judgment.
Speaking of poor judgment, Sadie is stalking the magazine editor, whose name is Lauren. Sadie invites Lauren for a drink.
Lauren: And what if I'm busy?
Sadie: Then you'd be missing out.
Lauren reminds me of the main character in this short film called 4 p.m. that I highly recommend.
Over brightly colored drinks at a mod club, Lauren and Sadie talk. It seems Lauren has a wife that she loves "very much." This doesn't deter Sadie one bit. I really like Lauren's accent: can she please be on the show? I mean, why not? There's no real requirement, in terms of connections or backstory or believable outcomes or whatever.
Lauren's wife calls. Excuses are made.
But before we get to see the rest of that, we go back to Sam and Lexy, who are talking in a friendly, nice way.
Sam: How's living with Tess? Cat used to say it was like living with a poltergeist, but messier.
WAIT. This is the perfect solution! Let's bring Cat back as a poltergeist! I mean, initially as a poltergeist, but then she can reveal herself and we can have a gay remake of Truly Madly Deeply and the whole experience will free Sam up to move on.
Lexy and Sam talk about Frankie a little, but Lexy doesn't really know much about that stuff. She knows enough to tread carefully, though.
Lexy: Look, I know you guys have a history…
Sam: No. No, nothing that's not resolved. I'm just worried about her, that's all. I think losing Cat will have hit her as hard as it hit anyone.
Yes. Sam is worried about Frankie. Yep. Also, don't say "hit" and "Cat" in the same sentence, please.
There must be a full moon (a supermoon?) or something, because everyone's being flirtatious: at the cast drinks, Nora has discovered that Ed has a film deal, and of course that makes him endlessly fascinating to her. Isn't there a huge age difference here, or is Nora's petty meanness aging her prematurely? Ed decides to go for it.
Nora leaves with a nod to Tess and Hugh (did she just call them "thesbians," with a B, or did I mishear that?). Ed stops to explain himself a little to Tess.
Ed: I know you think she's annoying, but I think she's all right, and I think she's up for it. So. Bye.
Eww. But OK, Ed. Misery does love company, and all that.
Hugh and Tess start to drown their sorrows, but Hugh has a better idea. As he and Tess entertain themselves by defacing pictures of Hugh's wife's new boyfriend, Lauren and Sadie have a little romp at the magazine offices.
There's been a whole lotta sex in this episode! A sort of palate cleanser, perhaps. Sorry; that was a poor choice of words.
On her way home, Sam has another of those grief-anxiety attacks. For a minute I start to think she's going to die too, so we can dispense with that pesky love triangle once and for all. More like the Bermuda Triangle, amirite?
But Sam's OK. As OK as she can be. Which is not at all.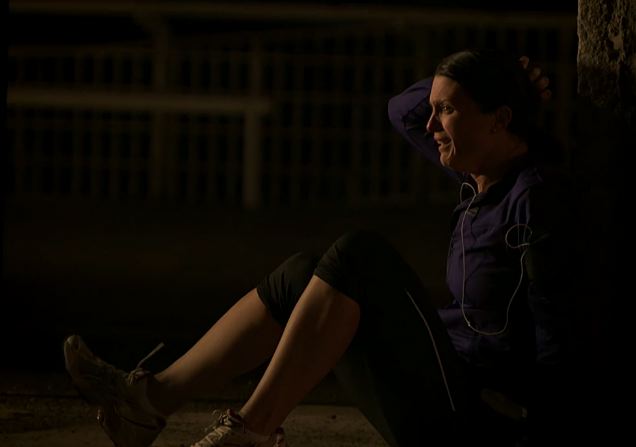 Heather Peace is breaking my heart, and I definitely mean that as a compliment.
I'm happy to see that I was both wrong and right last week. I think I was right to see this as an entirely different show, but I was wrong to think it was somehow damaged. This is no longer the Frankie and Cat show, but the world they've left behind just might prove to be worthy of them after all.
To paraphrase a British saying, Lip Service is dead. Long live Lip Service.
Pages: 1 2 3See entire article on one page