I was going to start this with a rant, but I decided to sprinkle my feelings throughout the recap instead of compressing them into one intensely emotional moment that is way out of line with audience expectations, not to mention structurally nonsensical and just generally self-indulgent. (See what I did there?)
For now, I'll just say that I sometimes wish TV and movies would come with mood warnings instead of adult content warnings. I sat down all happy and excited, looking forward to another vastly entertaining hour of a show I've come to love. I had jalapeño poppers and Boddingtons and everything, and I couldn't even enjoy them! I want my Friday night back.
Lexy is moving in with Tess and Frankie. Aw, look at Tess carrying those unwieldy boxes. Hi Tess! You're my only hope.
Lexy doesn't have much stuff, because she doesn't like clutter.
Lexy: It's just when you see so many people snuff it, you realize only junk gets left behind.
Well, that's not foreshadowy in the least.
Tess likes the idea of a "clear-out" and a "more minimalist lifestyle." Don't be silly, Tess. You're the sort who always has things flying off her person as she exits a room or a taxi, and we like you that way.
You know what else I like? Cat. And Sam. Cat and Sam together at home, in a robe and a tank top, respectively, getting ready to sit down to Cat's birthday breakfast.
Cat notices the lilies on the table and inhales their sweet and foreboding fragrance. (Lilies symbolize death. For me, they also symbolize the weirdness of the '80s.)
But according to Sam (who seems to have a little bit of a cold, which is very cute), lilies are just part of the "full birthday breakfast experience."
Sam: We've even got jam and marmalade in little pots, like you get at a hotel. To be fair, they're eggcups, but you get the idea.
I do get the idea. I get the idea that you love her a lot. Cat gets that idea too, especially when she opens her gift. It's some sort of designer handbag; Sam overheard her talking with Tess about it and followed through, like the most perfect girlfriend that she is.
She's so excited and eager. Maybe Sam is a shapeshifter, like Sam on True Blood: the hot cop has just transformed into an adorable little puppy!
Sam: Do you like it?
Cat: I love it. Thank you. (tearing up)
Sam: It's meant to make you happy, not sad.
That is what I want to say to you about this show, Harriet Braun: It was meant to make me happy, not sad.
Across town (really, I have no idea where Frankie's flat is relative to Cat's flat), Tess is observing as Lexy gets settled. Lexy doesn't like "DIY," as you can see from the rickety nature of the bookshelf she's currently futzing with. Lexy tells Tess that she's smart to date a spark.
Lexy: I bet she does everything like this.
Tess: Oh, yeah. She would. Only we're not together any more.
Lexy: Oh, shit. Um, sorry.
Tess: It's OK. We weren't together long. It was a she-says-tomahto, I-say-tomayto situation, so… I called the whole thing off.
What? They broke up? Look, Tess: just because you're currently in a Chekhov play doesn't mean you have to do the important stuff offstage. But I love you for quoting a Gershwin tune.
Tess unsubtly inquires as to Lexy's relationship status. Which I think she already did, in the last episode. But I'm not going to start cataloging inconsistencies and repetitions, because that would make me mad in an insane sense, instead of just in an angry sense.
While finding the right spot for an impressively heavy-looking medical textbook (because she's a doctor, get it?), Lexy reveals that she spent her twenties "sleeping with the wrong women — Frankie being a prime example." That's why she's single now. Tess is sort of interested but is also attempting to look up Lexy's skirt, which is sort of pointless because Lexy is wearing tights.
I'm not sure whether I want these two to be a couple. I think I want them to hook up but not get together, but I don't think Tess is capable of something that casual. And Lexy is a heartbreaker type, so I don't want Tess to actually fall in love with her. But whatever happens, at least I won't have to worry about things getting really dire or dramatic or tragic, because this show isn't like that!
Still at home with Sam, Cat gets a text that makes her smile. She hides the smile as Sam breezes in to announce she's off for a run. I want to yank Cat's iPhone out of her hand and slap her silly with it.
Meanwhile, in the same idyllic spot as the last episode — is Sadie squatting there now? — Frankie is trying to make amends.
Frankie: I wanted to say I'm sorry. You're right, I was a cock.
Sadie: You're not getting back in my pants, if that's what you think.
Frankie: That's not what I want.
Sadie: Charmed, I'm sure.
Frankie: Nah, I would, I would want to … I think you know I'm into someone else.
And yes, Sadie is smart like that. She inquires as to Cat's health and then agrees to be Frankie's mate, with a "sod it" that makes me like her a whole lot. (I had a flatmate who said there were only four answers to all of life's questions: "All right," "Fuck off," "I don't know," and "Sod it." I think Sadie would agree.)
Having established their fondness for each other, they try to make small talk. It seems Sadie is "broke and jobless," and Frankie says she might be able to help out with that. What? Isn't Frankie broke and jobless too? I guess things are looking up for her. Don't get used to it, Frankie!
Sam is running. She hears someone coughing nearby and stops to help, because that's just who she is. She puts the "Sam" in "Good Samaritan."
The cougher is Lexy. She's trying to run too, but she's an out-of-shape former smoker (who, an entire episode ago, was doing coke and not caring one whit about her health). She's very embarrassed that Sam is seeing her like this.
Lexy: Sometimes I can't wait till we're 80 and I can just throw self-improvement to the wind. Buy a stair lift and eat doughnuts all day.
They banter about the hilarity of mortality, and then Sam offers to run with Lexy.
Lexy: Oh, no. You're really fit. Um, I mean you're really healthy.
It's funny how "fit" means "attractive" in the UK, whereas in the US it just means "in shape." Do British travelers come to the US and think a "fitness club" is a singles bar?
(I am providing my own levity because I know death is standing in the doorway, clipping his nails.)
Tess is acting. Or at least she's trying to: her costar Nora keeps interrupting and requesting pauses or stage directions or whatever will put the spotlight back on her. Tess is trying to cooperate, but it's not easy.
This storyline really does remind me of Smash, except this show won't (one hopes) veer into faux Bollywood territory.
Tess's jovial new actor friend is still cheering her on and making faces behind Nora's back. I like him. I hope he'll be there for Tess when everything falls apart in about 5 minutes.
Somewhere else, Cat and Sam are walking to work. Cat wants to know which restaurant they're going to for her birthday, because that way she'll know what to wear.
Sam: Look, just don't wear jeans or trainers.
This is what I want to tell every tourist who decides to take in a Broadway show. (And don't wear baseball caps or shorts either, but that's probably implicit in the other thing.)
Cat abruptly points to a building they're approaching. She says "That's where I'm going in there" in an unpunctuated, frantic way that prompts Sam to ask whether she's OK. Cat nods and Sam seems to accept that Cat is on an important architectural mission of some kind. As Autostraddler Holly said in the comments last week, Sam, you're a cop. Can't you read Cat's little tics and tells? She's not a good liar; she's always squinting too much or putting her hands to her face.
There's an all-too-quick kiss goodbye.
Inside the random building, Cat watches from the window until Sam is out of sight. Little do they know (and much do I wish I didn't know) that they've just spent their last moments together.
Cat pauses for a moment, possibly wondering when she became such a calculating louse, then leaves the building and goes on her merry perfidious way.
At the hospital, Lexy is talking to a doctor friend of hers. She's still embarrassed about her breathless-in-the-wrong-way encounter with Sam.
Lexy: Well, anyway, she's got a bloody girlfriend, which is just my luck.
Hmm. Inopportune use of the word "bloody," Lexy, but you couldn't possibly know that.
Lexy: One day I'm going to fancy someone who isn't unstable or taken.
You are? On this show? But that wouldn't be very dramatic.
Why are scrubs sexy? They're not so much different from sweatpants, and those aren't sexy. I guess it's more what scrubs represent. On Lexy, they represent hotness.
Lexy's phone rings, but there's nobody on the other end. "Third bloody call today," she mutters. Ooh, intrigue! Who could it be? Do you have a long-lost love, Lexy, or are you just delinquent on your med school loans?
Lexy's (male) doctor friend is moping because the cute new radiologist (also male) walked right by him without a glance. I wondered if there would be a gay man on the show anytime soon. I guess it's a good addition? Not that gay men will start watching this show just because of that one character — unlike lesbians, who will slog through 50 brain-putrefying minutes of Grey's Anatomy every week just to catch a glimpse of Callie and Arizona.
Lexy: Maybe he's straight.
Friend, whose name is apparently Declan but I had to look that up: No, he's definitely gay. He is. I have a sixth sense. I see gay people.
Hey, look over here: do you see bored people?
Lexy asks Declan to choose a patient file: "ear infection with discharge" or "unremitting vomiting"? I should remember these things when I have to select a piece of tedium to work on at my job: at least there are no bodily fluids involved.
After rehearsal, Tess is griping about Nora the diva. Tess's actor friend (why don't these people have names?) says Nora is "just an actress," meaning she's "selfish, faithless, self-absorbed."
Tess: I'm an actress.
Actor Friend: Present company excepted.
Actor Friend goes on to talk about his wife, who is also an actress and is throwing away 20 years of marriage to have a fling with a hot-shot actor named Thomas Delaware. Tess pretends not to like Thomas Delaware and says he gave a "terrible performance" in a recent movie, but she's not giving a very convincing performance herself. Actor Friend rants a little more. Tess offers the only thing she has:
Tess: Crisp? It's a new flavor.
Oh, oh, what's the new flavor? British crisp flavors are insane — "prawn cocktail" being the worst I've tried. But as the inventors of salt and vinegar, they're really the gods of crisp flavors.
Cat knocks on Frankie's door. The knock sort of sounds like "doom doom doom" if you listen hard enough.
They fall into each other's arms. It's sort of hot, I'll admit, but it's also just so upsetting. I can't help but wince and cringe and squirm (and not in a good way).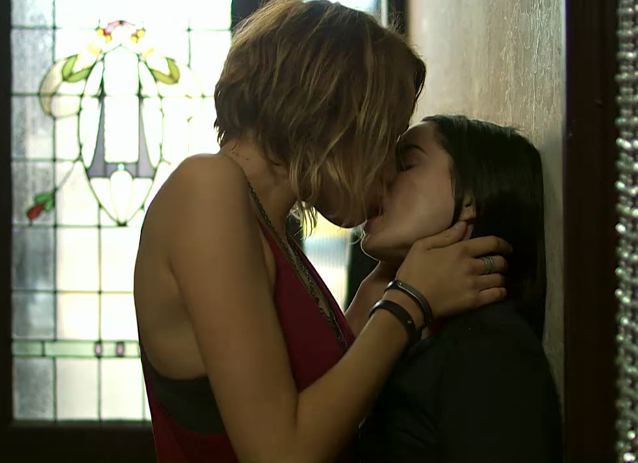 Doorway/foyer kisses always remind me of When Night Is Falling. Maybe I'll watch that after this, to restore a teeny bit of my innocence.
It gets quite intense. Cat is wearing a corset.
Cat: I want you to watch me.
Well then! Lucky for you, Cat, Frankie and I both very much want to watch.
Sam and her work partner are on surveillance. They talk about Sam's plans for Cat's birthday dinner, at a swanky restaurant called La Maison.
Ryder: They don't even have prices on the menu, do they?
Sam: I know a pint and a burger are your idea of a hot date, but I'm way classier than you, so…
Ryder: (after a pause) Reckon you and Cat will do the civil partnership thing?
Sam: I don't know. We've not talked about it. I'd marry her tomorrow, though.
Aaaaarrrrrgggghhhh. Don't say "marry"! Or "tomorrow"! I can't take it.
Pages: 1 2 3See entire article on one page