Welcome back A-Campers; it's still Sunday! I hope you remembered to bring sunscreen to camp.
While some of you lovely individuals were out galavanting in the woods this past week, I have been sitting here in this library watching this Internet and so many fun things have happened!
Pride in Tokyo
Today, about 2,500 people marched in a gay pride parade in Tokyo.  The parade was organized by a group called Tokyo Rainbow Pride whose goal is to turn a relatively low profile campaign for equal rights in Japan into a full blown movement.  They also want to host a pride parade with over 50,000 people in the near future. You should go.
In other news, I need this rainbow tutu:
 Obama Is Way Funnier Than Jimmy Kimmel
Last night at the White House Correspondents' Dinner, Obama made jokes that are relevant to your interests. Like this one:
"Jimmy [Kimmel] got his start years ago on "The Man Show." In Washington, that's what we call a congressional hearing on contraception."
And this one:
"Plenty of journalists here tonight. I'd be remiss if I didn't congratulate the Huffington Post on their Pulitzer Prize. You deserve it, Arianna. There's no one else out there linking to the kinds of hard-hitting journalism that HuffPo is linking to every single day."
Also, he talks about The Hunger Games, so.  See for yourself:
Even Michelle thought he was funny.
Nicki Minaj Finally Debuted Her Video for "Starships"
Since this video dropped on Thursday, I have watched it approximately 18 times.  Plus, this song is just so damn catchy. According to Nicki's recent interview with The Guardian, some of her older fans are criticizing her for "selling out" and singing pop music, which she will hear none of:
"People always want to talk about who I was, but I've always been singing, always been experimenting with pop music. So the fact that it got huge one day, should I apologise for that? Should I apologise that "Starships" and "Super Bass" did well, and children like [my young fans], and Middle America can sing along? There's nothing wrong with that. I'm just broadening my fan base. I think everyone should enjoy music."
+ Here is a gallery of the sexiest GIFs from that video
+ Also, I took this screen shot for you:
Gay(er) Hulu
There is now an LGBT channel on Hulu.com.
Kittens and Flowers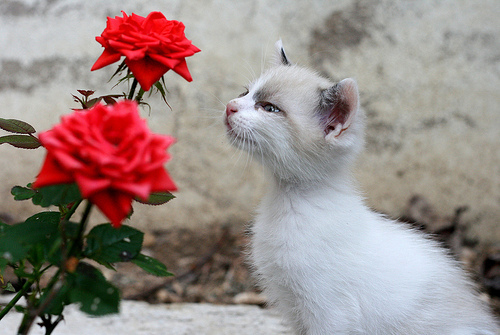 Buzzfeed has this gallery of Kittens and Flowers.  (This is dedicated to Carmen, obvi.)