Frankie and Cat are enjoying the afterglow.
Cat: You're such a voyeur.
Frankie: Like you're not a total exhibitionist.
Oh, thanks for the sex vocab lesson. I think I'm in the wrong class; do you know which room "Coherent Storytelling 101" is in? No? That's a shame.
Frankie gives Cat her birthday present: a bracelet with "F/C" engraved on the inside. Cat loves it, but of course is also concerned about it.
Cat: It might be a little difficult to wear it in public.
Frankie: That's why the inscription's on the inside. Anyway I was… hoping that wouldn't be a problem for too much longer.
Cat really really really doesn't want to talk about that today.
Cat: It's my birthday. I just want to enjoy being with you.
All Cat wants for her birthday is to pretend she's not a terrible person.
Frankie checks the time; Sadie's picking her up in an hour, to drive her to "a job in the Highlands." I suppose that means a photo shoot, but at this point it could just as well mean a murder, a little sex work, or a few hours taking orders at McDonald's. Or is it called MacDonald's in the Highlands? (I want to go to the one at "Halfpenny Burn, Forfar, Angus," or the one on "Inverurie Road, Bucksburn Roundabout, Aberdeen." That's a pretty poetic packet of McNuggets!)
Cat wants to grumble about Sadie, but she knows she shouldn't.
Cat: It's fine. I'm not in any position to tell you what to do…
Frankie: Well, I don't want to do anything. I don't want to sleep with anyone else. I love you. I'm going to wait for you.
Whoa. Really? Frankie's done being Frankie?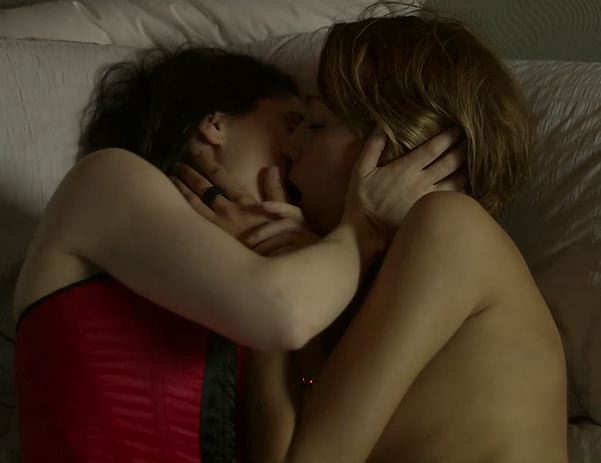 Cat doesn't say "I love you" back, though I guess she says it with her kisses.
Eventually they get dressed and get on with their days. Oh, guess who's home early from rehearsal?
Cat tries to talk to Tess, but Tess just disappears into the shower. Frankie says she'll deal with it and sends Cat on her way.
Frankie waits for Tess to get out of the shower. Tess really really really doesn't want to talk about it, but Frankie insists it's different this time.
Frankie: I love her. I want to be with her.
Tess: That's what you said last time.
Frankie: Yeah. Well, I'm not stupid enough to make the same mistake twice. I'm not going to hurt her again.
Tess: Well, someone's going to get hurt. What about Sam?
What about ALL OF US WATCHING AND HOPING AND WINCING AND FREAKING OUT?
Tess promises not to say anything. Then Sadie arrives to make us feel better for 10 seconds.
Sadie: I was gonna wear sensible shoes, but then I thought, "fuck that."
Cat is on her way to work. She is distracted. She's obviously thinking about the intractable, totally fucked-up shituation she's in. She is desperate and lost and can't seem to catch her breath.
She "cadges a cig" off a passerby. She gets a text message from Frankie ("Sorted. [Tess] won't say anything. Love you xxx.") She breathes a sigh of relief.
And then.
Still smiling at the text from Frankie, Cat steps into the street and directly into the path of a speeding car that slams into her with a sickening sound and pushes her body several feet until she thuds lifelessly onto the unforgiving concrete.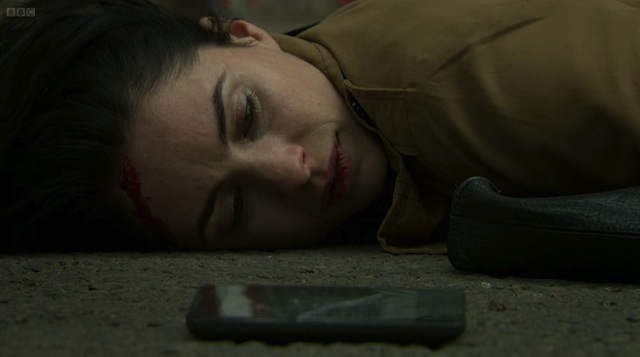 It's violent. Sudden. Horrifying. Heart-in-your-throat-oh-god-that-didn't-just-happen-why-no-please-no-WHY-no-no-no shocking.
Appalling. Inconceivable.
And while Cat lies there, kicked to the curb/kerb by the realities of show biz, life goes on. Sadie and Frankie get into Sadie's knicker-strewn car ("some conquest or another," says Sadie). As they chat, a siren wails in the background. That's the sound of your life changing irrevocably, Frankie.
At the hospital, Cat is wheeled in. Declan and Lexy are still on duty. Declan surveys Cat's injuries: a "major blow to the chest" after an "initial blow to the lower limbs," resulting in a "bilateral fracture."
Declan: What's the situation with that chest, Lexy?
Lexy: (frozen in her tracks)
Declan: Lexy?
Lexy: I know her. She's friends with my flatmates.
And that's just it: Cat is friends with everyone. Cat is the center of this show. Everyone else is a spoke radiating from the hub of Cat. Cat is the core. The show is being gutted.
At the police station, somebody calls after Sam. She says "forget it" to more work, but the guy stops her and explains that he's just had a call from Traffic.
At the hospital, Cat begins to crash.
Declan: Can you get me one milligram of adrenaline ready?
I can get you 10 milligrams of adrenaline, because I am about to jump out of my skin. My heart is pounding and I keep screaming at the TV. I can't remember the last time I felt this kind of breathtaking shock from a TV show. Oh, wait, yes I can: it was when Tara died on Buffy. I'm still mad about that one.
The doctors try to shock Cat back to life. Sam gets to the hospital just as the heartless unrelenting beep of a flatline fills the hallway.
Sam watches helplessly from the other side of the door as Declan and Lexy try to save Cat. And then Declan calls it.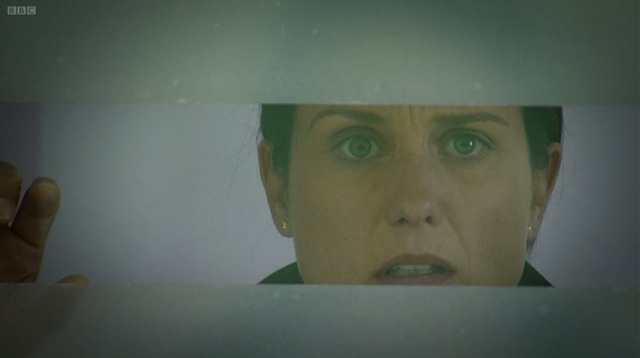 Declan: Time of death, 18:11.
I think you mean 22:15, which is how many minutes we're into this episode. To me, that's the death of Lip Service. I really hope I turn out to be wrong.
Sam is barely able to breathe. Same goes for the rest of us.
At Tess and Frankie's flat, Ed and Tess are about to have dinner. And then Ed's cell phone rings. He rushes out in a panic, urging Tess to come with him. They run to the hospital, only to see Sam siting next to Cat's body.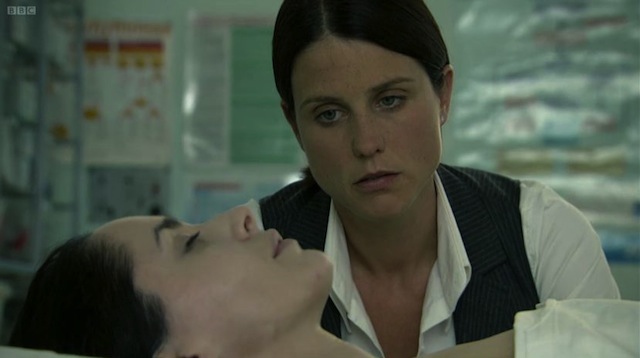 Ed: Is she OK?
No, Ed, she's not. None of the women around you are OK. Tess can see that Cat is dead, but she has to spell it out for Ed.
This is a good time to quote someone on Twitter:

Out in the muddy middle of nowhere, Frankie and Sadie have a flat tire. Frankie is no good in a crisis.
Sadie: Can't drive. Can't change a tyre. Turns out you're not so cool after all.
Sadie, as the voice of truth and sanity on this show (despite your own occasional dissembling and absurdity), can you please tell me why this is happening?
They rummage around in the trunk (sorry, the boot) and Frankie realizes that Sadie's been living in her car. Sadie deflects that particular conversation and they both end up falling backward into the mud, giggling. Frankie's phone gets swathed in muck too and is rendered useless. Of course.
Back in the hospital, Ed and Sam and Tess are still trying to come to terms with the fact of Cat's death. Lexy comes in and asks whether she can get them anything and whether they have any questions.
Ed: Did she say anything?
Lexy: Oh, no, no. She would've been unconscious as soon as it happened.
Sam: What was his blood alcohol level, the bloke that killed her?
Lexy: He hadn't been drinking.
Sam: Is he here?
I don't really want her to do this because I know it would only make things worse for her, but I wouldn't blame Sam if she were to walk into the guy's hospital room and separate his heart from his body with her bare hands. Kinda like he's metaphorically done to her.
Tess is thinking the same thing.
Tess tries to call Frankie, but Frankie's phone is incapacitated. Cut to Sadie's Saab as it pulls up to a hotel I'd like to get the name of.
They settle in to their very nice room (shared, of course). Sadie finds the business card for the editor of whatever magazine this photo shoot is for. I failed to explain earlier that the journalist who was supposed to accompany them is a no-show, and that piece of news made Sadie wonder who'll write the article. I think she was thinking she might write it. But I was a little too distracted by Cat's horrific death to think much about Sadie's potential next career.
Frankie emerges from the shower, asking whether there are any texts for her.
Sadie: She'll be out with Sam. Anyway, Cat won't want to text my phone. I'm not her favorite person, am I?
Sadie tries to put the moves on Frankie then, because she doesn't want to "waste this shit-hot hotel room." Yeah, waste is the overriding theme of this episode.
Frankie: I've told Cat I'm not gonna sleep with anyone else.
I guess Frankie really is a changed woman. She seems to suddenly understand things like responsibility and faithfulness and, well, love.
At the hospital, Sam stares at the Cat's expressionless face and tries to touch her cold, pale body. It's too much for anyone. She gets up, goes home, drinks some water, sees those birthday lilies and finally loses it, crumpling to the floor in a strangled sob.
Heather Peace has done an excellent job conveying the strange combination of heightened awareness and complete numbness that you feel in the days following the death of a loved one. I applaud her talent, but I didn't need to relive that experience in this context. I do enjoy it when TV becomes powerful and profound, but this is Lip Service. It's not Six Feet Under or Mad Men or The Sopranos or whatever. And I don't want it to be.
But luckily, this episode is not quite on the opposite end of the spectrum, which would be The L Word. I don't think Harriet Braun was trying to make a public service announcement about the dangers of texting while walking, the way Mama Chaiken was trying to educate us about breast cancer. But this shocking development is not so very far off from that either, in terms of being antithetical to the former tone, scope, and spirit of the show. In terms of being wrong and offensive and really fucked up.
The next morning, Ed and Tess experience that awful moment when you wake up and have a split-second of not remembering that someone has died. And then you do remember it, and you forget everything else.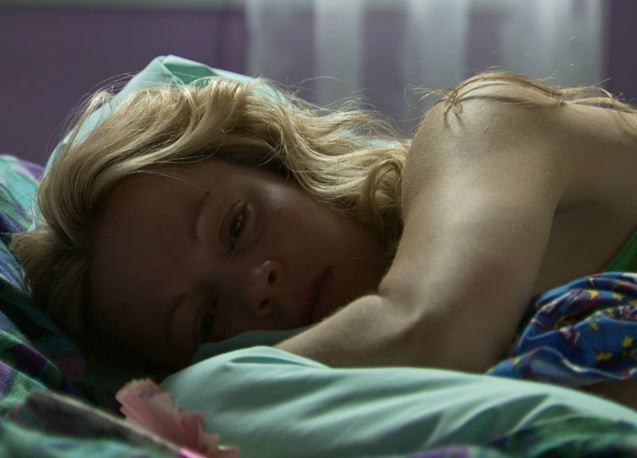 Sam is trying to soothe her pain by taking action. She makes a call and asks for the name of the man "involved in the Franken Street RTA (road traffic accident) yesterday." (Franken Street? Really?)
She strolls into the hospital and grabs the admissions notebook from behind the unattended desk. She finds her man and goes to his room, her face a squall of anguish and desperation.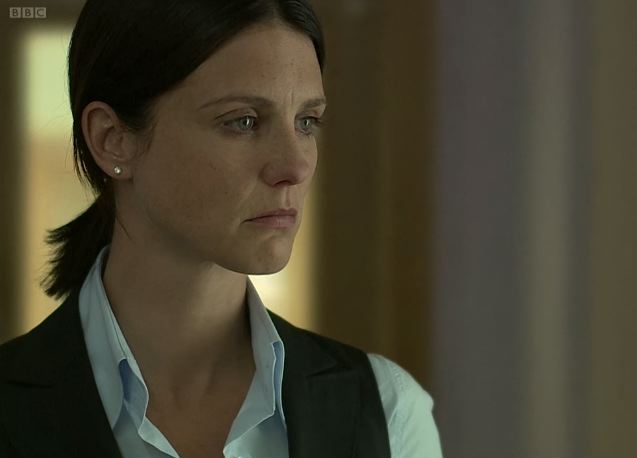 Don't do it, Sam. I mean, the guy has it comin', and it would be a murder but not a crime — but still, don't do it. (Actually, maybe this would be an interesting storyline: Sam in jail, perhaps tussling with a Helen Stewart-esque warden. Yes, I am going to make a Bad Girls reference in every recap.)
Luckily, Lexy intervenes. She tells Sam that the driver had a bad night because, well, he just accidentally killed someone.
Lexy: It wasn't his fault.
Sam: He could've been talking on his mobile or reading a map.
Actually, Cat was the one texting on her mobile and reading a map of Cheaterstown.
Lexy: If you go in there, you are not going to feel any better. And you'll make an already devastated man a lot worse.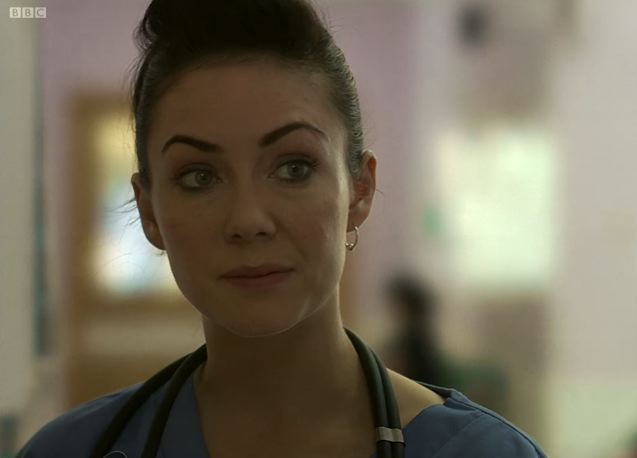 Oh; this makes it sound like Sam was only going to confront the guy. I thought she was going to do something more Game of Thrones-y, like squish his head onto a spike or ratbucket him.
Sam concedes the point and cries her way home.
Ed and Tess are watching TV, because TV can be a good sedative and, if you're watching a light, soapy show, is at least not going to feature any gut-wrenching RTAs. Surely we can count on that much.
Ed wonders how Cat, a very careful person who ironed her socks (really? I don't believe you), could walk into the road without looking. Tess knows exactly how but doesn't say anything.
Hey, wait a minute: does Sam wonder what Cat was doing on that particular road? I mean, I don't know where any of these places are, really, but wouldn't Cat probably have been on a different street if she had gone straight to work from the mysterious building? I mean, not one near Frankie's flat? Not Franken Street? I guess that's the least of Sam's worries right now.
Frankie's finally home. She stops short when she sees how destroyed Tess and Ed look. Ed tells Frankie there was an accident and Cat was hurt.
Frankie: Is she OK? Where is she?
Tess just shakes her head. Ed can't say it.
Frankie: Just tell me where she is.
Tess: (breathless, her voice breaking) She… she died, Frankie.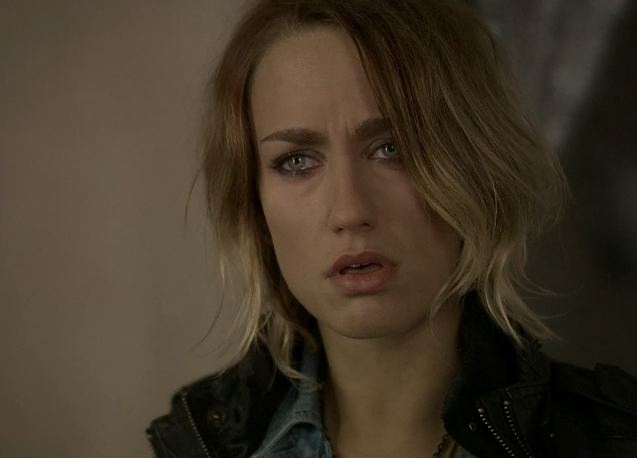 Frankie falls apart. Ruta Gedmintas cries in an unmoored way that makes you want to cover your ears — again, the actors are more than rising to the challenge, but I wish they didn't have to. It's just too fucking sad.
The next morning, Sam stretches her hand across an empty bed. Please make it stop.
Frankie is back to her emotionless self. She plays with Cat's necklace and reminds Tess not to tell anyone about their affair.
Tess: You don't think she'd do anything stupid, do you?
Lexy: Oh, no. It's only been a few days. She'd still be in shock.
I kind of like your doctorly wisdom, Lexy. You seem like a good person to have around. Tess thinks so too, even as she grieves for Cat, who was "meant to be the one we could rely on." Yes. Because Cat was the anchor, the locus, the nucleus of this little family.
Sam arrives. Lexy tries to comfort her again, and Sam thanks her "for the other day." They exchange some uncertain but significant looks. Hmm.
Tess gives Sam a CD that Cat loved, and some pictures of Cat and Tess at uni. Plus a card for Judy and Jerry, Cat's parents — Sam is on her way to see them. Frankie blusters through, sparing a moment to look daggers at Sam, who returns the evil eye and visibly tenses up.
At the home of the MacKenzies, Judy (Cat's mum) is trying to play host and freaking out about digestives. Do you recognize Judy? It's Mrs. Hughes from Downton Abbey! Why can't all of TV (and all of life, for that matter) be more like Downton Abbey?
While Sam deals with the parents, Frankie is at the mortuary, giving Cat one last kiss.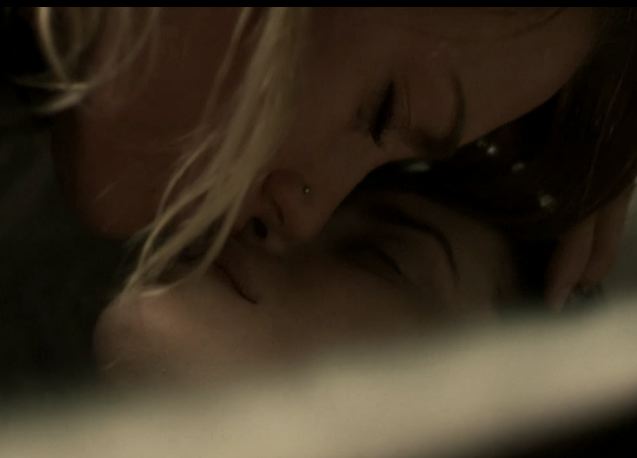 Frankie: I'm so sorry. I'm so sorry.
I'm so wrecked.
Back at the MacKenzies, a funeral planner is talking about flowers. Judy thinks maybe hyacinths, but Sam suggests Cat's favorite flower: lilies. This is news to Judy, who takes it very personally. The discussion of music doesn't go much better; Ed and Sam knew Cat so much better than her parents did.
Judy: I'm sorry. I'm just trying to do my best for my daughter. But if you don't want my help, then fine.
Oh gah. Don't feel bad, mum. If I were to get hit by a car tomorrow, my mother would probably play Amy Grant at the funeral, when I'd rather have some Queen or Heart. Or how about "Death Is Just Around the Corner" from the Addams Family musical? Nah, I've got it: "Solsbury Hill" by Peter Gabriel. Perfect.
Sorry. I think I'm just trying to distract myself from the misery.
As Judy cries and Ed tries to comfort her, Cat's dad doesn't say a word. Let's you and me go to a pub and just sit in sad silence, Jerry. I think Cat would be fine with that.
---
Are you following us on Facebook?
Pages: 1 2 3 See entire article on one page