Welcome to the fourth of four fantastic recaps of our entire experience at the First-Ever A-Camp, which took place two hours outside of Los Angeles at Alpine Meadows in Angelus Oaks, California, from April 26th-29th.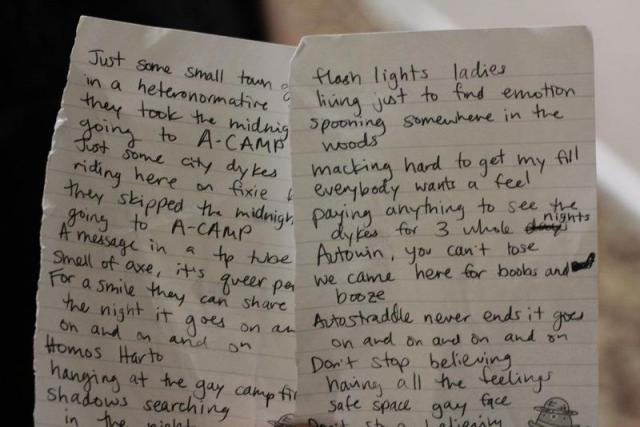 The idea was to take the spirit of the website into three glorious dimensions while simultaneously creating an affordable option for queer ladies for whom other lesbian events (such as Dinah Shore) aren't a good fit. So, we rented out a summer camp in its off-season and enjoyed a transformative weekend of fun, friendship, panels, workshops, classes, sports, entertainment, events and so forth.
These epically long monster-posts will do their best to explain and extrapolate upon the camp experience, from shitstorms to emotional revelations to glory/triumph.
Last week, we got stranded on the side of the road, last weekend we detailed the first full day of camp, yesterday we enjoyed rehashing the last full day of camp, and today we'll talk briefly about the last morning of camp but mostly about camp altogether as like, an experience.
+
Sunday, April 29th
Part One: I'm Wide Awake, It's Morning
Marni: Ah, Sunday. The Lord's day. The day of rest. The peaceful, restful end (technically start) to the week. Ani wrote a song about it. So relaxing, Sunday.
Marni: I woke up at 5:00am on Sunday (after going to sleep around 2:30 once Laneia's car was sufficiently loaded up with leftover craft supplies) in order to see off Bren's 6:00am minivan. I don't know what we would do without the Brens of the world, I honestly don't. There was one person more than we were aware of, and she gamefully volunteered to sit on the floor of the van between the two bucket seats for the two-hour trip to the airport. What choice did she have, really. And so began Sunday.
Laneia: I didn't want to wake up. I didn't want to get dressed. I didn't want to put things in suitcases. I didn't want to go.
Marni: Riese had made some kind of driving plan the day before, but had succumbed early in the night to the overwhelming joy of the talent show and hadn't had the chance to impart the subtle intricacies of said plan to yours truly, so I was left to my own devices to organize and deploy the morning shuttles, armed only with my tuque, a cup of possibly-decaf-coffee, and a spreadsheet that had been left open on her laptop.
One might not necessarily immediately categorize the ensuing events as "success," but I can tell you this much: there isn't anybody left on that mountain as I write this. Not one single human. And we take our small victories where we can.
Carmen: I packed with a Turbie Twist on, since by this day I was done being ashamed of doing my hair routine in front of other people. Joanna left super early and Taylor confessed to all of us that she super loves bananas and wants to start carrying them around in a Banagrams case. I forgot to drink coffee.
Laneia: Megan and I were scheduled to drive our savior AAA Conley to LAX so she could fly back to the other side of the country. Beth had set up some tasty breakfast treats for the early risers, so we grabbed some danishes and coffee and sort of slipped out before I could say a lot of goodbyes or have any real feelings of departure. I did get to hug Rachel and Crystal though. At least there was that.
Laneia: We wasted no time — as soon as we started down the mountain, the three of us were processing our post-camp feelings. I drilled Alicia on what she considered the highs/lows of the weekend and we all talked about wishes and expectations vs. reality. I was pretty much consumed with how I hadn't spent as much time hanging out with campers as I'd wanted to. We stopped at McDonald's for more coffee and Alicia had tea. After we dropped her off at LAX, Megan and I agreed that Alicia had really adorable outfits.
Riese: I woke up and had my intern fetch me a coffee and then I assumed van-plan-duty, which was also the duty of making sure Marni still loved me despite my incomprehensible spreadsheet. I had a surprisingly tasty breakfast situation with my daughter, Emily Choo, and then planted myself in Deer Lodge with my laptop trying to figure out how to get everybody off the mountain while apologizing a lot, and running around like a gazelle.
Sara: Beth set out a sandwich bar for us because we had to leave before lunchtime. I was so thankful that there was sunshine for the drive back down the mountain and not fog. We stopped at a gas station and were reminded that the real world outside has straight people and men and it was disappointing.
Carmen: Between breakfast and lunch I reapplied sunscreen, smoked two cigarettes, made five new friends, halfway became a lesbian club promoter, and continued to follow Brittani around. I saw my first lizard. Also Katrina shared stories with us around a picnic table from the night before. I drank a coffee. I had chosen specifically to wear my YOLO shirt so I could look ridiculous on the plane.
Laneia: I literally couldn't stop talking about camp. Somewhere around Indio I decided that if I didn't eat some Chipotle soon I would probably die. Then I talked about camp while I ate Chipotle and didn't die.
Riese: There were a few hours of respite when all the vans were on the road and we were awaiting their return, which's when I "packed" and said "bye" to people like Haviland and Ashley. Brandy told me she felt the weekend had been transformative and Julie and Brandy said they'd definitely be there next time and my heart enlarged and burst out of my chest.
Carmen: Beth said "vagina warriors" at lunch. Someone got a fortune cookie reading, "IT gets better when YOU get better."
Riese: Which just-so-happens to be what Sarah Palmer and I said in our It Gets Better video.
Whitney: We drove back in a 15-passenger van that Rachel was driving — she said she was actually really enjoying driving the gigantic scary vans ("I'm really starting to identify with van drivers").
Riese: Rachel took TWO LOADS, you guys! TWO. That's 7.5 hours of driving vans with people in them. What would we do without the Brens and the Rachels of the world. Also, at some point I manned a merch table. This was a crucial decision, because later I'd need the cash earned from selling merch to pay the camp kitchen staff to drive campers back to LA because we ran out of vehicles. I'm serious.
Katrina: Rachel was really great at handling those curves if you know what I mean. Laura read us a poem about life being ephemeral, unlike Mike and Ikes, which can be consumed many times. Whitney led a discussion weighing the pros and cons of the camp bear situation being about leather daddies rather than animals.
Whitney: Riese sent out a memo about not having snacks or liquor in the cabins before we got to A-Camp. Why? Bears. Supposedly, bears will come and get you if you have snacks or alcohol in your cabin. While we didn't see any furry four-legged animal bears, it seemed like the gay kind would be more likely to come into your cabins to partake of booze and snacks. And if that happened, I'd totally share my edibles and drinkables with those leather daddy bears.
Riese: Sugar & Fitzi told me that they had a "couples crush" on me and Marni and I thought that was just the cutest thing.
Carmen: I freestyled a full verse as Lil Carmen from her debut hit single, "Two Girls At Once."
Katrina: Carmen rapped, Jamie bought a holographic cat bookmark, and I fell asleep on the wheel of the van, which started vibrating intensely on a bumpy road, which I think counts as getting laid at A Camp.
Carmen: When I woke up from my nap there were men outside the van, which was really strange and off-putting. Also, "I Came, I Saw, I YOLO'ed" was said in the van by Rachel Kincaid.
Riese: A lot of campers weren't flying out until like, 10pm, including our staff, and so like a month before camp I'd decided that we should have a Roller Skating party in the afternoon at a roller rink, like Xanadu + Roller Derby + The L Word. I was imagining pizza, pitchers of soda pop and lots of hand-holding. Unable to rouse group enthusiasm for this project, I looked up nearby excursions and decided instead we could all go to Santa Monica Beach!
Riese: I'd sent out emails pre-camp about it and had my nice list of the 20 or so humans who wanted the field trip. This number exploded on the day of… so for that reason and many others this really ridiculous idea of mine became a giant clusterfuck, eventually, but talking about it will give us all PTSD, so let's pretend like it never happened. I just wanted people to have fun and not be bored in the airport!!
Marni: Six hours, several vans, two SUVs driven by Alpine kitchen staff and many frantic text messages later and we were all at Santa Monica Pier, having The Best Time of Our Lives Unmarred By Any Negative Feelings Whatsoever.
Lizz: Trying to shuttle everyone back to the airport was almost as hard as getting them all there. Dictator-Lizz came out for a victory lap.
Marni: I had a few very tender moments with my Canadians, who were in great spirits and rallied in a manner befitting our homeland.
SAYING GOODBYE
Lizz: Grace and I arrived at the airport hours and hours and hours early. We didn't want to go in to our gates because we were in separate terminals. Unfortunately we also couldn't sit down for a bite to eat because there was no food before security in either of our terminals. Instead, we hung out underneath the last remaining pay-phones on earth while I charged my iPhone. When we parted ways after an hour we went right back to texting like we always do. It strikes me as amazing how I can have these perfectly seamless in person/online relationships. I sort of love it.
Sara: I left a little bit of my heart at each terminal that I stopped at. As I said goodbye to each camper, I realized just how much I was impacted by each of them, and how sad I would be if I never saw them again.
Carmen: Carrie bought me peanut butter pretzels and popcorn chips for dinner. We dropped everyone off at the airport and I said goodbye to Brittani twice because the first time I left all of my flight information, bus information, and shuttle tickets on the dashboard.
Riese: The good news is that Marni had taken all the extra alcohol, so we generously gifted Robin with a prime bottle of Barefoot Merlot to top off the amazing afternoon.
Carmen: I left my terminal after going through security to get a drink with Jamie and Whitney because I felt like maybe I would start crying if I didn't. Katrina met up with me and we went back through security together and I started sweating. I listened to Drake's entire discography on the plane while Katrina slept and Gabby and I drank Corona Extras out of cans.
Riese: We parted ways and Marni and I spent the evening with Crystal in Los Angeles and enjoyed a delightful meal at her favorite restaurant, The Cheesecake Factory. The next morning we went to Executive Van Rental — Lizz and Gabby successfully cajoled them out of charging us for their fucked-up tire, but they did charge us for $200 of "damage" on a different van which was nowhere to be seen. So. Whatever. That part of Monday was so close to the part where we went to the hotel and got Tinkerbell back that it's all just a fever dream at this point.
Marni: Tinkerbell was found poolside, with a fresh tan and mani/pedi, having enjoyed a weekend of self-care and relaxation at the Four Points Sheraton LAX. I'm still not convinced she didn't stage the whole thing.
Carmen: I refused to sleep until I'd written everything down, because I didn't want to lose one moment in the rewriting. I fell asleep right before Saturday and woke up in New York.
Riese: The whole (eight hours) home we talked about next camp, and how to give me more time to hang out with campers.
Marni: Then I slept for three weeks.

Pages: 1 2 3See entire article on one page