Welcome to the third of four fantastic recaps of our entire experience at the First-Ever A-Camp, which took place two hours outside of Los Angeles at Alpine Meadows in Angelus Oaks, California, from April 26th-29th.
The idea was to take the spirit of the website into three glorious dimensions while simultaneously creating an affordable option for queer ladies for whom other lesbian events (such as Dinah Shore) aren't a good fit. So, we rented out a summer camp in its off-season and enjoyed a transformative weekend of fun, friendship, panels, workshops, classes, sports, entertainment, events and so forth.
These epically long monster-posts will do their best to explain and extrapolate upon the camp experience, from shitstorms to emotional revelations to glory/triumph.
Two days ago, we got stranded on the side of the road, yesterday we detailed the first full day of camp, and today we will dive in, muffs first, to the last full day of camp — Saturday April 28th, 2012.
Saturday, April 28th, 2012
I. Rising, Shining
Carmen: I woke up with a huge headache that required immediate caffeination and a significant distance between me and the gravy in order to heal. I walked over to Joanna and to be honest, she probably showed me pictures of her girlfriend while I showed her pictures of my dog. We did this a lot.
Laneia: Lots of the crew was a little hungover Saturday morning, so breakfast was quiet. I spent some time trying to make Megan feel better about her fucked up SUV, while she spent some time trying to make me feel better about things like my dumb hair and how to talk about 'zines without sounding like a total jackass.
Crystal: I tried biscuits and gravy for the first time and, given that I was a tiny bit hung over, that was a big mistake. Stef and I spent the next hour or so designing our music trivia props, which was serious business.
Riese:  The thing about Saturday is that it's just one little day before Sunday — a.k.a, the day for which I have lost three planned-upon Roadrunner Shuttles due to RR's overwhelming suckage (as detailed in the Day One recap) as well as full usage of one of the vans (tire blowout) and Megan's SUV (power steering blowout). I hadn't had a minute to fashion a new plan for this, so for me, Saturday's first post-breakfast item of the day was to assemble the team in an outdoor area and select tributes to drive vans the next day — most crucially, those 6:30AM and 7:30 AM shuttles we'd had to cancel due to aforementioned suckage/price-hike.
Riese: The nice thing about the tribute system (A tip of the hat to you, The Capitol!) is that by offering everybody the chance to volunteer as tributes in place of the selected names, whether or not somebody has to drive is not really my fault, it's everybody else's fault for not volunteering in their stead. However, Bren volunteered, because she's nicer and better than everybody else. I'm serious, she is.
Laneia: Somehow Saturday's schedule had all of my favorite and most number one feelings! So I was really fucking amped for everything.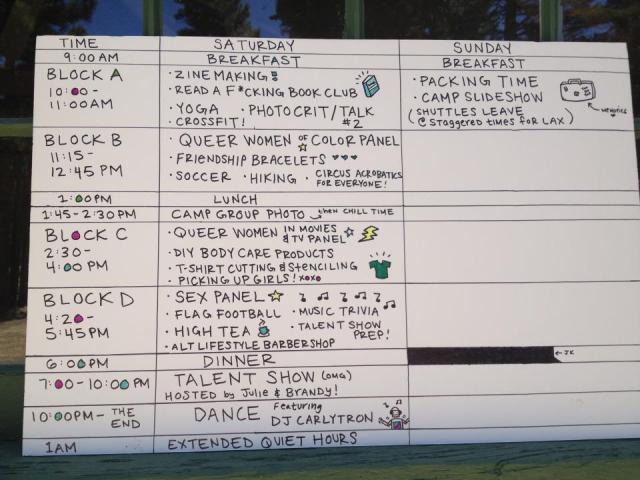 *
Saturday Block A:
Crossfit w/Joanna
Yoga w/Lizz
Zine-Making w/Laneia & Rachel & Riese
Read a F*cking Book Club w/Lizz, Carolyn & Jamie
Photography Crit #2/Shootout w/Robin & Sara Medd
***
Saturday Block B:
Queer Women of Color Panel w/Carmen, Brittani, Gabby, Katrina & Whitney
Friendship Bracelets w/Laura
Hiking w/Sarah Croce
Circus Acrobatics for Everyone w/Tara
Soccer w/Crystal
**
II. Let The Games/Crafts/Panels Begin
Sara M: Joanna led us in an example of a Crossfit exercise which sounded easy, but when executed properly can really kick your ass. I decided to make everyone feel better about their physical fitness by demonstrating the lowest level of commitment to the activity. I blamed it on the altitude, but the truth is that someone has to finish last, right? Joanna is an encouraging trainer though, and didn't make me feel bad about my fitness inabilities.
Robin: This time at the Photography Crit Workshop, instead of shooting, we talked and I answered questions. It was great to be able to review a few portfolios while I was at camp as well. I would have loved someone in my position now to look at my work a decade ago, so I was happy to offer whatever advice/tips that came to me.
Laneia: For 'zine-making, we decided to bring all of our supplies, pass out all the 'zines we had, talk about 'zines, and ask everybody to make their own 'zine page, which we'll put together into a special A-Camp 'zine.
Rachel: I have a lot of feelings about zines, but not as many articulate thoughts? So we brought a bunch of 'zine materials and just sort of let everyone go for it, and they did such an awesome job! We have so many beautiful individual 'zine pages from campers, and someday you're going to get to see all of them in a really beautiful zine and it will be the best thing.
+
"I was kind of iffy about going to Zine Making, but my cabin talked me into it and I ended up LOVING it."
+
Riese: Basically, what I did was scoop my heart out of my chest, cut it open, empty it onto the floor and told the squirrels to make it into art! Like all my shit: my stickers, assorted pictures ripped out of magazines, postcards and photos, stacks of old magazines, even personal shit I'd pulled out and pieces of 'zines from the mid-'90s. It was cathartic in a weird way, but also these humans are the only ones I would've trusted to do justice to my crafty collection. I would've made another page too but unfortunately I was, you know, making that stupid driving schedule.
+
"My favorite activity was probably Zine Making. Collages are cathartic."
+
Laneia: I even remembered to bring my copy of Riese's zine from 2008, Auto-Insomnia, which is full of insomnia poetry that she wrote while she was on ambien, I believe. It has a shiny gold cover and I was really excited to share it with everyone.
Riese: Also — SO — Laneia, Rachel and I made a 'zine in the winter. Like we each made pages of it and were gonna put it together and sell it but you know, duh, it's us, so even though we finished our pages in Janaury, the completed pages didn't land in Rachel's arms 'til a month or so ago. We decided we MUST have it for camp, so Rachel — an innocent to the oppressive costs of full-color printing at Kinkos — printed a billion on her way into camp. We passed that around, but you should definitely buy it when Alex puts it in the store. It's a collector's item AND Laneia wrote something in it that made me cry real tears, but also most of it is just funny behind-the -scenes stuff. It's called "Behind-the-Scenes 'Zine."
Carolyn: I felt pretty nervous about Read a F*cking Book Club after actually reading My Miserable Lonely Lesbian Pregnancy, because it was terrible and I worried that no one would really want to talk about it. Instead, everyone wanted to insult it, so things worked out well! And then everyone talked about their favourite authors and books.
Lizz: We seriously digressed on to our love for The Baby-Sitters Club books.
Carolyn: Which, confession, I have not read.
Lizz: It was really relieving to know that I wasn't the only person who grew up with a crush on Stacy McGill.
Jamie: It really made my day when Lizz started geeking out about Harry Potter and realized she was wearing the actual cardigan ("They only make 100 a year!") she got at The World of Hogwarts.
Crystal: The last time I played Soccer was in the nineties and so I couldn't remember any of the rules. Thankfully we were at queer camp and so a handful of athletic ladies showed up in sportswear and took over my leadership duties. I can't remember which team won; honestly we were all winners for signing up to play sport at a lung-crushing 7,500 ft altitude. Julia was definitely a winner for playing in denim.
Carmen: I reviewed my notes for the Women of Color panel while applying SPF 45 at the Alternative Lifestlye Barbershop. I wrote notes signed, alternatively, Lil C and Drake to my campers and also received a message in my own pigeonhole that read "Hey Girl, You're really good at making other people cry." Also, I received a drawing of myself as a stick figure with a huge afro.
Brittani: The Queer Women of Color Panel was a challenge for me, because I would rather make fun of things that bother me than actually talk about them like an adult. I'm pretty sure I only signed up because if I was sitting in the audience during the panel, it would have looked really weird.
Carmen: I legitimately told my life story at this panel, all while passing Brittani water because we were kind of sure she was about to die. The quote that sticks out to me is "Where are you from from?"
Katrina: This was the first time I participated in a long, deliberate and structured conversation about race. I don't know, this was incredible.
Whitney: I felt so proud to be on this panel alongside four other amazing, intelligent, articulate women of color.
Gabby: I said all of the things I've always wanted to say about race in this panel. Like that it's not my job to help people through their white-guilt and that intersectionality is like the best brain sex ever.
Carmen: I can still envision the image of a white person crying on Gaby's shoulders.
Whitney: I talked a bit about my family and how they have rejected me because I am gay. Afterward, I talked to some campers who were going through the same thing — listening to their stories broke my heart and then put it back together again and then broke my heart again.
Gabby: The strength in Whitney Pow moved me from the moment she started to speak. That woman is a powerhouse and I'm honored to know her.
Katrina: After Whitney spoke, I honestly thought I was just going to cry on stage for two hours, but I didn't!
Riese: I didn't know until Whitney said so in this panel that AS is the first opportunity she's had to write actively about race. She's been so good at it since the beginning and tackled so many important issues for us. I feel like I almost cried a few times, I believe Gabby said something that made me almost cry, too.
+
"The Queer Women of Color Panel was my favorite, it brought up some feelings and beliefs I hadn't had the words to express before."
+
Brittani: Everyone was really great and nice afterward, and I think people laughed a few times during the panel, which is all I really want in the world. If anyone feels like they learned something or are more ok with being a queer person of color in this crazy crazy world, that's just an added bonus.
Katrina: I loved being a part of it. It was completely empowering and validating AND informative. Just like, fucking great.
Gabby: There's a lot I didn't say because I probably would have cried in front of everyone. Instead, I cried in the woods and was thankful to be alive and share my words with everyone.
Whitney: This is why I came to A-Camp — to share, to listen, and to be understood in a safe space. This experience will matter the most to me always.
Jess S.: A total of one person (hi, Lauren!) showed up to me and Lizz's Ultimate Frisbee Activity, so the three of us sat on the bleachers and shared our life stories for an hour.
Lizz: In a lot of ways, I think those sort of moments were even more rewarding than the activities. Just being with other women talking about our shared and different experiences. Sometimes I don't remember how lucky I've been until I'm telling someone else about it.
Sara M: I had the opportunity to meet individually with several of our lovely lady campers in styling consultations throughout Saturday. This ended up being my favorite part of camp because I got to sit down and get to know some of you better than I would have been able to otherwise. And I think there will be a few more stylish lesbians in the world as a result!
Brandy: Julie and I slept through breakfast (again). We had been woken up at 4am by a loud, scary bear that was down with the swirl [Editor's Note: a.k.a sexual actvity], so we were kind of out of it when we got into the lunch room. It was business as usual as we collected our iceberg and tuna, but when we sat down- I suddenly felt like Snookie after her first night in the Shore house. I wasn't quite sure what I'd done wrong, and I wasn't sure who exactly was mad about it- but I definitely wasn't as popular as I was the night before. I decided to do what Snookie would do- drink.

Next: More thrilling, death-defying activities!
Pages: 1 2 3See entire article on one page