III. Saturday Afternoon Delight
Brandy: What went around, definitely came around- in the form of the Ropes Course instructor and her inappropriate lesbian puns and overtly sexual instructions. Anyone who was offended by our game would have filed a lawsuit against this woman. She made 552 'hole' references that culminated in specifics on how to climb a pole "since none of you have done that in a while." This was the clear moment in time when Julie and I bonded with Marni. For life.
Marni: Everybody kicked ass at the ropes course. The elements honestly looked really scary and everybody faced their fears of heights and falling; it was really impressive. Very special as well were Julie and Brandy deciding to join in, and Julie changing into her teensy black gym shorts. Little known fact: Julie Goldman has incredible muscle definition in her legs. They both did the climbing wall and were very, very brave. I got a sunburn.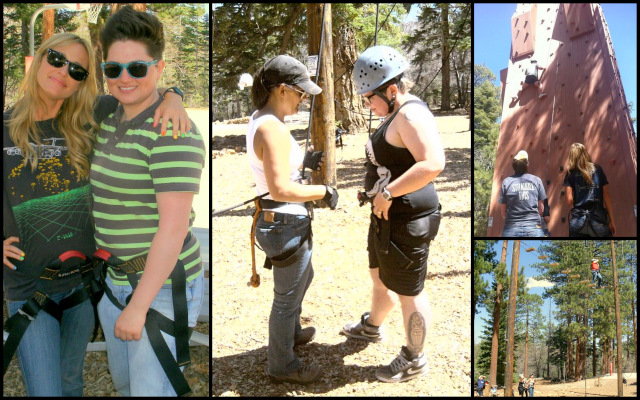 Brandy: After the Ropes Course, Julie and Marni smoked while I stood there, watching. (I don't smoke, but I think people who do are sexy and cool). We were processing the psychological abuse of the ropes course when Crystal walked up. She told us that she's changing her cigarettes from Dunhills to Camel Blues. Later we saw Megan (Laneia's girlfriend) carrying a bucket of water somewhere. Julie told her that she hated God and Megan said that Laneia does too. I want to take this opportunity to say for the record- Megan and Crystal were the two nicest people I met at camp. They are both so peaceful and unobtrusive. Their mere presence in a room is calming.
*
Saturday Block C:
Queer Women in Movies and Television Panel w/Haviland, Sarah Croce, Ashley Reed, Lauren, Carly & Brittani
DIY Body Care w/Laura & Laneia
T-Shirts Cutting and Stenciling w/Carmen & Rachel & Sara
Picking Up Girls w/Gabby & Katrina
Ultimate Frisbee w/Lizz & Jess S
*
Saturday Block D:
Flag Football w/Alex & Brittani
Music Trivia w/Stef & Crystal
High Tea w/Laneia & Rachel
Sex Panel w/Riese, Lizz, Carmen, Jamie, Sara & Daniela
Alternative Lifestyle Barbershop w/Katrina
**
Haviland: The overall theme of the Queer Women in Hollywood Panel was a point everyone on the panel talked about — how the entertainment industry is really intertwined, and the more you help others with their projects, the more they'll help you with yours. Basically, what's more for you is more for me, and so on.
Brittani: Participating in this panel made me realize how lucky I am to be part of the industry. Not just because women in cargo shorts are aplenty, but because of how little of a deal being gay has been thus far. Of course getting our stories onto television and movie screens is a unique and challenging issue, but being able to discuss my work experiences and not have horror stories about presentation or attire or homophobic bosses is obviously something that many of you aren't able to do.
Carly: After we talked about ourselves for a bit – our favorite topic, obvs – we took questions from the audience, all of which were really insightful and well thought out. Topics discussed included portrayal of queer women in the media, differences between tv in Canada and the US and how to get your own production off the ground.
Haviland: We also thanked everyone there for watching "Unicorn Plan-It" and talked about how it's a community effort to build up projects people want to see on their teevee. Rather than being annoyed about the lack of representation of queer women on tv and in films, we discussed how it's really easy now to support smaller media, and that being proactive about what and who you want to see by following people on social media, donating to their projects, volunteering your time, and most of all, spreading the word, really helps.
Brittani: When you're sitting on a panel of varying positions within the industry and all of us are speaking about what a non-issue our sexualities have been, it makes you bummed that more entertainers aren't coming out.
Laneia: The DIY Body Care Workshop was so chill, I can't even. I need a new word for chill.
Laura: I think we were all physically and emotionally exhausted and ready to do something quiet.
Laneia: Laura and I had originally wanted to do SO MANY THINGS — tooth powder, lip balm, caramel wax, infinity etc — but the logistics seemed insurmountable, so we went with Laura's recipe for olive oil and sugar face scrub in etched glass jars. This ended up being just the best idea ever.
Laura: I loved sitting in a cabin in the woods, waiting for etching cream to work its magic on the jars we were making. Cary made a jar with a fish on it and Lizzie tried to downplay how hilarious her upcoming comedy debut at the talent show was going to be. We all talked about being hippies and also sat there and took deep breaths for an hour. Or at least I did.
Laneia: I think we all left that workshop wanting to etch all the things.
Rachel: If you've never been accidentally slightly high off of spray paint fumes on top of a mountain, then you really ought to have been here for the T-Shirts Cutting and Stenciling.
Carmen: I was on a mission to spread the motto, which worked out since Rachel had prepared a YOLO stencil for everyone at this workshop. My shirt was white and Brittani had left me a black one to customize for her. Mine took about five minutes to spray paint and cut, and hers took the other hour and twenty minutes, mostly because every color paint would just disappear into her shirt. I became convinced that Brittani will live more than once.
Rachel: Aside from covering my hands in black paint and being irrationally afraid that the TSA would think I had black mold or something, this was perfect and wonderful. Someone painted a shirt with a raised fist and ACAMP 2012 and it almost made me cry.
Gabby: Never in my life did I think my chubby, glasses-wearing, book-reading ass would ever run a workshop on "Picking Up Chicks," aka How to Mack Without Macking. Lo, the magic of A-Camp and coming into yourself.

Gabby: I didn't want it to be some kinda sleazy pick up thing and it totally wasn't. We talked about chicks, how to be sweet, a little suave and totally yourself around them.
Katrina: Running this workshop with Gabby was stupid fun.
+
"Gabby and Katrina should probs sell [the "Picking Up Chicks" workshop] as a book/movie/life-improvement guide."
+
Gabby: Katrina and I both had different areas of 'expertise' to share. Also, making campers (I see you Shilpa and Tough Guy Beth) perform skits/roleplaying the Do's and Don't's of Macking, was effing priceless.
Katrina: Everyone was great at roleplaying, and I hope it led to more sexy roleplaying later that night and forever in your lives.
+
"Gaby & Katrina have an awesome dynamic together and tackled the subject with refreshing honestly. I felt like I learned a lot about how to pick up girls without realizing how much I was learning."
+
Gabby: According to the Unofficial A-Camp facebook page, some of you got laid off our tips. #clapclapbravo.
Brittani: Vega and I ignored the implications of the hanky code and beset on a journey of Flag Footballdom on the soccer patch of dirt. I believe it was probably the most adorable game of bandanna flag football that has ever been played.
Alex: The girls who wanted to play, for the most part, had not played football before. I loved that they just wanted to run around and learn something new.
Brittani: It was a really cool experience and was another moment when I realized how great camp was. It takes a lot to jump into sporting activities with people you've just met, and doing so when you've never played a game before is even more courageous.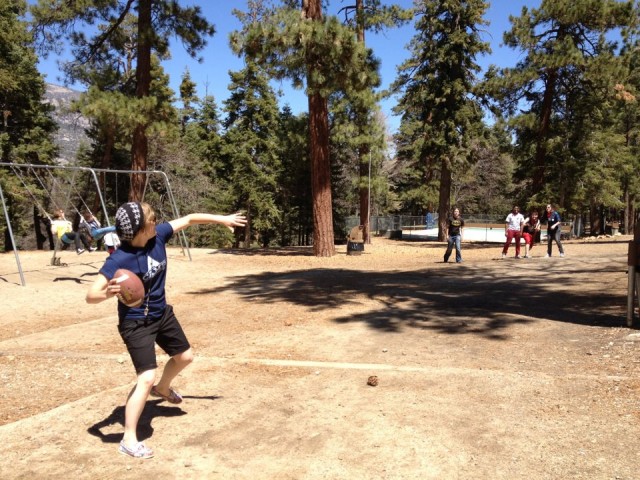 Stef: It was impossible to know what everyone's musical knowledge-base would include, so Crystal and I tried really hard to come up with questions for Music Trivia that would span a wide range of topics, including One-Hit Wonders of the 1990s, Lady Gaga, Tegan and Sara and Ex-Disney Child Stars.
Crystal: There were two teams, plus Tim-Tams and music clips and novelty buzzers. It's possible that only Stef and I thought that some of our music categories and questions were hilarious.
Stef: Some of our questions turned out to be a LOT harder than we thought they were, but at least we had a great time, and Crystal graciously rewarded correct answers with chocolate.
Crystal: Surprisingly, no one knew who performed "Sugar High" with Renee Zellweger in Empire Records.
Laneia: This "High Tea" "workshop" came about when I emailed Rachel to say "I wish there was something we could do at camp about tea." And then we decided there was, actually.
Rachel: This was maybe the thing I was looking forward to most in terms of camp, besides, you know, all of camp. Laneia and I spent a really inordinate amount of time planning this by emailing constantly about what teas we were drinking, what teas we already had, and what tea we wanted to try.
Laneia: Around 25 campers showed up, which may seem like 'not a lot of people' but is realistically quite a few. We crowded around two picnic tables covered in thrift store mugs and a variety of tea that almost made me weep. There was smoky earl grey, herbal with flowers, herbal with fruit, genmaicha, rooibos with fruits and flowers, matcha, toasted green tea with vanilla that tasted like roasted marshmallows, tea that blossomed when you steeped it — it was all AMAZING.
Megan and Marni ran back and forth from lodges to our tea area with heated water and helpful faces.
Rachel: The water heating system was sort of post-apocalyptic. We drank so many teas!
Laneia: A camper with some serious tea know-how, Rhea, even translated the text on the boxes of Japanese tea that I'd brought. Sidenote: the Japanese teas came to me several months ago from an Autostraddle reader! Isn't the world outlandishly fascinating?
High Tea was another great example of how awesome it was to just hang out with everyone. I think it took me until Saturday afternoon to finally start to feel comfortable in front of people — like I could look at their faces and just calm the fuck down.
Carolyn: I hear the sex panel was pretty fantastic, but I have no regrets about skipping it and drinking ~4 cups of all types of tea. Rachel and Laneia are basically my heroes.
Carly: Lauren and I spent Block D interviewing random campers who were relaxing at high tea. Hearing from campers why they were there, why they loved Autostraddle and how much fun they were having was a really moving and inspiring part of camp for me.
Riese: I'd wanted to do a bunch of one-on-one writing tutorials with campers but hadn't made any room in the schedule for this to happen. I was determined to get at least ONE done before leaving, and so that's what I did during Block C — Vanessa came over to my Hollywood Suite (a.k.a our cabin) and we talked about her story and it was great. Like it's been said before, camp's best moments are often when you just get to talk to somebody face-to-face, alone, and hear their story.
+
IV. Let's Talk About Sex, Baby
Riese: I'd volunteered to moderate the Sex Panel, I'm not sure why — I feel like every time I'm asked to be on a panel anywhere, it's always somehow related to sex, so it seemed weird for me not to be on the sex panel at my own Camp. My qualifications were um, sleeping with a lot of people, extensive research/background/reading on human sexuality, sociology of sex, pro-sex feminism, sexuality and the internet, sex in media, sex work, etc., as well as two years of writing NSFW Sundays (somebody else does them now, although I occasionally pitch in or do one when she can't), a previous sex-related job and my storied history as an erotica writer. Because Queerie Bradshaw wasn't able to come to camp and therefore unable to come to this panel, I'd invited camper Daniela to join because she has lots of 'expertise' and could talk about sex toys and being poly. I don't know anything about being poly or any sex toys besides strap-ons, really.
We introduced ourselves and gave our backgrounds and then turned it over immediately to a Q&A, for which Intern Grace collected the anonymous questions from the audience.
Sara M.: So there was this one time, at A-Camp, when I decided to share my knowledge and experiences about sex with a really big room full of women. There may or may not have been hand and finger demonstrations on my behalf in order to accurately answer the questions posed by the audience. I mean, sometimes its just easier to demonstrate than try to describe it with words.
Carmen: I shuffled around in my chair and asked Grace to get me water. Multiple times. Riese informed me it was too late to leave the stage after the fourth question. I did my best despite having lost all traces of my voice, which magically returned ten minutes after this panel was complete.
Riese: Had I been "pre-partying" for the sex panel since late afternoon? Yes.
Carmen: Lizz likes being [redacted] a lot, I think, and I learned it is about one zillion times easier to write about sex than talk about it out loud. Afterward I smoked a cigarette and took two shots.
+
"Everyone was totally game for sharing lots of personal experience and opinions and it felt really genuine."
+
Riese: Lizz and I both admitted that it is about one zillion times easier to talk about sex to the entire room than to our actual partners. It had so much fun on this panel!
Lizz: Ever since the sex panel I've been waking up at night paranoid that my mom will see a meme of me saying [redacted].
Riese: The moral of the story was: PULL MY HAIR.
+
"I loved how open, honest and freely you all discussed the topics and answered the questions. Sex is such a taboo subject for so many people, and it's been my experience that many have questions but are embarrassed to ask for fear of looking foolish, or even stupid. Telling these women it's ok to talk about it, ask questions, and generally discuss with their partner(s) is so necessary. I sat in the back and frankly, gauged reactions of the audience. Watching them shift uncomfortably at first, but by the end, sit up and listen attentively…It was so empowering for so many. You could actually see that change take place."
+
Jamie: I have a nervous nature. Sitting in as an expert on consent on a sex panel in front over 100 lesbians who have been invited to ask whatever questions they may choose resulted in thoughts of awkward/horrible Real L Word scenes in which I'm cast as the lead. But A-Camp is NOT the Real L Word: all the questions were awesome, I got to sit next to Riese and I even shared with the class my taste for being tied up and don't regret a thing! I'm also proud to continue serving as the lesbian monogamist on any future panels. I do however feel I should write a follow-up post on dental dams.
Jess S.: This was incredibly epic. Sara Medd taught us how to scissor most effectively, and Lizz got some new fans. If an audience member didn't own a strap-on before the sex panel, she has probably since purchased one or two.
Riese:  Oh, I wanna give a shout-out to Intern Grace's 3-D interning abilities — it was just like I'd always fantasized about, like having an assistant with a clipboard and a cute haircut there to schedule things for me, listen to me talk about my feelings, organize the things, bring me beverages and other random strange duties. She was always like "do you need anything?" It was like The Devil Wears Prada except I was wearing American Eagle and not a bitch. Also I only made her carry things for me like three times.
Riese: So, after the panel we went down to the fire pit for group photos! (We'll post them in the fourth recap!)
Carly: It was THE BEST THING EVER, seeing everyone in one place, all smiles and laughter and alternative lifestyle haircuts and hoodies. Then we took a staff photo and individual cabin photos – so cute! – and finally Riese tracked down all of the OG Autostraddle Staffers for a special "look how far we've come" photo. There was a lot of hugging and shrieking (from me, I don't know what the others were doing).

Riese: Afterwards I did my interview with Carly for the documentary. Hopefully my hair didn't look too stupid or anything.

Next: The Talent Show and the dance!
Pages: 1 2 3 See entire article on one page