Heyo grrls and bois, have you ever heard of Granada? Maybe your school's study abroad office has a brochure for a program here tucked behind a bunch of others for Madrid or Barcelona. Perhaps you've have heard that there is a castle here, which is true. What you may not have heard is that in this tiny little city of about 270,000, there are by my count, 70,000 lesbians. At least.
I moved to Granada to study abroad in February and let me just say it's probably one of the best decisions I've ever made. I'm going to attempt not to gush too much but really, aside from the above mentioned abundance of cool, queer ladies and queer culture, it almost never rains, the architecture is beautiful, you can almost always hear someone playing flamenco guitar, the city is really progressive and safe for us, the cost of living is unbelievably cheap and you get a completely 100% free plate of food with every drink you order.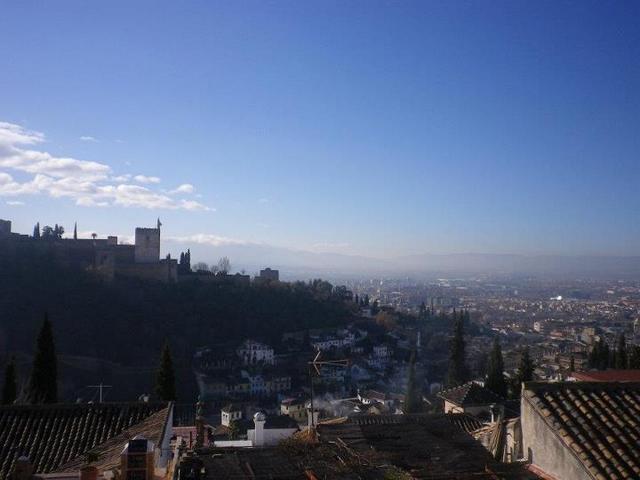 +
Tapas, Tapas, Tapas!
If I didn't have you at THOUSANDS OF LESBIANS, I bet I had you at free food. Granada is the only city in Spain where literally every bar will give you a free tapa with every beer or wine you order. Here's a list of some of the gay/lesbian owned tapas places as well as a few extras I'm including just because they're really good.
Bar 380 (c/ Carcél Alta, Plaza Nueva area) – is a cute, spacious bar off Calle Elvira that lets you choose which tapa you get (this is a big deal — whenever you go into a bar be sure to ask "Puedo elegir la tapa?"). I recommend the berenjenas, fried eggplant with honey.
Pöe (c/ Verónica de la Magdalena 40, near Plaza Trinidad) – Pöe isn't gay or gay owned as far as I know, but it is owned by a British guy, which is great if you don't speak any Spanish. He has really unique and amazing tapas like Thai curry chicken, tofu or chicken in coconut sauce and piri piri pork casserole. Bonus points for all the vegetarian and gluten free options!
Sol (Barrio Realejo) – Truth be told I have only been to Sol twice and I didn't get a real tapa either time because I ordered mojitos (some bars only give you tapas with beer/wine). However, the mojitos are incredible. In fact, the inside of the bar looks like a mojito. It's worth it.
Shambala (c/ Fábrica Vieja, Plaza Trinidad area) – Also has wonderful mojitos. Maybe you are starting to get the picture that if this guide inspires you come to Granada to visit me, you could buy me a mojito and that would be great. On top of great mojitos Shambala also has lesbian bartenders and delicious tapas (think hummus, little chicken/veggie skewers, and spring rolls). Bam.
Buena Vida (c/ Almireceros 12, off Calle Elvira) – Always packed with ladies including cute lesbian moms, a huge wine selection and the most delicious goat cheese and honey plate in the whole city (probably).
 +
Get Dancy
La Sal (c/ Santa Paula 11) and Zona (c/ Pedro Antonio de Alarcón) are the only two exclusively lesbian clubs in Granada. La Sal was started 14 years ago by this precious lesbian couple and Zona is brand spankin' new but both have a similar vibe, super cheap drinks on Thursdays, play your favorite songs from your middle school dance days and attract lesbians of all ages. To be honest, though, neither really tops my list of places to out. All the hip grrrls hang out at Playmobil Club (c/ Pedro Antonio de Alarcón), Vogue (c/ Duquesa) or Polaroid (c/ Gran Capitán 25). All three play a great mix of popular and indie Spainish/American music and throw great silly parties that sometimes involve things like free candy. Even though aren't exclusively gay or lesbian, I promise you'd never know it and you'll never have problems because all the Spanish bros and their girlfriends will be at Granada 10 or Mae West or El Camborio which are huge gross clubs that I do not recommend. At all. Thursday nights the place to be is usually Tornado Pub (c/ Pintor Velázquez) because you can get 4 beers for 2 euros and then dance your pants off at Twist and Shout with Little Girl and Lily Ramone (aka the cutest DJ set and possible couple on the planet).
Although none of the gay bars have ladies nights, they're all pretty welcoming to girls as well. I'd especially recommend Six Colours (c/ Tendillas de Santa Paula 6, Plaza de la Universidad) and Folk (Plaza de Toros) but avoid XXL and TicTac (both in Plaza de Lobos), which I've heard are more for cruising.
+ 
Social Activist Groups
There are two major LGBT centers in Granada: ColegaSur and Nos (c/ Lavadero de Tablas 15, Plaza de los Lobos). My program has a volunteer requirement so I've been working two days each week at Nos and the staff and resources they provide are absolute outstanding. You can also visit the website to find more information on support for queer parents, free testing services, etc. Right now I'm helping to organize Granada's National Lesbian Visibility Day celebration for April 26th; we're having a kiss in! Other than that, there are a variety of different interest groups that meet at the office every week and on the weekends we host parties at one of the gay or lesbian bars to raise money (read: cute girls, lots of Madonna and cheap drinks).
One of my jobs at Nos was that I got to plan the Día de Visibilidad Lesbica (Lesbian Visibility Day) with a bunch of other rad queer girls, bois, and boys. We sit up in the middle of Plaza Bib-Rambla (which is one of the biggest in the city and also, as a sidenote, has the very best churros) and played lesbian trivia games, held a safe sex workshop, talked about our feelings and posed for a really lovely portrait series done by my friend Bianca. The goal of the series to have everyone write down a word or two or three that they felt described them, apart from their sexual orientation. For some people, it was a chance to say, I'm a lesbian but I'm also a cook, an activist, a musician. For others it was a chance to say I'm in your classes at school, I'm happy just like you are, I dance just like you do and also guess what: I'm a lesbian. We were met with nothing but support from the local granadiños and tourists passing through the plaza. Basically, it was the best day of all the days.
One of the most helpful resources for me has been Granada Entiende (Granada Understands). They've published a map of all the gay-owned and gay-friendly businesses which you can find at almost any of the restaurants or clubs mentioned above or online.
 +
College Life
Like I said, I'm here studying abroad and I love it. If you're looking for a program here in Granada I highly, highly recommend SIT — the classes and excursions are wonderful and, on top of that, the staff was incredibly helpful in placing me with a welcoming family and helping me find volunteering opportunities at Nos. The University of Granada is one of the most prestigious and progressive universities in Spain and has students from all over Europe. In fact, if you're reading from this side of the pond, you should know that the University hosts more Erasmus students every year than any other university in Europe. There are always interesting events being held by different facultades that are usually open to the public. For example, this Thursday the School of Social Work is starting a new dialogue group about sexuality, stereotypes about LGBT people and LGBT people's experiences with Sex Ed that should be pretty rad. Because there are so many people from Somewhere Else studying, working andliving in Granada, the community on CouchSurfing is really active. It's a great way to meet people with similar interests and get to know the city a bit better!
+
Do Work
Sitting in a coffeeshop for hours on a Sunday to get work done, read Sunday Funday, or nurse your hangover is not really a big thing in Spain. Luckily, two weeks after I got here, Lamita opened and it is now my favorite place to do all of those things. It's a coffeeshop and bookstore tucked away on a side street in the center of the city. The coffee is bomb, the chairs are super comfy, and they have TWO queer and feminist lit sections (one in Spanish and one in English). Lots of cute queer-ish looking girls have been popping up at the shop, but because it's still brand new and kind of hidden you can basically always find a seat near an outlet for your laptop.
+
Neighborhoods of Interest
Despite its small size, Granada is one of those cities where each neighborhood has a different feel. The two biggest Gayborhoods are the Plaza Trinidad/Plaza Lobos area (although it tends to cater more to the boys) and the Calle Elvira area at the base of the Albaycin. Around Plaza Lobos you'll get more of a feel for the newer center of the city — it's full of the typical gay bars you'll find anywhere else and is also home to two big LGBT organizations. The Albaycin is the old Arabic part of the city (Granada was the last stronghold of the Moors before they were expelled from Spain). There you'll find Granada's claim to fame, the Alhambra, which is a huge, incredible castle surrounded by lots of expat hippies. You'll also meet lots of dreadlocked queers with their dogs, which is always a great thing.
+
Getcha Ears Lengthened
I lucked out and ended up with a host sister who a) has a pixie cut like mine and b) is a real life professional hair dresser. While I haven't had any haircuts in salons here, most of my queer lady friends have told me that they trust the stylists at Underground Hair Factory (c/ Moral Magdalena 22) to keep their mullets under control.
 +
Places to Avoid
I wouldn't really say that there are any neighborhoods to avoid entirely in Granada, except perhaps the caves of Sacromonte at night because they will be pitch black and you'll probably trip and roll down the mountain. My girlfriend and I had a pretty bad experience at El Camborio and so, while I've had fun going to the bigger clubs just to dance with friends, there are sometimes lots of seedy guys and they aren't exactly welcoming places for queer couples.
 +
Date Night
Here's what I would recommend:
1. Get a moped from Ecoway Rentals (Plaza Nueva) and take your girl up to the tippy top of the Albaycin.
2. Stop into a market and get some bread, Serrano ham, Manchego cheese and cheap red wine then head to the Mirador de San Nicolas to listen to the flamenco guitar and castanet players and watch the sunset.
3. Go to the Alhambra Cafe in Plaza Bib Rambla for the best churros con chocolate in the city.
4. Hike up to the actual Alhambra for the nighttime tour.
That's all, folks! Have have lots of fun, let me know if you have more questions and feel free to buy me a mojito.