Some people will tell you Anne Shirley (of Green Gables and eventually of Avonlea) was in love with Diana Barry because Anne Shirley is a lesbian. Other people will tell you that cannot be, that Anne Shirley was in love with Gilbert Blythe because Anne Shirley is straight. Well, my friends, I am here to tell you something and it's that Anne Shirley was in love with Diana Barry and then later she was in love with Gilbert Blythe (though she never truly forgot her first, passionate blush of awakening with her bosom friend) because Anne Shirley is very clearly bisexual.
I'm bringing this to your attention because Netflix announced today that it will remake the classic series, which Canada originally gifted to us in the year 1985. That mini-series and its sequel remain two of the gayest things to ever arrive in the United States of America from Canada, and that list includes: Ellen Page, Tegan and Sara, Lost Girl, Bomb Girls, Rookie Blue, KD Lang, Wynonna Earp, Orphan Black, all the Degrassis, and that one Olympic hockey team (I know you know what I'm talking about).
Look, obviously you know Anne was in love with Gilbert, and honestly, who wouldn't be? He's the dreamiest man in all of literature after Captain Frederick Wentworth. What you need to understand is that she also was just so very, very, very in love with Diana. And Diana was in love with her too.
This is the evidence. (These are real quotes from the real book written by Lucy Maud Montgomery! Not some fan fiction I found on Archive of Our Own!)
---
Marilla Cuthbert foretold it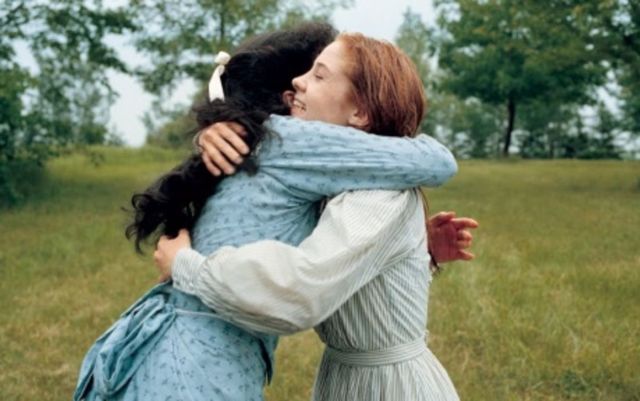 Anne tipped the vase of apple blossoms near enough to bestow a soft kiss on a pink-cupped bud, and then studied diligently for some moments longer.
"Marilla," she demanded presently, "do you think that I shall ever have a bosom friend in Avonlea?"
"A—a what kind of friend?"
"A bosom friend—an intimate friend, you know—a really kindred spirit to whom I can confide my inmost soul. I've dreamed of meeting her all my life. I never really supposed I would, but so many of my loveliest dreams have come true all at once that perhaps this one will, too. Do you think it's possible?"
"Diana Barry lives over at Orchard Slope and she's about your age."
---
And then they met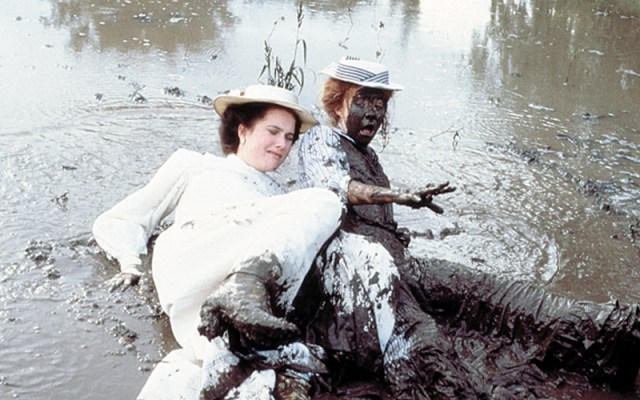 "Oh, Diana," said Anne at last, clasping her hands and speaking almost in a whisper, "oh, do you think you can like me a little—enough to be my bosom friend?"
Diana laughed. Diana always laughed before she spoke.
"Why, I guess so," she said frankly. "I'm awfully glad you've come to live at Green Gables. It will be jolly to have somebody to play with. There isn't any other girl who lives near enough to play with, and I've no sisters big enough."
"Will you swear to be my friend forever and ever?" demanded Anne eagerly.
Diana looked shocked.
"Why it's dreadfully wicked to swear," she said rebukingly.
"Oh no, not my kind of swearing. There are two kinds, you know."
"I never heard of but one kind," said Diana doubtfully.
"There really is another. Oh, it isn't wicked at all. It just means vowing and promising solemnly."
"Well, I don't mind doing that," agreed Diana, relieved. "How do you do it?"
"We must join hands—so," said Anne gravely. "It ought to be over running water. We'll just imagine this path is running water. I'll repeat the oath first. I solemnly swear to be faithful to my bosom friend, Diana Barry, as long as the sun and moon shall endure. Now you say it and put my name in."
Diana repeated the "oath" with a laugh fore and aft. Then she said:
"You're a queer girl, Anne. I heard before that you were queer. But I believe I'm going to like you real well."
---
This is the way they lived…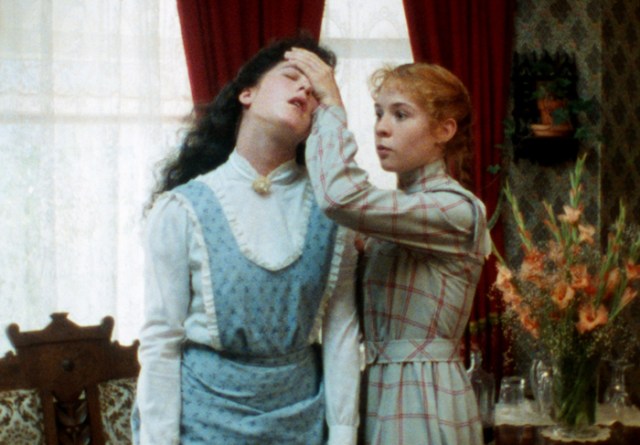 "I can give Diana half [my chocolate], can't I? The other half will taste twice as sweet to me if I give some to her. It's delightful to think I have something to give her."
---
… and loved.
"I've a compliment for you, Anne," said Diana…."We heard [the distinguished artist] say 'Who is that girl on the platform with the splendid Titian hair? She has a face I should like to paint.' There now, Anne.
---
Anne panicked when she accidentally got Diana drunk on currant wine (shades of Paige McCullers)
"Oh, Mrs. Barry, please forgive me. I did not mean to—to—intoxicate Diana. How could I? Just imagine if you were a poor little orphan girl that kind people had adopted and you had just one bosom friend in all the world. Do you think you would intoxicate her on purpose? I thought it was only raspberry cordial. I was firmly convinced it was raspberry cordial. Oh, please don't say that you won't let Diana play with me any more. If you do you will cover my life with a dark cloud of woe."
---
And then Diana's mom made them break up!
"No; and oh, Anne, she says I'm never to play with you again. I've cried and cried and I told her it wasn't your fault, but it wasn't any use. I had ever such a time coaxing her to let me come down and say good-bye to you. She said I was only to stay ten minutes and she's timing me by the clock."
"Ten minutes isn't very long to say an eternal farewell in," said Anne tearfully. "Oh, Diana, will you promise faithfully never to forget me, the friend of your youth, no matter what dearer friends may caress thee?"
"Indeed I will," sobbed Diana, "and I'll never have another bosom friend—I don't want to have. I couldn't love anybody as I love you."
"Oh, Diana," cried Anne, clasping her hands, "do you love me?"
"Why, of course I do. Didn't you know that?"
"No." Anne drew a long breath. "I thought you liked me of course but I never hoped you loved me. Why, Diana, I didn't think anybody could love me. Nobody ever has loved me since I can remember. Oh, this is wonderful! It's a ray of light which will forever shine on the darkness of a path severed from thee, Diana. Oh, just say it once again."
"I love you devotedly, Anne," said Diana stanchly, "and I always will, you may be sure of that."
"And I will always love thee, Diana," said Anne, solemnly extending her hand. "In the years to come thy memory will shine like a star over my lonely life, as that last story we read together says. Diana, wilt thou give me a lock of thy jet-black tresses in parting to treasure forevermore?"
---
But Mrs. Barry couldn't keep them apart!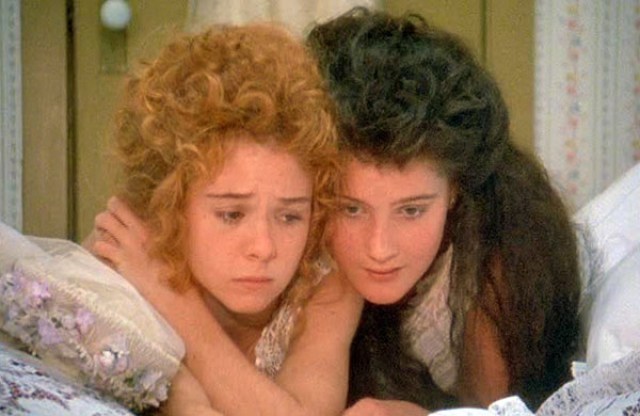 "Diana might just have smiled at me once, I think," she mourned to Marilla that night. But the next morning a note most fearfully and wonderfully twisted and folded, and a small parcel were passed across to Anne.
Dear Anne (ran the former)
Mother says I'm not to play with you or talk to you even in school. It isn't my fault and don't be cross at me, because I love you as much as ever. I miss you awfully to tell all my secrets to and I don't like Gertie Pye one bit. I made you one of the new bookmarkers out of red tissue paper. They are awfully fashionable now and only three girls in school know how to make them. When you look at it remember
Your true friend,
Diana Barry
Anne read the note, kissed the bookmark, and dispatched a prompt reply back to the other side of the school.
My own darling Diana:—

Of course I am not cross at you because you have to obey your mother. Our spirits can commune. I shall keep your lovely present forever. Minnie Andrews is a very nice little girl—although she has no imagination—but after having been Diana's bosom friend I cannot be Minnie's. Please excuse mistakes because my spelling isn't very good yet, although much improved.
Yours until death us do part,
Anne or Cordelia Shirley
P.S. I shall sleep with your letter under my pillow tonight. A. or C.S.
---
And then Anne saved the day, and they got back together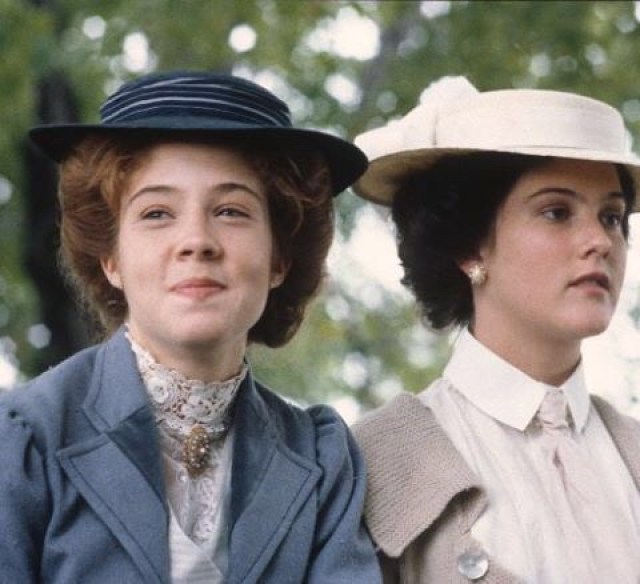 "And Diana and I had a lovely afternoon. Diana showed me a new fancy crochet stitch her aunt over at Carmody taught her. Not a soul in Avonlea knows it but us, and we pledged a solemn vow never to reveal it to anyone else. Diana gave me a beautiful card with a wreath of roses on it and a verse of poetry:"
"If you love me as I love you
Nothing but death can part us two."
"And that is true, Marilla. We're going to ask Mr. Phillips to let us sit together in school again, and Gertie Pye can go with Minnie Andrews. We had an elegant tea. Mrs. Barry had the very best china set out, Marilla, just as if I was real company. I can't tell you what a thrill it gave me … Then when I came home Mrs. Barry asked me to come over as often as I could and Diana stood at the window and threw kisses to me all the way down to Lover's Lane. I assure you, Marilla, that I feel like praying tonight and I'm going to think out a special brand-new prayer in honor of the occasion."
---
Case closed. Also, obviously Marilla Cuthbert and Rachel Lynde were lovers, and so. Do us right, Netflix!