by carolyn & riese
Books! They are really great. You just won't believe how great they are. You may think that the Internet's great, but that's just peanuts compared to books. Welcome to Lez Liberty Lit, our new column about literary shit that's happening that you should probably care about. We're aiming to put one of these together twice a month.
The name "Liberty Lit" was inspired by the short-lived literary journal produced by Angela Chase at Liberty High School in 1994.
Header by Rory Midhani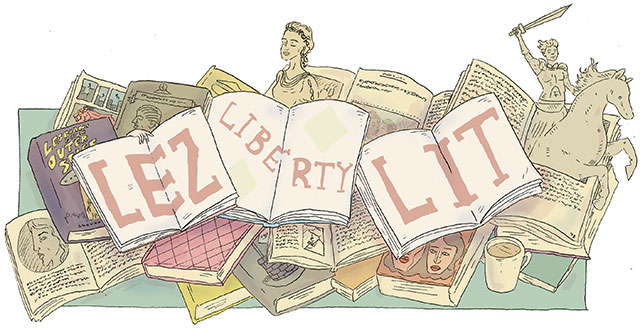 ---
Read a F-cking Book Club:
In case you missed it, the Read a Fucking Book Club is reading The Misadventures of Cameron Post by emily danforth, and today you have an opportunity to enter an amazing giveaway to win a very special care package from Lindsey Lloyd! If you haven't already, get it and read it now!
+
Literary Internet Place of the Week: National Novel Writing Month
NaNoWriMo is an annual writing contest that aims to turn people who say they want to write a novel into people who have written a novel. In a month.
Valuing enthusiasm and perseverance over painstaking craft, NaNoWriMo is a novel-writing program for everyone who has thought fleetingly about writing a novel but has been scared away by the time and effort involved.

Because of the limited writing window, the ONLY thing that matters in NaNoWriMo is output. It's all about quantity, not quality. This approach forces you to lower your expectations, take risks, and write on the fly.

Make no mistake: You will be writing a lot of crap. And that's a good thing. By forcing yourself to write so intensely, you are giving yourself permission to make mistakes. To forgo the endless tweaking and editing and just create. To build without tearing down.
Basically: between now and November 30 at 11:59 p.m., you need to write 50,000 words (1,667 words a day). You should do it because: you've always wanted to write a novel and are ready to finally just do it; you want to hang out on the internet with a lot of other people doing the same almost-impossible thing; talking about your novel makes the boyshorts drop. If you're stuck for an opening line (or just want to read some suggestions from the internet that right now largely revolve around making fun of Romney), visit #NaNoWriMoOpeners.
+
Lit Links:
East Coast booksellers are facing devastation ranging from "none" to "28 inches of water" in the wake of Hurricane Sandy. Shelf Awareness has an update on stores in New York, New Jersey, Connecticut, Vermont and Delaware.
In the New York Times, John Hanc profiles the Beat Museum in San Francisco, which contains photos, books, art, records, artifacts, bibliographical displays about the major figures of the movement and a 1949 Hudson from the set of "On the Road."
At the Guardian, Amanda Holpuch writes about how comic books have begun to embrace gay characters:
"'We're trying to address the sense that if you are a gay geek, you are not doubly doomed, you are doubly awesome,' Jarrett said. […]

Marvel editor Daniel Ketchum, who is gay, was involved with Northstar story since the two characters appeared together in 2009; he said the It Gets Better campaign had also influenced the writers to include a gay marriage storyline.

'I think it was kind of a critical mass of gay discussion in mainstream media, so of course that seized into creators' heads and finds a way into their stories,' Ketchum said.

Marvel PR prepared the team behind Northstar's issue for waves of backlash, but Ketchum said he was overwhelmed by positive responses."
Janice Zawerbny is planning to start the Rosalind Prize, an award that will recognize literary fiction by Canadian women. According to the Quill and Quire, Zawerbny says: "I thought things were fine and equal here in Canada. I didn't realize the disparity until looking at the hard numbers. It was really disheartening. Why is this happening in this day and age?"
At the Rumpus, Roxane Gay discussed how books can approach gender in a cultural vacuum, and how this limits the conversation it is possible to have. Zoe Zolbrod interviewed Anne Elizabeth Moore, author of Cambodian Grrrl: Self-Publishing in Phnom Penh, a memoir about teaching zine making in Cambodia. Chaney Kwak interviewed Michael Lowenthal, author of The Paternity Test, a novel a gay couple who hires a surrogate.
Lambda Literary wrote about Sinister Wisdom, the oldest lesbian literary journal still in existence; gay novelist Elliott Mackle; and Edith Whatton's ghost stories and sexuality.
Trademark holders for Tolkien's The Hobbit have banned scientists from using the word "hobbit" to describe Homo floresiensis, a species of primitive human discovered in Indonesia in 2003 that was three feet tall and was, until recently, colloquially known as the other hobbit. According to Alison Flood in the Guardian, a scientist running a talk on the species that coincides with the movie premiere had to remove a hobbit reference from the title after contacting a lawyer representing the rights holder to ask for permission.
Have you voted in the goodreads choice awards? Probably you should. You've got 'til November 10th to participate in the opening round!
Diane Anderson-Minshall profiled Beth Ditto, whose memoir, Coal to Diamonds, was released last month. Ditto talks about growing up, her identity, and her music.
Book Riot has a list of tips for storing old books. Among them: don't pack books too tightly on your shelves, dust them regularly, and keep them away from the sun.
Michelle Dean wrote "A Lament For Witches," on witches, storytelling, and domestication.
Steam Thing wrote about copyright, digital books and libraries.
Even classic books get terrible reviews. Here is what someone wrote about Charlotte Brontë: "Here all the faults of Jane Eyre are magnified a thousand fold, and the only consolation which we have in reflecting upon it is that it will never be generally read."
Brain Pickings has a gallery of vintage ads for libraries and reading. Earlier, it also ran vintage ads for literary classics (like A Spy In the House of Love and The Great Gatsby) and vintage PSAs about reading.
There are iPad apps for Shakespeare's plays and the original manuscript for Mary Shelley's Frankenstein.
Vancouver-based publisher Douglas & McIntyre filed for bankruptcy last week. Meanwhile, Random House and Penguin intend to merge to create Penguin Random House, which would be the world's largest publishing company. For some reason, they have not decided to call it Penguin House.
McSweeney's Books is launching the McSweeney's Poetry Series this February. The imprint will publish up to four titles a year an will be coedited by Jesse Nathan and Dominic Luxford.
OR Books is releasing Gore Vidal's I Told You So later this month, and you can read an excerpt posted by Lambda.
Jeanette Winterson won the Independent Booksellers' Prize for Why Be Happy When You Could Be Normal?
Books And Events To Watch Out For:
November 1, The World: National Novel Writing Month begins!
November 8, New York: A.M. Holmes, bisexual author of Music for Torching, The Safety of Objects and May We Be Forgiven, will read from and discuss her new book at the Centre for Fiction (17 E. 47th St.) at 7 p.m.
November 8, Portland, OR: Michelle Tea and Cooper Lee Bombardier are hosting a Sister Spit book reading at Powells at 7:30 p.m.
November 15-January 31, New York: Strange Loop Gallery is collaborating with the Bureau of General Services, Queer Division, to create a pop-up bookstore and event space at Strange Loop Gallery (27 Orchard St.). The grand opening is Nov. 15 from 6 to 9 p.m.
November 22, Ottawa: Ivan Coyote and Rae Spoon's show, Gender Failure, is coming to the Kailash Mital Theatre (1125 Colonel By Drive, at Carleton) at 7:30 p.m.
November 26, San Francisco: Ellen Forney, author of the just-released Marbles: Mania, Depression, Michelangelo, and Me: A Graphic Memoir, is reading at 7:30 p.m at the Booksmith (1644 Haight St).
What We're Reading:
Riese: I just finished The Art of Making Magazines: On Being an Editor and Other Views from the Industry, which served to make me jealous of magazines with 16 copy editors and enormous budgets and totally not-envious of the Publishing World's Old Boys Club. It contained transcriptions of talks by magazine editors like Ruth Reichl and Tina Brown. I found it super-super interesting and useful though, there was so much about the philosophy behind magazines and different kinds of magazines.
Carolyn: I ended my recent trashy book phase with I am Number Four, which I read about 20 pages of and which I would kindly describe as the worst thing I have ever read in the history of my life. It read a lot like someone had made a list of themes and key phrases and written the book around them, which I suppose is because it came from James Frey. It actually took being a master of self control to keep from throwing the book at the wall, which I might have done anyway except that it was on my reading device. Then I (re)read Libba Bray's Beauty Queens after my in-person queer book club talked about it, and now I'm about to read The Miseducation of Cameron Post because I'm really excited for this month's Autostraddle Book Club.