Happy Yellowjackets Season Two Day to all who celebrate! Kayla's first recap of the new season is ready for you — and we're hosting an A+ watchalong tonight! If you're looking for a warm-up for Yellowjackets, Kayla suggests Class of '07.
In less exciting news, The L Word: Generation Q has been cancelled by Showtime (but also an Ilene Chaiken-helmed reboot in NYC might also be in the works with the original cast?).
Daisy Jones and the Six has  a stunning tribute to Black queer love, freedom, and disco; Carmen wrote about it. Voting is now open in our Autostraddle March Madness: Trope-y Wives, round of 32! Nic reviewed the exciting second season of Shadow & Bone, which, unfortunately, did not do right by its sapphic characters. You're not just imagining it: GLAAD confirms that these infinite cancellations are really killing the vibe for LGBTQ+ TV characters. In this week's I'll Watch Anything, Valerie Anne wants you to know why they'll watch anything with witches! Kristen Kish's new travel show is here, and Shelli Nicole wants to tell you all about it. The midseason trailer for Vanderpump Rules has landed, and our very own Bravo Dyke has some feelings about it. Drew recapped the latest episode of Drag Race. She also reviewed the new queer French film, The Five Devils.
Notes from the TV Team:
+ This week on Station 19, post-"lasagna love story," Carina and Maya are finding their way back to each other. Carina describes it as the flirty early stages of their dating, except they are already married, which I'm sure is equal parts adorable and frustrating for all involved. But while Carina works through her own fears of losing herself in Maya's storm (there's a whole deer/antler analogy, don't ask), Maya confronts some of the dark shit she did while in her depression, namely giving alcohol to Captain Beckett and potentially kickstarting his relapse (don't worry, Ben reminds her that we are not our darkest actions). They end the day with some incredibly sweet texting, but my biggest takeaway from yesterday's episode is that they want me to believe Tracie Thoms can play a woman who's straight! Not possible.  — Carmen
+ I keep waiting to care about Gotham Knights, but it hasn't happened yet. I find the Bat Brat to be bland and not compelling. I found myself sort of wishing Duela and the siblings would have gotten the hell out of dodge. The best part of the second episode for me was when six cops' heads were put in boxes and mailed to Harvey Dent. I find the dialogue predictable and I feel like we weren't given enough reason to believe these teens who met each other yesterday would risk their lives for each other. Maybe it's the Ravenswood filter, but I swear I'm trying and I just can't get into this damn show. — Valerie Anne
+ Upset Alert: for the second time in as many appearances, Chefbian Britt Rescigno has pulled out an unimaginable upset on Food Network's Tournament of Champions. This week, she was challenged by Darnell Ferguson and forced to create a surf n' turf, champagne brunch dish using lobster tail, longbone ribeye and the meat grinder. Chef Britt created the perfect Las Vegas brunch and won a narrow victory. So now, Chef Britt has taken out a reigning champion and a SuperChef, can she follow-up by dethroning an Iron Chef? We'll find out when the chefbian takes on Jose Garces in the Elite 8. — Natalie
+ #CancelYourGays had become such a fixture in queer TV over recent weeks, I nearly forgot #BuryYourGays was a thing, but this week Truth Be Told swooped in with the timely reminder: the bullet that struck Eva killed her. RIP, Eva Pierre and RIP to my hopes of seeing Gabrielle Union make out with more women. — Natalie
---
At one point in this week's episode of The Rookie: Feds, Simone's father wakes up to find his daughter sharing coffee with Naomi. Simone introduces her dad to her friend, Naomi, and he raises a skeptical eye. He asks, "your friend or your friend friend?" Simone assures him that they're just friends and I literally scream, "NOOOOOOO!" at my television.
Admittedly, their interactions haven't been overly romantic. When they first meet for breakfast in this episode, their conversation is entirely about Simone's extra effort at work. She's been staying up late, reading old case files, in an effort to keep the "black girl magic" going. But Naomi reminds Simone that she's not a black Superhero, she's a 50 year old — 48, Simone corrects — woman who's doing too much. Simone admits that she's tired but insists she's worked too hard to take her foot off the gas now. Before Naomi can offer a rebuttal, they get pulled into a case.
But despite her assures that she's good, Simone is not: burning the candle at both ends is starting to catch up to her. On her way home after a long day of work, she narrowly avoids hitting another car when she falls asleep behind the wheel. She shares what happened with Naomi who gently scolds her for putting herself and the public at risk. Simone admits that she's worried about being seen as a liability but Naomi assures her she could never be seen that way. She encourages Simone to not just rest her body but to rest her mind. If Simone continues down this path, Naomi warns, she's going to burn herself out within six months.
Later, Naomi shows up at Simone's door again with something that she promises will relax her body and mind. For a moment I had hope — maybe these two haven't been friendzoned — but then Simone peaks into the bag and it's yarn. No, I think, we've definitely been friendzoned. She's not sure that knitting will be the thing that keeps Simone from burning out but pledges to be there to help Simone find what will.
Listen, I know…I know I'm the one who's always talking about letting queer characters exist in community…that we should have platonic gay friends. And, yes, I've said that the introduction of another queer character shouldn't automatically trigger a romantic storyline. I stand by what I've said…but for these particular characters, played by these particular queer actresses of color…nope, I'm going to need the Rookie: Feds writers to queue up a good Friends to Lovers story, ASAP.
And yes, this could be the start of a great slow burn but…1. this is a cop show so who knows what danger awaits these characters and 2. I refuse to believe that a queer woman who caught Niecy Nash's eye would want to move slow. That just doesn't make sense.
---
This week, Jesse has a new gal pal. Her name is Dana and even though they've only been dating for like a week, he requests that his friends roll out The Welcome Protocol. We learn what that is by way of a flashback to when Ellen rolled out said Protocol when she introduced Rachel to the group.
They employed Hype Men to brag about Ellen in front of Rachel, a Bathroom Bestie for a surprisingly deep conversation by the sinks, Human Fodder to bond them in group ridicule, and The Giggler to laugh at all of Ellen's jokes. It works and Rachel enjoys her time with the group. I think this is actually very sweet because usually it's Pack vs Individual, not the group trying to show the partner a good time.
When Jesse brings Dana around, everyone loves her. She has something specific in common with each of them, and they are ready to welcome her with open arms…but Jesse isn't into it. He fakes an emergency, then she has an actual emergency, and he accidentally ruins their chance at getting a new platonic addition to their group by sticking his foot in his mouth about it. This leads Ellen to scold her brother, saying, "We could have had a gay grandma-in-law, thanks for nothing." All in all very fun.
Also this is neither here nor there but Wendie Malick who is famous for a lot, including a show I remember weirdly well from my childhood Just Shoot Me, but dearest to my heart as Eda from The Owl House.
---
The Watchful Eye Episode 109: "The Serpent's Tooth"
As Elena prepares to do a little blackmail then leave the Greybourne once and for all, she goes to Matthew's apartment to say goodbye to Jasper. Much to her surprise, she opens the door to find her brother inside. Matthew seems desperate to get Elena to say.
While finalizing her plans with Roman, Elena gets a text from Alex that says it's a 911, and Elena knows Alex doesn't typically cry wolf, so if they're asking for help, they need help. And it still feels new and awesome to have a non-binary main character and have other characters casually using they/them pronouns for someone; I know it's not the first but I can't wait for it to be so common it doesn't feel so novel. Props to The Watchful Eye, though! Credit where credit is due.
Elena meets up with Alex and they tell her about James lying, which Elena files away as odd but frankly she has bigger fish to fry at the moment. So Alex goes to Ginny instead and they decide to stalk James, where they see him get a thick envelope from Otis Winthrop. Also I don't know if we knew exactly how Ginny's clients, the Chans, fit into all this, but Mrs. Chan is Otis's sister; just in case that's important later. They tell Elena this too but she is focused on what she hopes is her last act at the Greybourne.
Elena goes to Mrs. Ivy's and blackmails her with the birth certificate, asking for $5 million. Mrs. Ivy agrees, says to come back tomorrow for a check. Despite this seeming a little too easy, Elena is ready to celebrate, until she goes upstairs to her room and hears Jocelyn crying. She follows the sign and finds Mrs. Ivy in the secret room, blocking her ears, telling herself that she's imagining the sounds. But Elena hears it too, and even sees Jocelyn while she begs her not to hurt her baby. Mrs. Ivy is relieved someone finally believes her, after all these years.
Elena goes to Matthew's again, and he tells her that since her brother is in town, she can stay in his guest room while her brother stays up in her room, and of course this leads to them sleeping together again.
But then Darcy, who saw something scandalous on one of her parents' computers, calls the detective and gets Matthew arrested for Allie's murder.
Meanwhile, James calls Alex, who decides to play it cool to get more info. James "confesses" to them that he was fired months ago, and they go home with him. But while James is out of the room, Alex snoops around his room and finds a box under his bed with a phone that has Morgan on the lock screen (presumably Morgan's even though no one I know in real life has themselves alone as their own lock screen), stalkerazzi photos of Elena with Jasper, and Elena's missing phone.
The episode ends with Elena's brother reporting the events of the day back to Elena's mother, who has a mischievous grin on her face. Dun dun dunnnn.
---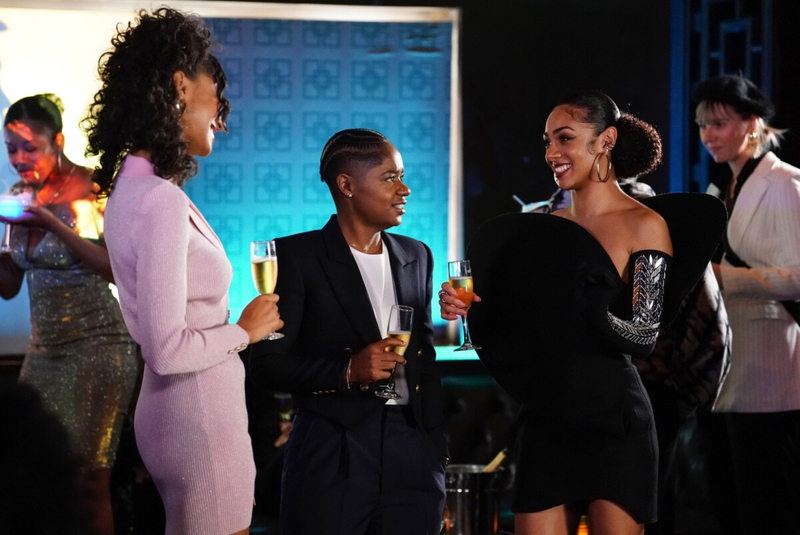 Though the death of Coach Baker still looms large on All American, everyone's trying to find a way to keep living: for Patience that means unveiling her new music video at a premiere party. But because this is Diva!Patience and not the Patience we met in All American's first season so before the party, she needs three hours of "self-charge time." Coop mocks her but Diva!Patience insists, "Charm like mine needs a relaxed headspace." Who is this person and what has All American done with the real Patience? Who is this person who's complaining about upstairs and downstairs sweatshirts like someone who's been pampered their entire life? Bring back the Patience from Crenshaw.
During her respite period, Diva!Patience heads to Slausson Cafe and runs into her #1 fan, Miko, who's become a regular at the Cafe since they shared lunch there. Miko expresses her excitement over the forthcoming video drop but mentions that online trolls are already hating on it. Diva!Patience is taken aback by the hate — the video hasn't even premiered yet — but rushes off to get her pre-party massage.
While waiting, she talks to Layla and Gia about doing something for her OG fans before tonight's video launch. Diva!Patience suggests taking a picture with the gift that her fans (read: Miko) had sent over and posting it onto the 'gram. Missing from this entire conversation is Sky, the person that Patience hired a few episodes ago to be her social media manager but, honestly, that's the least of All American's continuity issues.
Later, Gia admits that she found the gift on the doorstep to the mansion when she arrived. She assumed the gift was from their friend group but, upon confirmation from Layla, realizes that they were sent to the house my Miko. Layla looks concerned as she realizes that Patience's #1 fan — a fan that Layla set her up with, mind you — now knows where she lives.
---
Good Trouble 502: "It Was Not Your Fault But Mine"
There's a moment in this week's episode of Good Trouble…when, in the middle of an argument with her sister, Callie crosses a line. She accuses Mariana of being the reason Evan was shot. It's a low blow and she knows it right away. She apologizes and goes back to offering Mariana the unconditional love and support she needs. Mariana insists she doesn't have a choice about taking over as interim CEO at Speckulate; anything less than that and she'll be crushed under the guilt of what she caused. Then, just as the scene ends Callie wraps her sister up in a tight hug and apologizes again for what she said.
"I'm sorry," Callie whispers. "That was really mean. That was so mean, I'm sorry. It's just — you scared me"
It's such a real and intimate moment, between two sisters that we've known for almost 10 (!!) years, and it's deeply affecting to watch. The show is at its best when it allows the relationships and emotion between the characters to carry the weight of the storyline. Let them bend and break and rebuild in front of us, without the theatrics of murderous cults. It's what this show is genuinely good at and it's what the show got away from far too often in season four.
Meanwhile, Alice finds a note in the suggestion box critical of her management skills and she's convinced that Callie's behind it. Sumi is rightfully skeptical that someone would travel cross country to submit a complaint about a place where she no longer lives. She tries to talk Alice off the ledge but to no avail; instead, Alice creates and distributes a survey about life at the Coterie. That goes over about as well as you'd imagine: Alice finds the surveys later, completely unanswered. She admits to Sumi that she believes the criticism was warranted: by focusing too much on her career, she has dropped the ball. If Alice sees some truth in the critique, Sumi suggests, then she should work harder and stop obsessing about the note and who wrote it. But, of course, just when Alice stops obsessing about the note, she discovers who's behind it: Kelly (natch!) and moreover, the note wasn't about Alice, it was about Sumi's stint as manager while Alice was away. It's a light-hearted storyline that offers a little levity to an otherwise heavy episode.
Speaking of:
– Isabella absconds to her former nanny's home with her baby. Understandably frantic, Gael is forced to reach out to her narcissistic parents about where Isabella might go. They offer him no information but soon thereafter, Isabella's mother shows up at the nanny's house, full of apologies and promises. At first, I worry that Isabella's going to fall for her mother's schtick — Isabella's been waiting to hear these things for her entire life — but when her mother suggests that they'll raise Baby Lyric together, Isabella sees a future for her child that she doesn't want (when she said, "words can't undo the broken parts of me," I felt that). Isabella admits that she needs help and that she's not ready to be a mother yet…so she hands Lyric back to their father.
– Luca meets with his long lost aunt (found through a DNA registry) in order to track down his birth certificate and, finally, get an ID. But she reveals that Luca was actually born in Calgary…so, on top of everything else, he's undocumented. Mad at himself for getting his hopes up, he lies to Davia and sets out to leave the Coterie. Thankfully, Davia and Malika stop him. Malika acknowledges that this must feel like "a major setback in a string of never-ending setbacks" but encourages him to stay and fight with the help of his Coterie fam. To that end, Callie promises to connect Luca up with an immigration attorney.
– Jamie proposed to Callie…but we don't get to see her say yes and she doesn't tell her sister when given the opportunity. Are we thinking she said yes but doesn't want to tell Mariana at this moment or did Callie actually say no?