I'll Watch Anything is an Autostraddle TV Team series in which we tell you what type of movies and TV shows we'll watch, no matter what. This week, Valerie Anne is here to explain why she'll watch anything with the promise of a witchy woman.
---
I've always loved a powerful woman, and I do mean that literally. By the time I was nine, I was already fully enchanted by the concept of witches. Even though I'm sure there were books before this (I remember specifically a book that had spells written out between the chapters that I used to try to recreate, but that could have happened anywhere from six to 16 if I'm being honest), one fateful trip to Blockbuster in 1996 brought a movie into my life that would change me on a cellular level. I picked it up because it had four teenage girls in Catholic school uniforms that looked a bit like mine on the cover; I assumed it was about friendship, and I love stories about friendship. I had no idea what was in store, but approximately 1 hour and 41 minutes after I popped that VHS into the VCR, my life had been forever changed by the ladies of The Craft.
We don't need to talk about how long I spent trying to change my own hair color by sheer will, how many friends I convinced to play "light as a feather" with me at sleepovers, or how in love with Neve Campbell I was/am. We can, instead, move on to a few months later, March 17, 1997, when the third episode of Buffy the Vampire Slayer entitled "Witch" aired. By then it was official: I was a witch-aholic.
Of course, the Craft coven and Amy the Rat weren't the only witches in my life. I would watch anything witchy I could get my hands on. Everything from content aimed at kids like Hocus Pocus, Casper Meets Wendy, and Sabrina the Teenage Witch to things I was probably too young to be watching like Practical Magic. Like most kids who started reading Harry Potter before their 11th birthday, I too waited for my Hogwarts letter. (Even though if one came now, I'd tear it up.) I loved a Bewitched rerun on Nick at Nite, and would often practice wiggling my nose…just in case. It wasn't released until I was a teenager, but I was even there when Tia and Tamara turned my favorite book series into a Disney-fied version of my once-favorite book series, T*witches about, you guessed it, twin witches. And I was definitely too old to be watching Wizards of Waverly Place when it first aired, but you better believe I watched every episode.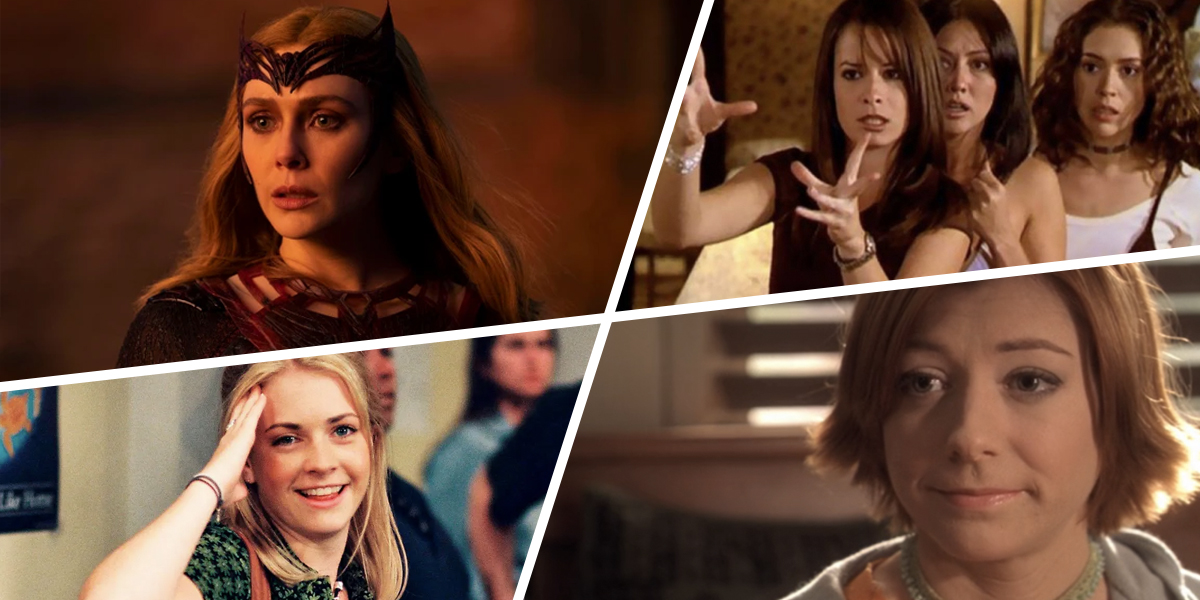 As I grew up, I also found grown-up witches to love. I started watching Charmed at that peak intro to magic, and the Halliwell sisters took me from age 11 to age 19; they were there for me during my formative years. I could escape the harsh realities of my own life and imagine a world where I could freeze the onslaught of time with the flick of my wrists. A world where I could get a little heads up before something awful was going to happen, or where I could whip up a potion and a rhyme to undo a mistake that was keeping me up at night. I watched Willow grow up on Buffy, watched her fall in love with fellow witch Tara, and saw something in them I saw in me, even though I wasn't ready to examine that yet. I revisited Practical Magic with a new appreciation. Most recently I've enjoyed such shows as Motherland: Fort Salem, which has witches for days, and a witch or three will usually show up in other sci-fi faves like Wynonna Earp; hell, even firmly sci-fi/superhero shows like Supergirl dipped their toe into fantasy by revealing that Lena Luthor is a witch.
While I did also love witches in very specifically fantasy settings like Morgana from Merlin or Regina and Zelena from Once Upon a Time, there was something about the type of magical AU that was common in the 90s and still persists today that I love. A reality that looks a lot like ours, but just with a dash of added magic. Both the original and the deliciously gay reboot of Charmed did this, so did other faves of mine like The Secret Circle (also great books), The Witches of East End, and Midnight Texas. And, as made clear by Buffy being among my first TV loves, while I love a show ABOUT witches, I'm also drawn to shows that just feature witches among other magical beings; shows like Legends of Tomorrow and the shows in the universe of Legacies and its predecessors aren't typically considered "witch shows" specifically, but with Astra on Legends and witches like Josie, Hope and Freya in the TVD universe, there were plenty of magical women to be awed by. (Even when they weren't treated as well as they should have been. *cough* Justice for Bonnie Bennett *cough*) And I don't draw a hard line around my definition of "witch" – any woman doing magic works for me, including but not limited to druids like Keyleth from The Legend of Vox Machina. (well, from Critical Role, but you know what I mean.)
I even love when the concept of "our world, but magical" and high fantasy are blended. The Magicians (both the book series and the TV show) is the best of both worlds; set in a world that looks like ours but with a secret magical underground, AND set in a high-fantasy nonsense realm, depending on the day. And I'm sure you can tell from the examples I've listed so far, but I love witches in every genre, from the silly good times of Once Upon a Time to the dark and spooky vibes of American Horror Story: Coven. And of course, every once in a while, on very rare occasions, my penchant for watching things "because witches" bites me in the ass; not even the amazing cast of Mayfair Witches could make that show appeal to me, despite trying really hard for half a season.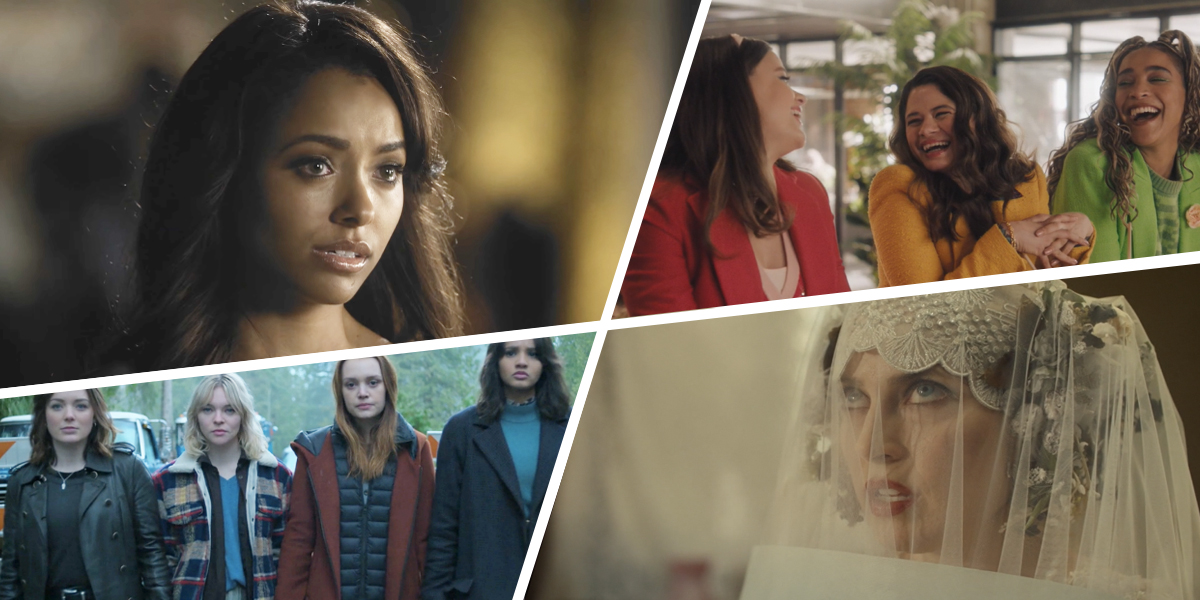 I've always loved all types of sci-fi and fantasy – women with swords are extremely my jam – but there was something different about witches, especially the way they were often portrayed in the 90s and early aughts. The kind of badass woman who can wield a sword is someone I'd love to be around (and of course, now that I'm older I know, is someone I want to be WITH) but a witch? Witches tended to look more like me, especially in stories where a woman (or girl) found out she was a witch for the first time. I couldn't imagine a world in which I would be strong enough to wield a sword and slay a dragon…but I could be a witch.
Some reasons I love witches are obvious; for one: magic is fucking awesome. Who wouldn't want to be able to wiggle their nose and refill their glass of water, whisper a few words and be instantly halfway across the country, wave a wand and make a door and find your missing keys.
But if I'm going to psychoanalyze myself for a minute, I think what draws me to witchy women is the idea of having something inside you that sometimes feels dangerous but sometimes feels powerful. A secret some people have to hide because they will be misunderstood. It's something my little closeted self saw herself in before ever realizing exactly why. And besides, when you're a bit of an outcast, or an awkward, weird kid like I was, it makes a lot of sense to be drawn to someone with magical powers in a world where not everyone has them. Who doesn't want to feel special?
It's also fascinating to see what different characters with different personalities will do with power. Whether the world has rules (like no magic for personal gain…magic comes with a price, after all) or whether the witches are making their own rules, it's endlessly interesting to me to think about who would walk that line, who would be tempted by darkness, who would use their powers selflessly, who would embrace a public image while helping people, who would stick to the shadows, who would take things too far, and what might push them to it. There's a reason the Scarlet Witch is the most powerful avenger, and why Wandavision was my favorite MCU show.
I think also it's the idea of having more control. In this country, society wasn't built for women. In fact, it was built pretty specifically to keep women down, and that goes double for queer women. (And quadruple for queer women of color.) So the idea of women with magic helping level the playing field, help them take down men or systems or barriers that are trying to stop them from achieving their goals and dreams. There's something about a team of witches holding hands and chanting their way through a problem, or a woman whose eyes glow and their feet rise off the floor as they channel their deepest depths to find the strength and power to overcome.
In the world of witchcraft, anything is possible. And I truly believe that queerness is magic, and that whether you literally do spells or just metaphorically make magic, we're all a little witchy in our own way.