Allison Weiss is releasing her new album Say What You Mean from No Sleep Records tomorrow! If you've been following Weiss on the internets, you've probably heard quite a few featured tracks from this record already, most notably "Making It Up" which we've already agreed is amazing.
When I first listened to this album, I was convinced that "Making It Up" was the star track. I get "Making It Up" stuck in my head all of the time and I don't even mind. This is such an honest song that perfectly captures that betrayed feeling after someone breaks your heart. But really, all of the songs here evoke that feeling. Have you just had your heart broken? Say What You Mean is going to become your soundtrack. Are you madly in love? Well, I'm pretty sure you're still going to be reliving the pain of past heartbreaks listening to this album. The album is distinctly personal, like a journal of raw feelings. With every song, I just kept thinking, "Wow, someone really hurt Allison Weiss." Weiss' spot on songwriting ensures you'll connect with every feeling, good or bad.
There's nothing self-indulgent about this album, even with all of the break up songs. The trick to this is in Weiss' ability to have the fucking saddest possible lyrics with the catchiest melodies. Say What You Mean has so many sad, upbeat songs, which are the best kind of sad songs.
I think "Say What You Mean" might be my favorite song on the entire album, and I love it as a title track. It builds naturally with a crazy catchy chorus that will stay in your head forever. The line "Too young to give a fuck and too old not to care" really struck me as ingenius, in that clever Weiss way.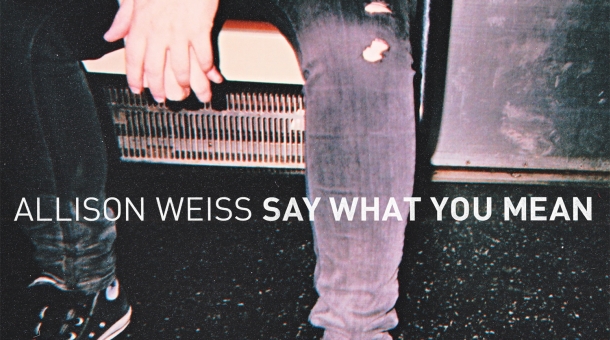 Listening to songs like "How To Be Alone" and "Nothing Left" may have the most depressing lyrics, but these are the songs you want to blast while dancing around your living room. The album is a wonderful juxtaposition of heartache and pure bliss. Are you more likely to dance out your feelings than cry into your pillow at night? Say What You Mean would be perfect for it.
I'm not so sure about the new version of "I Was An Island". I have had so many feelings to the past version, and I felt really connected the lo-fi honesty of the "I Was An Island" from …Was Right All Along, and now the song kind of seems overdone. The heavy guitar is so distracting. Some other songs could be a little less overproduced than they are, mostly due to the subject matter, but these minor faults don't ruin the album as a whole.
The album may overwhelmingly be upbeat and catchy, but the few acoustic songs go a long way with their tenderness. "Wait For Me" and "I'll Be Okay" are quiet, beautiful songs that also feature strings. This is my favorite kind of Allison Weiss song, pared down to just her her sweet voice and a touch of endearing innocence. This combination and strings? That's all I ask for. After the emotional turmoil of the rest of the album, "I'll Be Okay" is an especially great closer. The ballad is stunningly vulnerable and the end of the song is haunting with ambient noises. It's a really quiet, thoughtful end to the album, which is a short and sweet 35 minutes long. Maybe we'll be okay, too, after experiencing all of that intense emotional distress.
At times, Allison Weiss' distinct voice kind of makes me think she's a lot younger than she is, and that she could be my little sister performing at a local Battle of the Bands. There's an adorable familiarity factor going on here. Long-time fans of Weiss will definitely see that she has matured a lot, especially from …Was Right All Along or even Teenage Years, but it feels like such a natural progression, instead of some completely different sound (oh hey, what's up Tegan and Sara?).
You need this album. Go buy Say What You Mean starting Tuesday, April 16th and make sure to catch Allison Weiss when she tours with the Warped Tour this summer.