Happy Heartthrob release day! If you didn't already bounce out of bed at a should-be-illegal hour to download the album, you can do that now via iTunes and Amazon.com. Unless you live in Australia or Europe, in which case you need to wait until Feb 8 and 11 respectively. Sorry. In the meantime you could listen to the live stream or check out this Heartthrob highlights video.
Tegan & Sara releasing a new album is one of the biggest events on our music calendar and so to celebrate, Hansen and I couldn't resist sharing all of our feelings track-by-track. First, here are some things being said about Heartthrob by other people on the internet:
"I want to rub my face on it like a cat" – contributing editor Gabrielle 

"!!!!!!!!!!!!!" – musician Allison Weiss

"I feel like I'm 5 years old in the 90's, being forced to listen to my mom's outdated 80's music while she did aerobics. This isn't necessarily a bad thing." – Autostraddle commenter Dubs

"It's going to be the lesbian equivalent of how the folk scene reacted when Bob Dylan went electric" – contributing music writer Elaine

"Finally T&S are catering to me and my low-brow pop taste" – design director Alex
So what do you think? Love it? Hate it? Need to hear it another 418 times before committing to a verdict? This is a safe space for you to process your every single Heartthrob-related thought and feeling.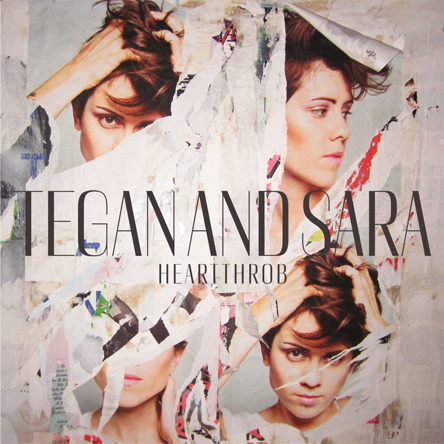 Tegan & Sara's Heartthrob: Track-by-Track
Hansen: I was really obsessed with this song from the moment I heard it. I have since spent many a day and night dancing around my apartment while listening to "Closer" and I haven't gotten tired of it yet. It just encompasses all of the fun, giddy feelings of liking someone and evokes that through catchy melodies and dance beats. I really can't say enough good things about it. What a perfect first single. It also works so well as the first song because it's decisive–if you like this song, you're going to like the album.
Crystal: Love the hook, the soaring synths, all of it. I think releasing it first was a really brave choice. A safer option might've been to lead with "I'm Not Your Hero", as it straddles indie/pop more than electro-pop and could've appeared on Sainthood. It might've provided a more gentle transition for those few folk fans who responded to "Closer" by denouncing the band on tumblr and setting fire to their autographed ink blots. I'm glad that they didn't play safe, though. This is pop at full throttle and they're owning it. This entire album was a really brave choice.
Hansen: Yes, this. They're definitely owning it. I think they came out really strong with this single and it was a good choice. I thought Sainthood was a great album, but it didn't do well sales-wise, so maybe that's why they went with something so vastly different? It seems like they made such a conscious effort to evolve their sound and showcase that with "Closer."
Crystal: Sainthood is my favourite Tegan and Sara record. That it didn't sell very well is really upsetting news.
Hansen: Man, the keyboards in this are just reeeeeally pushing that 80s agenda Heartthrob has. I still liked this one right off the bat for the sole reason of listening to it once and four hours later being able to sing the chorus in the shower. This is the song I'd play in the car while driving away from the house of a girl I just broke up with. It captures that "I totally did the right thing breaking that off! Best idea ever!" feeling that comes before you find yourself crying into your pillow. "Goodbye, Goodbye" is that personal high five you need after a break-up.
Crystal: The intro reminds me of messing around with Casio keyboards in high school music class and I haven't yet decided if that's a good thing.
Crystal: If I listened to this song blind then I'm not certain that I'd be able to pick that it was made by Tegan and Sara, at least not until the bridge. I'm not crazy about it. I prefer my pop to be a little gritty and this is just so smooth and velvety, it doesn't feel real. What I do really enjoy is how they've revived the word 'fool'. It's "on theme".
Hansen: I definitely agree with how smooth and velvety this song is, but I like that. Tegan and Sara used to have such growly little voices back in albums like Under Feet Like Ours and I think they've just started owning their natural voices. I loved this song from the first five seconds and never looked back, but I hate the message of this song. There, I said it. The melody and song itself are just… everything… I want in a break-up song. Why is the really slow and kind of melancholy song about being in love? Get your signals straight.
Crystal: The first time I heard "Not Your Hero" I complained that it wasn't as hooky and soaring as "Closer". Now that I've heard it a further 4,572 times, I've decided that this is actually everything that I could ever want and need from a Tegan and Sara song: a catchy riff, weighty lyrics, a stand-out bridge. It's brilliant. It's exactly what I'd hoped for when I heard that Heartthrob was gonna go the way of full-on pop.
Hansen: Yep, "I'm Not Your Hero" is exactly what you could want and need in a Tegan and Sara song. It seems like a really different sound for them and I like that. I really wasn't into it when it first came out, but after reading the lyrics about fifty times, I can appreciate that the message of the song is meaningful and the music is a little more subdued than the rest of the songs on the album.
Crystal: "I'm not your hero but that doesn't mean I'm not brave" is my favorite line from this album, very closely followed by "standing in the shadow of a damaged heart." If I was going to tattoo any Heartthrob lyrics onto my body then it'd definitely be these ones.
Crystal: This song reminds me of the classic 80s synth-pop hit, "Heaven Is A Place On Earth" by Belinda Carlisle, which is a very good song. I really love the driving keyboard riff, it's rad.
Hansen: I think this was the first thought you wrote about this album and I can't even think of anything but Belinda Carlisle now. Still, I really, really love this song. I want to listen to this song in the summer, late at night. That's exactly how you should listen to this song. I still can't sort out if this song is a love song or not? Is this song reminiscing a great almost-relationship, because that's all I can figure out.
Crystal: My #1 feeling about this song is the sadface emoticon. My #2 feeling is that it's my favorite song on Heartthrob. I think it has a lot to do with the bridge, which is killer; I dig it almost as much as the bridge of "The Cure". Lyrically it's a good soundtrack for my abandonment issues.
Hansen: This song took a lot of listens to grow on me. At first it hurt my ears because it was whiny, but now I think I like that it's whiny. I love the simple lyrics, mostly because they're verbatim what I've thought during a heartbreak.The keyboards feel really natural in this song, where in other songs I found them to be a little jarring. They work in this one, though. The drum machine on the other hand, what the fuck is going on there?
Hansen: This is hands down my favorite track on the album. How did they manage to perfect that depressing-as-hell-but-still-so-catchy vibe with Heartthrob and especially this song? It makes me want to sob but also shimmy. That's kind of weird, but I'm going with it.
Crystal: Yes! "I want to cry and dance" is a note that I scrawled at least a half-dozen times while listening to this album. It's such a bizarre feeling, to be jamming out to a catchy pop tune and then to suddenly remember or become aware that it has a super depressing narrative. I feel conflicted re whether to let myself keep bopping away or try to fight it. Also, the intro could be mistaken for a Katy Perry song. (I mean that as a compliment).
Hansen: I read that Tegan and/or Sara were listening to a lot of pop while writing this album, so that Katy Perry reference makes total sense. I would like to just title this entire review: "I want to cry and dance" or "soaring synths."
Crystal: <3 soaring synths. In moderation.
Hansen: I like the "in moderation" addendum there. I feel like someone gifted Tegan or Sara with a synthesizer for Christmas and they just couldn't wait to try it out on like. every. song. ever.
Crystal: "There is nothing love can't do" is a lyric that I'd expect to hear on the next Hilary Duff record, not on any Tegan and Sara record ever. Their lyrics usually, and so brilliantly, evoke the feelings of heartburst and heartbreak from our own experiences, and that doesn't happen here at all. They're so generic. I was really quite disappointed until I read this interview where Tegan admits to having listened to a lot of songs that all express the exact same sentiments about love and she was making fun of that a little. I guess I can deal with below par lyrics if they're intentional and/or come with an explanation.
Hansen: The lyrics are killing me on this one. I really, really hope that they meant them ironically, but I just… my eye is twitching. I checked iTunes twice to see if Taylor Swift popped up on shuffle accidentally. "Love They Say" seems really out of place and anti-climactic on this album.
Crystal: Well it wasn't written for this album, apparently.
Hansen: That makes sense. They should have left it off completely. Is that too harsh? Am I being too mean about this song? Because I just can't stand it.
Crystal: No. I think it needed to be said.
Hansen: I would have really liked this song to be a bonus track on the album instead.
Crystal: Everyone I've discussed Heartthrob with so far have named this song as their favorite, it's seems to be the fan favorite. I'm not so into it. For me it's same issue as with "I Was A Fool," it sounds too glossy. What I do enjoy is how it refers to a relationship between two females; it's nice to see that songs weren't made gender neutral in that bid for mainstream pop success.
Hansen: I am so meh about this song. I want to really like this song, because I like it musically, but the lyrics aren't working. The "Go!" ("Please stay!") part makes me roll my eyes. It reminds me of being eighteen and in a fight with my girlfriend and telling her I want to break up but only because I'm hoping she'll make some grand gesture to win me back. That's exhausting. I'm glad I grew out of that. I want Tegan and Sara to grow out of that, too. But maybe that's what they are going for? "Closer" has that young love vibe to it as well, but it works so much better for that song than "Now I'm All Messed Up."
Crystal: I think if this song was released fifteen years ago then it would've been a shoo-in for the Romy and Michele's High School Reunion soundtrack. It's how I feel about a lot of these songs, actually.
Hansen: This is my first thought:  :/  My second thought is that this could/should be a cover of a New Kids On The Block song.
Crystal: What if they released an album of slightly revised NKOTB cover songs. Just get on the floor and do the Tegan and Sara dance. I would die.
Hansen: This is my new dream. Maybe this song is just a demo for that album.
"Guilty As Charged" (Bonus Track)
Hansen: I am really into "Guilty As Charged" because I am a huge sucker for unrequited love and secret crush songs. Does anything make better/sweeter/creepier songs? Certain lyrics are killing me in a bad way, like, "I am yours, but you can't be mine. I am sure you'll always be mine." What does that even mean?! And on a pedantic note, "Alone by myself," seriously? These qualms aside, I do really like this one because it makes me feel giddy.
Crystal: "Alone by myself" made me laugh, it really sticks out. This is going to sound really strange, but, obviously at some stage in the album making process, someone, or likely several someones, would've pointed out the redundant words and the fact that Tegan and Sara made the conscious decision to leave them sitting there anyway is pretty badass. In certain moments on this album it feels like they've run completely out of fucks re: what listeners think of the lyrics.
Hansen: I think that completely makes sense. Zero fucks. I think that this album could have used tighter editing as a whole, as in Tegan and Sara were allowed to run loose when they could have benefited from being reigned in a bit.
Hansen: Way to end on the saddest note possible, T&S.
Crystal: I don't have any feelings about this song whatsoever. I feel like I should, because the song is really depressing and I am not usually such a robot. I feel nothing.
Hansen: I am also a cold-hearted robot about this song. I'm going to give them a pass on this one because it's a bonus track and I'm going to pretend it's not really on the album.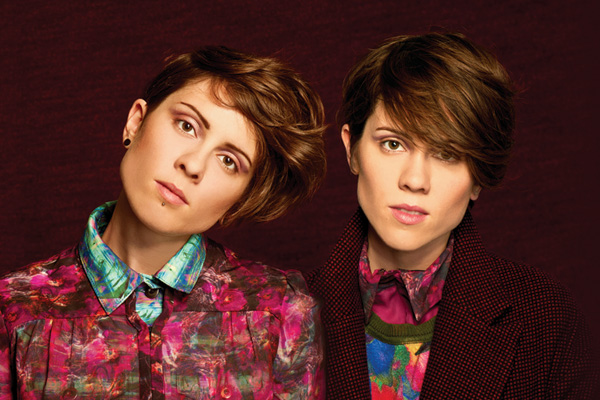 Final Thoughts
Hansen: I do believe that the intention with making Heartthrob was to make a fun, dance, electro-pop album. They definitely achieved this. Heartthrob is not the soul-searching and agony of The Con, as I have heard so many dissatisfied people say, but the comparison is irrelevant because Heartthrob was never meant to be The Con. Am I going to spend nights crying myself to sleep over how this album just gets me? No, but I will appreciate Heartthrob for what it is: a great album to listen to while dancing, driving, being with friends, and working out.
Overall, I feel that Heartthrob is really conflicting and divisive. When I love a song on Heartthrob, I really love it and think it's the best stuff Tegan and Sara have put out yet. Other songs fall so short of my expectations that I am severely disappointed. If you were a fan of Sainthood and So Jealous, I think you're going to enjoy this album. Sainthood was the perfect ambassador album from The Con to Heartthrob, so the evolution seems as natural as an indie-rock duo making electro-pop can be. There are some really great songs on Heartthrob, and I do believe that they are brilliant enough to carry the album on their own.
Crystal: I would've bought this album purely for "Closer," "I'm Not Your Hero" and "How Come You Don't Want Me." Those songs are just so solid, I'd recommend Heartthrob for those alone.
After falling head-over-heels with the pop sounds on Sainthood and then again with "Closer," I was really amped to see what Next Level Tegan & Sara Pop would be like. I have mixed feelings. Heartthrob sounds like an indie-pop band's attempt at creating an electro-pop album. It sounds like a whole lot of synths and ambition. It doesn't feel as organic and cohesive as any of Tegan and Sara's previous records and less priority seems to have been given to storytelling (or maybe the stories are just less obvious because they're wrapped up in such an upbeat package).
On the upside, Heartthrob is fun and catchy and different to all the other pop blasting through my radio right now. With mainstream success as the ultimate goal, I would've expected Tegan and Sara to rein in the creativity and e-experimentation a little, and I love that they didn't. Heartthrob is not a safe record, there's nothing pedestrian about it. Tegan and Sara wrote the pop music that they wanted to write and risked alienating some of their indie-loving fans in the process, and I admire that daring.