Welcome to the Yellowjackets 206 recap, where we will be talking about "Qui," written by Karen Joseph Adcock & Ameni Rozsa and directed by Liz Garbus. First, I wanted to acknowledge the ongoing Writers Guild of America strike. Yellowjackets' Ashley Lyle tweeted that the writers room had exactly one day of working on season three before the strike began. You can read more about how to support TV writers, who are standing up to corporate greed and merely asking for a fair contract. This television recapper stands with the WGA and unions. The television landscape no doubt will be feeling the ripple effects of this strike — and soon. It's important to stay up to date and listen to union members as things unfold. It goes without saying that without the hard work, passion, and brilliance of television writers, these recaps would not exist. People make good TV — not A.I. And now, on with your regularly scheduled Yellowjackets 206 recap.
---
We've already seen a standout Melanie Lynskey episode this season, and now it's Sophie Nélisse's turn.
"Qui" opens with a flashback. The Yellowjackets are just regular high school students again. They're in their sex ed class, taught by none other than Coach Ben. They're watching a video on birth and contending with regular teenage shenanigans. Randy Walsh says the condoms they've been given aren't big enough for him, and Van tells him he might need to see a doctor. Jeff passes a letter to Shauna complimenting her on their "tutoring session," no doubt a euphemism for sex. Shauna, in order to curb the whispers about why Jeff would pass a note to her, marches past his desk and says, "Poppies, Jeff. Jackie likes poppies." Much to Ben's frustration, none of the students are paying any attention at all to the video he's required to show them. Except for one. Resident freak Misty Quigley. She raises her hand to ask a very important question: How much blood is there on average?
Cut to: Shauna screaming in the cabin as she's about to give birth surrounded by a bunch of teens who don't know what the fuck they're doing. Misty is about to witness firsthand just how bloody birth can be. The thing is: Even if everyone had been paying rapt attention to the sex ed video, they wouldn't be prepared for this. Public school sex education covers the bare minimum — or sometimes even less — when it comes to sex, bodies, pregnancy, birth, etc., and is more often used as a scare tactic to manipulate teens into celibacy than as an actual tool for education. A couple years before this scene takes place, President Clinton would have signed the Welfare Reform Act, which provided $50 million in funding for abstinence only sex education programs. (And even though Obama defunded abstinence-only programs, sex ed today doesn't look that much better than the 90s. I went to public high school and was never taught any sex education.) That's just some fun historical context for you, but of course, nothing could have really prepared these teens for what they're about to do.
The girls circle Shauna, mass confusion setting in. They all grasp at random knowledge they have, perhaps from movies, from family members, from distant memories. Nat wonders if they should be timing the contractions. Akilah says it's too late for that, because Shauna is in labor labor which, she notes, her sister was in for a day and a half, which perhaps she shouldn't have said in earshot of Shauna, who immediately freaks out, insisting she can't take this pain for a day and a half. Tai is by her side, telling her she can fucking do anything.
"Wilderness, I hope Shauna doesn't die!" Mari exclaims, and her frantic delivery as well as Tai's "why the fuck would you say die" response makes for a humorous, if fucked-up, moment, because yeah, no one knows what the fuck is happening, and Mari shouldn't have said that, sure, but also she isn't thinking clearly; none of them are. They're trying to group-deliver a baby from a mother who has been starving for months, and they're all starving and delirious, too.
In the first half of the episode, we keep cutting away from the birthing scenes, making it so that every time we drop back into them, it feels like a blow, the body horror steadily escalating, some of the most disturbing we've seen so far in the series — even more so than the cannibalism, I'd argue, which is almost easier to get through because it's so over-the-top, but this is real, very real, very visceral and urgent violence.
But let's cut away from that for now and return to the wilderness at the end. I was tempted to break form and recap chronologically this week, because I think this episode is masterful with its pacing and structure, its stitching of the past and the present particularly effective, even though those past scenes are almost like a bottle episode, urgent and contained and only really contending with one plotline, the birth of Shauna's wilderness baby. But in recap form, it's harder to move between the two timelines without somehow downplaying the potency of Shauna's brutal labor and its aftermath. So, let's cut away, and then once we're back in it, we're going to stay there.
Misty reluctantly gives up her belongings as she joins Lottie's wellness community, which she immediately clocks as a cult. "I thought you'd be more excited to see me," Misty says when Lottie encounters her and looks distraught. Misty accuses Lottie of brainwashing and is desperate to find Nat, who is busy distracting herself with target practice using the gun seen in Lottie's office in a previous episode. Lisa approaches her, and Nat says:
"You should get the hell away from me. I'm poison. I ruin people. I killed my best friend, the only person I loved, the only person who knew me. This whole time, I was saying it was Lottie and it was my fault because I made him believe. I told him—"
Lisa insists it isn't Nat's fault. "It was something that was already in him," she says, and Nat replies:
"Well, that something that was in him is in me. We saw so much, we did so much fucked up shit out there, and yeah, maybe it was to survive. Maybe. But I don't think we deserved to."
Something that's really emphasized in this episode (which has multiple banger monologues like this Nat one) is that even though the Yellowjackets technically have shared trauma, the symptoms of that trauma and the coping mechanisms they latch onto — which are sometimes interchangeable — diverge. And their trauma responses are all being reactivated by events in the present that are bringing them back to the past. What Nat feels most acutely is survivor's guilt. She quite literally doesn't think they deserved to live because of the choices they made in order to do so. Her survivor's guilt has likely been reactivated by Travis' death. She and Travis were both addicts, but he died, and she's still here, blaming herself for making him believe in something she isn't really sure she believes in herself.
Later in the episode, we get a closer look at Lottie's relationship to the past and their trauma. She's talking to her psychiatrist again, and the way this scene is shot in particular — from behind the psychiatrist's head so that we don't see her clearly, the camera focused intently on Lottie — seems to support my fiancé Kristen's theory that she does not exist and is only in Lottie's head. Lottie says she feels like things are pointing her toward back then, and of course they are. Lottie's visions supposedly didn't start up again until she reconnected with Travis and then with Nat. The strings pulling her toward her past are the people who were there. "Her psychiatrist" asks if her fear of the past is actually a fear of her illness. "I'm not worried that I'm ill," Lottie says. "I'm worried that I've never been ill." She goes on to say:
"The power of that place, the god of that place. We did terrible things in its name, and I thought that when we were rescued that we left it there, but now I realize we brought it back with us."
Lottie and Nat have both been obsessing about this idea of a haunting, this idea that whatever possessed them in the wilderness to do awful things has stayed in them. The haunting sounds like a combination of guilt, trauma, confusion, dissociation, paranoia. It sounds like a scar that has never quite healed. And I think the longer the more the Yellowjackets interact with each other, the more their old wounds will reopen. I've written before in these recaps about the difference between healing and comfort and the dangers of confusing the two. Sure, there's a certain power in their ability to relate to each other; no one else can understand what they've been through. But the closer they get to each other again, the more the past resurfaces. Nat has settled in on Lottie's compound, but is it really healing her? The only person who seems to be offering her any kind of genuine growth is Lisa, not Lottie. Maybe what the Yellowjackets need isn't each other at all.
Lottie's monologue in particular reminds me of what some folks feel after leaving a religion. To admit you no longer believe in a higher power is to possibly admit that the things you did in that power's name had so real meaning, no real purpose. Here is where Lottie's guilt is centered. She knows she had others following her. I think her role as a cult leader is more psychologically complex than meets the eye; I think she genuinely is trying to undo some of her past harm by helping others heal. Really, I think she might have a strange case of religious trauma, instilled not by an actual church but by a belief system of her own making in the wilderness.
There's an interesting subversion when it comes to mental health and horror that's happening here. A lot of times in psychological horror stories, characters will spend a lot of time trying to convince others around them that they aren't "crazy." Mental illness is treated as evil in a lot of horror. Lottie doesn't want to be "proved" that she wasn't "crazy." She wants to know her actions and beliefs were a product of her mental illness, because at least then she can understand better and seek solutions. If she was never ill, and if her visions were a divine intervention, that doesn't liberate her. It makes her stuck, a pawn. Doomed to repeat the horrific past. Lottie and Nat both feel doomed, and they're both grappling with it in their own ways.
Lisa gives Nat her fish so she can take care of something innocent, saying she believes that suffering is inevitable and that only by meeting it with compassion can they begin to grow. Nat contemplates killing the fish. She takes it out of the water and lets it gasp in her palm, thinking she's doing it a favor. I wonder if she's thinking about her final words to the remains of Jackie, how she thought she was lucky for dying, how it meant she got to leave the wilderness forever. Nat and Lottie are both feeling that even if they got out of the woods, they weren't actually saved, not really. Surviving meant having to keep living with everything that happened out there, meant they were forever changed. The "it" they carry with themselves isn't a supernatural being; it's themselves. It's their past choices. She lets the fish live, gives it food flakes. Maybe she's hoping it'll forget. But it's a myth that goldfish have short memories. It'll remember, like she does.
Meanwhile, in the suburbs of New Jersey, Kevyn calls the Sadecki home and summons Shauna and Callie to the police station. Jeff is very much displeased. This was exactly what he feared; Callie is now tied up in their mess. "She's the one who decided to act out by dating a cop," Shauna says, adding that it would have been better if she'd just had sex with Saracusa so they could use that against the cops. This isn't exactly winning her a parenting medal of the year, but I'm here for it.
Later, they arrive at the station, and Saracusa takes Shauna in for questioning while Kevyn takes Callie. Saracusa tries to get a rise out of Shauna by emphasizing how much Callie dislikes her and how much Shauna did a number on her. Kevyn, meanwhile, tries to break Callie by telling her she doesn't have to be like her mother. Both men are, of course, underestimating the Sadecki women. Kevyn thinks he can call Shauna a bored housewife, a bad wife, a bad mom, but he isn't telling Shauna anything she hasn't told herself. We get another great monologue here, from Shauna:
"I never wanted to be a mom. In fact, I did not start out a bad person, but in case you haven't noticed, life doesn't tend to turn out the way you think it will. You have a kid that you don't want to save a marriage that you got into out of guilt and shame, and you just, you can't really let yourself love either of them. But of course, you do, you love them despite yourself. You're just incredibly bad at it."
Saracusa interjects to ask, because he is simpleminded, if they are talking about the affair. Shauna continues:
"Yes, of course we're talking about a goddamn affair. It's just, yeah. It's just basically what you said. I'm a bored housewife. I got into a fender bender, and I had an affair with him that made me feel young again for five fucking minutes. And now, not only is the hot part over, but I'm left sitting here having to defend myself to some smug little douche who my daughter hit on because she was mad at me for cheating on her poor innocent dad, so if that's what you're playing gotchya over, arrest me already, but leave my daughter out of it."
That really is how things started between Shauna and Adam. It was as simple as an affair. She liked reclaiming her youth with him, getting drunk in trucks and living out the kind of reckless teenagehood she was robbed of. It wasn't until Callie made her feel paranoid by asking why Adam didn't have a digital footprint that things shifted for Shauna. There was no conspiracy with Adam, until Shauna created one. That's the thing with these Yellowjackets. They'll be doing alright or at least doing well at pretending to be alright and then the smallest thing can set them off, can hurl them toward the past. It's so easy for them to revert to old patterns and to open their wounds wider instead of trying to stitch them up.
In the interrogation room down the hall, Callie looks at first like she might flip on Shauna, but of course she doesn't. I think Callie gets a thrill out of colluding with her parents, more of a thrill than her attempt at rebellion ever provided. She starts crying, and she says she feels so stupid because she was a virgin when she met Jay, and he told her he loved her. Kevyn is like no, Callie, Saracusa would have never slept with you, he knows the rules. He says if she's making false statements to the police then she can be convicted. "Then fucking accuse me," Callie says. Saracusa is an obvious creep; even the way he behaves in the interrogation with Shauna, that much is true. But here, Kevyn is also exposed, and I'm glad we aren't getting a whole good cop/bad cop thing here. Kevyn insists Saracusa "followed the rules," but he still preyed on a minor, even if they never had sex. He still bought her alcohol and led her on, and Kevyn's defense of him means Kevyn shares a similarly gross concept of ethics. I know some viewers have been frustrated by a cop plotline on this show, but I think if anything, Kevyn and Saracusa are just proof of wild ineptitude in police departments. They're far from the good guys here.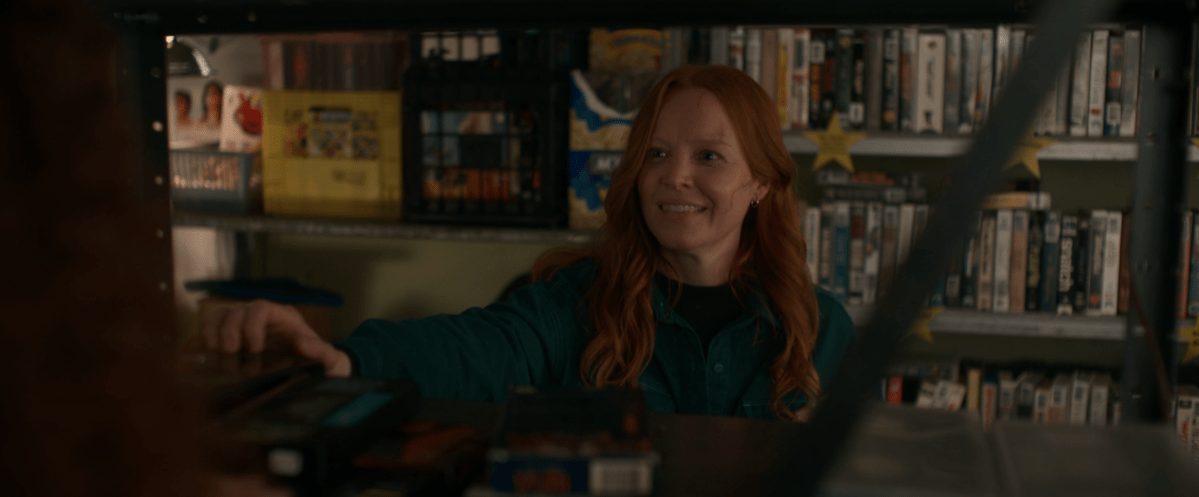 The morning after Other Tai had her little rendezvous with Van and said "we're not supposed to be here," Tai wakes up late and asks why Van didn't wake her, and Van tells her what the other one said. She also tells her she tried to kiss her. Tai wonders who the "we" is and where they're supposed to be, and Van, with lots of walls up, says maybe it's her family or her multiple personalities, but Tai wonders if she could have meant her and Van. "You're married, Taissa, there's no us anymore," Van insists.
Taissa tries to make good with Van by helping out around the shop and messes with her by asking if Miss Congeniality belongs in "Sandy Good" or "Sandy Bad." Van falls for it at first, and Taissa teases her, says she misses her lectures. Again, I keep thinking about the small reveal from last episode that Tai and Van were still together for a period of time after the woods, attending Shauna and Jeff's wedding together. What happened? Now, they have that odd dynamic of first loves, turned exes. It's like they know each other well but also not at all. It's emotional time travel. Their intimacy is a remnant of the past. Taissa tries to press Van about the overdue bills she saw in the trash, and Van snaps her walls back into place. I still think she isn't being forthcoming about her mother's death, about the pills Taissa found, about the real circumstances of her life. But if there's one thing all the Yellowjackets know how to do, it's keep secrets.
Taissa's phone rings, and it's Misty. We've watched her go through the motions of embedding herself in Lottie's cult throughout the episode, which she now describes to Tai as a "wellness center." She joined a drum/cry circle where people process their breakups, which she announces she has never experienced (probably because she has seemingly never been in a real relationship). When Misty finally encounters Nat in the cafeteria, she's thrilled, and reveals she likes it here, because knowing Lottie makes them like celebrities. Nat is less happy to see her, but this time, there's a sadness there, almost like it isn't the fact that she is annoyed by Misty's presence but rather this is a continuation of how she feels about Lisa trying to get close to her. Nat thinks she only hurts people, doesn't want them getting too close. Misty is, well, Misty, but has Nat ever had someone fight for her as hard as Misty has? I don't think she knows what to do in the face of Misty's refusal to give up on her.
"We're all like this, aren't we?" Nat asks Misty, who just looks confused. I think this further supports the theory that the Antler Queen is not one individual but all of them — perhaps with the exception of Misty. We see Misty as one of the dutiful followers of the Antler Queen in the pilot. I think everyone took turns playing some part in the Antler Queen, and they're only just now starting to grapple with the aftereffects of it, perhaps living in denial previously or even just being confused about what really happened and what didn't happen out there. Misty isn't as ravaged by guilt, but she undeniably is stuck in the past, too, projecting high school social politics onto current situations. Her love of showtunes is also a preservation of the past, a way for her to have consumed ex-bestie Crystal.
Misty convinces Taissa to come to the compound, strings pulling all the Yellowjackets back to each other. Van insists on driving Taissa, because "hitchhiking is its whole entire own horror genre," and because she's skeptical of Lottie. But she also doesn't want to actually come face to face with anyone, saying that she doesn't want to live in the past. Taissa laughs at this, pointing out the fact that every detail of Van's life makes it seem like she's living in the past. "Yeah, in a past where we actually thought being happy was possible. Not the one that happened," Van says. I'd argue this isn't exactly healthy either! It's still living in the past! And it's shellacking the past's reality rather than genuinely healing from it. All the Yellowjackets have found a way to cling to denial. Taissa asks Van about dating, and she says she's on apps for strictly casual arrangements. She doesn't believe in love anymore, but she tells Taissa not to flatter herself, that it isn't because of her. She says it's just easier this way. Again, she seems to be hiding something.
Taissa tries to call Shauna from the road, but Jeff — who is listening to "Fuck Tha Police" outside the police station — answers from the minivan and stumbles his way through an excuse as to why Shauna can't come to the phone right now. When Shauna does eventually join him in the van, he's calmly sipping on a Pepsi that he promptly spews everywhere when she tells him she told the police she was sleeping with Adam. He also sees she's still carting around the gun in the glovebox, making him spiral more. "You are out of control Shauna," he says. "Yeah, you think?!?!" Shauna responds, Melanie Lynskey's line reading perfect as ever.
Callie pops into the car all smiley, saying she used Shauna's idea and told the cops Saracusa had sex with her. Her face falls when she sees how distraught they are. "Fuck, are we going to jail?" she asks. They really are in this together, and this storyline has turned out to be a lot more interesting than your typical suburban affair storyline — not because of the murder necessarily but because of all the emotional underpinnings for Shauna, Callie, and Jeff. I keep calling their storyline "domestic chaos," and it's true. The murder pressure-cooks the situation, but really their problems are ordinary familial fare, all three of them at odds in what they want. It'd probably be easier for Shauna if she didn't love them; what's harder is admitting she's just really bad at loving them, a sentiment made even more complicated once we know her history with motherhood and the guilt and shame she likely feels about it. She never wanted to be pregnant — either time. All Jeff wants to do is shield Shauna, play it safe with her because he knows just how much she has been through. It's why he hatched a blackmail plan rather than telling her about the store's failures. Of course, that backfired and only activated her paranoia and worst tendencies. They're both complicit in the ongoing problems in their marriage. Jeff's not getting any parenting awards either; he was just as oblivious as to Callie's actual whereabouts for the past several weeks as Shauna was. In their desperate efforts for a sense of normalcy, the Sadeckis just make their shit so much messier. Characters on this show sure know how to self-sabotage.
Jeff convinces Shauna to join the others at Lottie's. He wants her away from home, away from the mess she created. He drives her there, and it's when she sees Shauna's minivan going through the gate that sometimes changes for Van, too. She decides to drive in with Taissa instead of just dropping her off. (I sort of read this as Van seeing Shauna as a potential threat in a way she doesn't see Misty and Lottie? Like maybe she thought she better be there for Taissa after all.) And then, suddenly, the surviving Yellowjackets — or at least the ones we know of — are reunited. Van, Taissa, Shauna, Lottie, Misty, Nat, all together in the same place for the first time in nearly 25 years. Van is stunned silent, clearly experiencing a range of emotions, as Lottie turns and walks toward them. An aerial shot reveals the symbol outlined on the grounds of the compound. This is all we get for now, though the episode doesn't end there. But we'll get to the final, haunting scene in a moment.
Shauna's labor — again, broken up into scenes woven together with the present timeline — is excruciating. All of Shauna's fears that have been simmering since season one have come true. Without access to medical care and without anyone in the room who actually knows what is happening to her body and what it needs, she has nothing to cling to. All she has is her pain, and every time she tries to ask a question, she's just met with a flurry of chaos or confusion. Tai tries her hardest to keep Shauna focused, to stay positive. But everyone — not just Shauna — is slick with sweat. They're practically vibrating with fear. Misty has been designated as the delivery doc, and she sits between Shauna's legs, giving herself a pep talk. When she pulls her hands out, they're covered in blood. "Something feels weird," Shauna says.
While we do see some of the blood and gore of all this, a lot of it is left off-screen, the horror captured not in the gore itself but in the looks on characters' faces as they see it themselves. I just finally watched M. Night Shyamalan's new film Knock at the Cabin, and its use of off-screen violence is expertly done, somehow even more frightening than if we were to see it head-on. I feel similarly about these birthing scenes on Yellowjackets. We see just enough of the actual body horror for it to be indelibly seared in our minds, but the real impact of the horror is in how the others view and react to it.
Misty ends up giving up on the delivery. She spirals out, having flashbacks to Crystal's death, hearing her voice, seeing herself failing to give her bestie CPR. She likes the ways the others see her as a the resident doctor, as the person in charge. She has been riding that high ever since she chopped Ben's leg off. Now, I think, she fears being exposed as a fraud.
Nat tries to tap Ben for help, but he insists he doesn't know anything. When he looks at Shauna's body, he just says "oh shit." There's so much blood, and all he does in terms of teaching sex ed is press play on a video. I feel complicated (in a good way) about Ben's role here. I think both things are true: He is failing these girls, but also, he cannot be expected to know how to deliver a baby any more than they do. But at least they're fucking trying. He gives up quickly. "Women have been having babies for thousands of years," Nat tells Shauna, clearly disappointed by Ben's lack of help. She says Akilah's got this, and Akilah's face conveys a crystal clear panicked I do?!?!??! but she soldiers on anyway. While these young girls do everything they can to try to save Shauna and the baby, Ben returns to his dissociative mental television programming, plugging his ears to drown out Shauna's screams and allowing himself to be transported to a fantasy with Paul and their couple friends. They're in the cabin, only in this fantasy space, it's a quaint little rental for two gay couples to vacation at. He's playing charades, and the shot is framed so that there are antlers behind him, and even though they look like moose antlers rather than buck ones, it's an interesting choice given how weighty antler symbolism is on this show. Although, if it's moose antlers, could this be foreshadowing that Ben's fate will be the same as the albino moose's from earlier this season?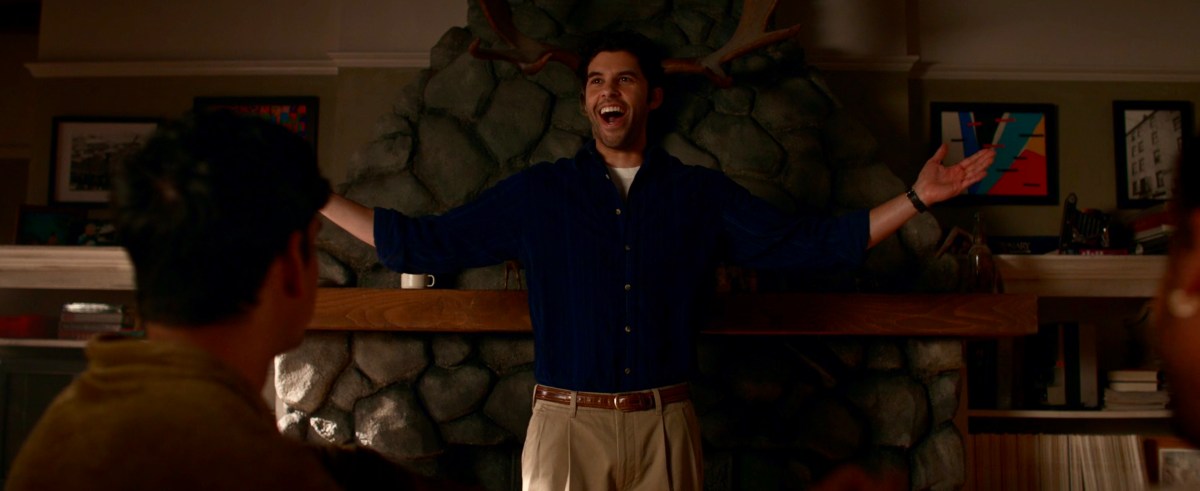 Travis and Lotties panicked attempt to help out takes the form of a sacrifice ritual. Travis places the bear skull on a makeshift altar in front of the fireplace, and Lottie says they need offerings. Travis draws blood and lets it drip on the skull. Everyone other than Tai, Nat, and Shauna start participating in whatever this is, offering blood and trinkets like buttons to the skull. "The wilderness recognizes your sacrifice, and so do I," Lottie says.
Later, Akilah thinks the head might be coming, finally. But Tai and Akilah's faces fall, again their look of terror so much more evocative than if we were seeing things from their point of view. Why is it so purple? is not really a question you want to hear when people are trying to deliver your baby. Again, Shauna's position in relation to the horror here is just so blood curdling. Because it's not just the terror of pain but also the terror of the unknown. She can't see what's happening to her. She can only see and hear how others are reacting.
It isn't the baby's head. It's the placenta. "Isn't that supposed to come after?" someone asks. Again, they know enough to know something is wrong but not enough to really explain or address it. Shauna likely has experienced placental abruption, during which the placenta detaches from the womb. This also would mean the baby hasn't been getting proper nutrients, but also, neither has Shauna. Tai and Akilah look in horror as they hold the placenta in their hands, its purple-red bulbous form like an alien to them. Violent labor and birth scenes are common in horror — as Van might say, pregnancy and birth are its own horror subgenre — and this immediately joins some of the most frightening of all time, particularly because it's so rooted in reality. This isn't a monstrous birth; it's a difficult one because the mother has received zero medical care, and because most people in the room are high school girls, throwing out random information in hopes something will stick. The violence of it is rooted in all the trauma they've already experienced, starvation and isolation rendering Shauna's experience unbearable and making it so that everyone else's fears and desperation are heightened, too.
Of course some of them turn to Lottie's rituals; they're just desperately grasping for whatever they can.
In the other room, Misty berates herself for her failure. Lottie approaches, and Misty says she had a plan with Crystal, they were going to do this together. Lottie tells her Crystal may be gone, but she's still here. "You can still save Shauna. You can save our baby," Lottie says. Shauna has been wary of Lottie's sense of ownership over the baby, and I think she's right to be. At the end of the day, she's the one doing this, surrounded by the rest of their sweating panicked faces but ultimately alone, in the dark. But I still think Lottie isn't being purposefully predatory; she's clinging to the baby as a symbol. They've been surrounded by death, and here is new life, which perhaps means life is possible here. Her pep talk works, and Misty, who always responds to the sense that she's needed, springs back into action. Dripping (there really is so much sweat in this episode!), she kneels before Shauna and tells her to push.
At some point, those who believe in the wilderness's greater power start chanting "we hear the wilderness, and it hears us." Shauna's still screaming, and the baby still hasn't come. Tai, who has been Shauna's rock all episode, makes one final plea, placing Van's bone necklace in Shauna's hand and joining the chanted prayer.
Shauna blacks out, and as she's coming to, we hear someone saying her name, and when I watched my captions-less screener, I could have sworn it was Jackie's voice, but the captions claim it's Misty. Misty says it's a boy and places the baby in her arms. This happens about halfway through the episode. In the second half, when we return to the cabin, the scenes focus on Shauna trying to get her baby to breastfeed. She's having trouble, and Nat suggests that maybe she can't produce milk because she has been starving, but Shauna is determined.
Shauna later wakes up to the sound of Lottie humming. She sees Lottie holding the baby, and Lottie says, ominously, "he needs to feed." Shauna takes her baby back. Later, she's alone, holding him, still desperately trying to feed him. Now it's Sophie Nélisse's turn to deliver an exquisite monologue:
"Look, I'm sorry I didn't think I wanted you. I guess you probably knew that. But it was all really complicated. I'll tell you all about it someday. Maybe you'll understand, maybe you won't. The point is, I, I was wrong. And I love you so, so much, and I can't wait to see who you become, where you'll go, what you'll do. But it all depends on this, on us figuring this out. It's you and me, kid. It's you and me against the whole world. So please, just please—"
The baby starts sucking, and milk comes. Nat comes in and is excited, wants to tell the others, but Shauna says she wants to have this moment to herself for now.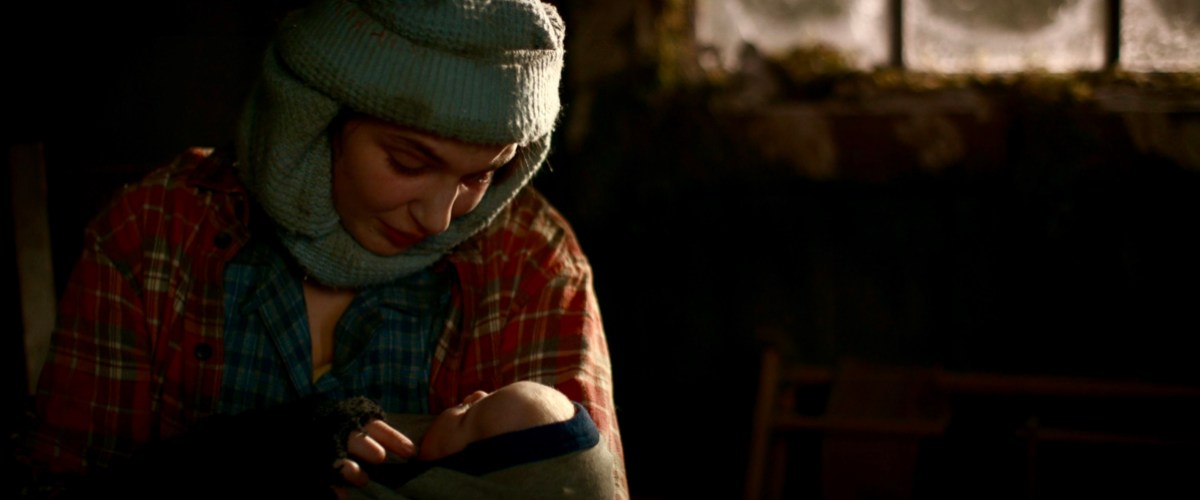 After the adult Yellowjackets reunite in the present timeline, we cut to black. Shauna wakes up in the night again, and again, there's humming in the distance. She looks next to her bed, and the baby isn't in his homemade crib. She stumbles out of bed, confused. In the main room of the cabin, she finds her teammates, their faces covered in blood, chewing and clawing away. Even Ben is participating this time.
Shauna wakes up from this nightmare, but the nightmare extends even further than baby cannibalism. Shauna wakes up, still where she went into labor, everyone circling her like they did before when she woke up to their smiles and her crying baby boy. But this time, they're not smiling. There's fear still in their eyes. "What did you do?" Shauna asks. Tai tells her she passed out and that they were worried they almost lost her. Misty says she's sorry. They hand Shauna a silent, lifeless bundle and tell her the baby didn't make it.
Shauna insists she was alive, that she held him. No one is sweaty anymore, but their faces are slicked with tears. Shauna looks at the bundle, and her face breaks open. Again, we don't have to see what she's looking at; her reaction hits way harder than if we were to slip into her point of view. But even as she's looking at what's in front of her, she can't seem to process it entirely. "I can still hear him crying," she says. She says he's hungry. "Why can't you hear him cry?" Again, we see so much in the faces of the other Yellowjackets, who don't even know how to respond to her mania.
"Why can't you hear him?" Shauna pleads, the camera trained on her, Nélisse looking straight ahead, the others out of frame, so that it almost looks like she's asking us. It's an incredible shot, the camera panning past her and then fading to black. The transitions in this episode are just so well done, the direction and editing all adding to the horror and heartbreak throughout.
Nélisse gives an emotionally complex and riveting performance, her finest to date, and one that commands so much of her physically. There are dynamics to the performance, her screams echoing as powerfully as that quiet monologue delivered to the baby before we know that what we're seeing isn't real, even if the emotions behind it are. Go back and rewatch that scene — and really, all of the Teen Shauna scenes that follow her labor — which is such a different experience when we know it's all in Shauna's head, a post-labor delirium dream. I always have to watch episodes multiple times for these recaps, and this episode in particular really rewards rewatches — not because of an abundance of hidden symbols or puzzleboxy clues but because it's so emotional dense while still being propulsive and tightly executed.
A part of me knew all along Shauna's baby's chances of survival were low, but I never could have predicted this exact way things panned out. The reveal that the scenes with the baby are all part of a nightmare sequence doesn't feel like a manipulative TV gotchya moment. Again, because all the emotions contained in it are real. They let us go even deeper into Teen Shauna's fears, anxieties, and complex feelings toward motherhood. And they add context, too, to Shauna's feelings about her family in the future, this idea that she loves them but feels like she's failing at it. Like Nat's survivor's guilt and Lottie's guilt about leading people astray with her beliefs, Shauna feels immense, lasting guilt about losing the baby, a specific kind of grief that touches so many things.
I know fan theories are fun, and I participate in them, too! But this episode really does underscore just how meaningless and trivial any theories about "who could be Shauna's wilderness baby" have been. Much like some of the Yellowjackets, I think we cling to conspiracy theories because they're easier to look at than reality. We can try to predict what happened in the wilderness and what will happen to the Yellowjackets now, but I think in truth, they don't perfectly know what happened out there. Every time they talk about it, they trip over their words. In a previous episode when talking to Callie, Shauna had to correct herself and say we instead of they. This episode, Nat corrects herself from "we saw so much" to "we did so much fucked up shit out there."
It's not as simple as them just being in denial; I think they're genuinely disconnected from the what happened in the wilderness because they've never been given space or time to properly process anything, swore themselves to secrecy so they'd never tell anyone what really happened out there, because how could they without being seen as monsters, even though all they were doing, as Natalie says, was surviving? Surviving in impossible conditions. Shauna's violent, devastating, and ultimately reality-shattering labor and birth make it clear just how fucked up it is out there for them. I know people did a lot of back and forth theorizing on whether the baby would get eaten, but again, that conversation just deflates under the weight of how things really go down, Shauna's nightmare come to life and somehow even more disturbing when it isn't even real.
---
Last Buzz:
It's mostly a military thing, but Jackie's favorite flower, the poppy, is often used as a symbol of remembrance.
I love looking for set dressing and prop details in Van's shop. She has a poster up for Scream, supporting my belief that she would enjoy that movie, per this list I put together. I also clocked posters for Friday the 13th, Airplane!, and Footloose.
The Blur song into the first scene from Shauna's labor isssss perfect.
Lots of creepy humming in this episode!
Tawny Cypress and Lauren Ambrose have really great comedic chemistry together.