Yellowjackets is on a brief hiatus and will be back next week, so because I don't have a recap to serve you today, I thought we'd try something else fun and play a game of: WHO IS THE ANTLER QUEEN?
By the end of last season, I was pretty convinced — as a lot of us were — that Lottie is the Antler Queen, but I've become less sure of this conviction as season two has unfolded. I think a lot of different arguments could be made as to the truth behind the Antler Queen veil, and I have accordingly put on my high school debate team hat to try to make several different cases at once. Please jump into the comments with any additional evidence you would like to supply for any of the below theories OR if you have a different theory altogether.
Before we jump into it, I do want to note: I indeed find it very fun to speculate, theorize, and analyze when it comes to this show, because it's one that revels in ambivalence and as a result lends itself to many different readings. However! I also don't love thinking of this show as a direct puzzle box to be solved. I don't think all of its questions are answerable. The Game of Thrones-ification of viewing television through a lens of constant fan theories can be exhausting. I think both things can be true though: We can have fun discussing all these different possibilities together, and we can also just sort of go with the flow, letting the stories unfold in a way that's complex, nuanced, and even a bit uncertain. I don't know that I ever actually want to know who the Antler Queen is, something I'll get into with the final theory presented here. Let's go!
---
Who Is the Antler Queen: A Case for Lottie
Lottie as the Antler Queen has been one of the most popular theories since the second half of Yellowjackets season one. The first visual clue that this could be the case came when a shot in the cabin framed Lottie between a set of antlers hung on the wall. Omg this show's coloring is often SO DARK, but here's a slightly brightened screenshot of that moment: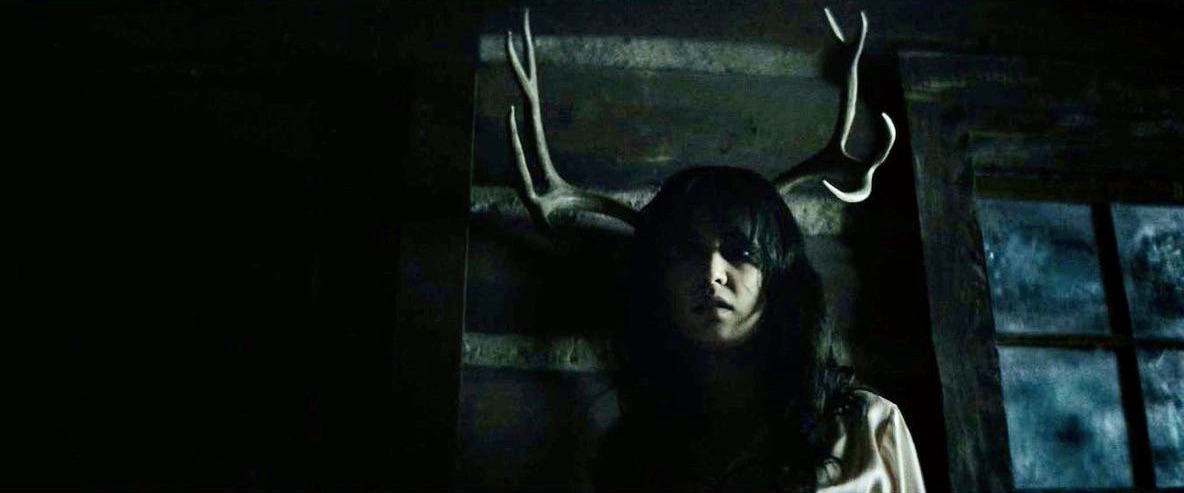 More overtly, in "Doomcoming," Lottie is seen placing a crown of antlers on her head after everyone's mushroom trip turns into a Dionysus swirl of sex, violence, and group-mania.
But beyond these visual suggestions, Lottie makes sense as a cannibal cult leader. She has a Cassandra-esque quality in the first season, foretelling certain events but doubted by the others. By the end of the season, the group has begun to divide into two camps: those who do believe Lottie has some sort of mystical connection to the wilderness and those who do not. After she singlehandedly kills a bear and then offers its heart on an altar, it seems more than plausible that we're watching the beginning of an ascension.
By the time we meet Adult Lottie in season two, the case for Lottie as Antler Queen firms up even more due to her status as the leader of an ~intentional community~ in the woods. Nat clocks her cult leader vibes right away. After Lottie gives her a tour of the compound's bee colony, she tells Nat about about how queen bees will sting all the other potential queens to death. "I can see why you like them," Nat replies. We also see Adult Lottie see her own shadow as the Antler Queen's shadow when Nat is resting her head in her lap after their EMDR session. Tellingly, Lottie also seems scared of this shadow — is she scared of herself or someone else?
Still, even though a lot of signs indicate Lottie could be the Antler Queen, the more we've gotten to know TEEN Lottie in season two, the more I have doubts. She's mostly out in the woods doing meditation circles and mindfulness exercises. She doesn't know what she's doing more than anyone else, and she also was forced to quit her anti-psychotics cold turkey, which the other Yellowjackets don't know about but which could explain some of her behaviors. Finding out Adult Lottie does not give any credence to her visions also signals a potential fracture in this theory.
---
Who Is the Antler Queen: A Case for Shauna
My Case for Shauna rests entirely on two things: her status as the distributor of food as a teen and her hunger for murder and uncertainty as an adult. Shauna holds a certain power in the wilderness because she holds the knife. Nat is the hunter, but Shauna is the butcher. She rations food for the group and has control over when and how much they eat. This does call to mind the image of the Antler Queen in the pilot gesturing to the others that it's time to feast. Shauna is also the person who gives everyone the initial permission to feast on Jackie, which also evokes the Antler Queen's little head nod gesture in the pilot. Shauna would best know how to slice and dice a human body. During "Doomcoming," she comes very, very close to slitting Travis' throat after hallucinating him as a stag.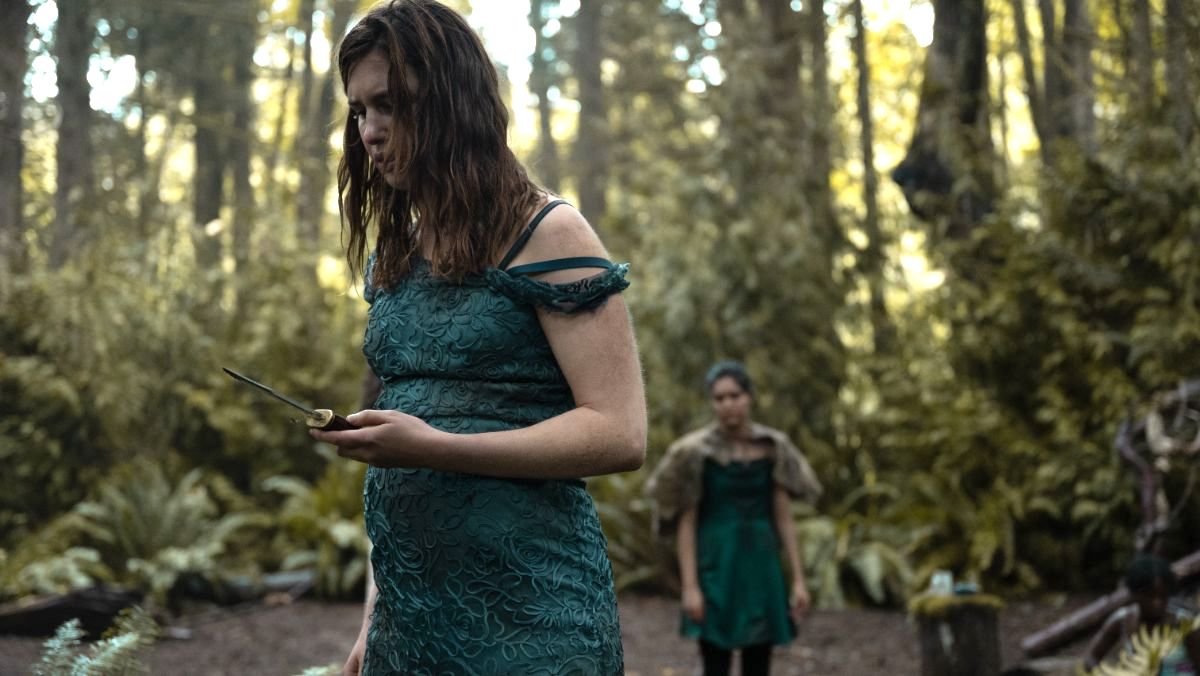 As for Adult Shauna, well, I feel compelled to just re-transcribe her entire monologue from season two's "Digestif":
Have you ever peeled the skin off a human corpse? It's not as easy as you might think. It's really, uh, stuck on us — skin. You have to roll back just the edges of it so you can get a good enough grip to really pull. Which again, isn't easy. People are always so sweaty when you kill them, just like really oily. There's a look people get when they realize they're going to die. It's that one. My hand wasn't shaking because I was afraid. It was shaking because of how badly I wanted to do this.
Um!!! Not only does she say All That, but a lot of helpful commenters on my recaps pointed out that when Shauna returns to her minivan after almost killing this man, her stomach literally rumbles. She was hungry for this, and she leaves unsatisfied.
Even more clearly than I can see Shauna as Antler Queen, I can see her as being the Antler Queen's right-hand soldier. Perhaps she was the one who takes a blade to pit girl's throat in the pilot but wasn't the one in the antler crown.
---
Who Is the Antler Queen: A Case for Other Taissa
As we know, Taissa enters a dissociative state while sleepwalking, having whole conversations with others and doing things she later has no recollection of. In season two, her sleepwalking as both a teen and an adult has gotten worse, and we see just how fractured it makes her, her own reflection sometimes turning against her. I personally think this is a symptom of unresolved trauma — perhaps even something that predates the plane crash but is then activated/heightened by it.
In any case, it's extremely plausible that Taissa would take on an Antler Queen role while in this Other Taissa state. Commenters also posited the theory that Other Taissa is the "friend" Javi references when he finally speaks to Ben after reappearing. She could have been helping him hide and encouraging him not to reveal himself as Other Taissa without Taissa fully knowing, which might also explain how Taissa was eventually able to locate him.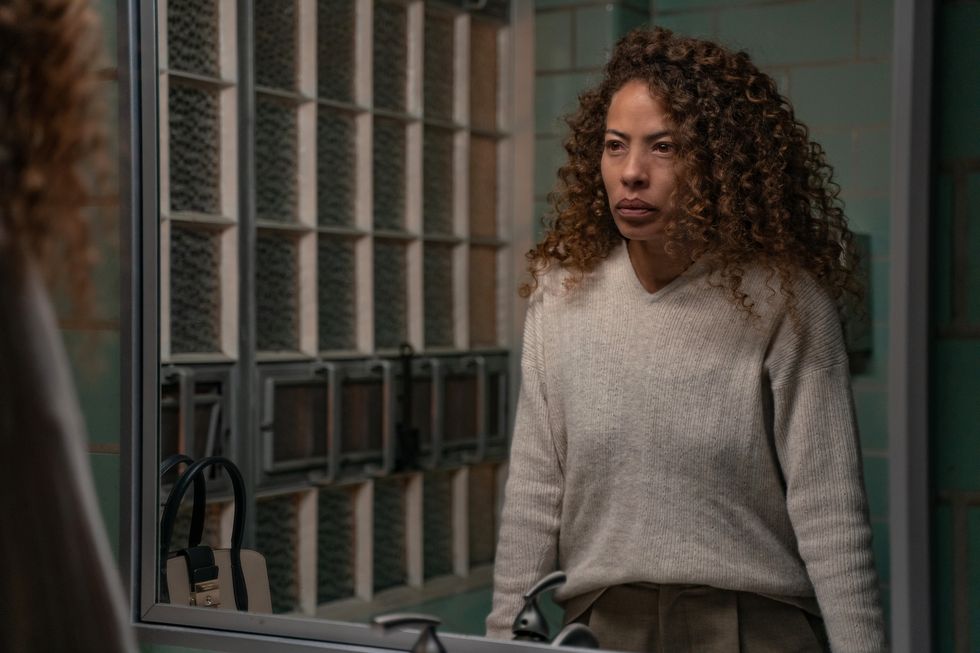 I have personally avoided using language like "evil twin" to describe Other Taissa. Even though I think Other Taissa often sabotages Taissa, I don't think it's as simple as a good vs. evil dynamic. On this note, I've increasingly come to see the Antler Queen as a much more complicated figure or symbol as the show has unraveled.
If we interpret Other Taissa as being the main force behind Taissa's decision to stay in the campaign in season one (which is likely, given the presence of the eyeless man in that press conference scene), then it's easy to draw a line between Other Taissa's hunger for power and the Antler Queen. What is the Antler Queen if not the state senator of the wilderness, hMMM???
---
Who Is the Antler Queen: A Case for Nat
This felt like my biggest stretch — until recently. Prior to recent episodes, all I really had to go off of in terms of Nat being the Antler Queen were the facts of her power status as the group's hunter, her struggle with addiction later in life would could be a psychological response and a desire to distance her present self from her past self, and something Shauna and Taissa agreed upon in season one: They say they owe Nat their lives. Is this lingering fealty?
But something about Nat's EMDR session with Lottie in "Two Truths and a Lie" signaled potential connection to the Antler Queen. Nat reveals to Lottie her memories of the last time she saw Travis. She overdosed, and while on the brink of death, she saw a vision of the plane after the crash — only no one survived. Burnt corpses line the plane, and who should enter but none other than the Antler Queen. In the flashback, as Nat is regaining consciousness but still very out of it, things go in and out of focus, and there are a couple strange flashes of images that are impossible to really register if you're watching the show in real time. In fact, it took me over five minutes to actually screenshot one of these flashes because it's so quick, but here it is:
And look, it's not like she's wearing a full on antler crown here or anything, but her pupils are completely dilated, and doesn't that netting behind her look familiar? Does it not look like the Antler Queen's drapey veil thing she wears over her face? It looks like it could be an early prototype of the Antler Queen's garb.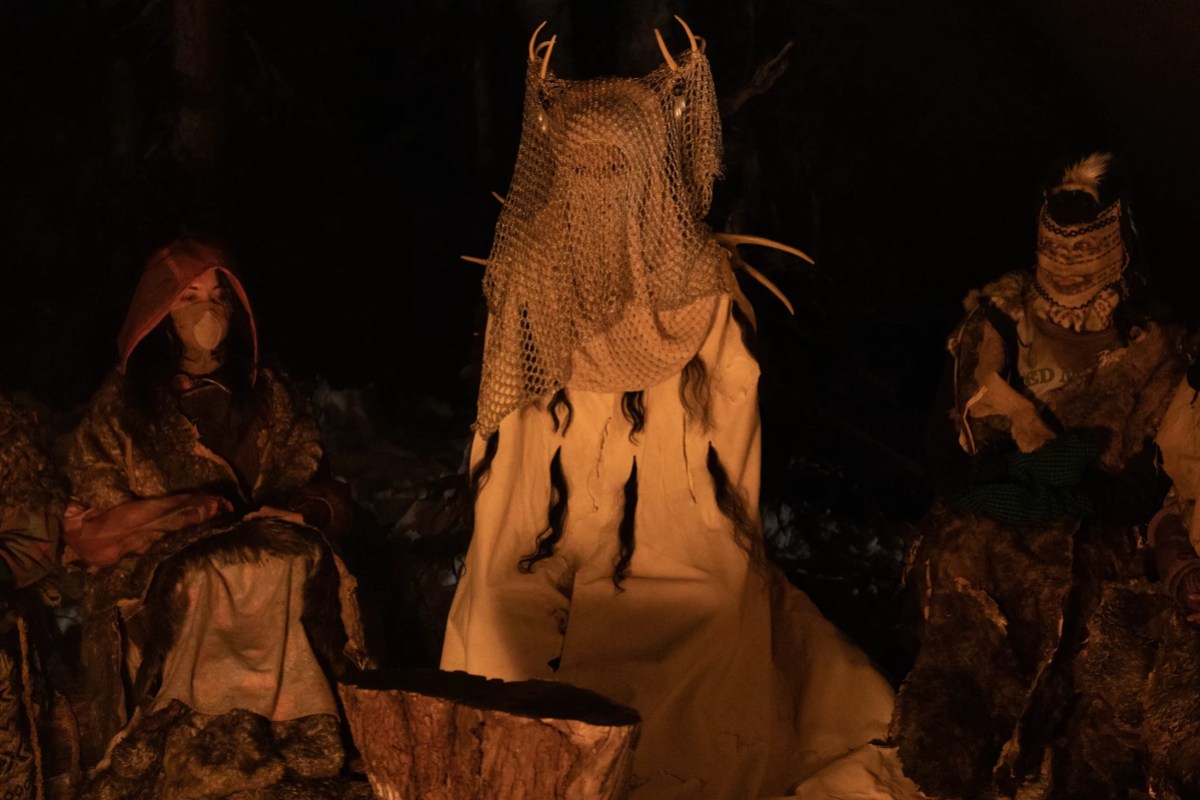 (BTW, as far as the hair woven into the Antler Queen's gown goes, I don't think that's the Antler Queen's hair but rather the hair of hunted victims.)
---
Who Is the Antler Queen: A Case for Jackie
Okay, yes, we know Jackie is DEAD dead. This theory will tie a bit into my final and favorite one, but it basically posits that the Antler Queen is a group hallucination. I became immersed in this theory after a friend texted it to me and linked the Vanity Fair article that digs into it. The piece takes us all the way back to the first episode, when Coach Martinez said to Jackie about her role as team captain: "When things get tough out there, those girls are going to need someone to guide them."
I first interpreted this as a foolish inflation of Jackie's power. Jackie always seemed more powerful in theory than in practice. Like, I'm not blaming her for her own death, but she was godawful at survival in the wilderness. But what if Coach Martinez's words were actually prescient? What if Jackie's death immortalizes her as a sort of divine and deranged compass for the Yellowjackets to follow? After her body is inadvertently cooked as a result of the girls building more of a barbecue grill than a pyre, Shauna tells the others "she wants us to," essentially giving Jackie power and authority over them even in her death. If they construct in their minds a force that is guiding them and give it shape, it allows them to cling to something in their survival — and to potentially place the blame of any questionable actions they take elsewhere. You know like, "Sorry I slit your throat; my dead best friend made me do it."
Yes, we "see" an Antler Queen in the show's pilot, but it wouldn't be the first time we see something from the characters' perspective that might not really be there.
Also, with the exception of Ben and Javi, the whole group has now consumed parts of Jackie, which means she's inside all of them, which connects this theory to this last (and imo very likely!) one…
---
Who Is the Antler Queen: A Case for EVERYONE/NO ONE
This has become hands down my favorite theory ever since season two started making me doubt all prior Antler Queen theories. Early in season two, when I realized cases could convincingly be made for multiple characters, I shifted the way I thought of the Antler Queen. It's important to remember that this "Antler Queen" term was invented by fans and not introduced textually. Giving her a name made her more real and therefore resulted in a bunch of theorizing about WHO she could be. And even though this entire piece has been an exercise in indulging that instinct, I think it's much more plausible that the Antler Queen is no one at all. She is all of them; their fears, their darkest desires, their pain, their detachment from reality when their reality becomes too terrible to bear.
While creators Ashley Lyle and Bart Nickerson have made it very clear that Yellowjackets was never meant to be an adaptation of Lord of the Flies and is intrinsically different in its approach to storytelling, there are obvious thematic parallels. In the 1954 novel, the stranded boys' paranoia and distress leads to them mentally inventing a "beast" that represents all their basest impulses. It's easy to see the Antler Queen as a similar symbol: something that exists in each of the Yellowjackets and is a result of their shared fears but also the feral states they're transitioning into the longer they're away from the form and structure of their past lives.
If any of the adult versions of the Yellowjackets were the literal Antler Queen in the wilderness, I think it would have come up — maybe not explicitly but more overtly in the ways they interact with each other now. I think someone would be blamed more for the violence in the woods. Instead, they're all aligned rather firmly together — not friends exactly but almost like a family that protects its own no matter what. They have mutually assured destruction. If the Antler Queen were a more abstract figure and more symbolic, then it's possible their memories of this presence are hazy, contradictory, confusing. They all would have their own unique relationships to "her." And it's possible a lot of the unhealthy patterns they still have as adults is a result of not wanting to look this imagined "beast" in the face, of not wanting to accept what it would mean if she never existed in the first place.
"Two Truths and a Lie" seems to have been a real turning point for this theory, if the comments on the Autostraddle recap are any indication! Between the fact that different folks are making different cases for different individual characters and the fact that a lot of commenters have latched onto this "the Antler Queen is all of them" theory, it indeed seems like the consensus is that this is not a straightforward mystery to be solved but rather a complex tapestry. If it could be any of them, then it is likely it is none of them. Because I also don't think the show is being purposefully obtuse with this ambiguity. I think the "truth" of the matter is one that's difficult and uncomfortable. The characters have a hard time seeing the truth, so we do, too. Unspooling endless Antler Queen theories is almost like a viewer coping mechanism, a way to try to make sense of some of these characters' actions and to absolve them of any potential harm they may have inflicted on each other. But this increasingly does not seem like a show all that interested in drawing lines between good and evil; in fact, it revels in ambivalence even more than Lord of the Flies does.
"Antler Queen" as a term implies an enforced hierarchy or a rule of order, but the show itself has shown that power is in constant flux. In the wilderness, the Yellowjackets have constructed a way of life that doesn't look at all like the social structures of society (if it did, Coach Ben would have more power). They're inventing their own societal structures, and the Antler Queen could be a way for them to more easily make impossible choices about who lives and who dies for the good of the group. After all, we're not out of the winter yet. They're going to need to find more food. And that might require choices none of them want to make on their own, choices more easily digested if they come from an imagined ruler.