Welcome to Queer Outfit of the Week where I scour the world and tell you all about my one favorite queer outfit this week. I'll envision a scenario where you or your girlfriend or your best friend or your mom or your cat could wear it and talk all about why it's a great outfit for that event. Every week will be a different style, gender presentation and event so there's a little something for everyone — even the person who just wants to look at pictures of stylish queers! So let's get to it — we're going to figure out what the heck we're going to wear this week!
Header by Rory Midhani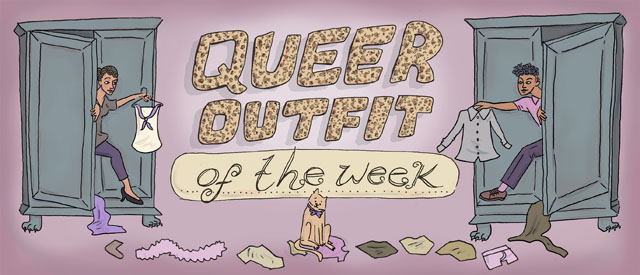 ---
The leaves are just barely starting to change, and though it's 80 degrees during the day, it's starting to get chilly at night. Your friends are all going to the local dyke bar's "Back to School" night and this seems like a good time to put on your Saturday night best and flirt with some cuties. Plus you already know all the rules of how to have fun at a girl bar. But what to wear? Something femme but not too girly, that will still let the grrls and bois know you're into them. Fortunately, I have just the look for a hard femme like you, and it's all about (faux) leather shorts.
Leather shorts have been on my radar for some time, but have blown into full force for me now that I've seen Taylor Swift wear some with Tegan and Sara. Now leather shorts can be part of your go-to dyke night outfit this fall! Leather shorts, or even leather-coated denim shorts, are amazing because you can easily dress them up or down. The leather keeps them fancy but, you know, they're still shorts. Now that it's getting cooler at night, wearing them with a pair of fun patterned tights keeps you warm while giving them even more edge. If your leather shorts are high-waisted, go ahead and pair them with a fitted crop top in a fall color like black or eggplant. Everyone has been going all Jessie J for cropped tees, probably because they easily solve the problem of bunching tucked-in fabric.
Accessorize lightly, because there's nothing worse than losing your favorite bracelet while dancing. A long necklace brings balance to the look, and it's fun to choose a charm that's funky and original. You'll want to finish your look off with a pair of military boots. This is how you make sure the ladies know you're into them. The steampunk goggles/sunglasses are probably optional after 9pm.
If you want to change this look up and make it more butch, you can swap the leather shorts for leather pants or even black jeans and go for a fitted but full-length T-shirt. You can also opt for slightly more masculine boots. On the other hand, if you want something a little femmier, you can swap out the leather shorts for an A-line leather skirt (like I did at the Marimacho Runway Show).
There's not much else to say here, I mean, you're wearing black leather shorts and some sexy stockings. Go get 'em, Tiger.
---
If you see something that you think should be featured on Queer Outfit of the Week, send me an ASS message, ask on my tumblr, or tweet me @Ohheyitslizz