Long before Leslie Knope married gay penguins in Pawnee, many species in the animal kingdom have been enjoying the pleasures of homosexual sex. Giraffes do it, Bottlenose Dolphins do it, even Black Swans do it. And then I learned about the queer ducks at VINE (Veganism is the Next Evolution) Sanctuary.
"At first we mistook their mating for fighting and tried to separate them. They went to great lengths to reunite until we realized they were boyfriends. After that, they were a lifelong bonded pair, " explains educator and activist Pattrice Jones. Jean-Paul and Jena-Claude, the two male mated ducks, remained devoted companions for seven years.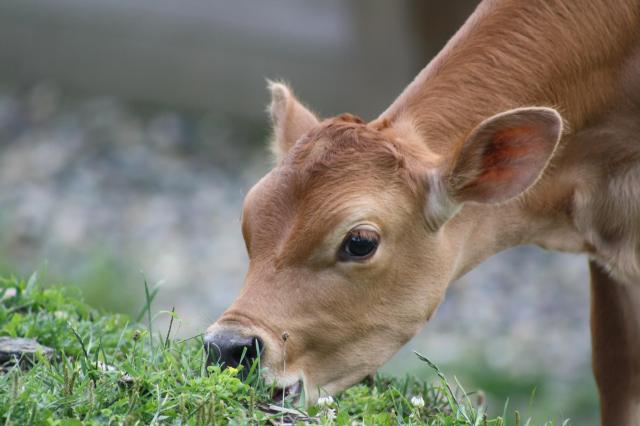 VINE Sanctuary in Vermont (originally Eastern Shore Sanctuary) works to queer the politics of the animal rights movement with an intersectional approach. A lesbian-feminist, Jones observes, "You don't have to actually be queer to be subjected to homophobic or transphobic discrimination or violence, just fail to conform to gender norms, which we were beginning to see as constructed in party by reference to animals." For over a decade the two queer co-founders of the sanctuary, patrice and Miriam Jones, have been connecting the politics of racism, sexism and speciesism in talks about "Queering Animal Liberation" around the country.
Scholars with an interest in animal rights politics can often be far removed from those individuals on whose behalf they fight. One way to bridge the gap between activism with animals and theoretical and academic work is with the animal rescue sanctuary movement. Jones explains, "In the real world, actual animals live, suffer and die in material circumstances shaped by human activities. Those human activities are themselves entangled in social, economic, and ideological systems that are themselves patterned by factors such as racism and sexism."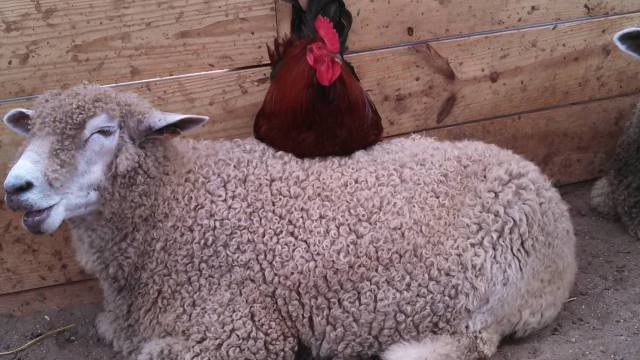 Over the past few years the field of Animal Studies has grown exponentially with programs across the country such as the program at New York University. While it's encouraging to see an increasing interest in the politics of Animal Rights Law and Animal Studies, Jones has some concerns. She has noticed some of the same fragmentation between activist and academic work in Animal Studies as in the LGBTQ movement.
"We saw Queer Theory, which arose in academia as a result of radical street activism in the context of the AIDS crisis, morph into an inaccessible discourse wherein elite academics talk to each other, never bothering to translate their ideas into terms that less-educated people could understand or use in their activism."
This tension outlined by Jones becomes clear when exploring the history of the class-based push for affordable HIV/AIDS drugs by the organization ACT UP in the 1980s in comparison to the focus of much of the mainstream LGBTQ organizations today. "The rightward shift (marriage and military) in the LGBTQ rights movement might not have happened if some of the more progressive ideas current in academia had been more accessible to grassroots activists."
Of the five queer individuals who make up the core of those working at the sanctuary there is one non-gender-normative individuals in addition to a trans (FTM) individual, a happily married same-sex couple and finally, "One of us finds that none of the alphabet soup of LGBTQ identities quite describes her sexuality and tends to chafe at identity politics altogether." To Jones, transphobia is symptomatic of larger social norms more than a problem of ecofeminist politics. Moving beyond the work of trans-inclusion jones argues, "We just want to use our standpoint to say things that we think will be even more disruptive to the binary logic of domination that oppresses both non-human animals and LGBTQ people."
In a nutshell, Jones explains the motivation to queer animal liberation and push the boundaries of identity politics: "We think we can make a more substantial contribution by continuing to talk about the biodiversity of sexuality and gender expression among human and non-human animals, thereby unsettling the gender binary that European colonialism carried (along with capitalism and cockfighting) around the world."
You should go!
Vegan & Animal Rights Bookswap
Saturday September 14th, 4-7pm.
The Women's Center
46 Pleasant St. Cambridge, Massachusetts 02139
Please join us for an evening swap of inspiring vegan cookbooks, theory books, how-to dvds, and all other media related to vegetarianism and animal rights. Bring up to ten items or just bring yourself and mingle!
There will be a raffle and bake sale in support of VINE sanctuary in Vermont. Confirmed prizes for the raffle include a $40 gift certificate to Sudo shoes, a $25 gift certificate to Life Alive, a gift basket of vegan themed stationary from Two Trick Pony, and more! (See list of sponsors below.)
This event is free and open to people of all genders, diets, and ages. The space is wheelchair accessible.
Raffle is at 6PM.
UPDATE: The book swap was attended by 20 people and over $250 was raised!
Support our event sponsors:
sudoshoes.com
twotrickpony.com
lifealive.com
veggiegalaxy.com
etsy.com/shop/kristincrane
compassionco.bigcartel.com
truebistroboston.com
ecolissa.com
Learn about the animal sanctuary here.
Check out The Humane League
For more info, please visit our Facebook event page.
See a full interview with Pattrice Jones here.