Ashley (the poet) and Marine (the scientist) met at A-Camp, fell in love and set off into the sunset – on a budget. These shoestring-travel enthusiasts are hitting every major city between Boston and Los Angeles on a country-wide tour and staying with as many Autostraddlers as they can find. Ashley just released a book of poems and is promoting it on the road, while Marine is keeping things organized and on budget. This is their journey.
---
Ashley: Sunday afternoon my grandmother sent us back to New York with a box of baked goods and a bag of fresh fruit. Instead of going back to Stef's in Brooklyn, we headed to AS writer Gabby's place in the Bronx!
We had brunch with Gabby and Laura (also part of Team Autostraddle!) in the morning, and Gabby makes the best coffee ever FYI! Her family was so sweet and welcoming, they even made us a home cooked meal that night.
Like the queermos that we are, we discussed haircuts, as we were in dire need of them. Gabby recommended Camera Ready Kutz, which is her go to barber shop when Katrina is unavailable!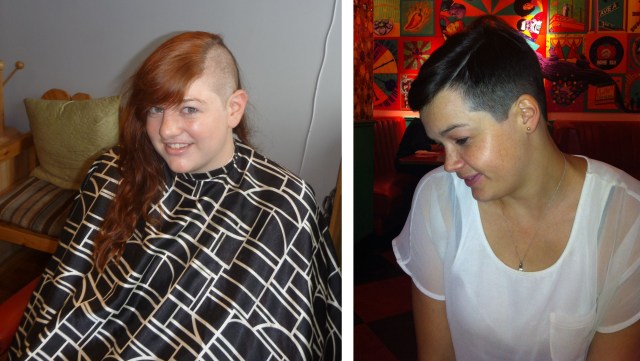 Once camera ready, we went to Grand Central station to grab lunch at Two Boots and couldn't resist the 2 for 1 hurricane specials!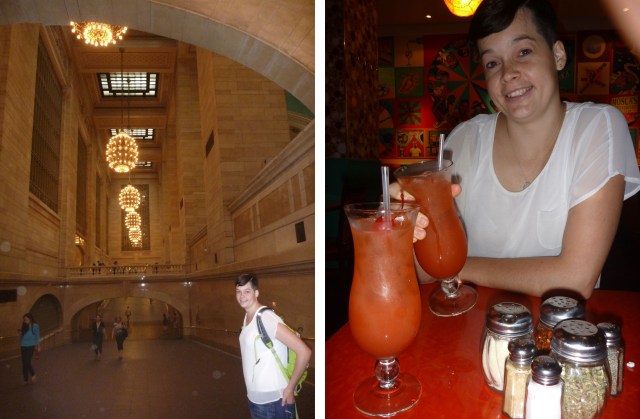 Marine: We spent the remainder of our afternoon exploring Central Park. It was nice to get away from the claustrophobic feeling of the city. Being from such a sprawled-out city on the west coast, New York can be daunting!
Later that evening we went to a poetry open mic to benefit the Bronx LGBTQ center. We had the rare pleasure of hearing Gabby perform and by the end of the night, the owner was so inspired by the queer poets and performers, he decided to throw a benefit rooftop party in honor of the LGBTQ Bronx center.
Ashley: I sold out of the limited amount of books I had with me, and learned Gabby's "Rule of 10." Always bring 10 books to any show!
After the show, we grabbed late night diner food and sipped on bourbon back at Gabby's place. It was the perfect end to our last night in the Big Apple.
Thinking back on our first A-Camp experience, where Gabby was our counselor in the Snatch-22 cabin, it's amazing how far we've come. We started out single, and without a queer community in our cities. Now we're together and traveling the country, largely thanks to our extended Autostraddle family!
After missing our first megabus to Philadelphia at 12:30pm, we managed to get the very last stand by spots on the 2:45pm bus! The one time we were late was the only time our megabus was early! Murphy's law got us again.
Our first night in Philly was a blast — we ate cheesesteaks at Jim's, checked out a volunteer-run anarchist bookstore filled with queer books, zines, and radical politics called the Wooden Shoe, and tried the popular local brewed beer, Yuengling.
In the morning, we hopped on the bus and went to see touristy things, like the Liberty Bell and Independence Hall.
We saw where old white guys held trial and signed the Constitution and the Declaration of Independence.
There was also an interesting display of George Washington's old house, which burned down a long time ago. We were surprised to find that his slave ownership was addressed, although not to the extent desired; the display was more apologetic and in defense of our first president. It made statements about how Washington would have wanted the abolishment of slavery had he remained alive. Apparently, the historians over here can predict hypothetical futures.
We walked outside of the tourist-sphere into a traditionally Vietnamese part of town, where we got pho for lunch before heading over to Giovanni's Room. In this lgbt/queer bookstore, the Philadelphia Daily interviewed us because Giovanni's, which is a historical landmark, is being sold. We were in town for two days and already made the news, maybe President Obama will greet us in Washington, DC, our next stop.
The next morning, we set out for Hogwarts, acceptance letters be damned!! Our host, Katie, is currently a student at Bryn Mawr, which is an all-women's university just outside of Philly. She took us to her campus for a little impromptu tour.
After grabbing lunch at Reading Station, Katie took us on a spontaneous bucket-list-worthy trip to Atlantic City, the east coast Vegas. Before gambling, we ran into the Atlantic Ocean.
After winning 20 bucks on the nickel slots, we headed back into Philly to meet up with more straddlers! Katie had put together an impromptu book reading at her house!
If any straddlers in upcoming cities want to host a living room reading/open mic, these are some of the most fun shows! It's intimate, less pressure and everyone has room to share and chat! Comment or email if interested! Ashley [at] thatstarvingartist [dot] com
The Philly straddlers know how to have a good time! We met up with writer Kate/de at a queer event called CutN Paste to dance the night away. After hearing about our long-term travel plans, no one would let us pay for our own drinks! Every dollar counts when we're on the road, and later on, at IHOP, our new friends treated us to an early breakfast. After debating the pros and cons of diva cups and tampons, we were sad to end our last night in Philly!
We still need housing in:
New Orleans, LA (10/12-10/13)
Email us at Ashley [at] thatstarvingartist [dot] com!
Up next: Washington DC!