Welcome to the latest installment of Style Thief, where I steal the clothes off queer style icons' backs. Metaphorically, that is. I'll try figure out just exactly what makes queer style icons tick by breaking down their look into itty bitty bite size pieces. I get a lot of questions about how to look like different celebrities/characters, so I'm finally tackling the question "How the hell do I dress like that?"
Header by Rory Midhani
I probably can't really tell you exactly how to dress like Jessie J. The singer/songwriter pop sensation has a crazy, all over the place, wild, random, perfect style that can't be pinned down or predicted. I can't tell you what Jessie J will wear this time next year any more than I can tell you what the weather will be on that same day. She is unpredictable and free. Honestly, that's why I love her style. So at the risk of sounding like a quitter, I'm going to try my best and we'll see where we end up.
I used to think I could never write about Jessie J for Style Thief because her clothing was so out there. For a long time it was nothing but animal print spiked body suits. Lately, however, Jessie J has been flooding her instagram with pictures of her day-to-day street style. Looks that are tame enough for her to go to the grocery store in, but still wild enough for you to wear out to a bar. I particularly love it because Jessie J always points out when she styled her whole outfit herself; turns out it's nearly all the time!
The foundation to Jessie's J's style is high-waisted skin-tight pants. Sure, sometimes she swaps these out for high waisted shorts or a flirty dress, but Jessie J's look is built on leggings. The secret to stealing Jessie J's look is pants that rise so high that they cover your navel completely. Jessie J's pants curve all the way around her hips and secure just above her natural waist.
Because they secure so high up, high-waisted pants are comfortable for women of all different body types. I personally love knowing I'm not accidentally showing butt crack. Keep in mind, however that sometimes super high-waisted pants are uncomfortable if they are really tight and you're sitting down. With this in mind, make sure you sit down in high-waisted pants before you buy them or wear them out.
American Apparel's high-waisted leggings most nearly emulate Jessie J's signature pants, though the color palette isn't as bright or varied as Jessie J's. If you'd prefer not to wear leggings, you can add a little more support with just as much flair by going for a high-waisted colored jeans or pleather pants.
All types of tops look great with high-waisted pants, but Jessie J usually wears hers with a cropped tee. If you want to get into wearing cropped tees, but feel nervous about exposing your entire stomach, Jessie J's look is a great place to start because her high waisted pants can make you feel less exposed. When shopping for a cropped tee, choose one that falls a comfortable distance below your bust. If a shirt is tighter you might only want a couple of inches, if it's looser you might want even more distance. Remember that when you raise your arms in the air a loose shirt will pull up. Basically, the tighter a shirt is and the shorter the sleeves are the more a cropped shirt will look like a bra. Obviously that can be awesome, it's just something to keep in mind.
If you don't much want to rush out and buy a cropped tee you can certainly make one. Funny enough, Jessie J actually does this all the time! I suppose even the vast array of cropped shirt for sale right now can't quench Jessie J's thirst for new midriff bearing tops.
You can knot your shirt in front for a temporary crop top, or cut it right in half with a pair of scissors. I wouldn't worry about hemming the bottom of your shirt– it's supposed to look cut off. I would, however, cut conservatively at first, and then shorten the shirt in once inch segments as you go shorter and shorter.
And then there's rompers, playsuits, catsuits, bodysuits, unitards, leotards. Jessie J loves a lycra full body outfit. Many of her gorgeous one-piece garments are custom made by Alice Vandy.
Bodysuits might be a bit too wacky for you, I know they are for me, but I just can't talk about Jessie J without giving bodysuits an honorable mention. In fact, I thought I'd let Jessie J finally help us to figure out just exactly what the different between all these different one-piece garments is!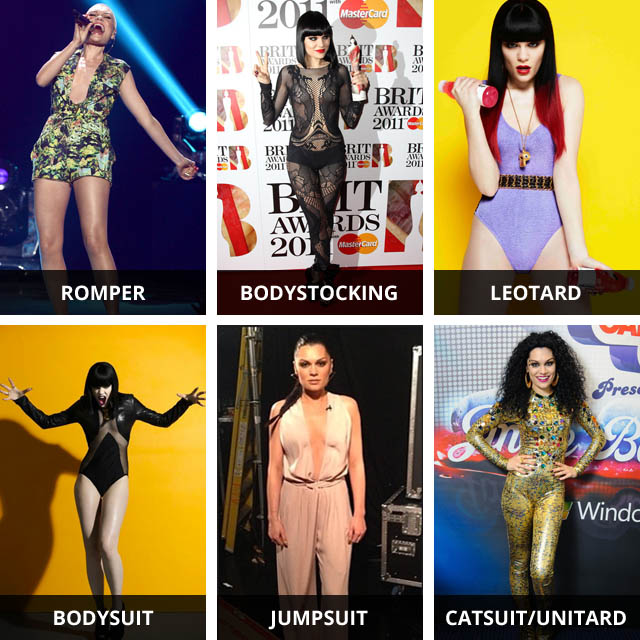 If you want to capture the bodysuit essence without feeling like aerobics Barbie, you can take an old tip from Jessie J and pair high waisted pants over a swimsuit style bodysuit. While using the bathroom can be a bit cumbersome, Alternatively, you can go for a looser more casual jumpsuit.
You can't have a Jessie J style without amazing crazy shoes. Whether she's wearing sneakers, canvas flats or pumps, Jessie J always makes sure her shoes are one of the focuses of her outfit.
Sometimes Jessie J makes her feet the focus by wearing gold shoes. She has gold pumps, gold oxfords, gold sneakers and even gold sneaker pumps. Other times Jessie J wears sneakers or pumps in a bright color that pick up a color element within the rest of her outfit. This might mean wearing lime green pumps with a shirt that has a lime green stripe, like above. Alternatively, she often pairs bright colored shoes with a black and white outfit. The takeaway with brightly colored shoes is that they don't just complement your outfit, they enhance them.
The best way to finish off Jessie J's look is with accessories. Jessie J's signature big gold hoop earrings look particularly good with her recently shaven head, but they can be a fun way to add a pop of gold to any outfit or hair style. If you want to really go full throttle Jessie J you can add a long gold necklace and some dark nail polish. On the other hand, if you want to go light on the Jessie J, accessories are a great place to start.
It's easy to dismiss the more over-the-top celebrity styles as unapproachable or too couture for daily life. Jessie J proves, however, that even the kookiest styles have something to teach us. Jessie J's spirit is all about form fitting clothing with an eye towards glam, neons, black and gold. Jessie J is there to remind all of us it's totally okay to keep it fun, show a little skin and march to the beat of your own drum.
---
If there's a queer style icon you'd like to see stripped down in Style Thief, send me an ASS message, ask on my tumblr, or tweet me @Ohheyitslizz