Because you deserve to be the best dressed homo in the office. Read previous posts here.
Header by Rory Midhani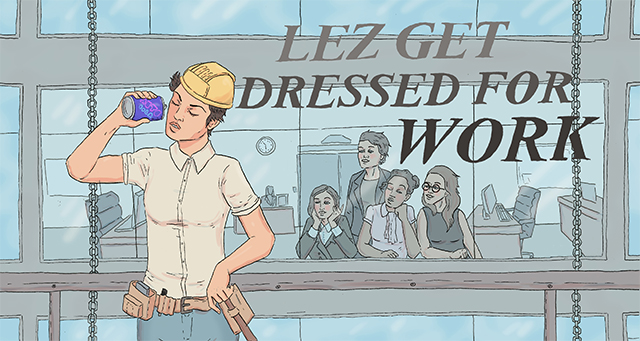 ---
If this column were called Lez Get Dressed For The Weekend, right now I would be telling you to get denim overalls. While I really think you should do that, I've brought you here to talk about what you're wearing to the office, and you most likely shouldn't be wearing your new weekend overalls. What you should wearing is the workday version of that: a jumpsuit!
Today I noticed a handful of people wearing jumpsuits in my office and they looked amazing, to the point that it inspired this entire post. The following is a list of reasons why you should look into investing in one. Or three. Unfortunately for my evening, there is apparently severe shortage of photos of queers rocking jumpsuits on the internet; the photos you see below will be mostly from brands. I'm sorry. It's because you haven't sent me a picture of yourself in a jumpsuit yet because you didn't read this list yet. Anyway. This is why you should get one, like, now.
1. Jumpsuits are pants' answer to dresses. Think about it: it's an outfit out of just one thing, but it's still pants. The leg can be as flowy or as skinny or as tailored as you want. Plus, since it's summer and things are kindly being made in lightweight material, a jumpsuit will have similar body-cooling properties as a dress.
2. A jumpsuit is the ideal first layer. Is your office totally fucking freezing? Jumpsuits look great under blazers and cardigans, and you don't have to worry about what shirt to wear since it's built in.
3. You can wear a button up UNDER it. Worried a jumpsuit will show too much skin? Wear a button front or just a collared shirt (long sleeve, short sleeve, or sleeveless will all look great) underneath it. This will look amazing while being office-appropriate.
4. The aforementioned layerability makes it the perfect thing to wear to work if you have fancy plans after. Just shed the layers that make it work-wear.
5. It will look really good on you. Because this is just one piece of clothing, you don't have to worry about tucking in or not tucking, or the gapping problem with button front shirts. It will flatter your curves or your not-curves, and you can find one that is as tight or as loose as you want.
Okay, have I convinced you? Why/why not?