A couple of years ago in Boston, my date and I wandered into a sports bar. Our wait time at a nearby foodie restaurant was going to be 15-55 minutes and we wanted to grab a drink and watch the Sox while we waited. Fritz seemed like a typical sports bar, with all the requisite hooting and hollering for Big Papi, except all the men were close talking with each other. Like really close talking. All of a sudden I just knew it: I was in a gay sports bar. It had never occurred to me that gay sports bars even existed, but I was instantly elated about my discovery.
We all know the old saying about softball players, but the reality is that sports arenas and fan-bases haven't always been the most welcoming place for queers.  Fortunately, the last few years has seen a serious uptick in out LGBT athletes which hopefully both reflects and encourages increasingly open sports communities. Now we have Jason Collins, Liz Carmouche, Kye Allums, Lori Lindsey, Megan Rapinoe and Brittney Griner. I mean, guys. Brittney Griner.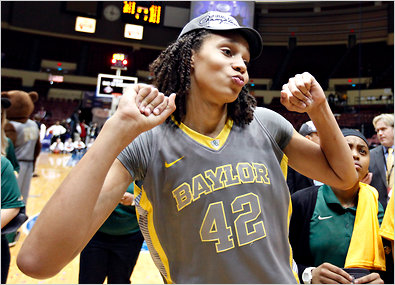 But before all this, back when it was just me and my date and Fritz gay sports bar in Boston, I had to wonder, "Is this a thing everywhere or is Boston just some magical gay sports land?" What does gay sports inclusion even look like, and how do we rate a city's performance? With that in mind Target 10, a gay marketing agency, breaks it all down in a colorful new infographic. Target 10 ranks cities by LGBT population, number of LGBT sports leagues, having gay sports bars and more.
Chicago and New York City top the list with 17 out of 22 possible points. Both cities have strong professional sports teams and seem to have capitalized on their citizen's frequent "gay sports" googling. While I was pleased to see Boston on the list at all (in part due to Fritz), some notoriously gay-friendly cities like LA and Seattle ranked lower than I would have guessed. Hopefully we'll see sports culture changing for the better with more and more out and vocal athletes and fans, and graphics like this will be obsolete with every city ranking in the 20s.
---
Before you go!
It takes funding to keep this publication by and for queer women and trans people of all genders running every day. We will never put our site behind a paywall because we know how important it is to keep Autostraddle free. But that means we rely on the support of our A+ Members.
Still, 99.9% of our readers are not members.
A+ membership starts at just $4/month.
If you're able to, will you join A+ and keep Autostraddle here and working for everyone?
Join A+