Julia Kaye makes adorable comics, and she draws herself almost as cute as she is in real life. Or, I guess I don't know what she looks like in real life, but I see selfies she posts on Twitter, and those are very, very cute. Before she came out as trans, Kaye was making some funny, if fairly random, gag comics about all sorts of topics. But it's her journal comics that have caught my eye. Like I said, they're super, super cute, but also, Kaye is really, really great at revealing truths and showing complicated emotions in simple panels. She also keeps things positive, which I totally love. Even when the realities of being a trans woman get her down, she's able to look at the positive side of life and hope things will one day be better.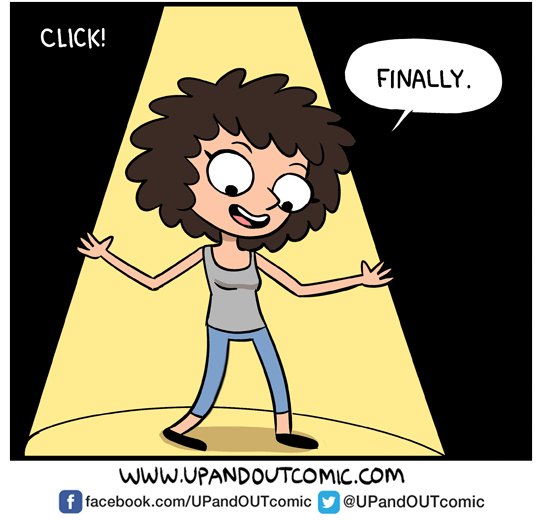 Honestly her "coming out" comic is pretty much flawless. It touches on the reality of people being obsessed with trying to figure out your gender when you're a trans person. It's also pretty straightforward, and the punchline both lands and also is really joyful. It's hard to explain, but honestly the first time you depict yourself with boobs is pretty big. She had been drawing herself very femininely for a while, but maintaining a sense of androgynousness as she wasn't totally out. So to just see her draw herself, it made me ridiculously happy; overjoyed even. I could feel her happiness radiating out through the computer.
Since she's come out, her comics have been a lot more introspective and about her life, which makes sense, when you're still at least partially closeted it's hard to write and draw comics about your personal life. Also, when you're going through a huge change in your life, you often have a lot to write about. Many of her diary comics talk about what it's like being a newly out trans woman. Kaye talks about shopping and dysphoria and getting misgendered and having to show your ID and trying to change your name and gender markers on all the billions of accounts you have. If you're a trans woman who's started your transition, a lot of these comics will be really familiar to you.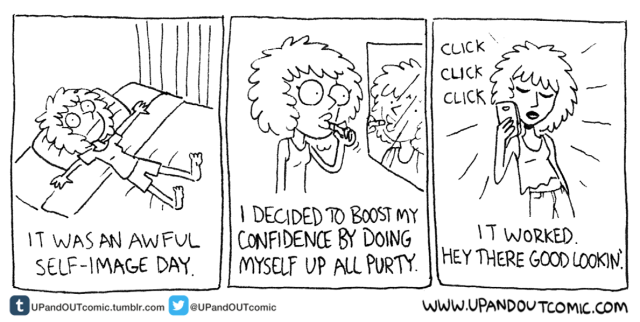 I also love the cuteness and light of Kaye's art. Since coming out, it's not like she's completely changed her art style, but it feels more natural and more right. It's feminine and soft and it reminds me of spring. I want to hang out with her art at Disneyland, I want to eat ice cream with it, I want to laugh and paint my nails and talk about boys with her art. It's like a ribbon in the hair of one of the Pink Ladies from Grease; or better yet, Grease Live!. Anyway, yeah, it's really cute. If you want to see more of her art, you can follow her Twitter and her Tumblr, and you can also support her Patreon, which is an absolutely amazing way to support queer and trans artists and writers.
New Releases (February 22)
Wonder Woman Vol 1 The Lies TP
Snotgirl Vol 1 Green Hair Don't Care Vol 1
Moon Girl and Devil Dinosaur #16
Adventure Time Comics Vol 1 TP
---
Welcome to Drawn to Comics! From diary comics to superheroes, from webcomics to graphic novels – this is where we'll be taking a look at comics by, featuring and for queer ladies. So whether you love to look at detailed personal accounts of other people's lives, explore new and creative worlds, or you just love to see hot ladies in spandex, we've got something for you.
If you have a comic that you'd like to see me review, you can email me at mey [at] autostraddle [dot] com.