Welcome to winter! The one time of year where you can shamelessly bitch and moan about how cold your feet are without social repercussion. In honor of this wonderful time of year, and the fact that we're just over half way through it, I thought I'd bring you a special treat. Ta-Da! A boot round-up!

Lets start by talking about fabric and heel. There was a time when I literally wore my chunky heeled black leather boots every single day with every single outfit. The height of the heel and the mid-range quality leather just made them versatile. This is not always the case. The height of a boot heel can range from completely flat to infinity and can be chunky or hot sexy stiletto style. Most boots you find will be in the one inch to five inch range. Both the material and the cut determine the dressiness of boots. For someone going for a more femme look, a tan mid-calf boot made of distressed leather without a heel will look daytime casual, while a black boot with a stiletto heel, a contoured ankle and a long shaft will look more appropriate for the evening. For someone going for a more butch look, a lower shaft boot with a slight heel in a black or cognac polished leather will look more dapper than a tan, chunkier heeled combat or work style boot. Generally speaking, duller or distressed leather or suede is more casual while polished leather in dark or rich colors tends to be dressier. That being said, these rules cannot be broadly applied to all boots. You really have to take it boot by boot.
When shopping, be aware that leather boots change shape and size as you wear them. Make sure that anyone helping you with boots knows what they are talking about and can help you fit properly, particularly through the toe and inseam. In fact, it might be worth brushing up on your boot terminology so you can best explain what you're looking for. One very common boot shopping hardness is finding boots that fit around one's calves or are comfortable on the ankles. If this is a problem for you I strongly suggest using a measuring tape to figure out the circumference at the widest part of your calf and ankle and then ordering boots online. If this freaks you out, try shopping in a specialty boot shop. In most boot shops and department stores you should be able to find boots abundantly common in black and brown, easily found in slate and tan and less commonly seen in red and blue. Both leather and suede are in style and widely available right now, although bright colors are much more common in suede. I would say the availability of colors roughly correlates with how good boots actually look in that color. The exception to this rule is slate which should be the most widely available color of boots because grey boots look fucking awesome.
Though most people have a general sense of how to wear their own personal favorite basic boot, I receive a lot of questions about particular types of boots and how best to achieve just exactly the look/formality/gender expression/awesomeness one might be going for. There also seems to be a lot of confusion about general to tuck or not to tuck. This varies greatly by boot. Thus, I've divided some of the most common types of boots in to categories that made sense to me at the time of writing. I've done my best to talk about how each particular boot might play a role within your personal style and gender expression. This list is certainly not meant to exhaustive, if it were I would have included mukluks.
+
Snow Boots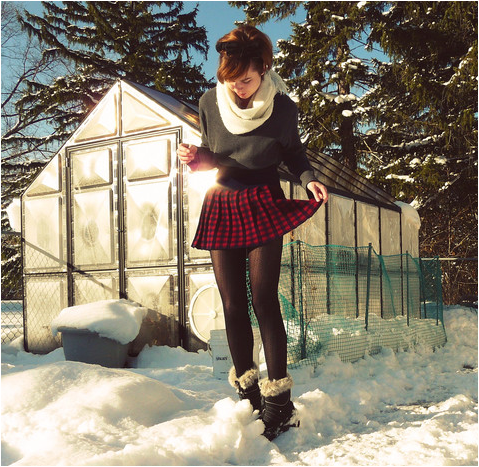 The thing about snow boots is that they're the only type of boots you truly absolutely "need." If you live in a place that gets snow, winter boots are the boot equivalent of Wikipedia. Technically you can get by without it, but it really sucks and you feel cold and alone and it ruins your day. If you don't have a working pair of winter boots, it means you're ruining all your other shoes and probably costing yourself tons of money and sadness. I love to wear winter boots in to work and then change in to Sperry's/Toms/moccasins/slippers.
One of the best things about snow boots is that, since they're only a "sometimes shoe," you can go as simple or as crazy as you want. You can find snow boots that look almost exactly like regular leather/sued boots except they're waterproof or ones so extreme they look like snowboarding boots. Personally, I like Sorels the best because they're hilariously over the top in terms of "Looking Like Your Dad" but they also come in funky colors.
I have one pair that are black and go up to my knee where they get so furry my dog barks at them and another pair that are ankle height and plaid. That's right, I have two different pairs of the same brand of snow boots. I live in New England and these are things I need.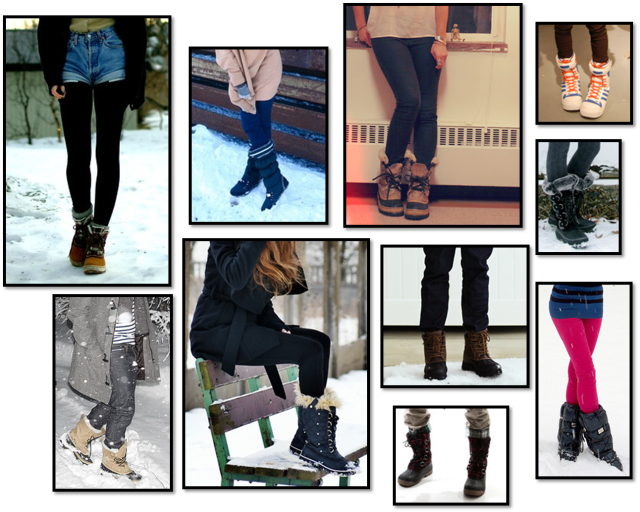 As far as I'm concerned, winter boots should always be worn outside your pants. Even if you're not into skinny jeans or wear particularly baggy pants, winter boots go on top. Otherwise your pants will get wet and salty like the tears you will be crying from how much colder this will make you. Yes, there are winter boots that look just like hiking boots but are winterized, but I don't think those keep you warm enough.
Higher boots in black or a pattern will look more girly, a lower boot in brown will look more butch, and big chunky classic snow boots are super versatile with respect to gender presentation.
+
My Picks
Summary!
When to wear: To and from the place you're going whenever it's snowy/wet outside
When not to wear: Inside or at a party where you'll get sweaty
What to wear them with: Anything! You're adventuring outside in to the blizzard, but remember the boots always go on top! Try with wool tights and a dress, heavy snow gear and baggy jeans or with a ski vest, plaid shirt and skinny jeans.
+
Military Boots
This year military inspired boots are back with a vengeance, which is great since they might just be the best queer boot on the planet. Actually, the boots that are in style are more similar to a traditional "paddock boot" for English horseback riding mixed with your classic combat boot BUT with a thinner sole.
Basically I'm talking about any boot with a flat, or near flat, sole that laces up about 7-10 inches hitting you above the ankle. Your military boot is your everyday, going to the bars, going to work, going to class, going grocery shopping, "taking your dog out" boot.
As long as you're not sporting a super thick/rugged sole, you can wear military boots just about anywhere besides a semi-formal (or nicer) party.  The toned down, pointed toed, stylized military boots that are being shown right now could replace probably half of the other shoes you have.
Military boots usually come in your basic black, brown and grey, but I'm a classic kind of girl and like them best in black. Most of the styles being shown right now have a zipper down the side or back which is awesome because 1. It looks badass and 2. You never have to re-lace them up. It's also easy to find military boots with a variety of heels. If you like a completely flat boot, they're definitely available, however, if completely flat boots give you that duck-feet feeling so luckily you can find military style boots with heels. You can, of course, always switch out for the classic lesbian Doc Martin.
There are three basic ways to wear military boots:
First, you can lace them all the way up and be done with it. This style works over very skinny jeans or under basically any other type of pants. You can also wear your boots like this with tightish pants rolled up to just above the boot.
Second, you can lace them halfway up and tie the laces at the ankles. The half-way lace is best suited for tucked in skinny jeans, straight leg pants or rolled up slightly and pinned flat flares.
Finally, you can lace work boots halfway up and fold over the top. Anita Dolce Vita, Features Editor at dapperQ, pointed out to me that this looks particularly cool if you boots have a colorful or interesting lining.
Another great way to wear military boots is with a dress. It takes the feminine edge off of wearing a dress in a distinctly queer way. I like wearing my black one with floral or overly girlie dresses and skirts to give them an edgy look. You can wear them with low socks so your bare leg just melts right in to the boot or scrunch down a ski sock so it just shows above the lip of the boot. A thick wool tight is also a cute option with a dress or shorts in the winter giving you a ski-bunny appearance.
+
My Picks
Summary!
When to wear: Everyday for your normal stuff or out to a relaxed bar
When not to wear: When going to dressier clubs or anything semi-formal or nicer
What to wear them with: Skinny jeans or straight jeans tucked in, looser jeans on the outside, shorts or to give girlier dresses an edgy look.
+
Equestrian Boots
If you want to look like Spencer from Pretty Little Liars and/or anyone with a ton of money, the best way to do so is by investing in a pair of riding boots. Riding boots are preppy in the best way possible. Dont' get actual riding boots, of course, those are expensive and scary, but you can find riding inspired boots anywhere. Your riding boot should come up anywhere from mid-calf to just under the knee and be leather or faux-leather with a flat sole.
Some riding boots, called "field boots," have laces up the ankles but not all the way up the leg. Traditionally this is meant to support your ankle while riding, non-traditionally this is meant to look awesome/dapper.
Others resemble a more run-of-the-nill black leather boot, which support a harness at the ankle or a strap/buckle at the top. Many riding boots  have a distinct cuff at the top which is distinguished by color, texture or even just a seam.
However, riding boots traditionally lack a zipper, which means you'll often find yourself having to jam your sweaty foot down a boot unless you find one with an elastic panel (which gives your calves some breathing room). But side and back zippers are popping up more often on riding boots these days, hidden on the inner calf or along a seam or sometimes purely visible in a pop of color.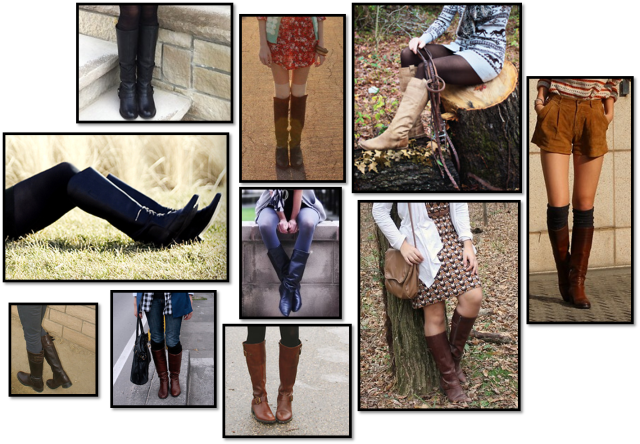 Riding boots provide a more "femme" silhouette while not being totally girly, and therefore they perfectly complement a femme preppy look, such as skinny pants + blazer and/or loose blouse. But riding boots are actually quite versatile — 'cause they lack a high heel, you can wear them to work or other business-casual type settings or throw them on with short dresses or skirts during the day. However, when paired with skirts that go past the knee, riding boots can give you an 'overly bundled prairie style' look' and riding boots also look weird underneath jeans. Riding boots are designed to be worn over riding pants, after all, and the slim foot and lack-of-heel makes them a flop underneath a straight or bootcut leg.
Plus, riding boots can be very expensive, so why hide them! (I also love how riding boots look with a bit of knee high socks sticking out the top!)
+
My Picks
Summary!
When to wear: For work, dinner with friends or anytime you want to look particularly preppy. Particularly cute with a blazer. Or horseback riding.
When not to wear: When going a semi-formal event or anyplace they might get trashed
What to wear them with: Skinny jeans, straight jeans or flares tucked in, short skirts or shorts with tights but rarely with longer skirts.



Next: More boots and team member's top picks!
Pages: 1 2See entire article on one page