+
Rain Boots
I don't have a ton to say about rain boots. Rain boots err on the side of girly but in black can be pretty androgynous, especially if you pair them with sort of a solemn "It's Raining in Paris" black trench coat.
Now when I was 17 I shamelessly acquired this overly expensive pair of Burberry boots but I still rock that shit every time there's a drizzle. They're the best rainboots on the planet: they've yet to spring a leak and the back-zipper saves me from foot-stuffing catastrophes. That zipper is a complete game changer.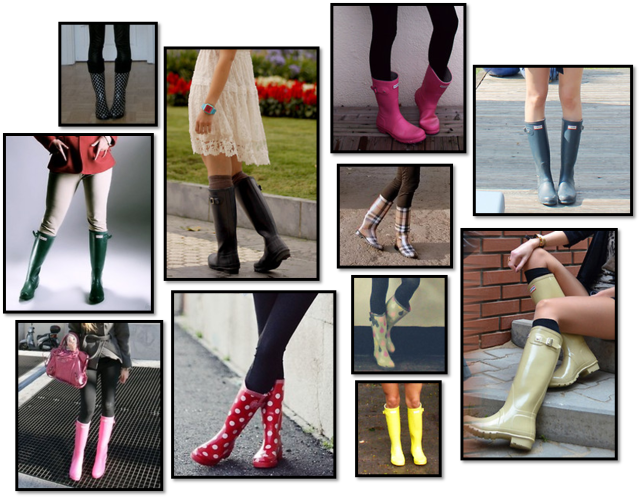 Much like snow boots, rain boots are sometimes-shoes so you can get away with more and the many colors/designs provide for fun mixing-it-up times when it's yucky outside. Remember to tuck in your pants, obviously, lest your pant leg become wet & dirty.
My Picks
Summary!
When to wear: When it's rainy outside
When not to wear: When it's not rainy
What to wear them with: Basically anything, as long as you're okay with looking somewhat femme or sporty.
+
Over the Knee Boots
Over-the-knee boots are in the category of "shoe too cool for me to wear." Previously only visible in go-go costumes or dominatrix outfits, these boots have been making a comeback in everyday style. The latest over-the-knees are like the lovechild of riding boots and go-go-boots and manage to cover your knee in front but not surpass the crease of the back of your knee, thus making them one hundred billion times more comfortable than thigh-high predecessors.
While over-the-knee boots are a truly femme style, super-platform high heels and patent leather will look too costumey. Go for a suede of distressed leather in a light to medium brown with a narrow foot and a flat sole. That way it's almost like you're just wearing the most badass riding boots ever.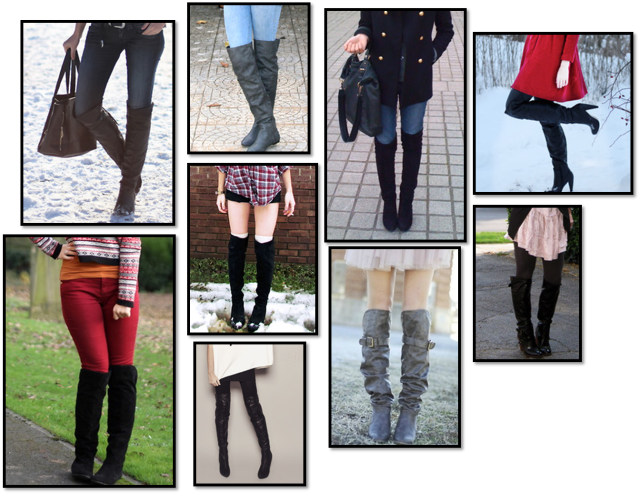 Over the knee boots can definitely bring up What The Hell Do I Wear With That feelings. A totally safe bet are leggings with a longer blouse/button up. Beware of skirts or dresses with over the knee boots, it can look very costumey/dated.
I think over-the-knees look awesome with short-shorts and tights, but my roommate says it looks trashy. Decide for yourself.
+
My Picks
Summary!
When to wear: In casual settings.
When not to wear: Anytime you need to look dressed up/appropriate.
What to wear them with: Leggings and maybe shorts with tights depending on how adventurous you are. Skip skirts on this one.
+
Ankle Boots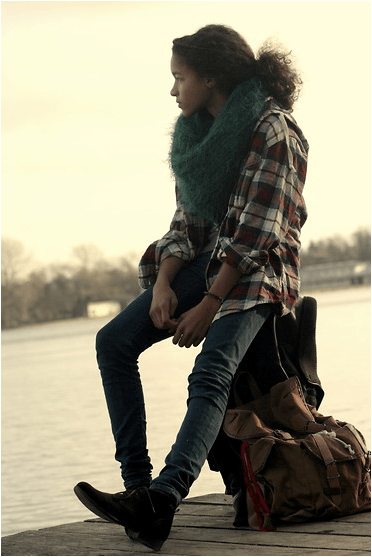 At the bottom of every boot is an ankle boot, so this is one big fat category. Generally speaking, I think of ankle boots as encompassing three subtypes of boots: booties, Chelsea boots and chukkas.
1. Booties
As you can probably tell from the "ies" ending, booties are the most femme of the three types. These lace-up or zio-up high-heeled boots cut somewhat at the ankle, come in all sorts of styles and colors (I love an oxford pattern), and even look cute as peep-toes or wedges.
Dressier, higher-heeled booties work as a formal attire show and complement an above-the-knee OR full skirt or dress. My favorite aspect of high-heeled booties is that you can wear them with a cornucopia of nicer women's pants while avoiding the "tuck or not to tuck" dilemma and providing greater accessibility to women with different body types.
Leggings and skinny jeans look great with booties, but wide-leg, boot-cut and straight leg slacks look AWESOME with booties.
Lower-heeled booties can make great casual shoes, look sexy for going out in skinny jeans/leggings and look great with shorts. If your bootie is more sturdy and casual, you can wear it with socks and look adorable and probably could even pull off a cool look with cargo pants.
Though booties are generally a pretty femme trend, you can create a great androgynous gender-bendy look by mixing them with menswear. Imagine how cool black stiletto peeptoe booties might look with a white button-up, suspenders, black pants and slicked back hair!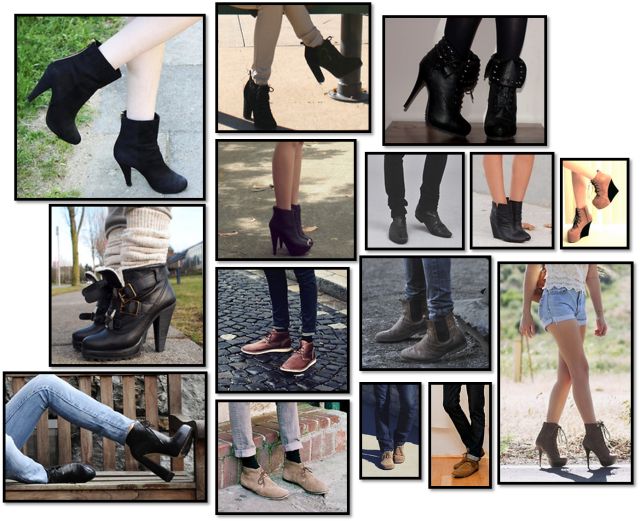 +
2. Chelsea Boots
"Chelsea boots" are like an English riding boot that gave up halfway through: low heeled and tightly fitted, these babies end narrowly at the ankle and sport the Chelsea boot signature of an elastic band on one or both sides. They look great with most cuts of pants and are basically gender-free in terms of styling, which's great if you want an androgynous work shoe.
Chelsea boots were originally designed as riding boots during the Victorian era but were repopularized in the 60s by the Beatles and then again in the 70s and 80s by their appearance in Star Wars.
There's a 90% chance your mom has a pair of these. My mom swears they're super comfortable so they're great if you work on your feet all day.
+
3. Chukkas
Finally I come to chukkas. You might not think you know what a chukka is, but I bet you actually do. They're those suede hipster ankle boots with only two laces eyelet. What I love about chukkas is that they're, like Chelsea boots, gender-neutral but, like booties, look awesome with everything.
Because they only lace up a little bit, chukkas walk the line between flats, loafers and ankle boots. You can just as easily wear a pair of black chukkas with a pair of patterned tights and a cute dress as you can a tan pair with straight leg slacks, a button-up and a bow tie. Two equally awesome looks, one type of boot.
They are similarly easy to dress up and dress down.
There's one rule about chukkas — actually, it's bout all ankle boots: they just don't look good with cropped pants. That two-inch band of skin above your ankles between your pants and boots is mega unflattering.
My Picks
Summary!
When to wear: In a casual or semi-formal setting depending on the boot.
When not to wear: In an ultra formal setting
What to wear them with: Anything except cropped pants. No skirts/dresses with Chelsea boots either.
+
Comfort Boots
Some of the most amazing types of boots weren't necessarily designed for a trip to the club. This category includes sweater boots, Uggs and Ugg-style boots
I'm not hating on Uggs. There's nothing, and I mean nothing, as satisfying as slipping into some warm soft shearling (or faux shearling) boots first thing in the morning to grab a bagel and walk your dog. They're like a wonderful hug for your legs.
Similarly, a pair of super soft sweater boots are practically just upgraded socks. If I had a fireplace I would wear sweater boots in front of it every day. Everyday.
However, and this is a big however, I just don't think boots that are designed for snuggling are appropriate for work, social events or really anywhere you need to look remotely nice. Please withhold your pitchforks and burning. It's not that there's anything wrong with being comfortable, but between the hardline top edge and the duck foot; Uggs just don't create a remotely flattering look.
Summary!
When to wear: At home or while walking to yoga
When not to wear: In any remotely nice setting
What to wear them with: Leggings and your favorite sweatshirt
+
Cowboy Boots
Cowboy boots confuse the hell out of me, but I like them anyway. You see, I was a kid in the eighties and early nineties so I had a pretty sweet pair of white ones when I was three. Since that time, I've been living in New England where cowboy boots weren't a big thing until recently. Now, slowly but surely, it's starting to look like a rodeo around here.
Due to their ever-increasing popularity, it's increasingly easy to find pairs in a range of styles/colors, which is great for those with large or small feet. Cowboy boots are also super-sexy on a masculine-of-center girl and offer a way to get a little extra height without looking too girly. The key is subtlety.
Unless you're actually attending the Pendleton Round-Up, you don't necessarily want a super flashy boot that will lead you to be known around the neighborhood as "That Girl With the Cowboy Boots." I like boots with just a little stitching and minimal inlayed color. Additionally, a more distressed leather makes a better boot for casual settings.
An eye towards subtly when wearing cowboy boots should extend to the rest of your outfit also. In order to avoid looking costumey, steer clear of plaids, tucked in button ups, Canadian tuxedos (jeans with denim shirts and a jean jacket) and peasant blouses. These all add to the cowboy costume effect.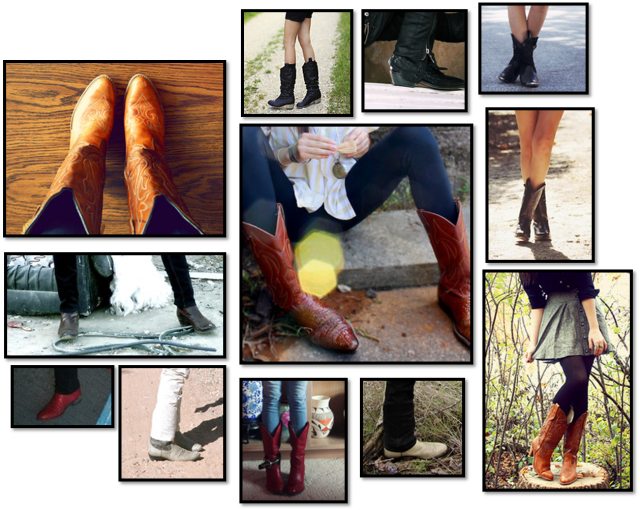 Casual cowboy boots are great with shorts, knee length or above skirts or with jeans. If you're looking for more of a statement or femme look, tuck your jeans in to your boots. Conversely a more subdued or butch style is to wear bootcut or straight leg jeans on the outside of the boots. There is, as with everything, a gradient in between, particularly if you're actually in the South where men sometimes wear knee length cowboy boots (buckaroos) outside of their jeans. Jeans worn on the outside of cowboy boots should be long enough that they fold over/scrunch a bit in the front, but not so long that they drag in the back.
But if you're a Southern or Midwestern dweller with masculine-of-center leanings, cowboy boots have a whole other non-denim world to explore. Dressy cowboy boots (which can easily surpass $400) work underneath slacks in lieu of loafers, oxfords or derby shoes. Dress cowboy boots can even be worn with a tux to some southern black tie events (usually the invite with specify Wester Black Tie). Keep in mind, however, that this is limited to high quality polished leather or snakeskin boots.
One last thing to be careful of when buying cowboy boots. Make sure they properly fit in the toes. I bought a beautiful pair about four years ago. Unfortunately I quickly discovered that if I tried to open a door the toes were so long that the door bounced back at me. If you have more questions regarding the fit and wear of cowboy boots I suggest checking out Bootedman.com's guide to cowboy boots.
My Picks
Summary!
When to wear: When it's dry outside. For casual fun or clubbing in the North, also for work and formal events (with suits only) in the South and Midwest
When not to wear: To formal events in the North
What to wear them with: Pants, short, suits or flowy dresses. Avoid getting to cowboyed up with tucked in plaid button-ups.
+
Vegan Boots
Many people chose not to wear leather or other animal skins for a variety of reasons. This can be tough with boots. Obviously rain boots and snow boots come vegan-standard, but it can be really tricky to find good quality faux leather boots, especially if you're also looking to avoid unfair labor practices and thus forego cheap-faux-leather shoes from mass-production stores.
Your local show store might not have very many good quality vegan boot options, so I suggest hitting the internet. Plenty of online shops, such as Novacas and Moo Shoes, sell exclusively vegan shoes. Alternatively, you can also just select "faux leather" on many mainstream shoe shopping websites, such as Zappos. Whatever your choice, remember two things:
First, because no natural leather is involved, finding vegan boots should actually be cheaper. Second, because no natural leather is involved, you may have to shop around more or even pay more (contradictory, I know) in order to find a high quality vegan boot.
+
Team Picks
Given the option to pick a boot, this is what our amazing staff and affiliates came up with:
Lizz: Sorel Tivoli Boots and OTBT Hutchinson Boots
Jamie: Loretta Vegan Ankle Boots from Novacas
Brittani: TBL 6-Inch Waterproof Flat Wedge and Men's 6-Inch Basic Waterproof Boot
("I got mine in high school and they were both like special editions so they're a little different and thus cooler but whatevs.")
Anita Dolce Vita, DapperQ Features Editor: Steve Madden Cablee Boots and Sperry Top-Sider Starpoint
Laneia: Frye Harness 15R
Carmen: Laredos
Rachel: Dr. Martens Castel 8-Eye Boot
Laura: Clarks Saloon Dillon
Sara Medd: All Saints Vintage Damisi Boot

Well there you have it, a nowhere near complete guide to getting your queer boots on. Whether you just can't live without your wellies or you're finally figuring out how to style cowboy boots, there's no better time to catch boot fever than in the middle of the winter heading in to spring. So everyone share your boot stories!
Pages: 1 2See entire article on one page